© Grégoire Gardette, Café du Mexique, and Romain Ricard
Because they offer a moment of absolute calm and timeless charm, with tables draped in fine linen and impeccable service, or simply because they provide an Insta-friendly panorama worthy of Emily in Paris, these three chic terraces charmed us!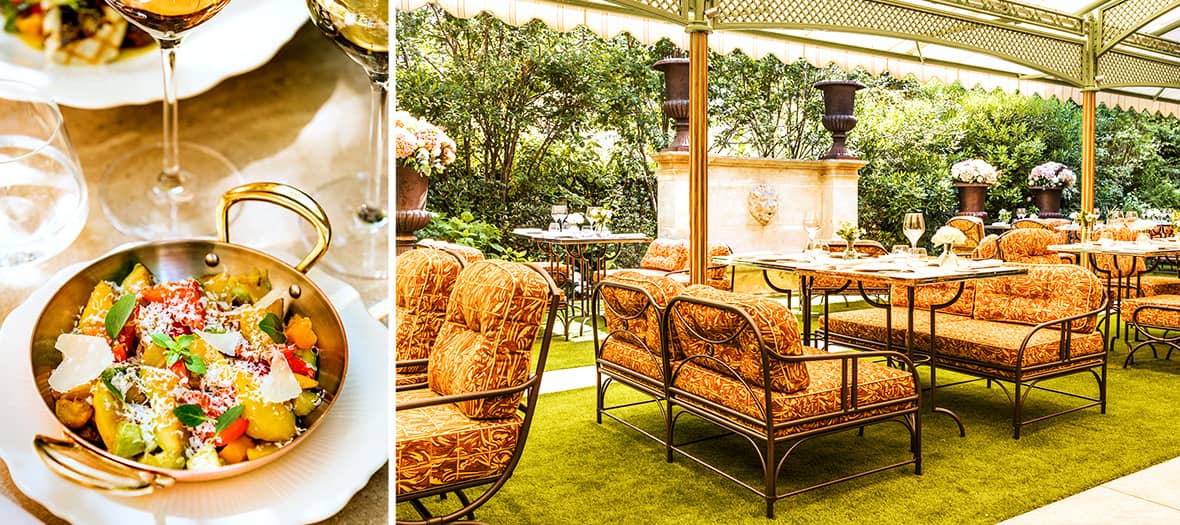 Mathieu Pacaud strikes again! The master of Apicius, his chic establishment in the 8th arrondissement under the Paris Society label, unveils a new terrace at the entrance of his Michelin-starred restaurant, just in time for a stylish summer chill. With a fresh look, new menu, and a new name, Riviera immediately showcases an Italian decor reminiscent of Sorrentino's La Grande Bellezza. Comfortable armchairs are arranged on the lawn, adorned with ochre tapestry-style fabric. Like royalty, we settle under the striped awning (in the shade, of course) and indulge in an evening of timelessness, where each table seems to experience its own moment of grace.
On the menu: Riviera Paris lives up to its name, offering a menu that exudes Mediterranean flair. Starting with a tangy-marinated grilled amberjack (€35), a tomato sorbet gazpacho (€18), or a shared pizzetta with tomato, buffalo mozzarella, basil, and parmesan (€25). For the main course, exquisite savorful lamb chops with savory (€45), grilled fish with condiments (€37), or marinated lemon confit poultry (€36), accompanied by charming lemon and basil-infused confit potatoes (€10). Rather than a dessert, opt for the refreshing Riva mocktail with pear, apple, lime, and jasmine juice (€12).
Riviera Paris, 20 rue d'Artois, Paris 8th. Open from Tuesday to Saturday, 12:00 PM to 3:00 PM, and 7:00 PM to 2:00 AM.
© Riviera and Romain Ricard
La Pagode de Cos at La Réserve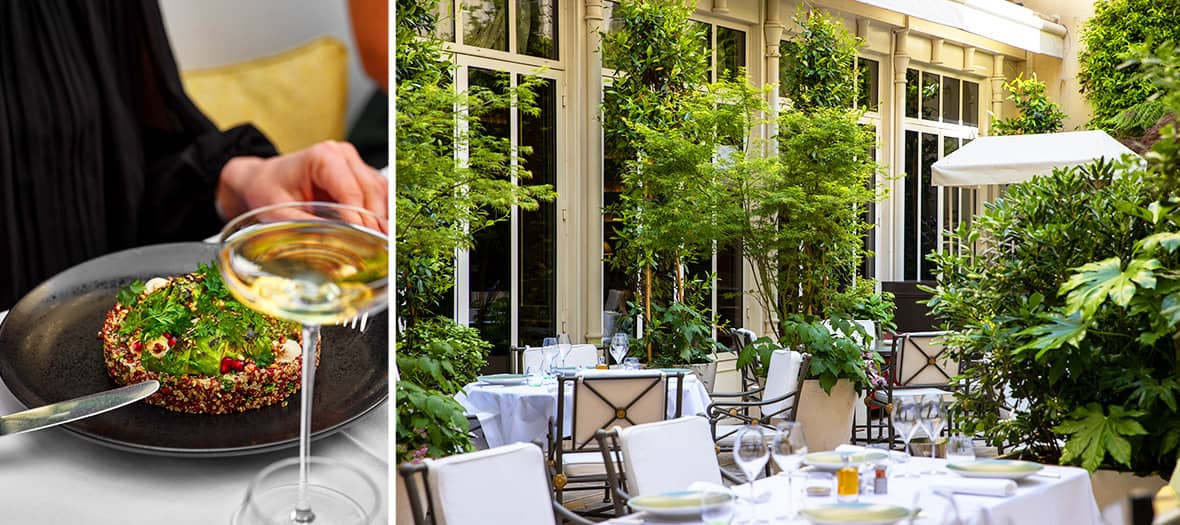 Are you familiar with the smallest palace in Paris? Just across from the Élysée Palace, La Réserve boasts a beautiful courtyard terrace shielded from any hustle and bustle and shaded by parasols. Intimate and refined, La Pagode de Cos promises impeccable service and delightful, ideally light dishes in a romantic atmosphere, perfect for intimate lunches or special occasions. On the day of our visit, an elegantly chic family was celebrating a most graceful engagement!
On the menu: In addition to its double-starred restaurant Le Gabriel, Jérôme Banctel presents a fresh menu for La Réserve's terrace, inviting you on a culinary journey. Enjoy the hearty Victoria salad with crab, green beans, sucrine lettuce, and sesame sauce (€42), an assortment of dim sums (€26), pasta agli scampi (€62), or a delicious braised salmon with Japanese rice, spring onions, and miso curry sauce (€52). For dessert, the Gariguette cake is a delightful childhood flashback, composed of puff pastry brioche, strawberry marmalade, yogurt gel, buttermilk cream, and fresh strawberries (€22).
La Réserve, 42 avenue Gabriel Paris 8th, 01 58 36 60 60. Open daily for lunch and dinner.
© La Réserve Paris and Julie Limont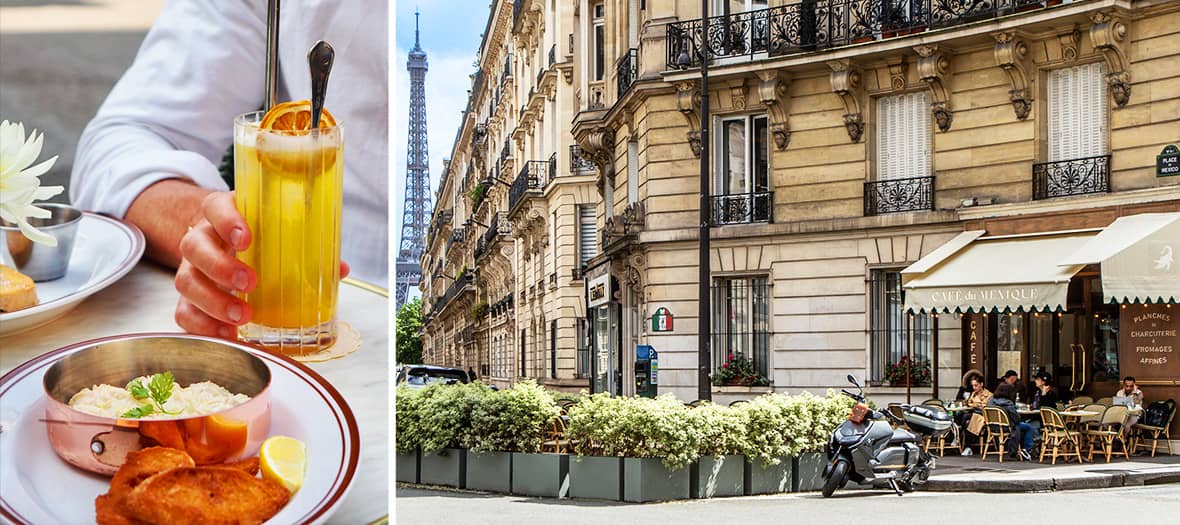 While passing by Trocadéro, grab one of the few terrace tables that offer a breathtaking view of the Eiffel Tower at the end of the street. No, Café du Mexique doesn't serve tacos and enchiladas; its name is derived from the charming Place de Mexico where it proudly resides. Whether it's for a morning breakfast, a sunny lunch, or a sunset drink, the café provides the feeling of being part of a series where Paris lives up to its postcard-perfect promises. Conveniently, a red Vespa is parked nearby, adding the perfect touch to your Instagram story. It's simply delightful!
On the menu: Classic Parisian café favorites are on offer! Although we may miss the frozen fries, we happily indulge in the truffled croque madame (€18) and the perfectly seasoned steak tartare (€21). Among other cherished dishes: fish & chips (€23), shallot steak (€23), and Comté cheese omelette (€15). A nice touch: just like in the chicest cafés of Paris, a dessert tray is presented for you to visually choose from crème brûlée, crêpes, cheesecake, chocolate fondant, and lemon meringue tart. For us, it's crème brûlée (€10) with a latte! Perfect after a theater or opera show: the kitchen accepts orders until midnight.
Café du Mexique, 3 place de Mexico, Paris 16th. Open daily from 7:00 AM. Continuous service from noon to midnight.
© Anoushka Raab and Gilles Trillard
Also, discover the must-visit Parisian terraces and the most beautiful terraces in Paris.