We would follow them to the end of the world, and yet these chefs do not (yet) have their own restaurant. Or, grouped together for a major common project, they create such a buzz that reservations are already being snapped up.
Mohamed Cheikh , Céline Pham , Adrien Cachot and the shock team set up by Alain Ducasse settle down for the time of highly desirable food residences in the most prominent places of Paris. Tour of the (almost) owners.
© Instagram / @ pascal_ito_officiel and © Matteo Carassale
Céline Pham at Petrossian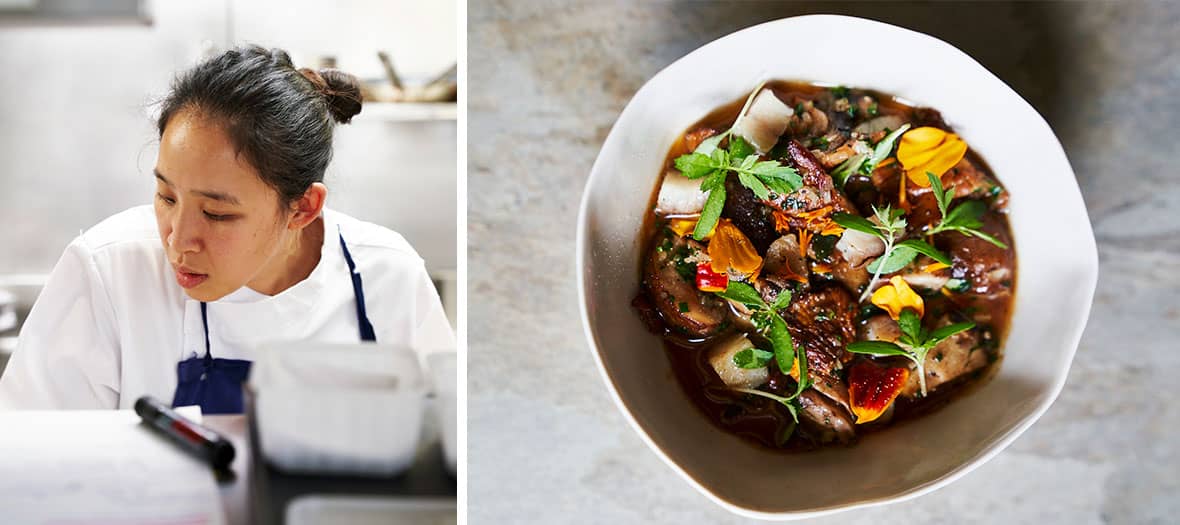 The boss? It is the coolest and most cutting-edge "face" of the new French gastronomic generation. Its singularity? After having learned her classics at Ferrandi and a perfect training in the favorite institutions of Fooding (Ze Kitchen Galerie, Saturne, Septime), Céline Pham left the rails of the big brigades to prefer the new very prominent statement of nomadic chef, stringing together popular residences and private dinners. His new rendezvous to truster? The very secret Petrossian lounges where Céline Pham has just opened an ephemeral table d'hôte with 20 seats this winter. The ultimate must-eat.
A la carte? A unique menu in 5 creative dishes (110 €) where we find the very vegetal DNA and Vietnamese influences of Céline Pham that she matches with iconic products from Petrossian. It gives crazy appetizers (king crab rolls with Sicilian avocado and soba, black bread brioche and salmon heart). Then: beets, trout roe, noru and nasturtium, eel, roasted salsify and caviar before a tender beef with 5 spices To end hostility in style: a red bean miso and genmaicha ice cream.
Pushan Bhowmick
Until December 23. Reservations on www.restaurant.petrossian.fr 144 rue de l'Université, Paris 7th.
Mohamed Cheikh at La Réserve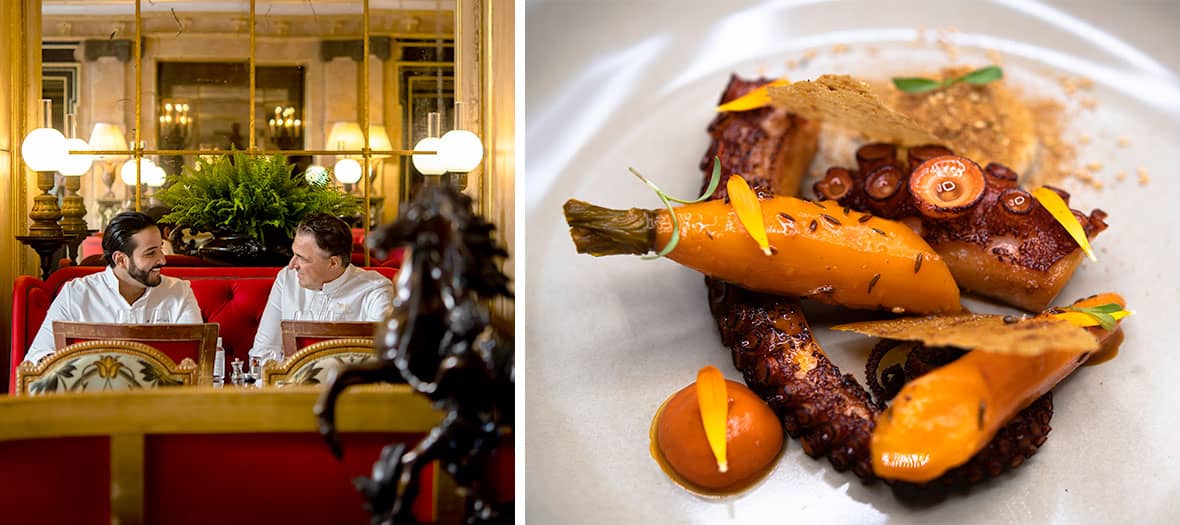 Leader ? Winner of the last edition of Top Chef, Mohamed Cheikh filled Manzili all summer long with its Mediterranean cuisine spiced up to perfection. His great friend and mentor Jérôme Banctel , chef of La Pagode de Cos at the La Réserve palace, invites him for two months to take possession of his kitchen. In the intimate setting of Pierre Cardin's former mansion, Mohamed Cheikh never disappoints and rolls out a sunny menu with priority given to perfect seasonings and cooking respectful of the right product.
A la carte? Already, nice plates to share and generous starters (we can't do it again): octopus, glazed carrots in juice and cumin seeds, zaa'tar hummus, harissa sauce (€ 28), fried cauliflower (€ 18), Pan-fried porcini mushrooms (€ 22). Then, the light homemade fettuccine with lobster and tarragon (€ 58) and the scallops a la plancha and avocado purée with grilled sesame, passion vinaigrette, persimmon and Kalamata olives (€ 42).
Until December 4 at La Pagode de Cos - La Réserve Paris - Hotel and Spa, 42 avenue Gabriel, Paris 8th. Reservations on 01 58 36 60 50 and on lareserve-paris.com
© Geraldine Martens
Adrien Cachot au Perchoir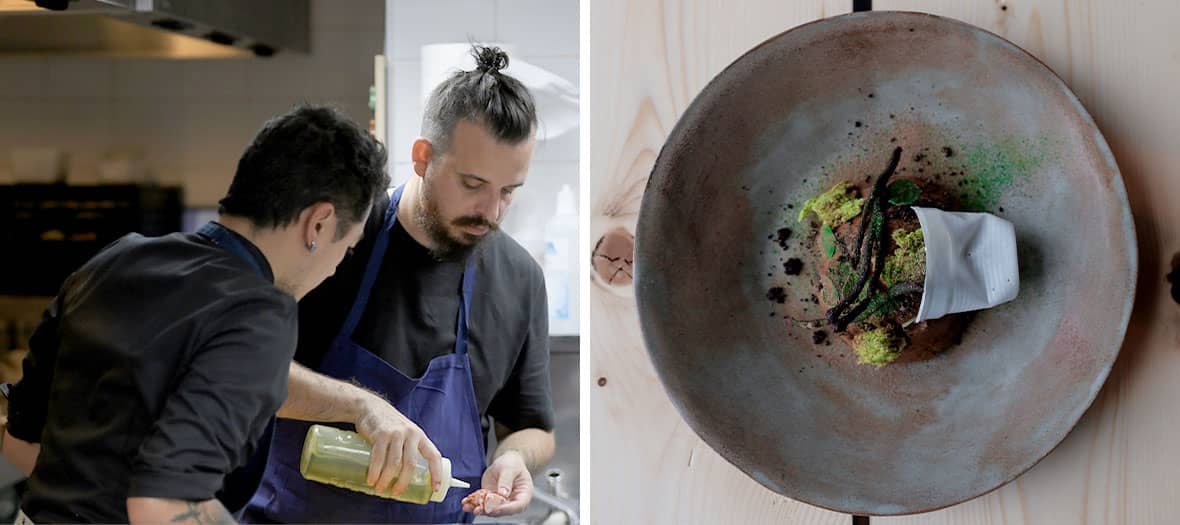 Leader ? We no longer present Adrien Cachot , relaxed emperor of gastronomy 2.0, noticed until the final of Top Chef for his contemporary and wildly daring associations. The Parisian flies to the Perchoir Ménilmontant and takes the place of Céline Pham's Tontine residence. His project ? Ennoble creativity with surprise dinners - served Monday to Friday - highly technical, obviously always sassy. The curious are already asking for more.
A la carte? We could have suspected it with the chef: there is precisely no menu, and this is where our curiosity begins to be titillated: in his unique tasting menu (95 €), the dishes are not at all advertised. Blind , what! If they want, customers can ask what they ate after the fact. What is important for Adrien Cachot? Learn to taste differently. Heading or not heading?
Until mid-January 2022 at Perchoir Ménilmontant, 14 rue Crespin du Gast, Paris 11th. Reservations on leperchoir.fr
© The Good Place
ADMO at the Quai Branly museum - Jacques Chirac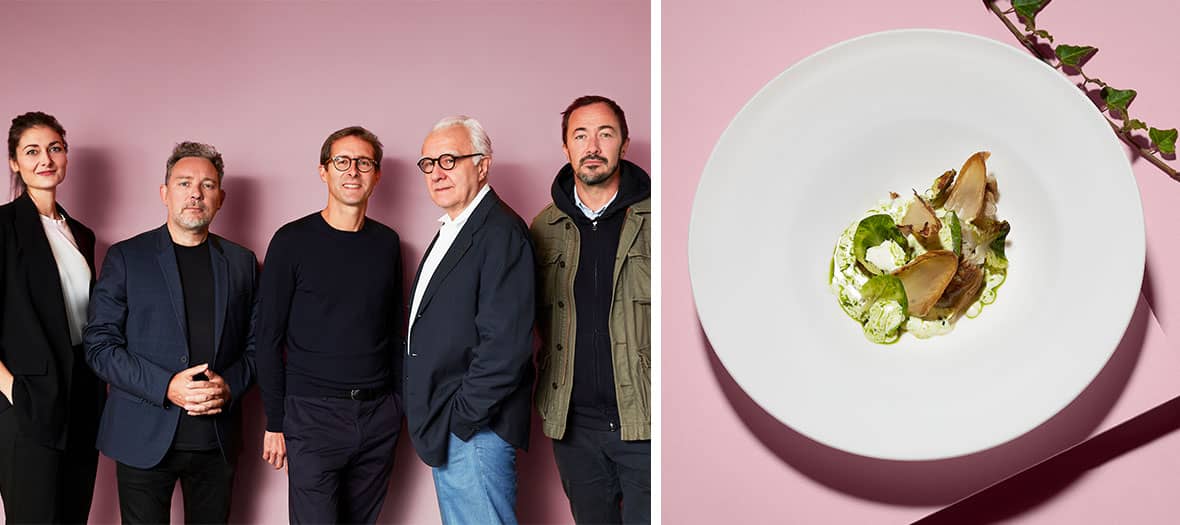 The Chiefs ? For 100 days, Alain Ducasse gathered around him the best chefs of the moment, namely the Catalan Albert Adrià , the king of naturalness Romain Meder, but also the pastry chef Jessica Préalpato and the cellar master of Dom Pérignon Vincent Chaperon . Their ephemeral restaurant ADMO is creating a stir at the Quai Branly - Jacques Chirac museum : an experimental project meeting Spanish and French gastronomy, which promises a moment of haute cuisine in a 100% sustainable approach.
A la carte? Two formulas: 7-course lunch or dinner (380 €) or 5-course lunch (200 €).
If the contents of the plates remain for the moment a well-kept secret, the promise announces a rather insane taste experience which sublimates the beautiful ingredient in a resolutely creative menu sublimated by an exceptional champagne. A real harmonious dialogue between these masters in their fields!
Until March 3, 2022 at Ombres, the restaurant of the Quai Branly Museum -
Jacques Chirac, 27 quai Branly, Paris 7th district. Reservations on admo.lesombres-restaurant.com
© Atelier Mai 98
Also find café companion, the new favorite café of Parisiennes and Madame rêve café, the new chic brasserie that attracts all of Paris .