It is the most fascinating and detailed book on the subject. Suddenly, everyone is talking about it and it is already a victory in itself. Ex-stylist at Dior, researcher associated with CNRS and fashion historian, Audrey Millet just posted The black book of fashion published by Les Pérégrines. A panorama as fascinating as it is worrying on the overconsumption of clothing, from its origin to the catastrophic results of the fast fashion , even now ultra-fast fashion. To put in all hands.
SOS of a fashionist in distress
" We need Pinault! " Audrey Millet has embarked on a real historical and sociological study (not without citing Bourdieu and Baudrillard), but her Black Book of Fashion is above all a cry of alert launched to academics to make this" sick industry "a true subject of study (" Fashion is considered a girl's thing, whereas it is eminently political ") but especially to big bosses and manufacturers.
If good students emerge like the Kering group which was the first to think about a more eco-responsible fashion (" Which is not at all the case of LVMH ! "), Nike for example could triple the wages of its employees without much impact on its prices and therefore on the consumer. Not to mention of course the Uyghurs we have been talking about for a few months or Bangladesh , where women are asked to take the pill during their contract and where the rebel unionists are disappearing: " Everyone talks about modern slavery, but I don't not see the difference with that of the past ", the author takes offense.
These dyes that stain
" The problem is that the consumer no longer realizes that a trench coat does not cost 40 € ", explains Audrey Millet . Except that these small pleasures at mini prices have a very high human cost, and not only in distant lands with the factories. The main responsible? The dye .
Its organic version made from natural products is so expensive that hardly anyone uses it, not even luxury houses. The vast majority of manufacturers prefer the dye stuffed with heavy metals which pass through the skin to lodge inside the body. Result? Higher rates of infertility and cancer than ever before. Watch out for eye powder: even certified organic cotton can be dyed with toxic metals.
We the French, these ostriches
In the latest documentary Arte Fast Fashion, we were talking about cheap underwear from Boohoo's illegal workshops in Leicester. " But at least, in England, we give priority to associations and charity shops to buy clothes ", tempers Audrey Millet. In fact, it's even more complicated in France: " We are totally blocked because of the sacrosanct trio Saint Laurent , Chanel and Dior : we are not allowed to speak ill of fashion, so we are silent. It would be like saying that we are not the best, so we prefer to admire these three names from our rainbow of glittery care bears ".
And the made in France, then? " It's cute, but it bothers me when it comes to national sovereignty. We are European, there is no reason why we should not go and produce in Italy or Portugal ... "
What about vintage in all of this?
Considering that we already have more than enough clothes on earth and opting for second hand seems a solution. Except that vintage is more and more fashionable, its prices will necessarily increase, which is already true.
In addition, the lower classes " want something new": " Buying vintage reminds you that, as a child, you inherited the big brother's turtleneck ", illustrates Audrey Millet. As for online giants like Zalando who are going pre-owned, it is a facade: " We remain overconsumption, even vintage, which shows that the basic problem is still not treated. "
What solutions?
Education, first of all, by explaining to the youngest that we are not born ugly and that Instagrammers convey a false image of beauty. Then discuss the parent / child relationship again: " The parent is not his kid's friend, he is the one who explains and who knows. "
It is finally a question of reflecting on his own behavior: " I have 7 black t-shirts, is the 8th useful? ", Then seek to vary the pleasures by offering a cinema ticket instead. Having more rooms in your closet means they're cheaper, and that's the problem. To relearn to love the clothes that we already have, to think by silhouette while imagining compositions, it is also to give them a second life.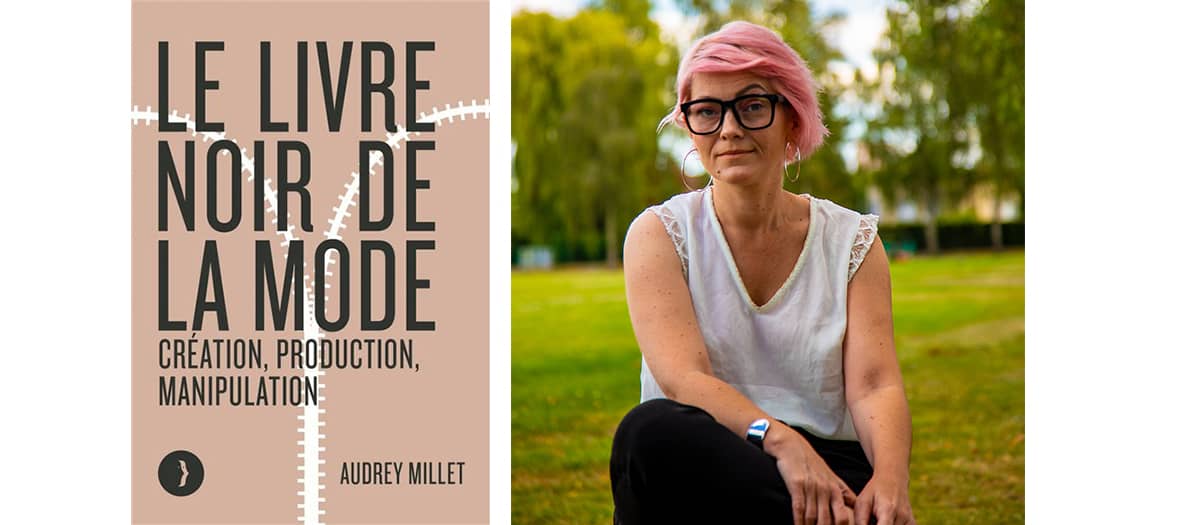 Audrey Millet's Black Fashion Book, € 20
Also discover how to sell your clothes on Vinted and the 34 pieces to have in your wardrobe .