It's the new playground of all those who are fans of cool and trendy decors. Known for its sense of style and its pop palette, the French house of contemporary furniture Moustache, has just opened its very first Parisian flagship, halfway between République and Canal Saint-Martin.    A small bomb in the smooth universe of design. Explanations.
A good dose of fun
Moustache, is the small troublemaker in the design world. Since 10 years, the French company, launched by Stéphane Arriubergé and Massimiliano Iorio, conveys humour and lightness to the universe of decoration by presenting playful and offbeat creations conceived by famous international designers and produced in keeping with sustainable methods in Europe.
Without knowing it, you must necessarily already know a few, such as the TGV lamp signed Ionna Vautrin for the SNCF (€295) or the Boldchair that is a big hit with its fabric cover that comes in many colours and its tubular structure straight out of a cartoon (€420) or the vase of Sébastien Cordoleani—for a single flower, placed on a trompe l'œil platter (€43).
Other best-sellers, the Chantilly lamp of the highly coveted Charlotte Guisset, like a cream topping in origami (€95) and the Heirloom 1 vase of Benjamin Graindorge, a real ceramic OVNI UFO (€100). All these pieces and many more are to be discovered in the first address of the brand, opening onto a grotto arriving all the way to the luminous podium under a skylight.
Curiosities at small prices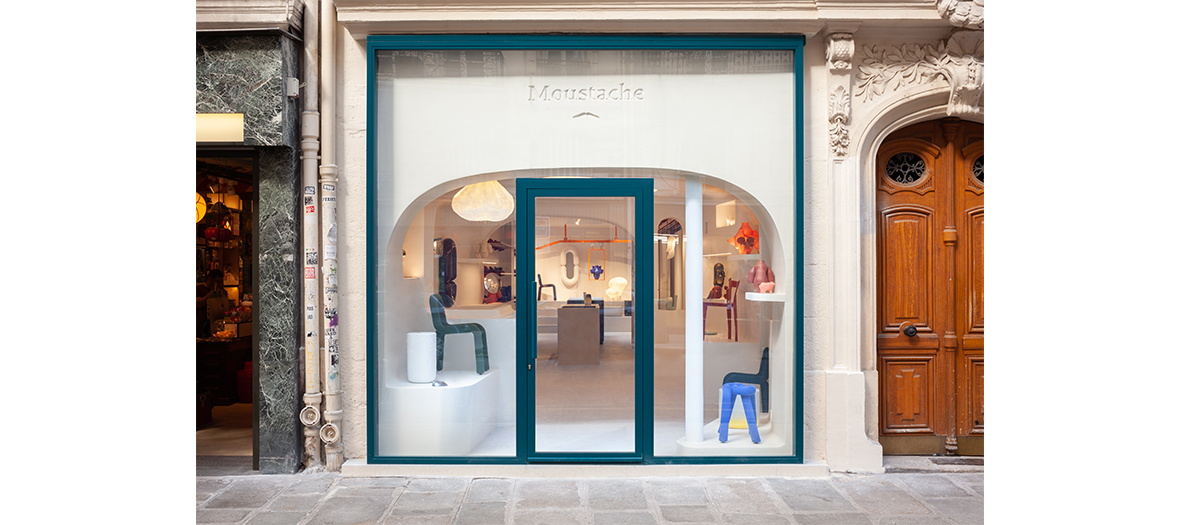 Never short on ideas, the Moustache team has picked out small objects and unusual accessories— not distributed in France, or then very little.
Examples? Surprise soaps with a ceramic sculpture inside (€35), the irreverent mini notebooks of the Scottish label Ark(€15), the"Héroïne et Cocaïne" salt/pepper set by  David Shrigley (€60), without forgetting the stickers and Domestic wallpapers—big brother of Moustache, who popularized mural stickers in 2000.
Also check out Sergeant Paper, Datcha and ceramicist Marion Graux.