After having occupied the headliner at Maison & Objet 2019 , the patterns announce their dazzling comeback.

On the program: feline weaving , XXL embroidery , ready-to-wear furniture , more and more wallpapers , illustrated ceramics and the resounding return of tie & dye . Overview of the most designer prints of the season.
The exotic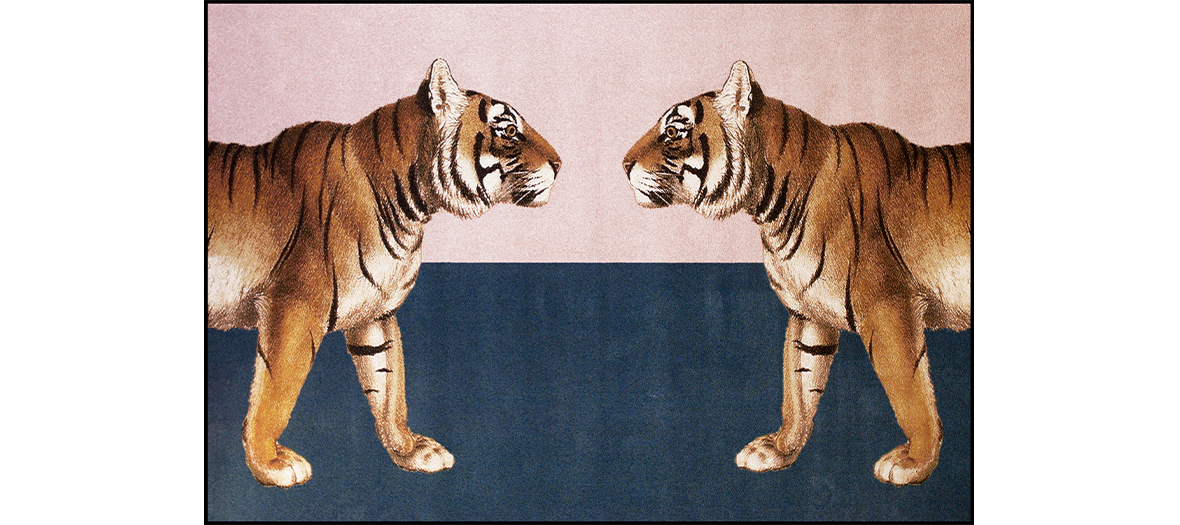 No more boring panther motif. The German design studio schoenstaub , specialized in textiles and decorative objects since 2012, is launching its new BESTIA collection of hyper-graaouu rugs , blankets, tableware and cushions . In collaboration with the Bern Natural History Museum , the rugs are woven from artificial silk threads from archive illustrations.

Result? Exotic animals larger than life represented in an ultra dense weave in pop and slightly acid colors . The new must-have to display proudly in your living room!

Several sizes available for rugs, 100% viscose, from CHF 420.
More information on www.schoenstaub.com .
Fashionable prints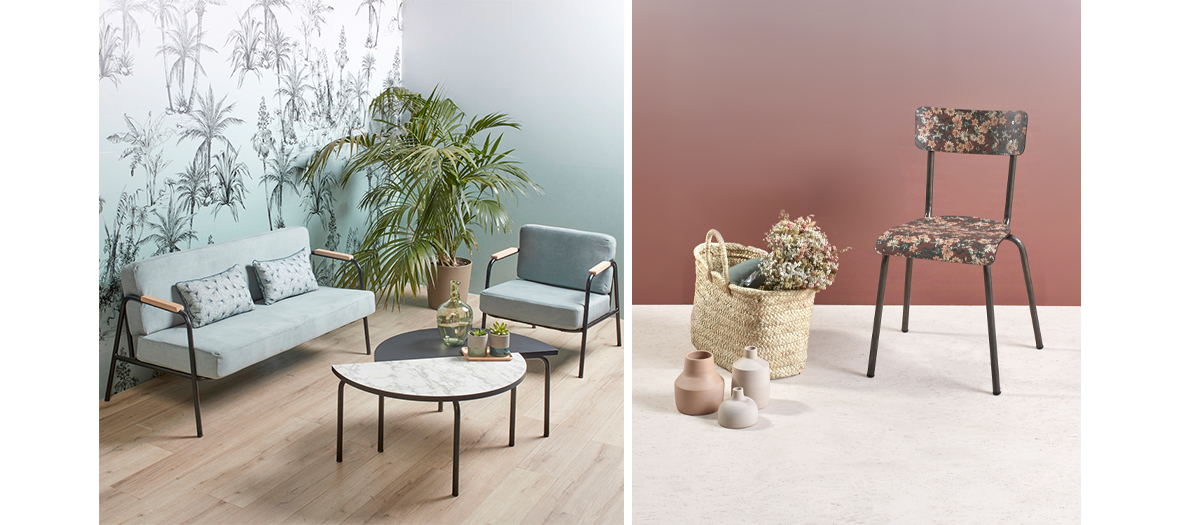 Transforming fashion shows into furniture shows is the Gambettes ' commitment ! It gives: chairs on high heels and old school furniture with hyper retro prints , between colorful graphics and vintage flowers. All made in Europe. In short, everything to please.

With collections in the image of fashion houses: pantones and patterns reviewed every 6 months depending on the season (spring-summer or fall-winter), the two founders of the brand have it all. Their latest news? The autumn flower print in a blouse style but, here, on a school chair (€ 190) and the toile de jouy pattern (€ 70 per strip of non-woven wallpaper ), always on fleek .

Available at www.lesgambettes.fr .
Ceramic illustrations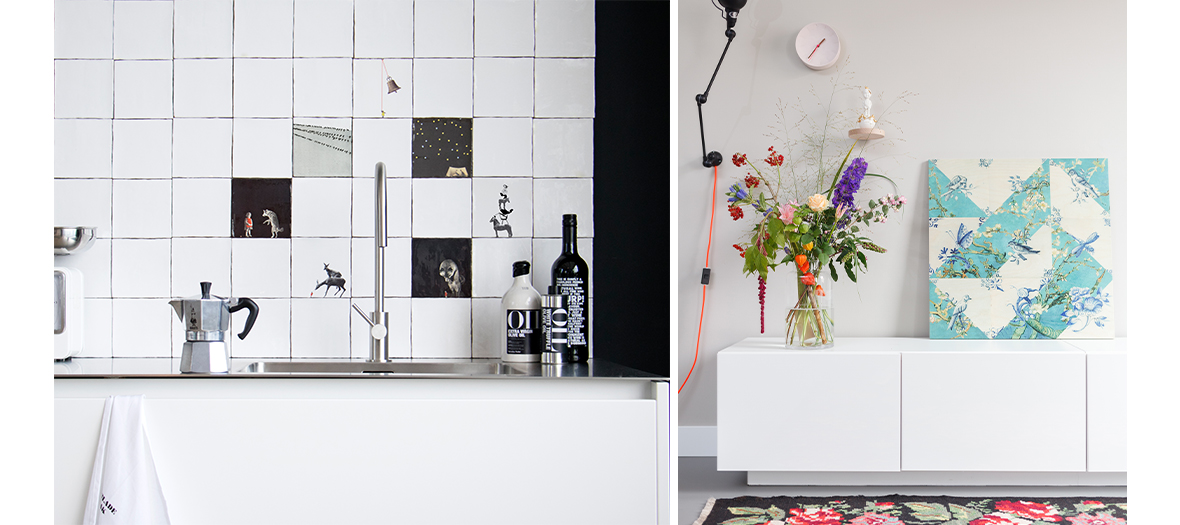 Big favorite of the season: the hyper poetic illustrated ceramic tiles of StoryTiles by the ultra talented designer Marga van Oers . With the leitmotif of modernizing hyper traditional and noble decorative elements, the Dutch brand is betting to breathe new life into it through design. Everything here is handcrafted , made in the Netherlands , with cute and fantastic little illustrations , inspired by the world of children. A charm !

Use in earthenware tiles to spice up your kitchen or bathroom or as a decorative table .

Good news: these wonders of the Netherlands are available in Paris at Fleux , L'êtreANGE , Mezzanine, Luka Luna, Maison Aimable and Emarobe Bazar.

From p. from € 27.50 per ceramic tile (10x10cm).
To buy online: https://storytiles.nl/ .
Life-size embroidery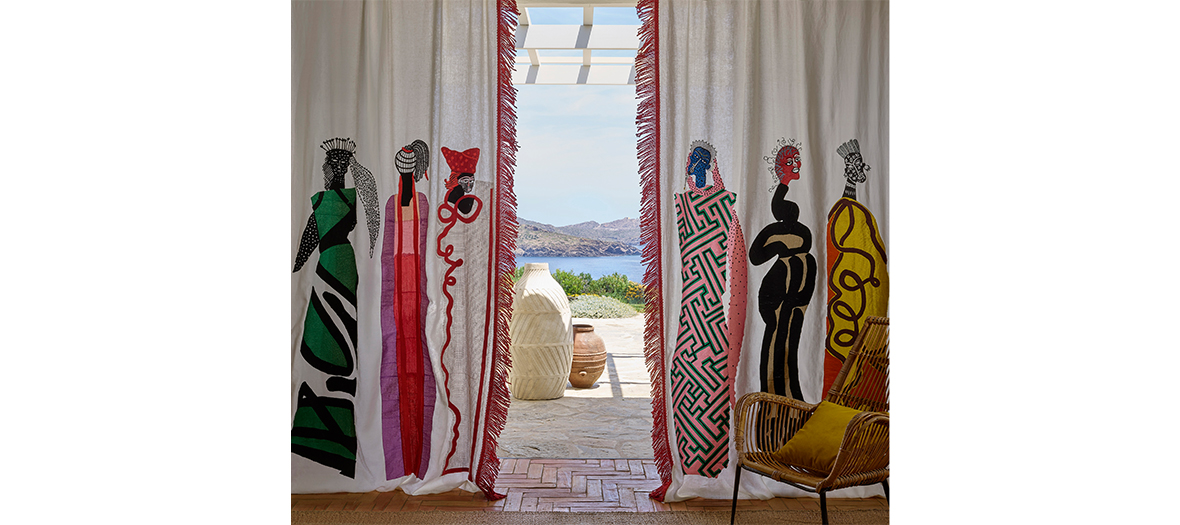 Change of scenery for XXL size embroidery made by Pierre Frey . With costumed characters like embroidered collages on 3m high linen panels framed by a hyper refined red border, we can only adore.

The must to bring an ultra contemporary and original touch to your living room with these ethnic painting-style 1.75m high bodies and create a partition at home so chic and design.

€ 991 per panel.
Available in stores. More information on www.pierrefrey.com .
The new Londonart x Marcel Wanders wallpapers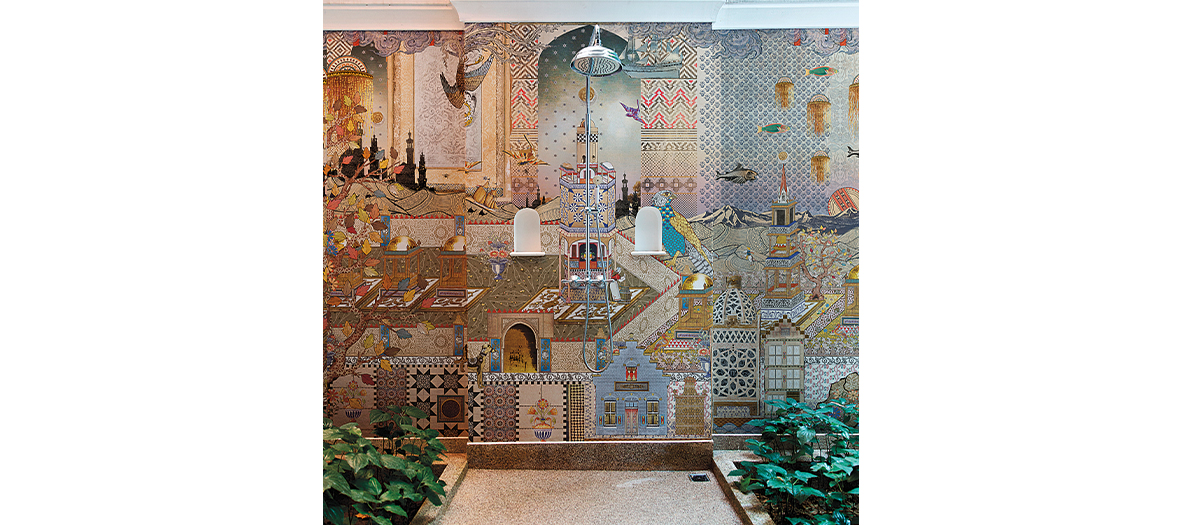 Nd Mondiran Doha
Small revolution in the world of decoration: the Londonart brand is creating a buzz by creating trendy wallpapers special for the bathroom ! Designed to resist humidity thanks to fiberglass , they adapt to the walls of the shower and can even sublimate your kitchen: the dream!

Big news: Marcel Wanders , a big name in Dutch design who exhibits at MoMa in particular, is teaming up with the brand for a completely new Wanderlust capsule collection. On the program: drawings around the world to represent the different cultures of the five continents. We fell in love with the Qatar Mondrian Doha model and its elegant geometric lines.

€ 110 per m² for the Wanderlust collection, on sale at La Maison Bineau at 12 Boulevard Bineau, 92300 Levallois-Perret.
The tie & dye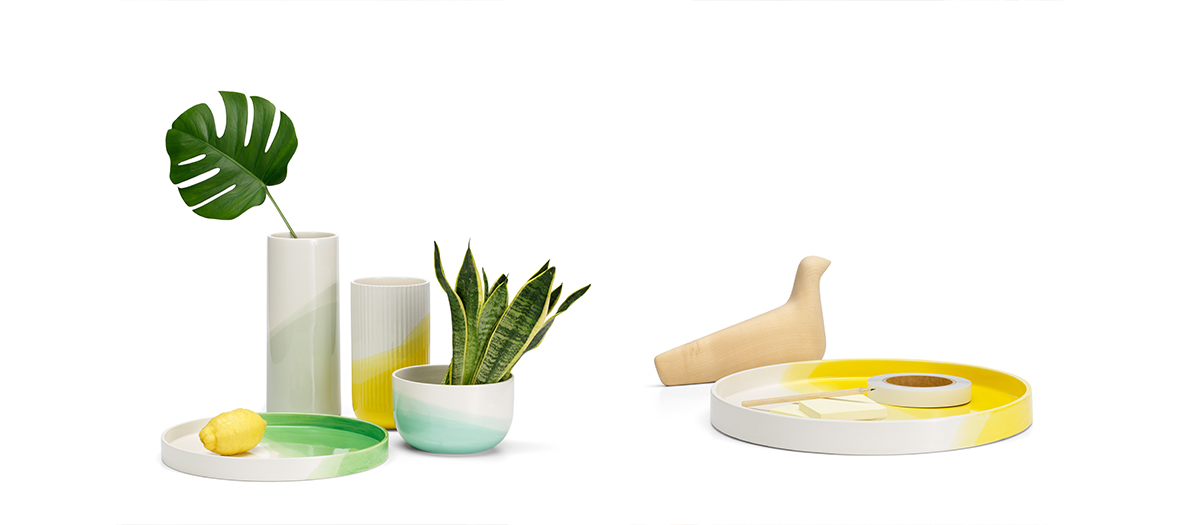 We were all waiting for him, he is here, finally, the big comeback of tie and dye ! And, this time, it is the Swiss manufacturer Vitra who revisits it in collaboration with Raw Edges on a collection of Herringbone Vessels tableware, all with a crazy elegance.

The process? Successive soaking carried out on designer ceramic vases which, depending on the angle, the shape and the object, allow to create a unique stain for each model. Result: a mint-colored bowl (€ 99), a lemon-yellow gradient tray (€ 109) and smooth or grooved vases from blue to yellow (€ 119). A furiously precise spontaneity for tailor-made graphics , everything we love.

From p. from 99 €.
Available at the Center Pompidou boutique , place Georges-Pompidou, 75004 Paris.


Also discover new decorating trends and Maison Flâneur , the best hotel and restaurant decor at home.