You miss Val, Meribel or La Clusaz… You dream of dancing on the tables of La Folie Douce in your moonboots, nestling in a chalet, you have a wild urge for a tartiflette on a sunny terrace or a restaurant on the slopes along with the smell of a tempting cheese fondue on a crisp cold day? Without having to book a ticket, nor purchase a ski pass, the very best of signature mountain dishes are just a few metro stops away with your Navigo card. Follow the leader.
Eugene Eugene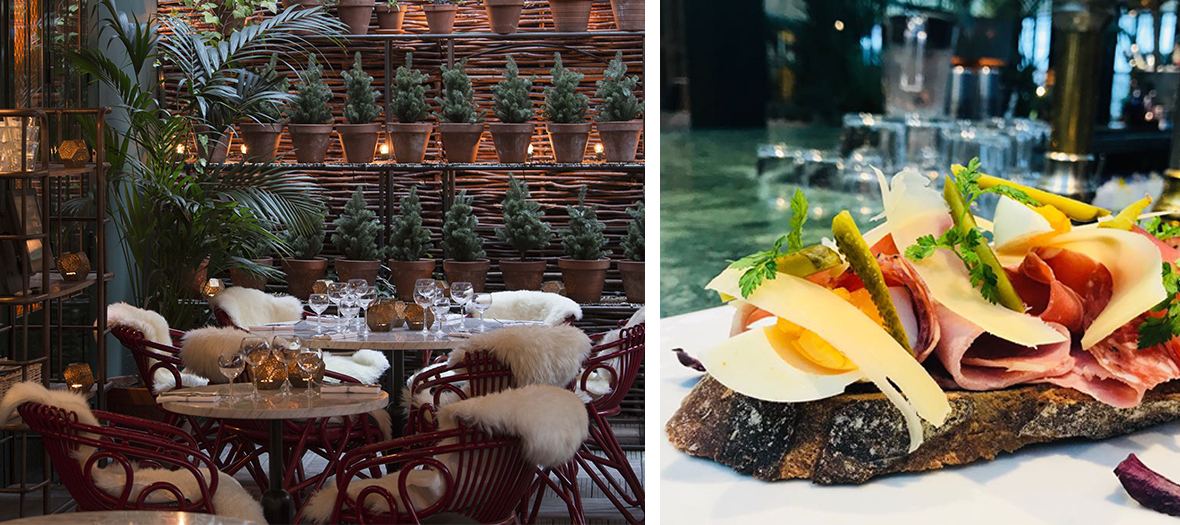 Why you will adore going there? Because the atmosphere of this furiously trendy inn continues to attract regulars in the Eastern part of Paris. Eugène Eugène has dressed up for Winter with heated terraces, fleecy plaids where you can really nestle warmly with a must-have pretty parka to dig into a gratin of crozets, truffles and Mont d'or cheese, as though you were lunching on the slopes. The ambiance has retained its cocooning spirit inside.
On the menu: a brunch Savoyard brunch served every Sunday as a buffet (€42) that rivals with the chic restaurants of Megève: raclette, charcuterie, eggs, viennoiseries, quiches, lentil and green bean salads, crêpes, waffles, cheese-cakes and fruit salads.
Open Monday to Saturday 11am-1am, on Sunday noon-6pm.
Eugène Eugène, 38 rue Eugène Eichenberger, 92800 Puteaux. 01 41 38 40 00.
Auteuil Brasserie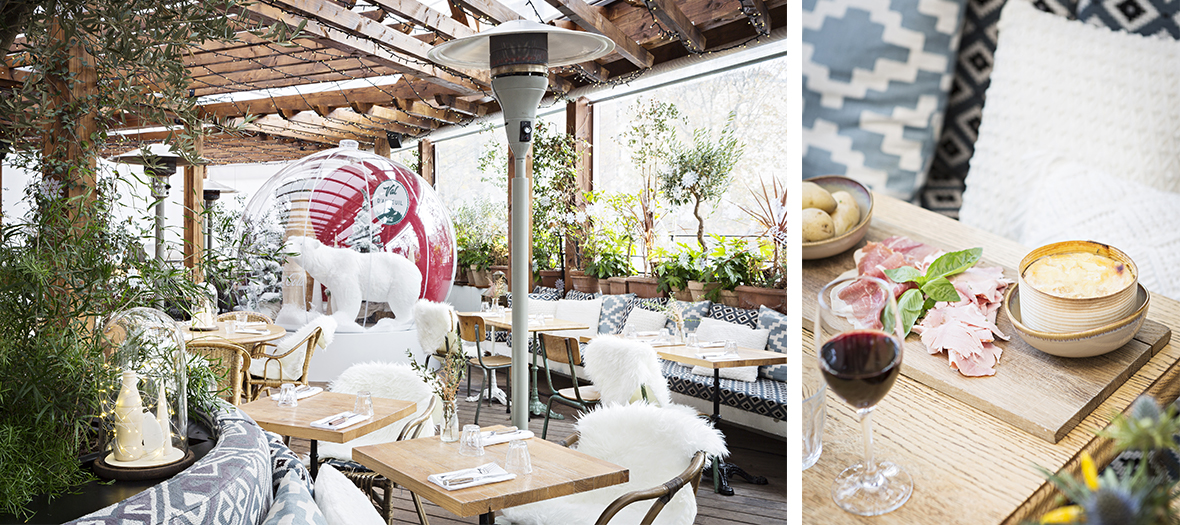 Why you will adore going there? The prettiest heated terrace of the West Side morphs into four-hand Parisian Folie Douce mode, with Coca Cola. Result: a XXL snowball with polar bear just like in the ad, and a forest of pine trees. After the selfie, settle in this highly instagrammable fluffy decor: fur plaids, garlands, hygge cushions...
On the menu: sure value. Bruschette grilled with mozza, parmesan, prosciutto with herbs, tomato (€11), plancha to share (roasted vacherin Mont d'Or, Parma harm, prosciutto with herbs, potatoes, €29), to be washed down with comforting warm cocktails (€12).
Open every day from, de 9am until 2am.
Auteuil Brasserie, 78 rue d'Auteuil, 75016. 01 40 71 11 90.
Rural by Marc Veyrat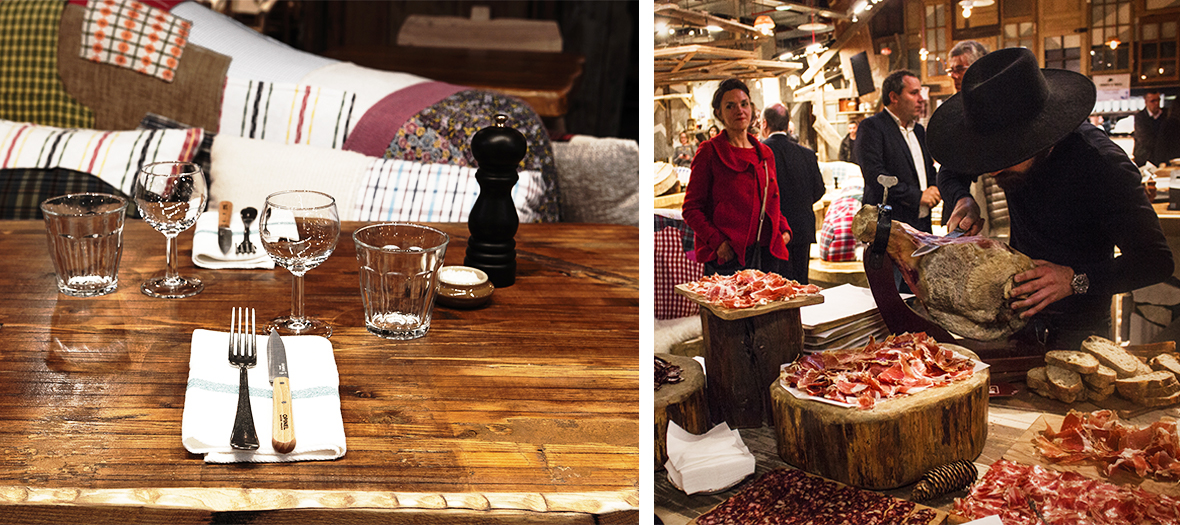 Why you will adore going there? Because Marc Veyrat, "the" great Savoyard chef, imported in Paris with the help of Benjamin Patou (big boss of MOMA and inside-track Parisian lore) an old fashioned tavern worthy of the prettiest Alpine chalets. An ideal venue to satisfy the whimsies of mountain loving Parisiennes on the lookout for good products and who enjoy pit-stops on the slopes, in a typical decor where from morning until evening you can come taste regional dishes at affordable prices. The formula including starter + dish + dessert is just perfect.
On the menu: heavy duty eats: all the products and favourite family dishes of the great Marc Veyrat, starting with the tartiflette, Veyrat style, the péla, a plate of cheese - beaufort, reblochon, tomme, creamy chicken with polenta fries. For small appetites: a grilled cheese croque monsieur with a green salad (€15) and slabs of charcuterie and salad (€15). The irresistible buffet of desserts includes pink praline and blueberry tarts, a runny caramel, Savoie or chocolate cakes. Tobe noted : the divine local drinks such as the blueberry lemonade.
Open every day from 10:30am to 1O:30pm.
Rural by Marc Veyrat au Palais des Congrès, 2 place de la Porte Maillot, 75017 and 78 boulevard Gouvion St Cyr, 75017. 01 72 69 03 03.
Les Jardins du Marais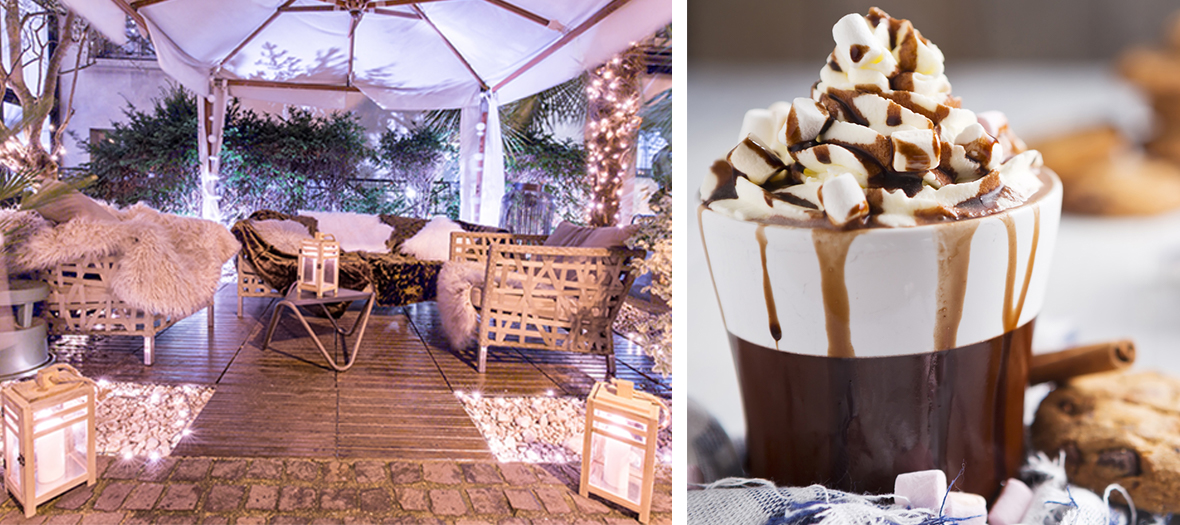 Why you will adore going there? A warm Chocolate Bar hidden in a wonderful spot of the Marais, who wants to come with us ? On the XXL terrace, spot the gourmet chalet. Just settle on the sofas covered with comfy animal skins, under the tapestry surrounded by plants and fairytale illuminations. A perfect place to chill.
On the menu : totally regressive hot chocolate (€5,50) or Viennese style, Nutella caramel or almond milk (€6,50). For nibbles, 100 % diet- waffles with a choice of 2 toppings (who will dare the combo cream of chestnut/Chantilly cream ?), €,7 fritters (€6), and other orgasmic treats - brownies, muffins, macaroons, chocolates, jellied fruit… Shall we continue ?
Open until the 15th of March 2018 from 4pm to 9pm.
Les Jardins du Marais, 74 Rue Amelot, 75011. 01 40 21 20 00.
Paroles de Fromagers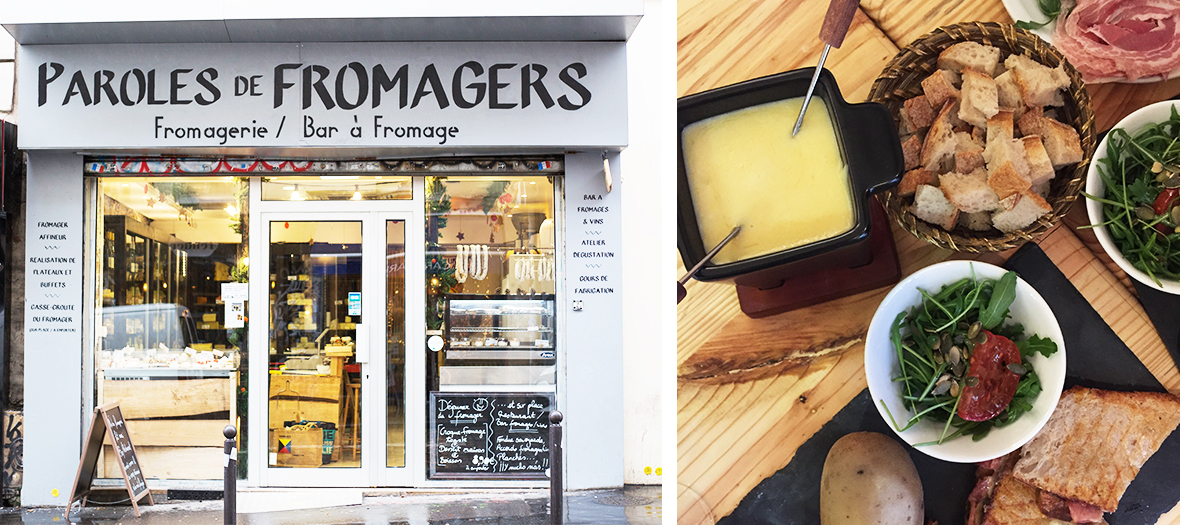 Why you will adore going there? Cheese lovers have found their enclave. Open in September by a 30-year-old cheese buff, here is the very first all-round cheesery in Paris. What's the story ? A boutique of course, but also a cheese restaurant-bar (yes, yes), a cheese refining cellar and even a cheese workshop, so you can concoct your very own fresh goat cheese. Yum !
On the menu: cooked on the spot, croque-monsieurs with comté, reblochon, goat, raclette &Co, served with salad and a hot potato (€12), as well as the best fondue with Paris comté as we like it, with a fruity taste and white wine (€24.90) along with a nice assortment of charcuterie. To be tasted while sipping a nice Syrah and chatting about life and cheese with the charming and knowledgeable owner, Pierre Brisson.
Open on Monday from 4pm-8:30pm and Tuesday to Saturday from 9am-10pm. Info and course hours on www.parolesdefromagers.com.
Paroles de Fromagers, 41 rue du Faubourg du Temple, 75010. 01 43 03 98 18.
Il Cottage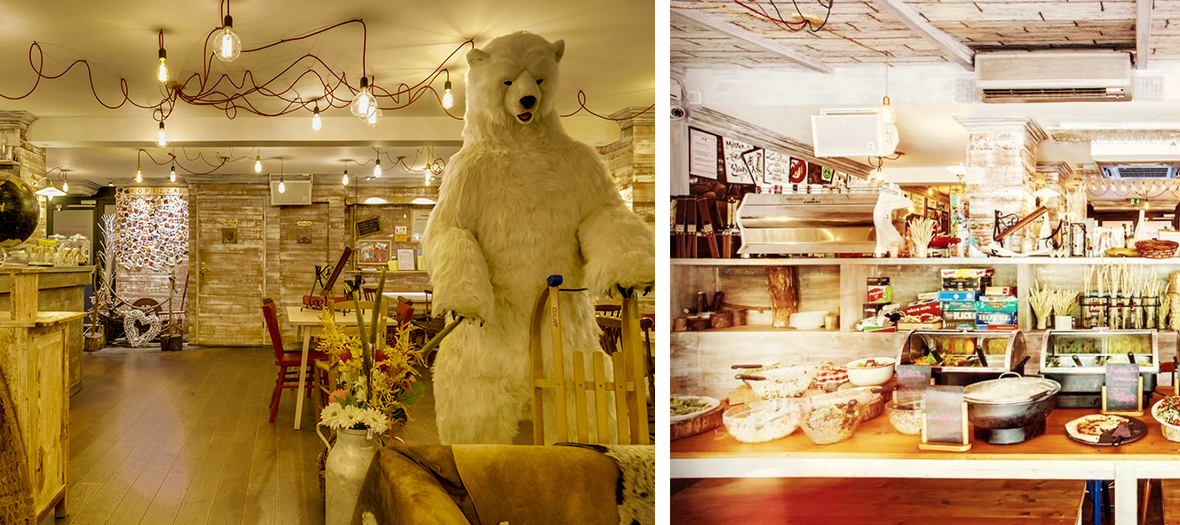 Why you will adore going there? Less far than Megève, more accessible than Val d'Isère, yet you really feel the change of scenery. A kitschy polar bear, friendly staff in jacquard outfits and bonnets… Lots of laughs and glass clinking—in short, here you will find a delicious après-ski ambiance.
On the menu: antipasti to share, pizzas, gnocchiflette peck and taleggio (€18), without forgetting of course the star fondues and raclettes with their army of potatoes, charcuteries, salad and cornichons (€24 /person), to be enjoyed with a good Sancerre (€34). Still hungry? The tiramisu cappuccino should do the trick (€11). For better digestion, try the herbal chamomile.
Open every day noon to midnight.
Il Cottage, 1 Boulevard Lannes, 75116. 01 44 05 11 70.
Hôtel du Collectionneur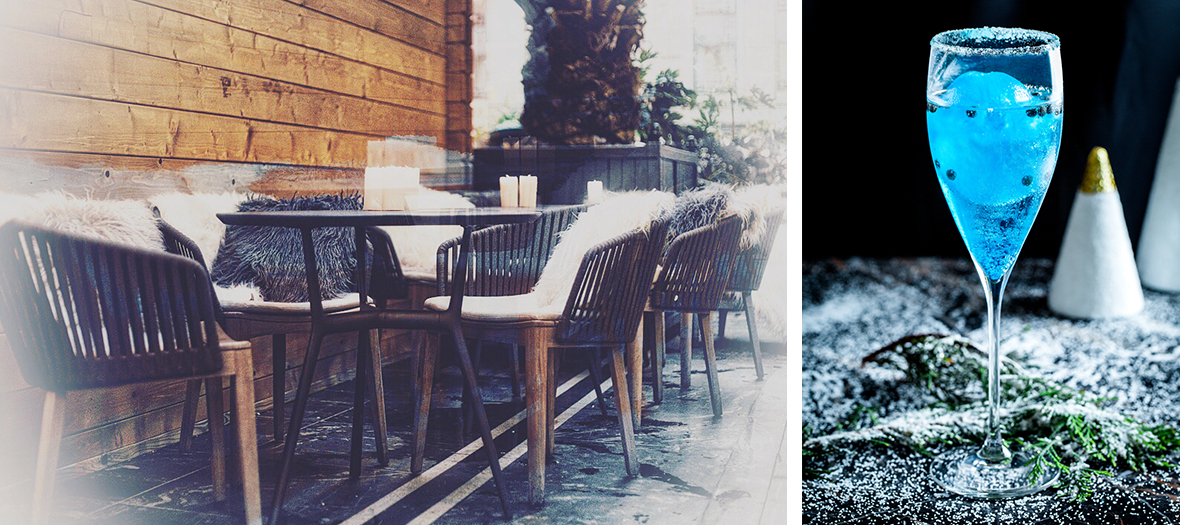 Why you will adore going there? A fairy tale chalet planted in the garden of the cult 5-star hotel, behind the parc Monceau. A real life dream worthy of the Snow Queeen, with an ephemeralrestaurant, festive garlands, fleecy cushions and elegant tables.
One the menu: Winter delights revisited by the chef of the Safran, Joël Veyssières, with salmon smorrebrod (€24), smoked beef filet and marrow sauce (€45), veggie risotto (€26), finger-licking good pineapple tart (€14). Ultimate option: the ephemeral menu (starter - dish - dessert, €48 at lunch, €53 in the evening) with cromesquis of foie gras, calamari, skate wings, glazed breast of pig, tatin pear tart and other comfy treats. To be noted: the all-blue Fizzy Iceberg cocktail with vodka, sorrel flower, absinthe and champagne, an irresistible delight (€26).
All the info on www.hotelducollectionneur.com.
Hôtel du Collectionneur, 51-57 rue de Courcelles, 75008. 01 58 36 67 00.
Le Buffet de la Gare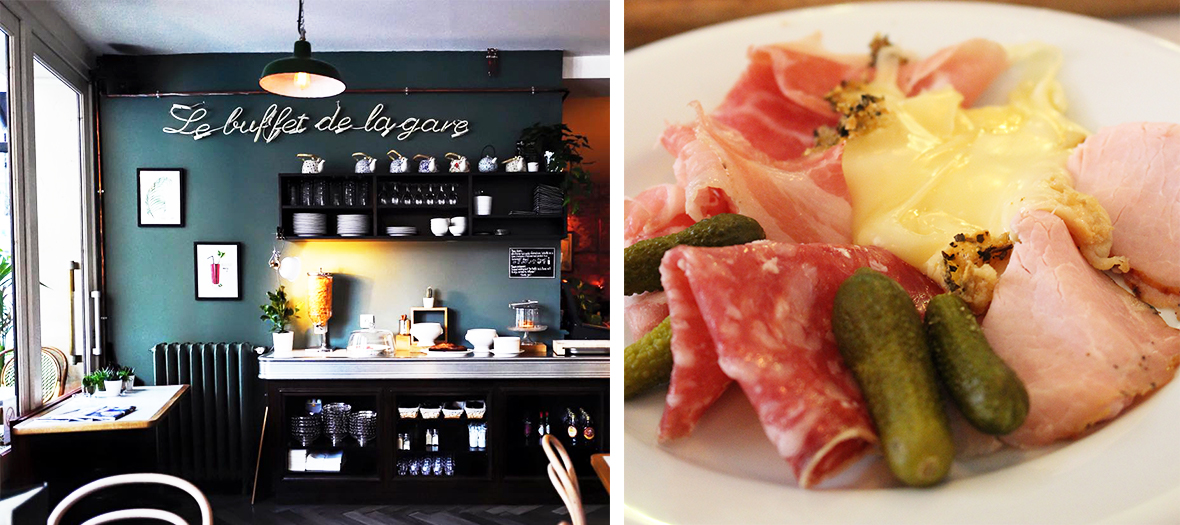 Why you will adore going there? Because this ultra-cool HQ imagined by Mathieu Bussy (ex Floréal), Richard Moussié and Gérard Moussié knows how to appeal to its stylish clientele in this new-age interpretation of the railway station buffet concept (in this case the gare de l'Est). Its raclette, served at night, where a fabulous old style cheese melting machine is placed on the tables, to be enjoyed piping hot or on the heated terrace to push the "holiday" experience right down to the end of your mittens.
On the menu: raclette as much as you can eat for €25 - we adore the concept ! – with top notch cheese varieties (morbier franc-comtois, smoked, with pepper or classic) to be melted on potatoes. Two options: taste them with a plate of meats and charcuteries (chicken, ham, andouille, serrano, coppa, dried beef...) or for veggies, a plate of pickled vegetables, steamed carrots and an assortment of raw greens. To be washed down with a nice glass of organic white wine (€4.50). You are in heaven.
All you can eat raclette formula at €25— every evening starting at 7pm.
Le Buffet de la Gare, 70 Boulevard de Strasbourg, 75010. 01 46 07 36 05.