Tonton Yün, c'est le personnage inventé par un gang de foodies branchés pour incarner un chinois de quartier 2.0. Vous êtes au cœur d'un bistrot d'auteur franco-cantonnais bobo et gourmand comme il faut. Ici, on ne se prend pas au sérieux et on dompte non sans humour les clichés sur les restos asiates à Paris.
Chinois. Pas Coréens, ni Japonais. Et donc, non, ils ne font pas de bo bun, ni de nems, et se justifient en mode LOL : ils en feront "le jour où on pourra commander une choucroute dans un restaurant italien". Et encore non : y'a pas de pain, mais du riz.
Des bols trop bons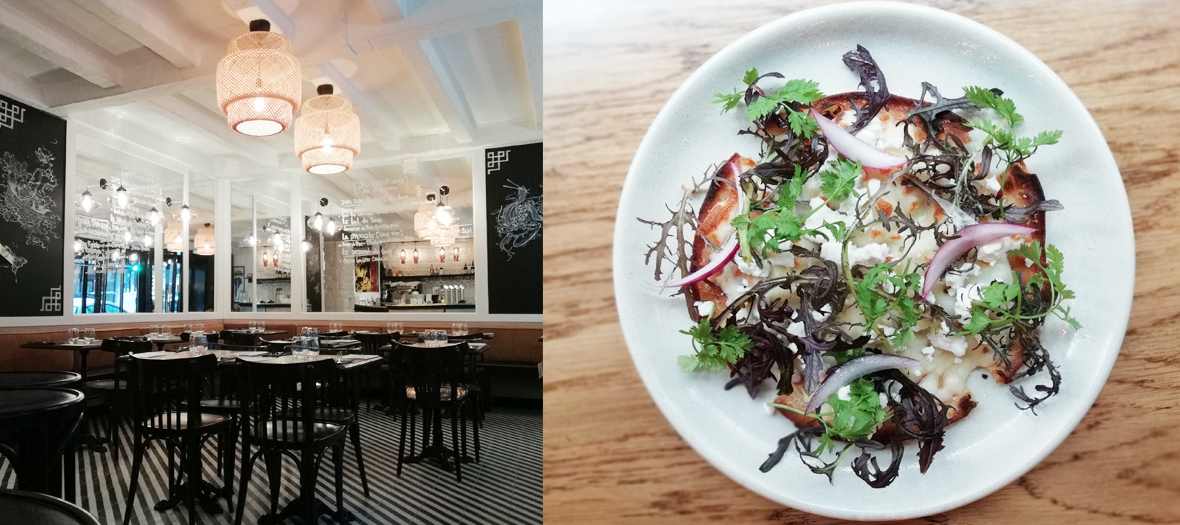 Plus sérieusement, passons à table. Outre les entrées assez canons - des ravioli grillés, des tempuras de légumes du jour (pour nous : une délicieuse friture de chou-fleur) ou du bœuf croustillant servi avec une mayo spicy, ou encore la spécialité de la maison : des bols méga-copieux et addictifs.
Dans les assiettes : une base de riz au jasmin, des pickles de légumes et de la salade, le tout servi au choix avec un saumon confit label rouge, un curry de lentilles et feta pour les veggie, un effiloché de bœuf sichuan, un mix and match végane de Bok Choï et patates douces (16 €). Tout simplement trop bon. Et pour finir en beauté : une crème brûlée au jasmin, yummy tout plein.
Une micro-brasserie en sous-sol
Ici, le tout s'arrose de vins bio de chez nous et de bières de la micro-brasserie située sous le resto. Impossible de faire plus locavore, of course.
On adore : le take-away juste derrière (65 rue Chabrol), pour emporter tous les délices à la maison. Le meilleur chinois de quartier de Paris, on vous dit !
Ouvert tous les jours midi et soir. Fermé dimanche et lundi soir.

Découvrez aussi Ran, le restaurant asiate le plus festif de Paris