We no longer need to introduceGiorgio , the all-pink disco table from Dalmata on the Bastille side for its resolutely glamorous setting between disco balls and Neapolitan dinette-style tableware, reversing the codes of Italian tradition with a colorful brunch and dishes made with love in a boosted atmosphere a thousand leagues from the classic trattorie .
A 100% girly brunch on the terrace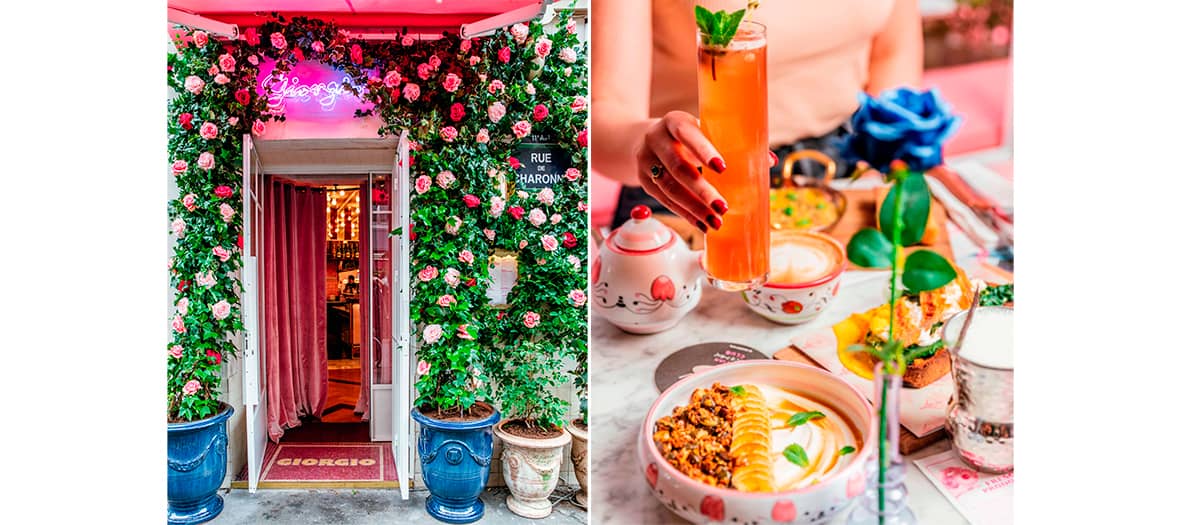 Giorgio wants to be resolutely disco (fans of Raffaella Carrà will appreciate the playlist) right from the entrance with its extremely kitsch decoration with great reinforcements of fake flowers in the Teste di Mori , these hyper-coloured Sicilian ceramic pots. For the rest, it's just madness: tables with a view of the stoves, DJ set from noon, sunny terrace with 80's parasols and Italian waiters shouting " Ciaooooo.. benvenuti " at the top of your lungs. Like at home .
The must ? Order a good cocktail to toast before sitting down. Special mention to the Basilicatum (€11), a super fresh potion based on gin-basil-elderflower-lemon. Delizioso !
Perfect for those who are nostalgic for holidays in Italy , all'italiana warmth and friendliness are guaranteed with a brunch (which is not, however, part of the Italian DNA) animated by a selection of quality products and a team that bends in four to recreate a typically Mediterranean atmosphere.
The glamorous trattoria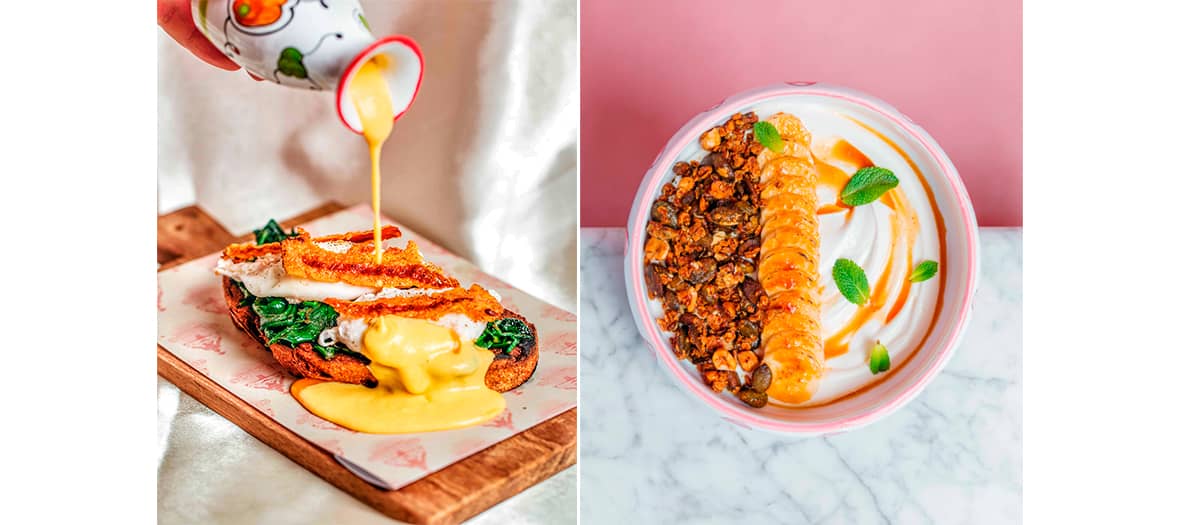 Here, there is no fixed menu but a menu revisited especially for brunch. We start with an anti-diet starter with a giga burrata (200 grams anyway, €14) stuffed with homemade basil pesto and accompanied by candied tomatoes, orGiorgio 's flagship starter , the Bene Bene: WHA eggs Benedict -HOU with crispy guanciale-spinach-hollandaise sauce ( terribly addictive truffle option ) served by the minute by an adorable Italian.
If you still have room, go for a good pasta like The real carbonara (€17) which respects the right proportions of the ingredients in the rules of the art (understand: without fresh cream), without hesitating to ask for pecorino from sprinkle.
And after ?
Sugar lovers are jubilant: the sweet brunch creations are the big new additions to the menu, the pistachio cream typical of the South (pistachio-style Nutella) is spread over churros served with ice cream (€11). For a healthier version , we order the Greek-banana-cereal yoghurt and its delicious maple syrup (€9) and, for the eternal mascarpone lovers, the classic tiramisu (€7) remains the good option before digest it all with a good local grappa.
Brunch on Saturday and Sunday, from 11 a.m. to 4 p.m. Dj-set Italo-Disco every Sunday.
Also discover: the new rooftops to squat this summer and Darroco, the most trendy restaurant in the 16th.