Where to party outdoors , have a drink, snack and dance in the open air with his band or as a duo? Report of the most stylish evenings of the summer.
CARGO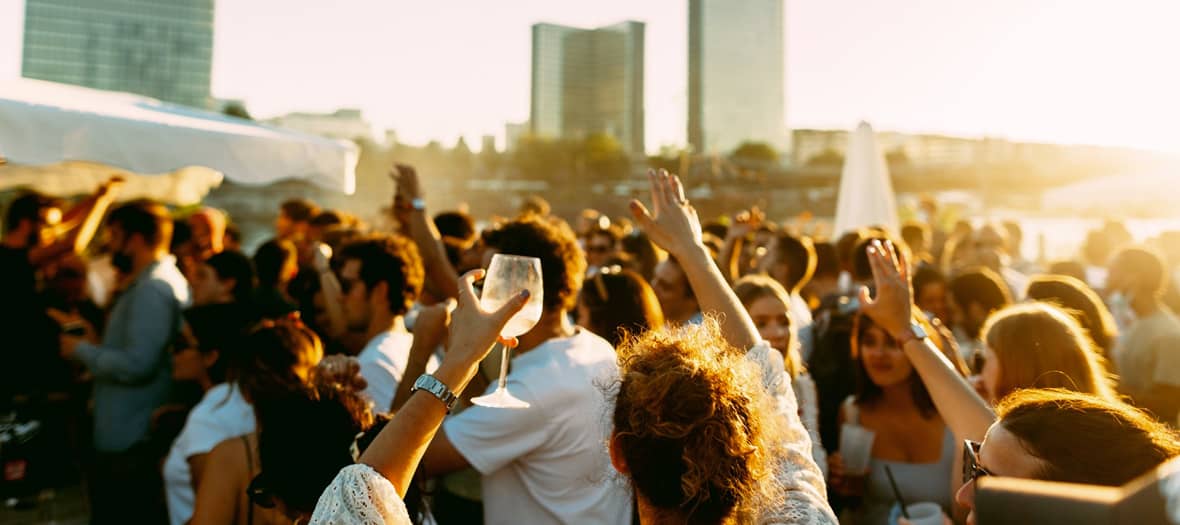 The party: this is the ephemeral bar on the quays par excellence for afterwork during the week and weekends with a group of friends. One day, one atmosphere: minimal on Wednesdays, electro on Thursdays, golden hour house on Fridays, disco boom on Saturdays and chill on Sundays… Just heavy!
Who do we meet? The cool and trendy kids from 18 to 45 years old.
On the menu? In a veritable headquarters for sores, there is no shortage of local beers such as La Goulue (€8), but also delicious Spritz (€12) to accompany the iconic pizzas of Iovine's , the essential address for pizza like in Napoli which is invites you this summer with its classic Margherita (€12) or the Tartufata version (€17).
The right time: at nightfall for a guaranteed dancefloor atmosphere.
Cargo container bar , open Wednesday to Sunday from 6 p.m. to 1 a.m.
1 port of Bercy Aval, Paris 12th. Online reservations .
PAPA CABANE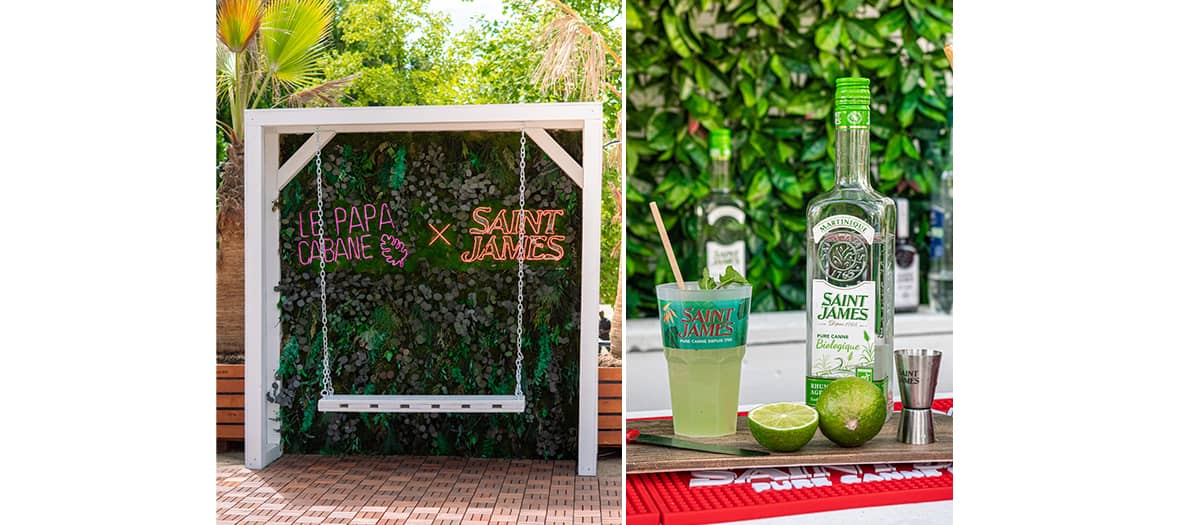 The party: 1000 m² of wild terrace with plants and fruit trees, sun, good sound, cocktails and street food... Papa Cabane is back this year near Bercy in a more tropical spirit than ever: until June 30, it 's partners with Saint James for exotic creations and cocktail workshops by mixologist Stephen Martin . The cool option? Squat a pétanque court with your crew, before taking over a table to dance in a band to great classics à la Gloria Gaynor and Michael Jackson .
Who do we meet? Trendy startuppers in afterwork.
À la carte: a glass of Prosecco (€5), a bottle of white or rosé (€25), a Spritz that goes away on its own (€10), sublime well-chilled mojitos (€10), to accompany a platter mixed (€20), a comfy burger or a very juicy hot dog (€8).
The right time: every Thursday evening!
Papa Cabane, rue Paul Belmondo, 75012. Reservations on 06 07 63 01 70. All information online .
© ForGeorges
I CAN'T I HAVE A BARGE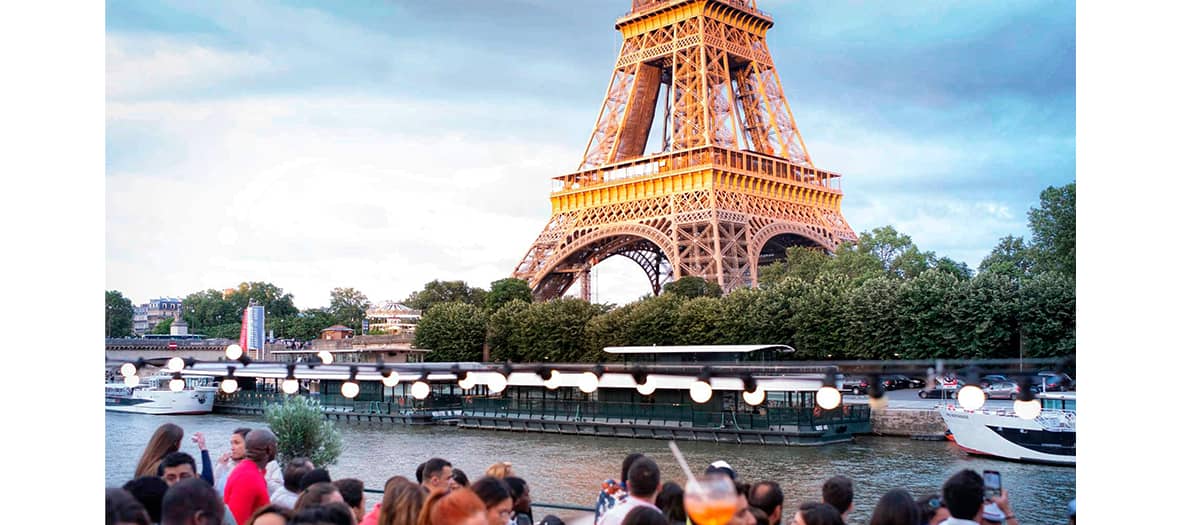 The party: it's the new barge that has been talking about it for a few seasons. The idea: take a trip on the Seine for two hours, right before sunset, good vibes only atmosphere guaranteed.
Who do we meet? The gangs of girls who came between girlfriends, from their twenties to 45 years old.
On the menu? Chicken curry (€12), mixed or veggie platters (€25). On the sweet side, pastries made by Xavier Motte , former chef at the Tour d'Argent , who wows the gallery with cannelés (€2), brownies (€3), gluten-free almond pavés (€3.50), accompanied by a Tanqueray Gin-cucumber-tonic cocktail (€10) or even a Chandon Garden Spritz XL to share (€50).
The right time: from 8:30 p.m. to dance under the bridges.
I can't I have a barge , River's King barge, opposite 4 Quai Saint Bernard, Paris 5th.
Every Saturday from 7 p.m. to 5 a.m., until September 17.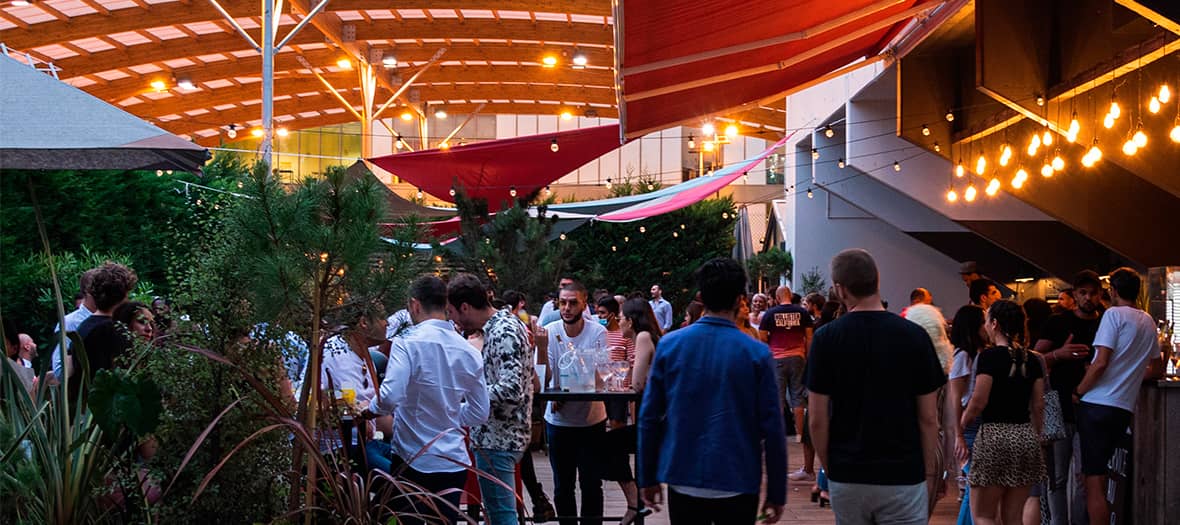 The party: the eternal aficionados of the 16th arrondissement finally have their chill spot to prolong the summer at nightfall. Former HQ of the Basques in Paris, Le Trinquet Village has had a makeover in a reorganized, cleaner and more chic space, having set up handpicked street food stands, a restaurant and a cocktail bar near its pelota courts. come and squat in gangs on some 4,000m² of terrace. Operation aperitif!
Who do we meet: two rooms two atmospheres between the fancy thirty-somethings, rather calmly installed in the new dining cellar, and the golden youth of the 16th arrondissement who have come to take advantage of this space to enjoy themselves without having to move too much.
On the menu: on the food truck side, we find Basque and homemade plates to share from La Bodega Sausalito (tapas, charcuterie, cheeses, sardines, etc.), mozzarella tomato arancini and smoked focaccia from Bocca'tcha , oysters N°3 from Ferret d' Oysters et Saumons or the French roast beef sandwich from Roasty .
The right moment: during the week after work, for a chilled and well-deserved drink...
Trinquet Village , 8 quai Saint-Exupéry, Paris 16th.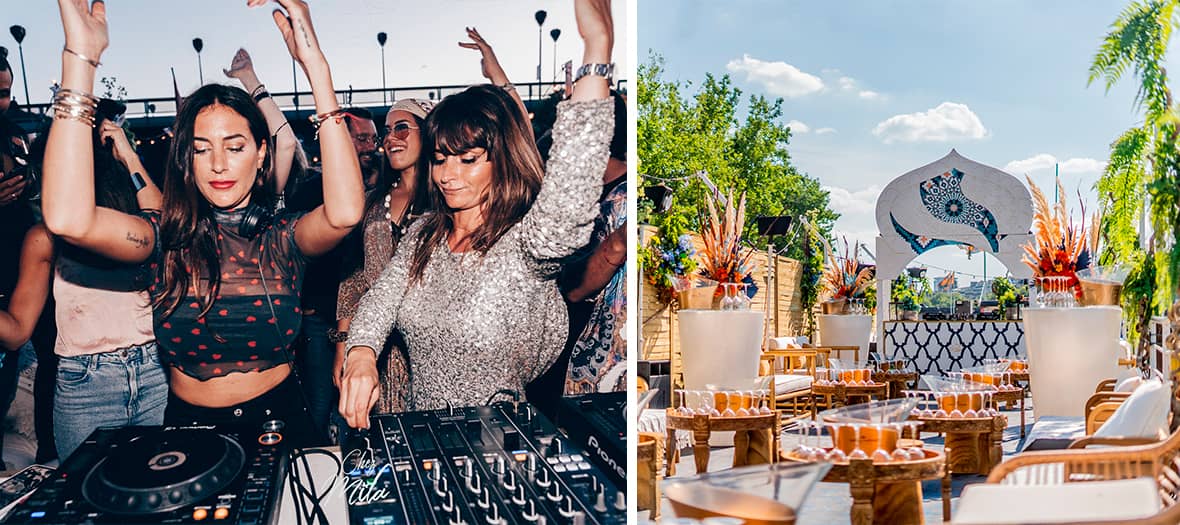 The party: an overview of the Ibiza and Mykonos parties in a small barge which welcomes from Tuesday to Saturday until 2 a.m. a hundred happy few who come to enjoy a chic and bling party in a bohemian setting on the water, just below the Eiffel Tower (the view is breathtaking)… before moving to L'Arc or the Buddha Bar if necessary.
Who do we meet? Jet-setters and wealthy young people from Paris, Milan, Tel Aviv and Beirut, influencers and clients of surrounding palaces.
On the menu: Italian street food only, simmered by Napoli Streat with the aperitivo misto cheese and charcuterie (€20), a burratina from Puglia and tomatoes (€15), a truffle pizzetta (€17) or a ricotta and pear ice cream cake (€15), to be washed down of course with pools of rosé, cocktails and bubbles.
The right time: July 13 for a frenzied holiday eve with DJ Set, and of course the next day with a cruise specially planned to admire the fireworks.
Chez Mila , 7 port de la Bourdonnais, Paris 7th.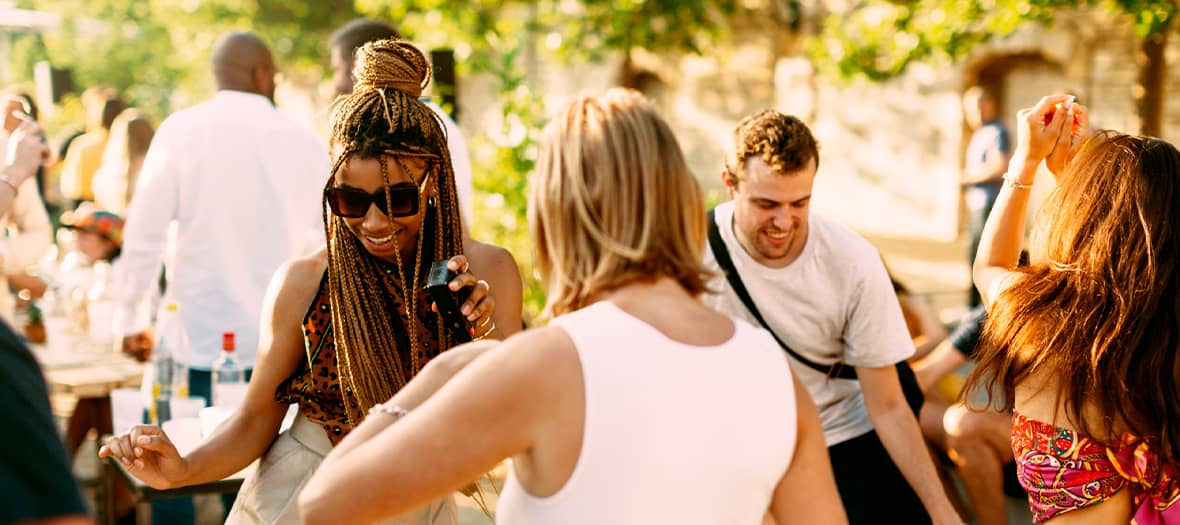 Party: Have you ever partied on a moving boat? The fun cruise takes on its full meaning here. Unable to reopen its bar, 3615 is relocating to the barge River's King and embarking its revelers every Friday evening in the summer for a wild cruise on the Seine, from 7 p.m., to the sound of hits by Axelle Red , Spice Girls, by TLC, Sean Paul and Britney Spears . Be careful, here, the tradition is that you shout as soon as the boat passes under a bridge! At 11 p.m., return to the fold for the second part of the evening: the 3615 Bamboche, static this time, and which promises to last until 5 a.m.
Who do we meet? The party girls and addicts to the hits of the 90s/2000s.
À la carte: a cheese and charcuterie board (€18), hummus (€6), a salmon and guacamole tartare (€12), cream cheese + tomato + cucumber toast (€9), a smoked turkey bagel (€9). As for cocktails, a tanqueray + cucumber tonic or stormy tonic (€10), a glass of Moët & Chandon (€12) or even a Fisher (€5).
The right time: every Friday evening!
3615 Cruise at the River's King 4 quai Saint-Bernard, Paris 5th.

WANDERLUST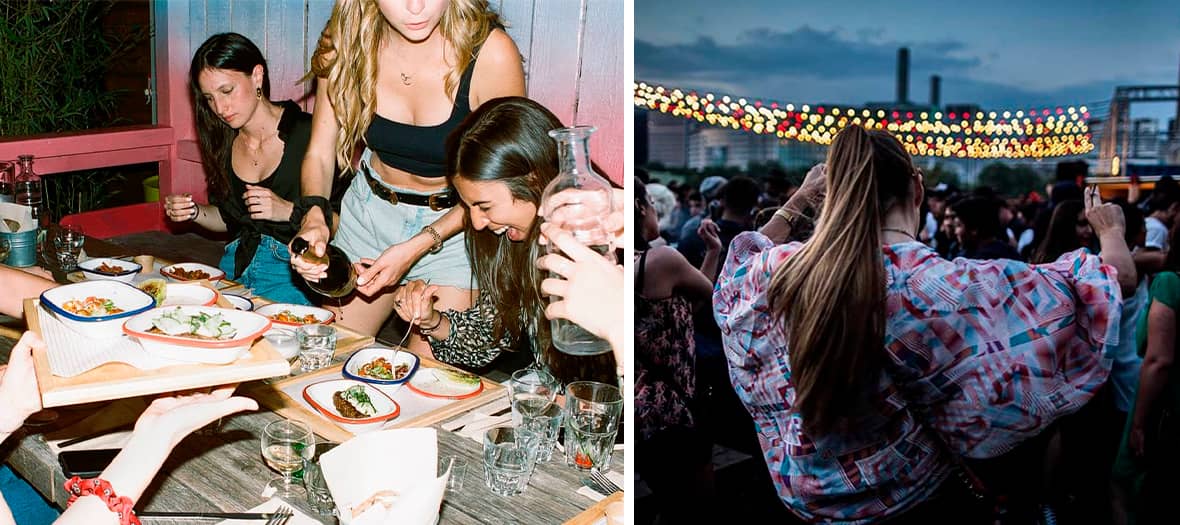 The party: HQ of stylish Parisians, the Wanderlust plays the hype card on its demented terrace above the Seine. How to use it: turn up at 6:30 p.m. to start the festivities and sip rosé at the open-air bar. Take advantage of this magical atmosphere to end the evening in clubbing mode, surrounded by DJ sets.
Who do we meet? All the hipsters who stayed in Paris in afterwork mode.
À la carte: a chicken burger + fries to enjoy all night long (€12), accompanied by a very good cocktail like the new summer creation, the Kalawun, spicy-whisky-swep-schweppes- syrup lemon, pornstar: vodka, vanilla-orange-passion-passion-Cointreau, reggae: rum-vanilla-mango-passion or an alcohol-free mocktail (€7).
The right time: Tuesday to Sunday from 6 p.m. to 11 p.m. or Saturday and Sunday from 12 p.m. to 3 p.m.
Wanderlust 32 quai d'Austerlitz, Paris 13th. Reservations on thefork.fr . Cocktails €12.
© Instagram / @wanderlust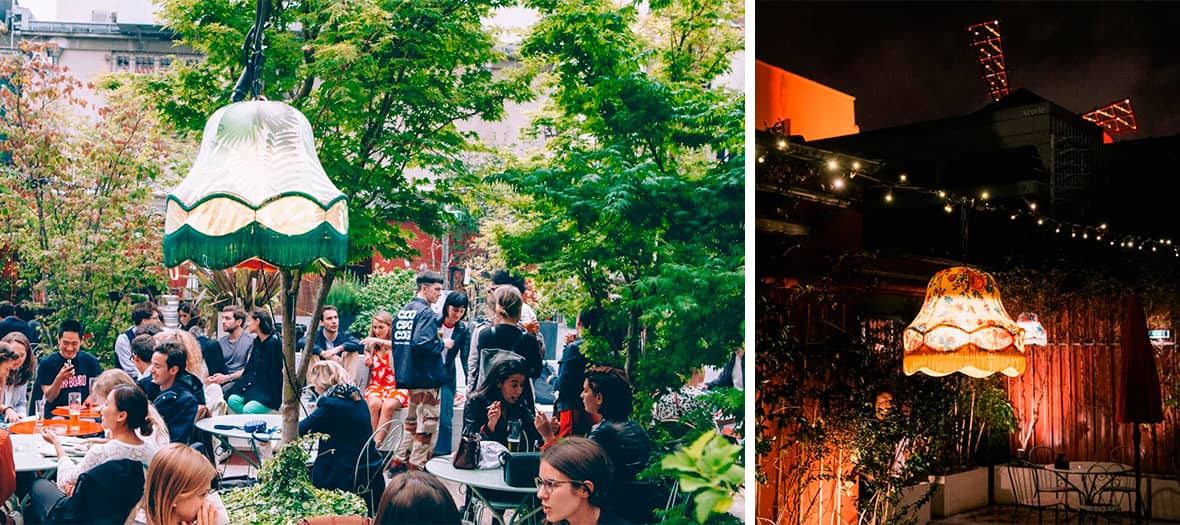 The party: stashed in a cul-de-sac, the Bar à Bulles turns out to be a little corner of greenery nestled above La Machine du Moulin Rouge in the shade of the wings of the mythical cabaret. In a holiday garden setting, party-loving Parisians meet there in the summer to toast and flirt to the sound of a frenzied musical program worthy of the unmissable club just below. In short, the most naughty fiesta of the summer.
Who do we meet? Machine regulars looking for good sound.
On the menu: tapas galore with plates of charcuterie and producer cheeses (€17), local straciatella (€12), nachos (€9). For groups of friends, head straight for the pitcher of Mojito (€48), a bottle of Spritz (€54) or frozen vodka (€48). Cheers!
Closed on Mondays. 4 City Verron, Paris 18th. All information online .
© Alban Gendrot
La Tropézienne du Trocadéro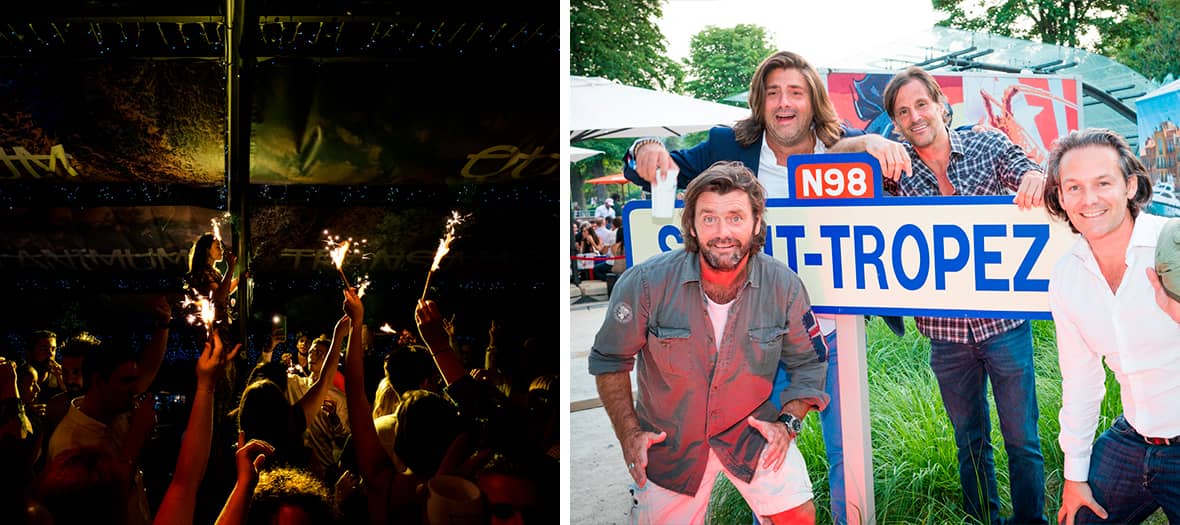 The party: Hervé Prouteau (the creator of the parties at the Chalet des Iles, it's him!) and his gang have struck again with La Tropézienne, the fiesta both chill and wildly jet set, on the terraces of the Aquarium of Paris. On the program: aperitif, deckchairs and clubbing, in an atmosphere worthy of the Place des Lices. Take out the gingham dress and the espadrilles, BB has just taken possession of you. All to the sound of DJ Fred R.
Who do we meet? The forty-somethings of the Golden West, the beautiful people in need of a fiesta and nostalgic for the heyday of the Chalet des Iles, precisely.
À la carte: finger food (fish & chips, fried tempura chicken, fried beef tataki, (between €10 and €15) to accompany a pool of rosé (€10) or a coupette (€10 It smells like vacation…
The right time: every Thursday, from 7 p.m. to 2 a.m.
Until September depending on the weather. 5, avenue Albert de Mun, Paris 16. All information online .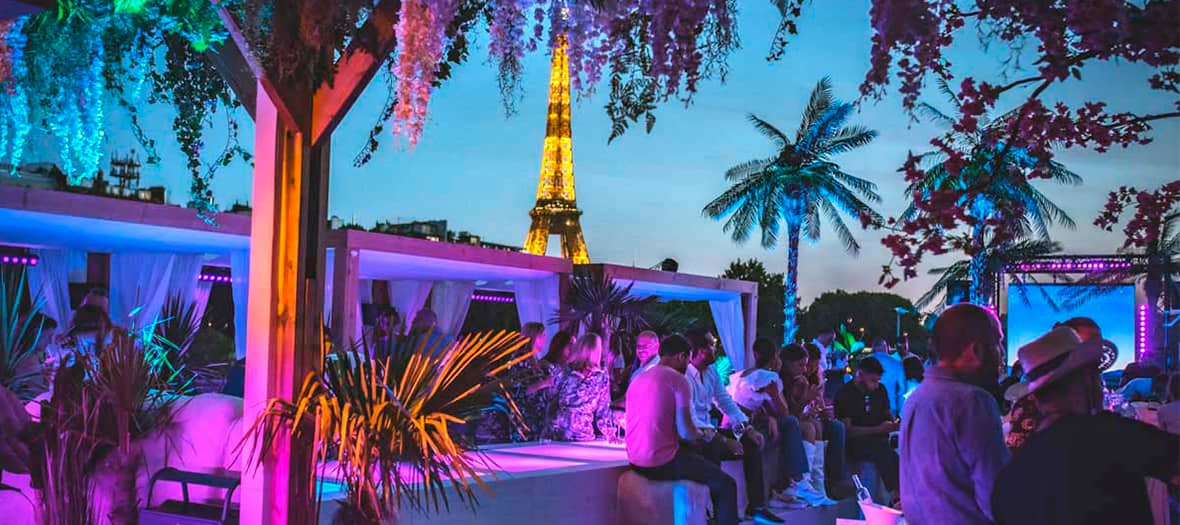 The party: It was under the impetus of Thibaut Sinclair and his team that Mademoiselle Mouche was born. An adventurer at heart, this fanatic got it into his head to dust off the aging Compagnie des Bateaux-Mouches to make it one of the trendiest places in the capital: #theplacetobe. Aim instead: sip a couture cocktail against a backdrop of DJ sets as we like them at the water's edge with a bird's eye view of the Eiffel Tower... The ultimate kif guaranteed! For the occasion, the terrace has had a makeover and has been transformed into a real garden on the water with its magnificent flowery pergola where Parisians and Parisians will come to enjoy the most beautiful sunsets. Big crush for the feeling of grass under our feet.
Who do we meet? The clubbers who ignite the dance floor… cocktail in hand.
On the menu: cocktails (€13) or bottles of Moët et Chandon, Veuve Clicquot, Krug, Dom Perignon, beers (€7), a Spritz (€13). But also the charcuterie and cheese platter (€30) or your choice of pizza (€20).
The right time: Wednesday to Sunday from 7 p.m. to 8 p.m.
Reservations recommended online or by SMS on 06 98 12 59 97.
Mademoiselle Mouche Port of the Conference, Pont de l'Alma, Paris 8th.
© Company of fly boats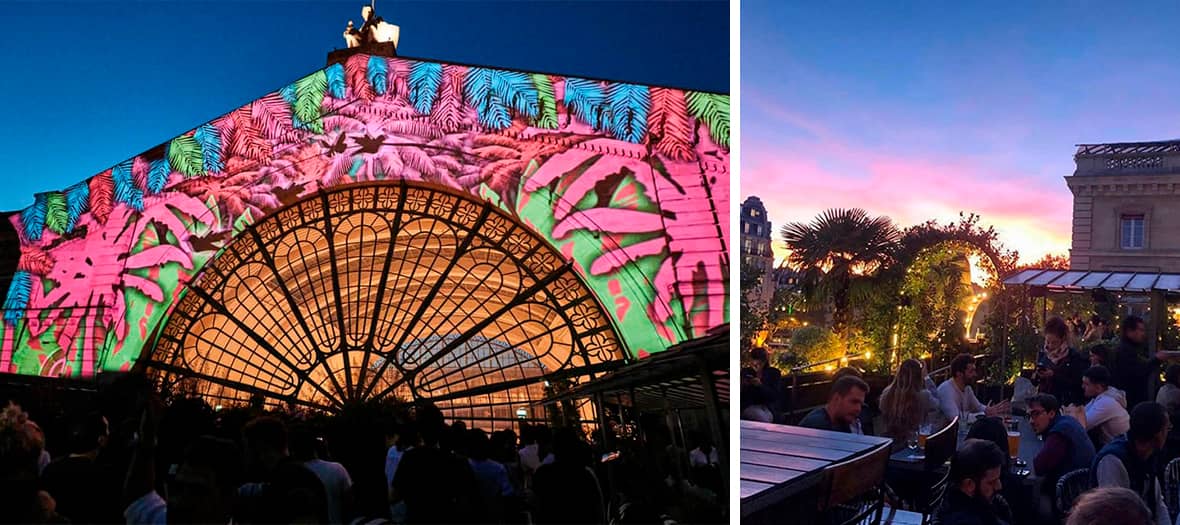 The Perchoir shock team is doing it again on the rooftop hidden above the Gare de l'Est. Under the large rose window, a decor all in flowers and an atmosphere that warms up over the hours. All in a sufficiently intimate setting to take your date there. On the turntables, the nuggets spotted by the DA Karl Planck to jiggle like on vacation.
Who do we meet? Both groups of friends in afterwork and clubbers addicted to good sound.
À la carte: a brand new food menu with carne or veggie empanadas (€12), mezzes (€10), fried chicken (€13), and always the house cocktails (€13).
The right time: from 6 p.m. to 10 p.m., to enjoy DJ sets worthy of the Berlin fiestas.
10 place of November 11, 1918, Paris 10th. All information online .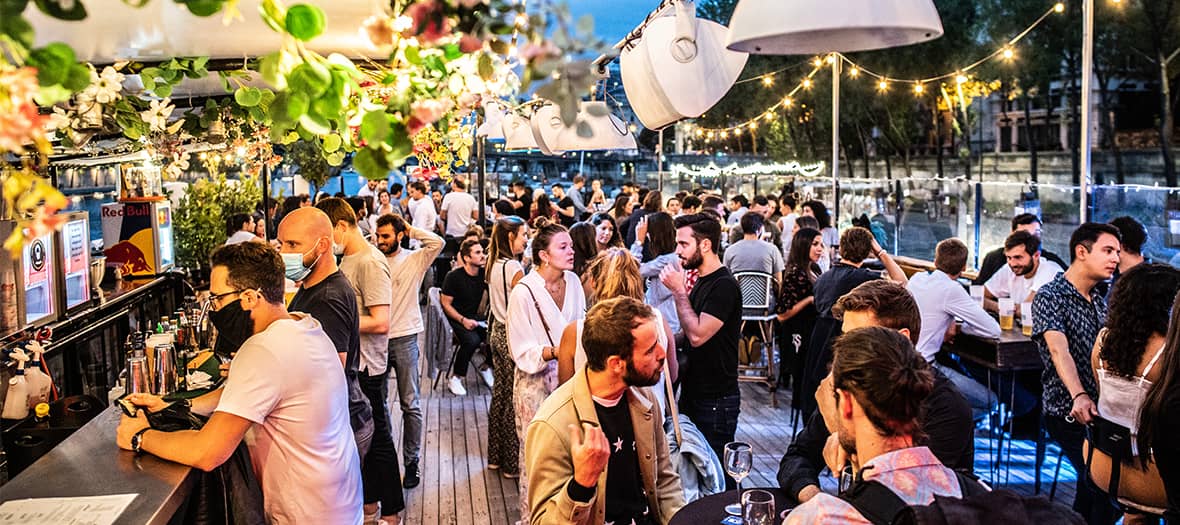 The party: not one but two terraces taken over by La Démesure, the baby of Filipe Alves .
On the program: stand-up scenes, concerts, cabaret and Swedish-style barbecues for crazy parties… in the East (12th) and West (7th). The director Nicolas Ullmann offers live musical performances and concerts while the headliners of humor Tristan Lopin, Paul Mirabel or Laurie Peret put on the show all evening long.
Who do we meet? 20-35-year-old boos and hipsters from the Marais will rather find themselves near Austerlitz to enjoy a cool and trendy atmosphere, while the more upscale Parisians will rather go to the 7th for more family-oriented and laid-back tables.
À la carte: on the east side, a Swedish BBQ with meat skewers (€24), mezze platters (€19) and bar ceviche (€14). On the West side: an ultra-creamy truffle burrata (€16), a bottle of organic Ecoterra Chardonnay (€33) or a delicious cocktail (€12).
The right time: Monday to Saturday from 12 p.m. to 2 a.m.

La Démesure en Scène - East 69 Port de la Rapée Paris 12th / La Démesure en Scène - West on the Barge Concorde Atlantique 23 quai Anatole France, Paris 7th. Reservations recommended.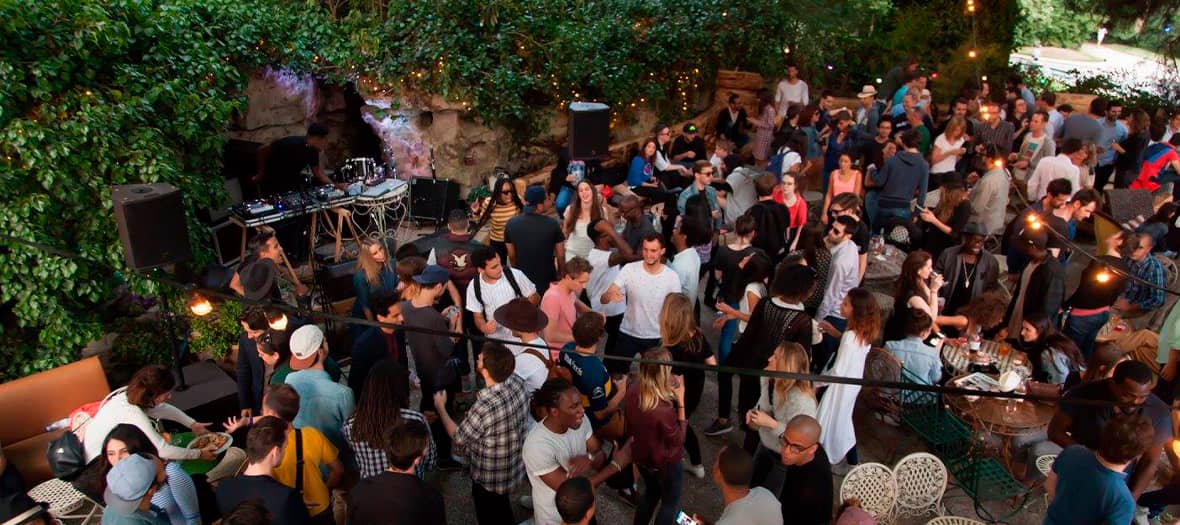 The party: the Perchoir team has struck again and continues to make us love it on its double XXL terrace perched high, in the heart of the Buttes Chaumont. In a sublime Napoleon III period hunting lodge, an eden green ideal for disembarking in groups, smoking cigarettes and flirting with the neighboring tables...
Who do we meet? The trendy hipsters and thirtysomethings of the East Side.
À la carte: at the top of the list, the must-have Moscow Mule with ginger beer (€13). Then, for snacks, we share the pizzettes (parma, veggie, burrata, (starting at €11), straciatella dip (€11) or chicken tacos (€9).
The right time: at dusk to chill in the fresh air.

Parc des Buttes Chaumont, Avenue Darcel, Paris 19th. All information online .
Also discover this starry terrace in the Garden of the Palais-Royal and Dante restaurant