Enjoying half a cold eggplant in a small Kyoto lacquer bowl is sure to leave fond memories.
Preparation : 10 min
Cooking : 40 à 50 min
Quantity : 4 persons
Cut the eggplants in half lengthwise and slice up the flesh about every 5 cm. Baste the cut parts with olive oil and place them along an oven plaque. Bake in the oven preheated to 180 °C during 30 to 40 min. They must be perfectly cooked, with a slightly brownish skin.
Meanwhile, prepare the sauce by mixing the four last ingredients.
Remove the eggplants from the oven and cover with sauce on the fleshy side making sure that it penetrates in the incisions. Bake again for 10 min making sure they don't over brown.
Enjoy warm or cold.
Sometimes I transform a dengaku eggplant into Japanese style caviar! In order to do so, I crush the flesh with a fork, adding a tablespoon of yuzu, sudachi or lemon and a big tablespoon of mashed sesame. A dash of pepper, a handful of parsley or chopped shiso …and you are all set !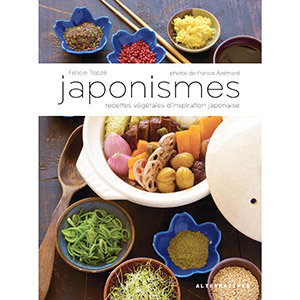 Also discover soba noodles and the stuffed eggplants by Dina Nikolaou.