It's an all-girls story. Alicia, a young lady, discovering her own budding body, complains to her mother she cannot find lingerie suitable to her shapes. Fair enough! Her mother Martine creates in 2017 Fillandises—a very clever girl power label for generations of women who onpass the subtle art of femininity.
"The House of Femninity"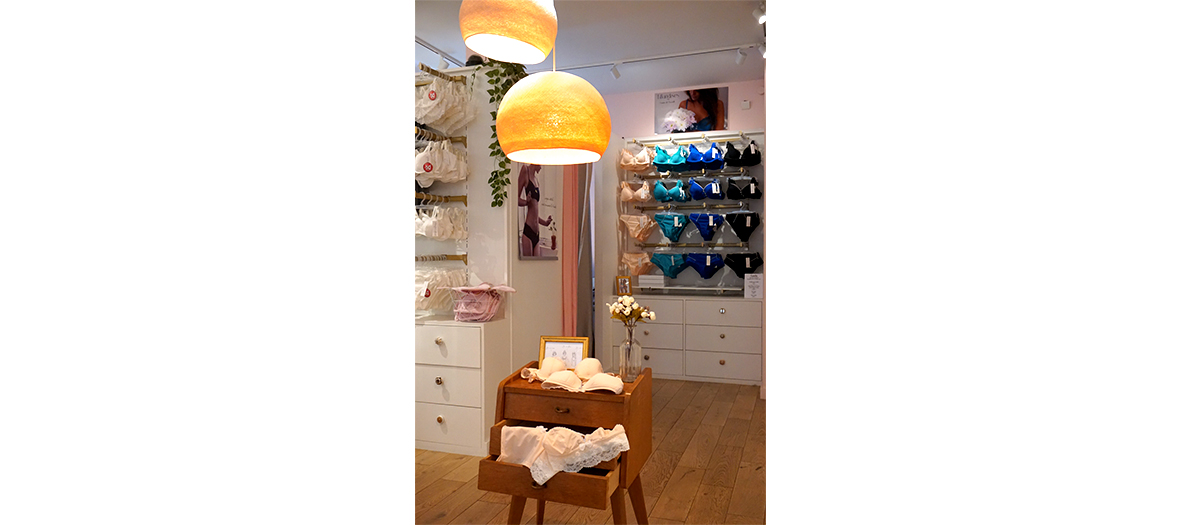 The rendezvous is taken in the adorable small boutique on the Grands Boulevards featuring a bedroom with a walk-in closet touch. Impossible to miss: a pink and flowery bicycle guards the entrance door and invites visitors to penetrate in this lovely powdery cocoon.
Here one finds the delicate and sparkling creations imagined by Ilaria, the stylist who has made good looking undies her claim to fame: bralets (triangles with no underwire support) fuchsia, nude or royal blue (€30-50), black or lace push ups (€40-75 ), high waist panties to minimize small tummies (€50), comfortable and sexy one piece bodies (€65 )… To each their own morphology: Martine is there to take your measures with her special ribbon and give you her best advice—just like in deluxe lingerie boutiques.
Home sweet home
To satisfy your #hygge whims and hibernate in your warm environment, the lovely homewear line is ideal: t-shirts with messages (€35), cosy sweatshirts with illustrations (€65) as well as comfy pyjama shorts, sufficiently short to be seductive (€30). A slew of great fashion and even decorating gifts with cushions as well as small notebooks and postcards.
Open Tuesday to Saturday from 2pm-7pm.
Also discover the ideal place for earrings and the new Sézane concept-store at Batignolles.