It's at the heart of the Alps, near Grenoble and only 2:30 hours from Paris, that the double star chef Christophe Aribert has just given life to the amazing sustainable project he had been working on since three years.
An ethical gastronomic restaurant, stylish guest rooms style, yoga, naturopathy, permaculture… Maison Aribert, that's the wager that's the wager—as wild as it is necessary­, of an incredible living space, thought out to enhance our well-being, in osmosis with nature and the environment. An invitation to let go—are you game?
A house concerned with your well-being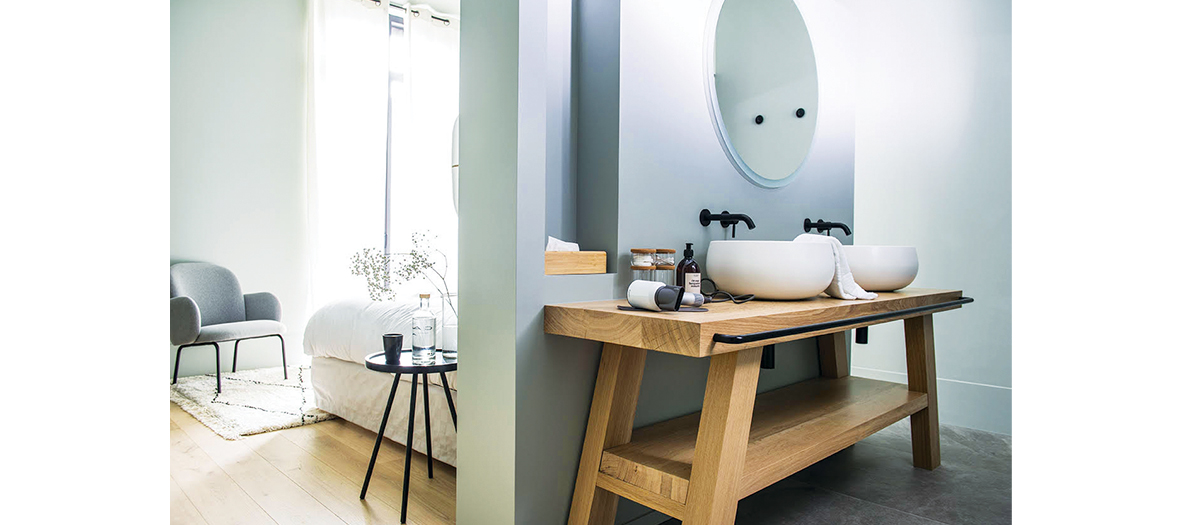 The mountain chef chef set his sights on a superb abandoned 19th-century building, located in the park of Uriage-les-Bains, named after the thermal resort.
One year of renovation later (with the best crafts person of region), the homestead comprises five cocoon rooms with a streamlined design and almost zero  environmental impact: soothing mineral colours, natural materials, deluxe bedding, soft lighting, state-of-the-art Dyson equipment, Italian shower, organic Ma Thérapie soaps, private balcony on the mountains. You already feel your spirits soaring?
All around, a permaculture vegetable garden, where the chef can come load up on aromatic herbs, fruit and vegetables. Silence, growing in process.
Another singularity, the consultations with therapists (naturopath, therapists, Ayurvedic masseur …) offered to visitors by appointments. And access to a herbal tea dispenser.
For all those who are motivated, Maison Aribert programme kite surf courses on the lake, forest hikes... In winter, count 15 minutes to zip off on the closes ski slope.
Star-studded table and sustainable approach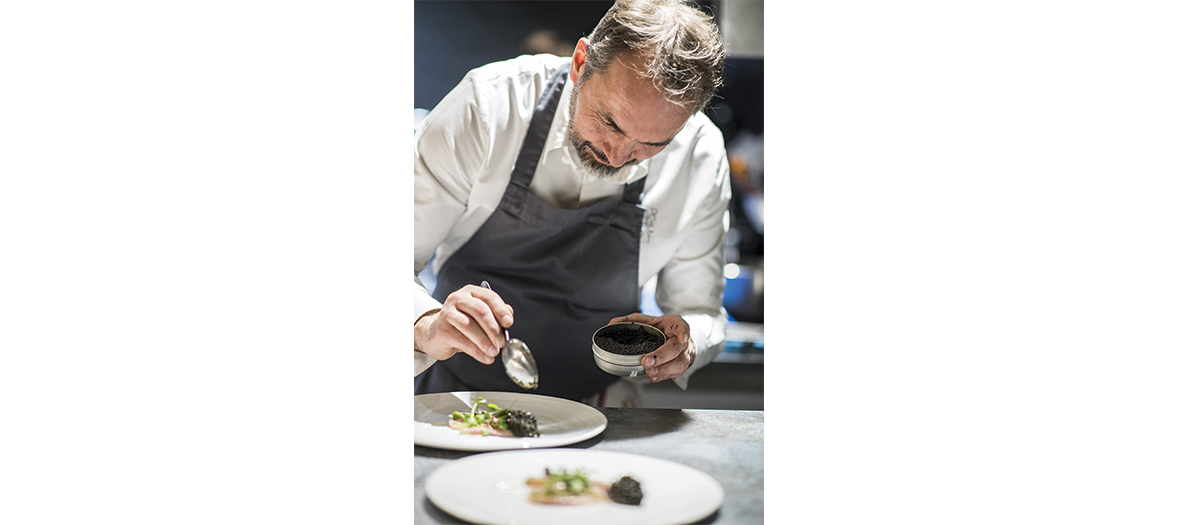 The Maison Aribert experience also takes places on the plate. Faithful to his beliefs, the start chef highlights vegetals and local seasonal products, which he enhances with all his sensitivity. And to pursue his approach until the end, he has asked naturopath to look at his recipes.
His signature dishes? A terrific velvety carrot, mushrooms, truffle ice and ginger juice soup; a runny egg and green asparagus or a char served in a celery broth. A sincere limpid, delicate and light cuisine, to be discovered in a contemporary setting turned towards the exterior (menu starting at €120).
Very cool also, the bistro baptized Café A for a great dinner or the Sunday brunch under a ceiling of frosted opal hanging lamps.
And it's not finished. Christophe Aribert has many more projects to fully reach his goal: to reconnect man and nature. The adventure is only beginning.
Getting there
Count two hours of Paris-Grenoble TGV, then 30 minutes by car.
Starting at € 200 per night Monday to Sunday.
Also check out a food and spa outing only 2h outside of Paris and a house to rend in Normandy.
© Anne Emmanuelle Thion.