Their signature hallah brioche has hooked all the Parisians who have been flocking to rue des Martyrs for two years to stock up on them. As for their chocolate or pistachio babka , whose recipe is by Benoît Castel , let's not talk about it: they go out every day in a few minutes.
Phew: Babka Zana , a star address set up by the foodie power couple Sarah Amouyal + Emmanuel Murat , has a second address opposite Place des Vosges . And, joy, you can now sit down there to enjoy authentic kiffs at lunch.
A bakery / coffee shop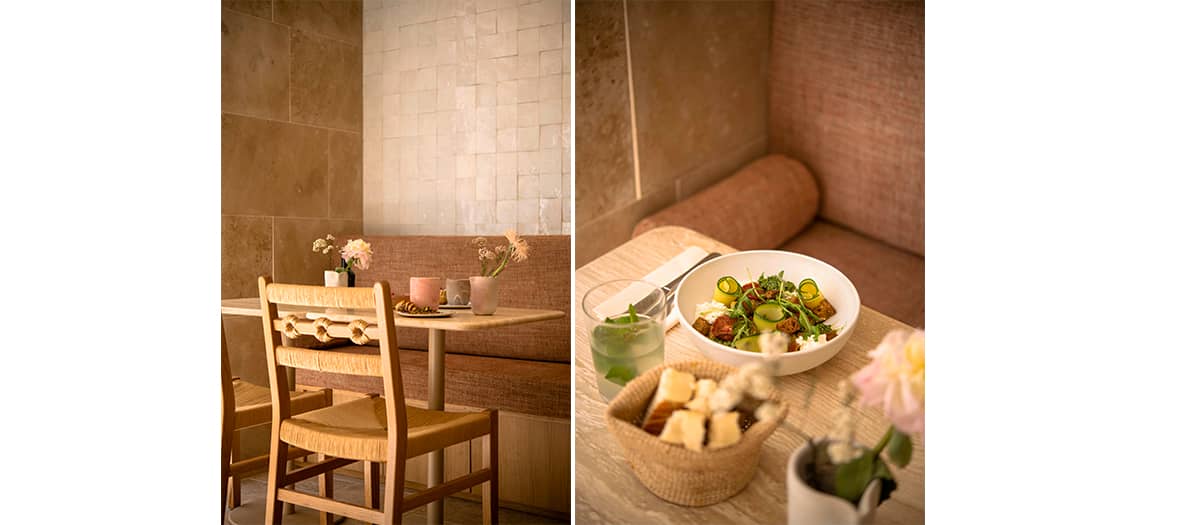 The Levantine decor in soft colors, designed by Atelier Rosa Bonheur , features a large bakery counter in pale blue Moroccan tiles and rope furniture that make you feel like you're vacationing by the sea.
Of course, there are the starlets of the house on the menu: hallah sandwiches (on the spot and of course to take away) Sabich (tahini, eggplant confit in the oven, hard-boiled egg, red cabbage salad, semi-candied tomatoes and amba, Reuben (honey mustard, beef pastrami, red cabbage and pickles) and Tunisian (Sidi Daoud tuna, potatoes, hard-boiled egg, kalamata olive, harissa virgin sauce and beldi lemon).Purely orgasmic.
But the little exclusive novelty instead, are the pretty veggie salads, fresh and perfectly seasoned: the Zucchini (roasted zucchini with zaatar, zucchini carpaccio, candied cherry tomatoes, smoked ricotta, salsa verde with watercress, arugula and challah croutons) and the Tivoni (small spelled, carrots, celery, red onions, candied lemon, herbs and raisins), from €11. Before leaving, of course, with lots of brioches and cakes to die for…
The early bird option
For a professional breakfast or to start the day gently, we arrive at 8 a.m. to order a coffee from the Saint-Jacques roaster and a homemade oriental granola : whipped labneh, crispy oats, dried date, dried fig, dark chocolate shavings , walnuts, almonds and fresh seasonal fruit (€8). Yum.
Open Tuesday to Saturday from 8 a.m. to 6.30 p.m., Sunday from 8.30 a.m. to 6 p.m.
Also discover the best pain au chocolat in Paris and a truly magical bakery in the Marais .