You have ever heard about Akira, the Asian restaurant located in the prestigious Prince de Galles on George V Avenue. Today, it is our duty to introduce you to its extraordinary brunch, where you can indulge in an unlimited selection of savory specialties from around the world, crafted by the talented pastry chef of this 5-star establishment, Hélène Kerloeguen. Prepare to be amazed…
The Setting
As you pass through the swinging doors of the hotel, make a right turn and find yourself in the spacious seats of the blue room or Akira Back (though the blue room offers more natural light during the day), or even better, on the stunning Art Deco patio terrace. With palm trees and beautiful mosaic designs, this setting is like a scene from a movie.
Delicious Delights Await
At the table, you are presented with choices for your hot beverage, fresh juice, eggs, and hot dish. Then, get ready to feast at the buffet, where Akira Back's offerings are simply mouthwatering. From endless sushi rolls and seafood delights to crab claws, sashimi, truffle butter sandwiches, Lebanese kémias, cheeses, charcuterie, and a fun fact—a Caesar salad bar where a chef prepares it on a wheel of Parmesan, just like a risotto.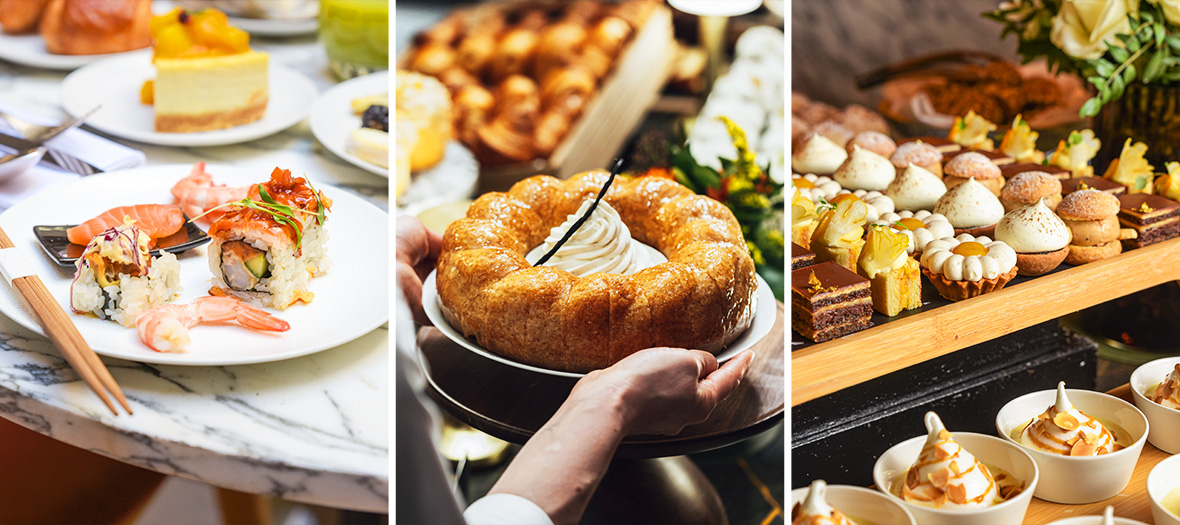 Next, prepare to discover the divine sweet specialties by Hélène Kerloeguen: Choco Prince, pistachio or hazelnut cookies, flans, rum babas, cinnamon rolls, madeleines, sugar tarts, chouquettes, a variety of cakes, and an abundance of strawberries, blueberries, blackberries, and other delightful fruits to savor. Don't forget the made-to-order crepes, perfect for spreading with warm praline.
The Extra Touch
What can be called a "mischievous bar," is a chocolate fountain accompanied by a selection of candies and fruit skewers that instantly transport you back to your childhood, reminiscent of a 5-star fairground experience!
Brunch is served every Sunday from 12:15 PM to 3:00 PM, priced at €130 per person / €59 for children (-12 years old). Make your reservations at 19-20paris.fr.

Also, explore three stylish coffee shops for a delightful brunch experience and 5 must-know coffee shop