Well it seems that Passage des Panoramas is THE new hot spot. After Racine, Gyoza Bar, Noglu, Café Stern and Oïshinoya, the newcomer is already a sensation.
And with reason! Here, champagne is flowing and the 100% French touch menu is placed under the sign of chick duck, all at a soft price. From a glass of champagne (8€) and the starter+plat formula (26€), you can treat yourself to everything. A deluxe evening in a cool atmosphere, that will not cost you a bomb.
On the menu, a foie gras with amazing Sichuan pepper, followed by their orgasmic Label Rouge duck breast with matchstick potatoes or very comforting mashed pumpkin…with generous helpings. And if you have a sweet tooth, vanilla puffs, an oven-baked apple or THE Bocuse style chocolate mousse— AS MUCH AS YOU WANT (8€). Everything we love.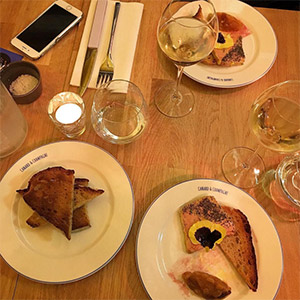 © loanalice
Cool, the terrace to smoke, quietly sheltered from the rain.
Open Tuesday to Saturday from noon to midnight.
Also discover the 10 best bistros in Paris.