© @pariswithcharlotte and Roméo Balancourt
These new addresses revisit traditional Italian cuisine in a gourmet version. Perfect spots, as summer approaches, to get a shot of dolce vita on your plate.
Agata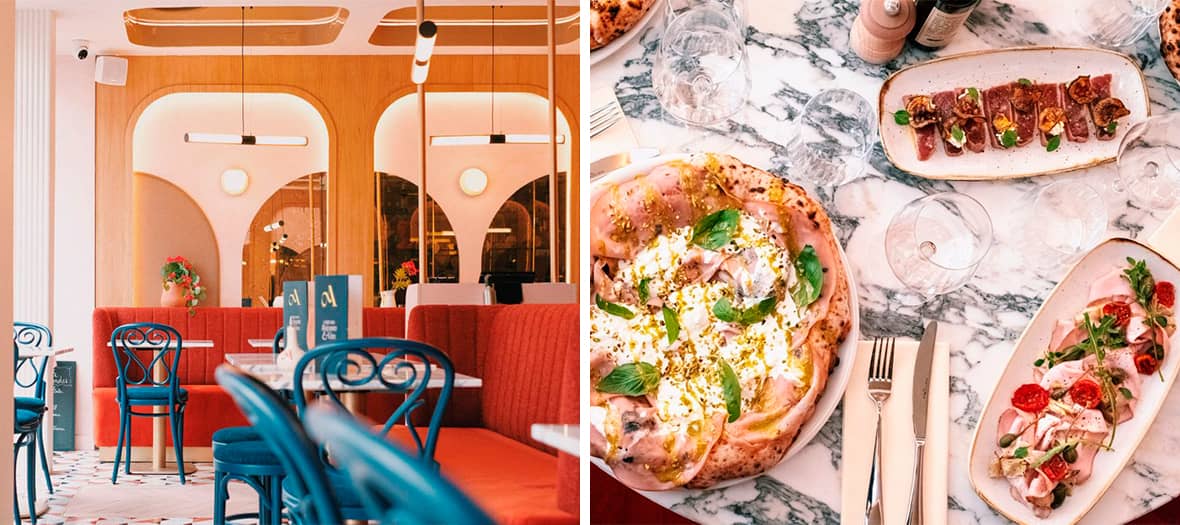 Nestled in the heart of Saint-Germain-des-Près , Agata opened in early May and is on its way to becoming the place to be in the 6th arrondissement, with its elegant decoration made up of marble tables and soft red benches.
Leader ? Behind this neo-pizzeria, a real four-star cast, worthy of a Cannes gastronomic festival. Maestro Gennaro Esposito created the pizzas , while the menu is the work of John Damasco (ex - Eataly ). The desserts are by Jeffrey Cagnes , who learned his trade at Stohrer before becoming one of the most popular pastry chefs in the capital.
The map ? Fresh products supplied by small producers, such is the credo of Agata . If we find the classic Calzone or Margherita, most pizzas are signature. Special mention to Healthy Food (homemade yellow tomato cream, fried zucchini, mushrooms, kale, cherry tomato, organic olive oil basil), whose audacity of ingredients is matched only by its taste. And for the less pizza-lovers, the vitello tonnato and its homemade mayonnaise promises to be the house's future best-seller.
The cave ? Not only does Agata have a fine spirits cellar (wide variety of rum, bourbon, liqueurs, grappa and even Japanese whiskey!), but also inventive cocktails that are worth trying.
Most ? The 3 "Burrata" creations, for princely aperitivos, with a choice of: a burrata with shavings of fresh black truffle, homemade pear marmalade or, more simply, with its trio of tomatoes!
Agata , 168 boulevard Saint-Germain, Paris 6th. 01 43 54 32 96. From €12 to €24 for a dish and €14 for cocktails. More info online .
The Ultima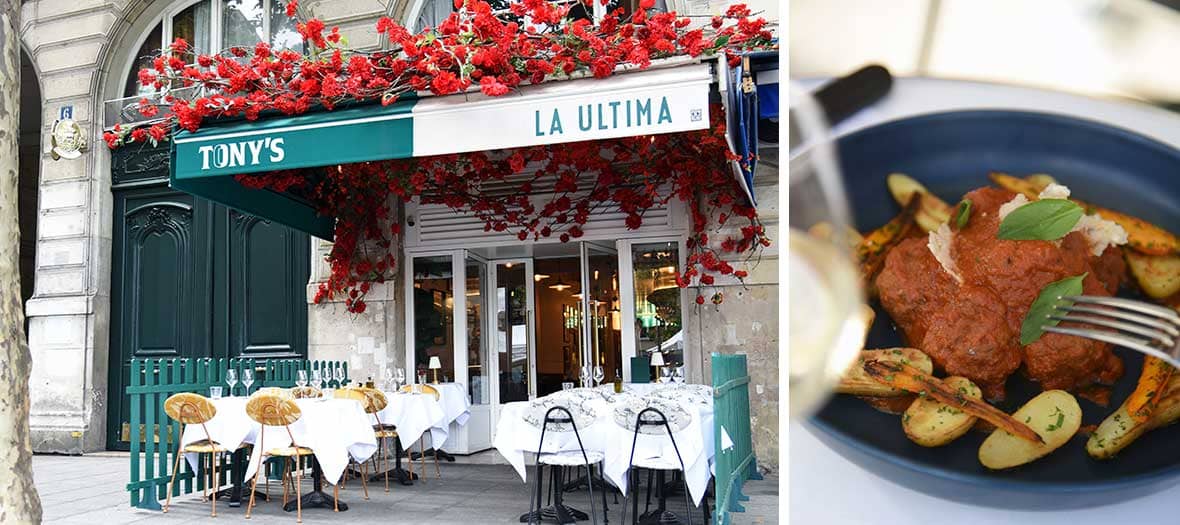 In the very place where the late Gibert Jeune had been enthroned for decades , on Place Saint-Michel , now stands a pizzeria which, at first glance, does not look like much. Since May 3, Tony's has been serving la cucina della nonna with pasta, pizza and polpette. But the originality of this brand lies elsewhere. Because, in the evening, from 7 p.m., customers are directed directly to the back of the restaurant. Don't worry, it's not a trap of the Sicilian mafia! Behind a mahogany door hides La Ultima , a gourmet Italian restaurant with neat decoration, reminiscent of the 70's in southern Italy!
Leader ? Behind the stoves hides Manuel Castro who, in Sicily, was the second in a two-starred restaurant before working, in France, at Penati al Baretto , in the 8th. A chef whose name is starting to resonate very strongly in the world of Italian gastronomy. To be continued…
The map ? No pizza at La Ultima , but small emblematic dishes from La Botte, slightly twisted with gourmet sauce: paccheri alla norma , polpo alla luciana (octopus with tomato sauce and potatoes) and, for dessert, the famous baba napoletano (rum baba with limoncello cream).
The cave ? Beyond the Chianti or other Montepulciano , there is a very select Barolo DOCG Ceretto 2016 or a Sassicaia Bolgheri from 2014, at €495 a bottle!
Most ? Tagliatelle al ragù bianco, very difficult to find in Italian restaurants, and terribly good!
La Ultima , 6 place Saint-Michel, Paris 6th. Open from 7 p.m. to 11 p.m., 07 64 05 71 53. From €22 to €28 for primi piatti, and up to €80 for secondi piatti, more info online .
Gruppomimo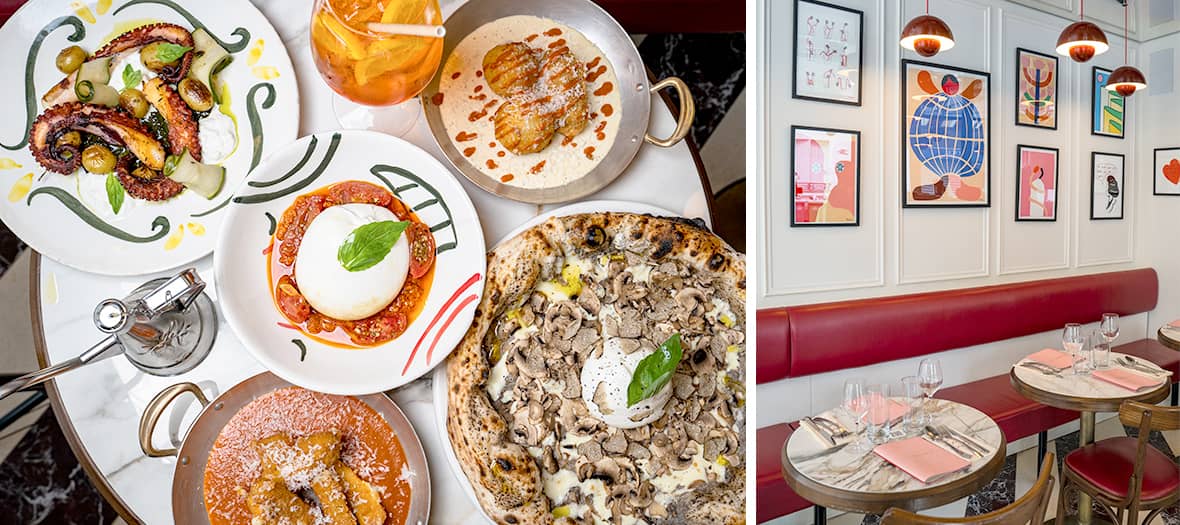 While they already have two addresses in the 17th and in Boulogne, Edouard Hausseguy and Benoît Bossu , two friends with a passion for Italy pegged to the body, will open three new establishments by the summer of 2022. The 2nd arrondissement , but also Asnières and Levallois, will thus see the landing of these troublemakers of gastronomy who invite us to share a moment of conviviality. A rock, folk and vintage atmosphere, which can be found both in the decoration - developed by the select studio Friedmann & Versace - and in the plate.
The map ? Gruppomimo relies on tradition. But what could be more difficult than to taste good, with the simplest dishes? A challenge for the group, especially with the Diabolo Diavola pizza (tomato sauce / fior di latte mozzarella / piccante calabrese spianata, candied shallots, fresh ricotta and lime zest). Delizioso!
The cave ? Gruppomimo has a substantial cellar, with red, white or rosé wines, coming from many regions of Italy. Between a wine from Piedmont or Puglia , take your pick!
Leader ? To develop the menu, Edouard Hausseguy and Benoît Bossu called on the Sicilian chef Pietro Rabboni . Like the 2Be3 of food, they have more than 130 K subscribers on Instagram, thanks to their funny videos and their tempting recipes. We love.
Most ? Alla Valentina pasta, served in a wheel, with real truffle shavings !
Gruppomimo , 7 rue de l'Eglise, 92100 Boulogne-Billancourt and 61 rue Legendre, Paris 17th.
Next addresses: Asnières-Sur-Seine (2 rue Denis Papin, 92600) Levallois Perret (27 Rue Carnot, 92300) Paris 2nd (157 Rue Montmartre).
From €11 to €17 for pizza and from €13 to €21 for pasta, more info online .

But also...
For a starred dinner: Il Carpaccio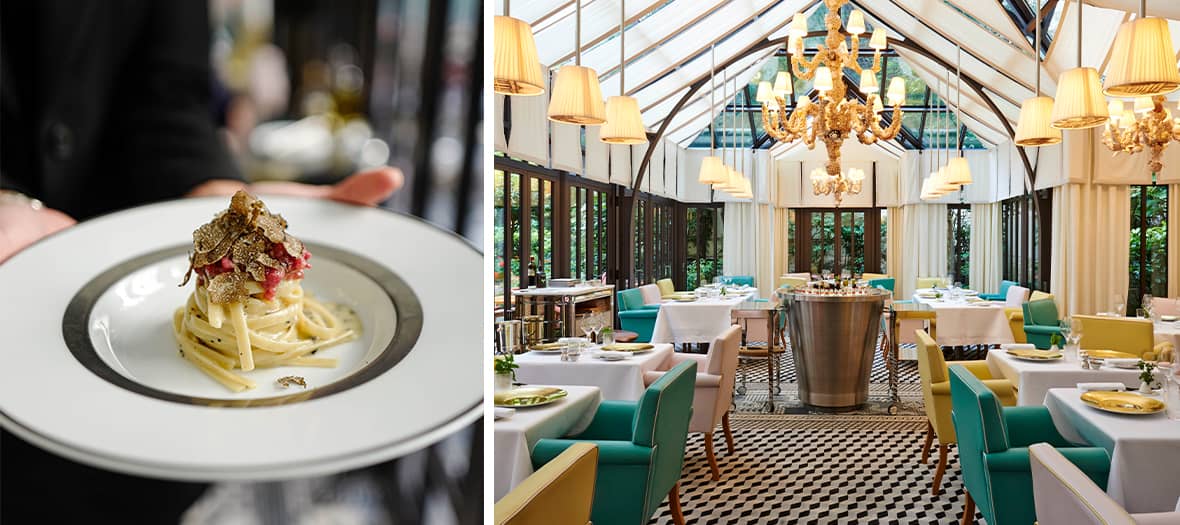 Only six months after its reopening, the Royal Monceau restaurant has already received a star in the 2022 Michelin Guide. At its head, the couple of chefs Alessandra Del Favero and Oliver Piras offer modern and light cuisine, to offer the best of the Italian terroir. . We love the truffle carpaccio (the famous Il carpaccio!) but also the Milanese escalope, crunchy to perfection.
Most ? The kitchen in live show, in front of the customers.
Royal Monceau - Raffles Paris, 37 avenue Hoche, Paris 8th. 01 42 99 88 12.
€135 the 5-course chef's menu, more info online .
© @pariswithcharlotte
To eat on the go: Focaccia Club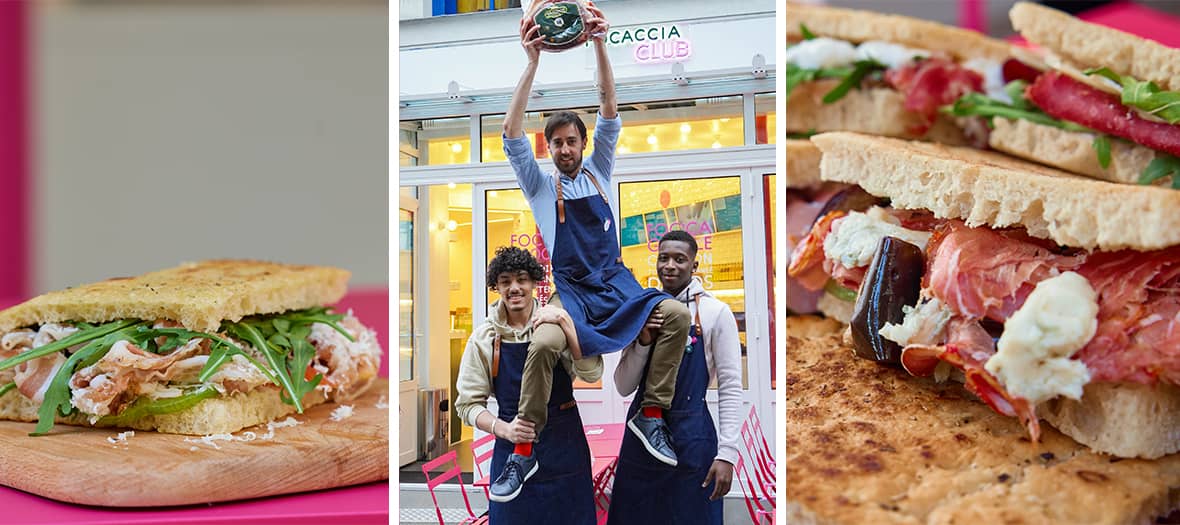 Imagine a crisp and golden focaccia , whose smell of tomatoes and rosemary fills the surroundings. This is the promise of Focaccia Club , the new chic street food address in the 2nd arrondissement, which claims to use " artisanal, authentic and tasty " products. We have lunch there at noon, on the small terrace, or on the go.
Most ? The names of the focaccias , tributes to Italian stars, such as Leonardo Di Pancetta, Monica Parmucci or Veggie De Niro… Already cult!
43 rue des Petits Carreaux, Paris 2nd. From €8.50 to €11 per foccacia, more info online .
For a luxury table: Bulgari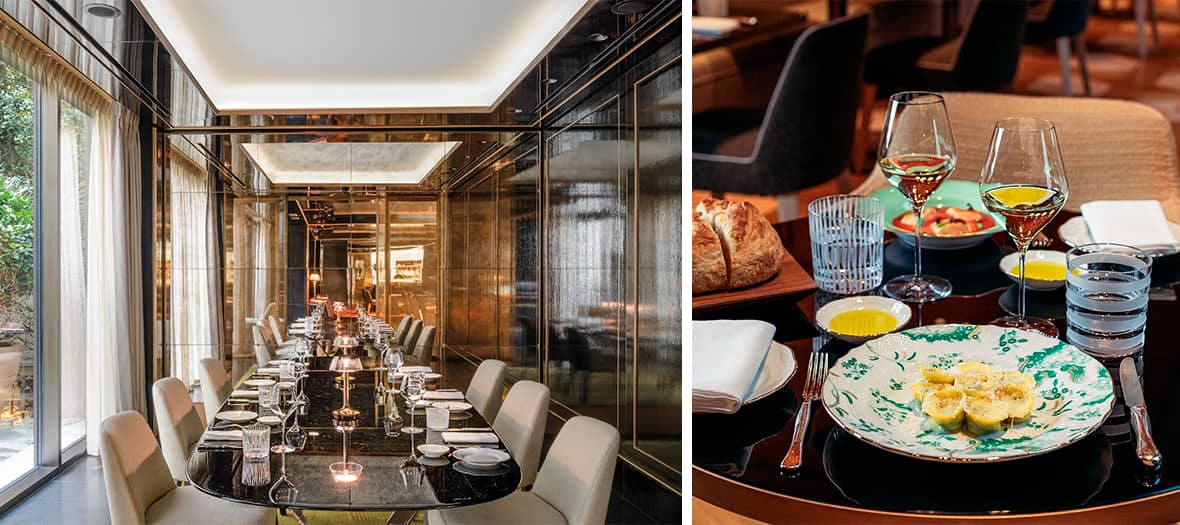 Soberly called Il Ristorante , the Bulgari hotel restaurant is nonetheless a magical experience. The three-starred chef Niko Romito signs a menu in which he deconstructs Italian cuisine, without ever sacrificing its essence. A multi-sensory journey, and resolutely unforgettable.
Most ? Its Mediterranean garden, to savor your dinner under the stars.
Bulgari Hotel, 30 avenue George V, Paris 8th. 115 € per person. the menu, more info online .
Also discover the new Italian brunch on the terrace and the new chic Italian restaurant in the Tuileries .