Where to enjoy pasta alle vongole, a Spritz like in Venice, and a creamy tiramisu in Paris? Let's take a closer look at these new Italian spots that are making waves.
The Roman Gem: Aglio e Olio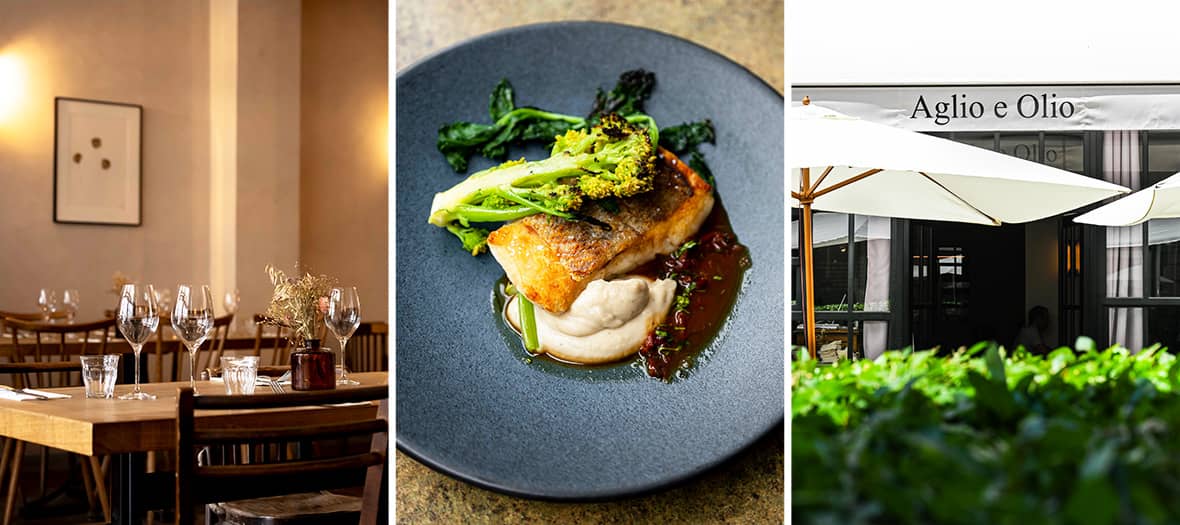 Right next to his bistro Massale, which focuses on great wine bottles, Thomas Chapelle has just opened a charming Italian neighbor with a name that will instantly make you crave pasta. Aglio e Olio (for garlic and olive oil pasta) takes inspiration from Roman canteens like Rimessa Roscioli, where you can indulge in delicious simmered dishes and heavenly pasta. The chef, who previously worked at Taillevent (a renowned restaurant in Paris), prepares mouthwatering pasta dishes that are worth every penny.
On the menu: A selection of cucina povera dishes that you could order in a small restaurant in Rome. Start with tripe (€10), artichokes with mint, olive oil, and anchovies (€13), or seppie in zumino, small cuttlefish in tomato sauce—delicious (€13). Then share a plate of their signature aglio e olio pasta (€29), melt-in-your-mouth mussel gnocchi with yellow wine and citron (€23), or beef flank steak with white asparagus, panisses fries, and cacciatora sauce (€23). For dessert, indulge in a perfectly crafted tiramisu (€9), unless you prefer the chocolate millefeuille with tarragon ice cream (€9). A great option for budget-conscious diners is the 4-course menu priced at €45.
Aglio e Olio, 5 rue Guillaume Bertrand, Paris 11th. Closed on Sundays and Mondays. Lunch menu: starter, main course, and dessert for €22.
The VIP Spot: Siena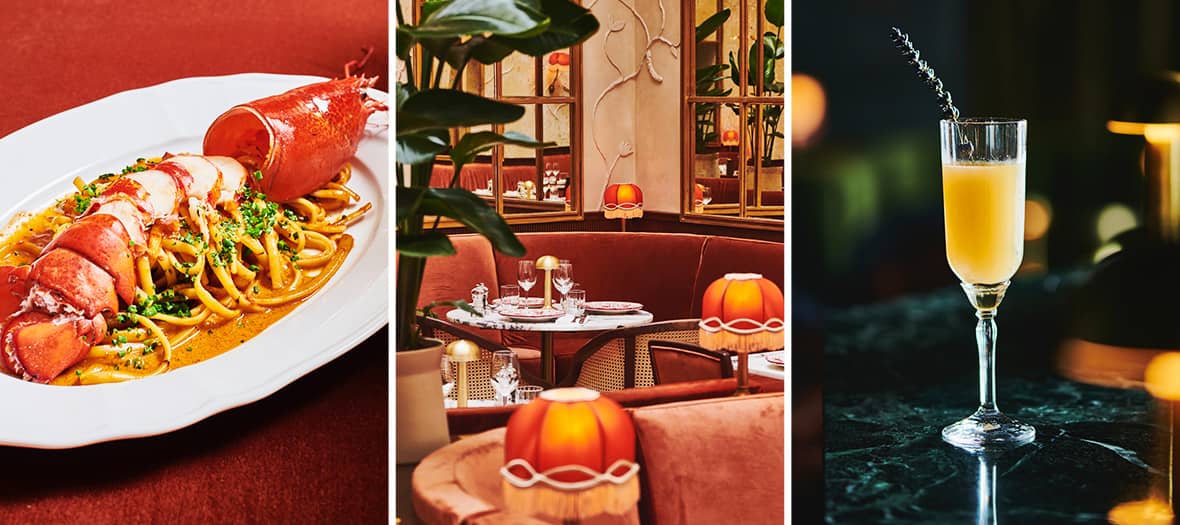 Its fashionable location in the 8th arrondissement has become the go-to place for football players and A-list music celebrities (Rihanna, Ciara, DJ Khaled...). Just a few weeks after its opening, their new Italian venue on Place du Marché Saint-Honoré (replacing Maison Plisson) has managed to attract fashion icons like Kendall Jenner and Gigi Hadid, as well as Selena Gomez, Novak Djokovic, and many other not-so-incognito beautiful people. It's no surprise, as Siena's opulent decor exudes a Gatsby-esque vibe, creating a glamorous and Instagram-friendly ambiance where being seen is a must. A surprise awaits on the upper floor, at the end of a beautiful corridor of mirrors: a cozy piano bar, perfect for enjoying a chic drink accompanied by DJ sets and live concerts on weekends.
On the menu: Following the trend of fashionable establishments where la dolce vita becomes a culinary model, Siena offers beloved classic recipes from Italy. Indulge in salmon gravlax arancini (€16), daurade carpaccio (€24), aromatic lobster linguine (€42), and perfectly executed veal milanese (€32). A must-try for next time is their Margherita pizza with thick crust, Napolitan-style (€16).
Siena, 35 place du Marché Saint-Honoré, Paris 1st. Open every day from 11:30 AM to 2 AM.
Dandino
Ciao a tutti! Welcome to the trendy new Italian restaurant on Rue de Buci. Dandino's standout feature? Its brightly lit Art Deco ambiance, complete with beautiful red velvet chairs and fringed chandeliers, courtesy of Bureau Lacroix, the same architectural studio behind Siena! Choose to dine in the cozy room at the back, adorned with a stunning glass roof, or embrace a vacation-like atmosphere on the terrace where, due to the bustling street, you'll feel like you're in Positano in August. Behind an elegant lacquered bar, expertly crafted cocktails are shaken while the open kitchen allows you to observe the chefs in action, especially when it comes to the pizza oven.
On the menu: Start your aperitivo with a Spritz, a not-so-easy-to-find Frozen Margarita in Paris (€12), or an effective Pornstar Martini (€15), accompanied by mini pizzas and olives. Start the feast with avocado and buffalo mozzarella carpaccio with grapefruit notes (€16), followed by perfectly simmered meatballs (€18) and creatively sliced pizzas, such as the parme e burrata with tomato sauce, Parma ham, cherry tomatoes, buffalo mozzarella, and burrata (€19). The risotto, unfortunately, falls short. For dessert, go for the delicious tiramisu (€14), but keep in mind that the portions are small, so it's just one spoonful! Alternatively, treat yourself to a Nutella calzone that can be garnished with bananas (€11) or pistachios (€10). For those seeking a lighter option, there's a plate of seasonal fruits (€18).
Dandino, 8 rue de Buci, Paris 6th. Open every day from 7:30 AM to 2 AM.

Also discover Riviera Fuga : the fashionable barge and  the curtain rises of Brasserie des Près : are you ready ?