Meet at the heart of Jean-Paul Gaultier's historic boutique on rue Vivienne , transformed into an XXL trattoria by Julien Ross and Alexandre Giesbert . Distinctive sign: the place was designed by the tattoo artist SupaKitch. The result is breathtaking!
Italian success story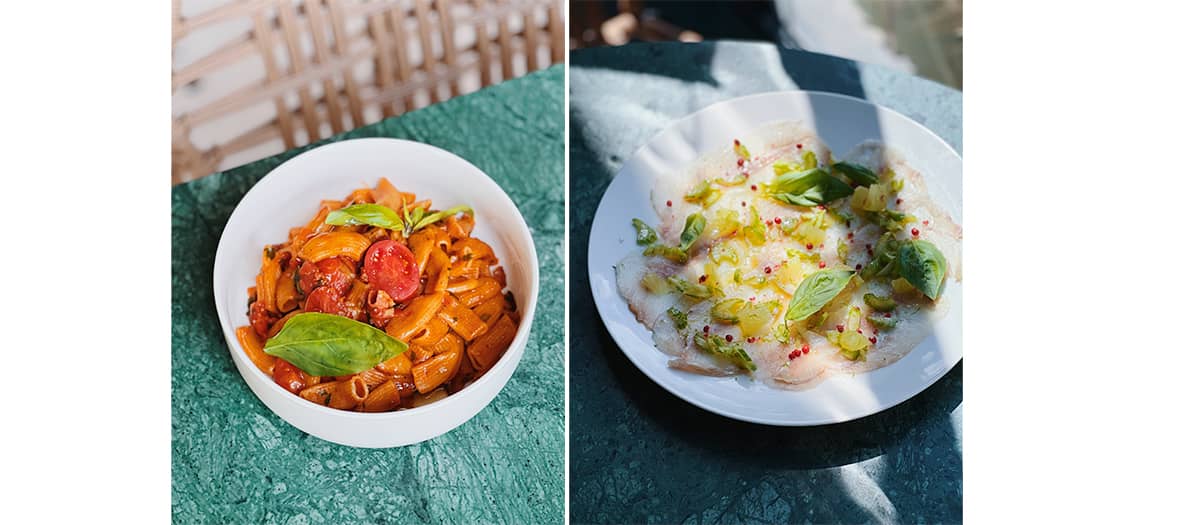 On the menu, all the comfort food we dream of with amazing antipasti : crispy parmesan and rosemary focaccia (€9), Sicilian caponata (€9), cherry tomato basil burrata (€18)... To be tested absolutely: the linguine with lemon butter and bottarga (€25) or the trofie with pesto and walnut sauce (€18). To end on a high note: grand cru chocolate mousse (€9), old-fashioned tiramisu (€8) and homemade ice cream or sorbets (€7 for two scoops).
Insane pizzas
Looking for the perfect chic and stylish spot to have a pizza ? Tutto bene . Daroco is heating up his wood-fired oven to bring out some sexy baby kifs: anthology Margherita (€9), Parigi ham and mushrooms onion (€17), four cheeses (€17), Napoli with anchovies and garlic (€14 ) or downright with truffles (€39).
Who do we meet?
Beautiful people! Stylish Parisiennes looking for cool and trendy places. Beautiful bearded men that we want to flirt with. Busy bankers. And all the cream of fashion (it must be said that Louboutin and Isabel Marant are close).
Special dedication to Danico , the house's cocktail bar headed by Nicolas De Soto, king of New York potions.
Open every day for lunch and dinner.

Also discover Epoca, the most stylish Italian bistro in Paris and Langosteria, the cult Milanese restaurant in Paris