Once upon a time there was Le Vin des Pyrénées. Until then, nothing new under the sun. Charles Baudelaire or Jim Morrison were already regulars. An old cult Parisian address behind the Saint-Paul church, that  "since 1905" follows Hemingway's motto : "Paris is a moveable feast".
In order not to change anything to the socialite habits of this festive brasserie : handsome Florian Cadiou, who worked in the film industry and launched some of the best bistros in Paris (Georges, Marly, Caffe Soprano) does it again and rehabilitates this address without changing its soul. Right up our alley.
The result is an amazing Parisian atmosphere, where the trendy fauna of the Marais comes to sip excellent bottles, at the bar, or to have dinner with the gang, stepping outside for a smoke in high heels, while  having  heated discussions.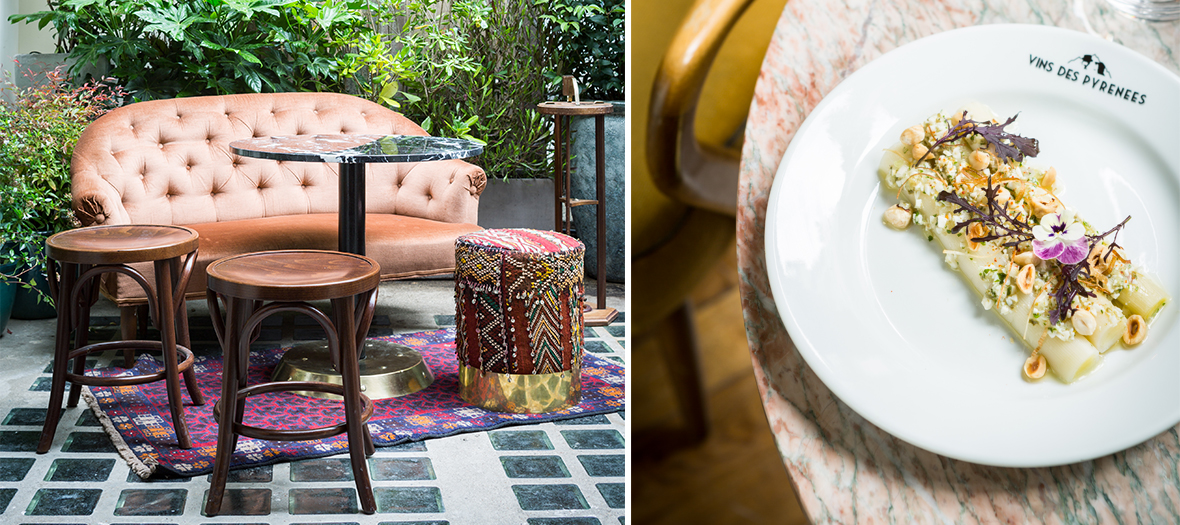 Politics, sex, fashion, every one talks loudly in this decor of wood, mosaics, tapestries and mirrors, sure to look terrific on instagram and attract the in-crowd during the next fashion-week.
A la carte : great eats. Jimmy Reffet (ex Saturne / Terroirs d'Avenir) the super talented chef really knows his bistro classics. And OMG it is delicious. Bulot sea snails with mayo and saffron(€10), lamb croquettes (€12), rillettes of mackerel (€7), filet of beef with béarnaise (€29). To be tested asap: their croque monsieur with truffled gouda (€17) : orgasmic.
We like: the hidden cocktails bar on the first level to continue the evening on a  festive and naughty mode until 2am.
Reservations are recommended. Open non-stop every day from 7am to 2am.
Also discover Allénothèque, the contemporary bistro of Yannick Alléno.