There are Parisian institutions which non-tourists still don't have the reflex of (re)discovering. For example, have you ever spent an evening at Moulin Rouge? Enjoying the magic of a cult Montmartre cabaret during a very naughty dinner-spectacle— a Parisian experience to be tested at least once in a lifetime. 

7pm, Montmartre
The door opens on the mythical Belle Époque room. We hear a joyful brouhaha, with laughs and glasses clinking to the rhythm of the orchestra. In the plates, chef David Le Quellec (husband of Stéphanie and used to leading houses) sets aside the preconceived ideas on cabaret cuisine in a gastronomique and delicious version.
On the menu: ballottine of foie gras, marinated gambas, golden scallops and veal with mushrooms are to be savoured with a bottle of champagne, of course. For dessert, a gourmet palet of white chocolat blanc or a light finger with seasonal citrus fruit. Mmmmh !
The most amazing spectacle in Paris
Since 20 years, the 60 Doriss Girls from the Féerie review enchanted Paris. The loveliest dancers in the world danseuses paraded during four dream-like presentations – including the cult French Cancan – wearing stunning costumes covered in rhinestones, pearls, feathers and sequins.
Because Moulin Rouge calls upon leading artisans to keep the magic going: bootmakers, feather pros, couturiers and embroiders work on a daily basis behind the scenes of the cabaret to make each spectacle an exceptional moment. An enchantment!
To be nabbed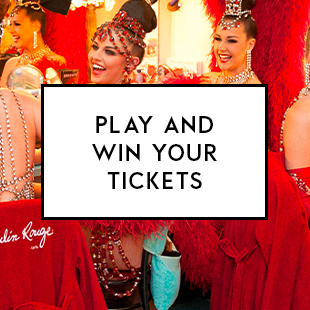 To celebrate Xmas in style, Moulin Rouge and Do It In Paris have teamed up so its darling readers might win a"Toulouse-Lautrec" dinner-spectacle for two persons. Show, Show, show !
Dinner-spectacle with  ½ bottle of champagne starting at  € 185