With this recipe, gluten-free eaters will be delighted! The tangy and super juicy side of the blood orange will bring some peps and vitamins to this great breakfast cake
Preparation time: 30 minutes
Cooking time: 1h
Resting time: 1 night
For 8 persons


Preparation :
The base for the cake :

The day before, melt the butter in a pan on a low flame, keep warm.
Beat the eggs with the sugar, the orange zest, the fleur de sel and the honey.
Add the oil, almond powder and the flours previously passed through the sieve with the yeast.
Mix well until everything is totally incorporated.
Add the warm melted butter, then mix again.
Add the almond milk and mix until the batter is homogenous.
Set aside in a fresh place for at least 1h and ideally 1 night.
The lemon-tarragon condiment :
The same day, peel the raw lemon, cut into pieces.
Place in a pan with the sugar and water, then allow to cook at 90°C during 20min.
Add the tarragon at the end of the cooking period, mix with a deep blender and set aside in a fresh place.
Cooking the cake :
Preheat the oven at 180°C (th. 6).
Cut the blood oranges in pretty round shapes.
Oil a large 25 cm diameter mould and sheath it with cooking paper, then pour the cake dough.
Bake and after 10min of cooking, harmoniously place the blood orange slices.
Bake again for about 30min. Test the cooking using the tip of a knife.
The icing & the finishings :
For the icing, whip the icing sugar and the almond milk until you obtain a homogenous texture.
Once you take it out of the oven, allow to cool, then cover with icing in a uniform way.
Serve with physalis curd, a few physalis seeds and the lemon-tarragon condiment.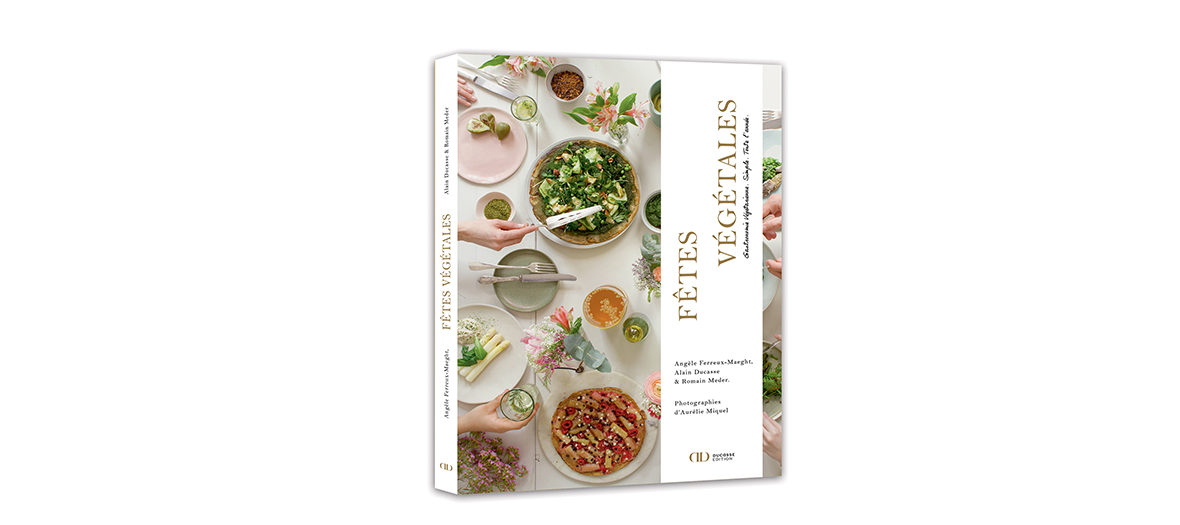 Fêtes Végétales, published by Ducasse Edition on 18 October 2018. Avalable in bookshops at the price of 35€. Authors : Angèle Ferreux-Maeght, Alain Ducasse & Romain Meder. Photographer: Aurélie Miquel.
Discover also the secret of the Michel and Augstin's chocolate cake