Nestled a stone's throw from rue de Buci , in a lively little street in Saint-Germain-des-Prés , the Source restaurant brings together a top-flight team headed by young chef Jules Recoquillon , who learned his trade with the great chefs and delivers a truly stunning cuisine. There's talent here!
Dive into the source
A navy storefront, a small door and behind a thick velvet curtain , we discover an ultra-cosy room (only 18 seats) swimming in blue. One wall is covered in fabrics, the other is in stone. Solid oak tables , blond parquet that spins on the floor, graphic carpeting and exposed beams that serve as a reminder of Germanopratin .
Further on, a large golden zinc bar leads to the kitchen and a staircase... Surprise in the basement: a nugget from the cellar ! This is the lair of Agnès Kissoondoyal , the young head sommelier of the place, who invites her guests to follow her to choose the bottle that will accompany their meal...
A story of friendship
Jules Recoquillon: barely 25 years old and already a career that deserves a big up! First the Vendée then the Caribbean , before arriving at Christian Constant in Toulouse then sharpening his knives alongside chef Jean-Pierre Vigato at Apicius and Christian Le Squer at Le Cinq . Just that !
Then, life and its happy coincidences: he finds a friend he met on the benches of high school, Margaux Mercier at the head of the bistro La Daronne (Paris 2nd). She gives him the direction of the kitchens until the day when his gastronomic desires return at a gallop… A few months later, Margaux, Jules and Clément Tricot, the third restaurateur accomplice, create Source , an intimate and sophisticated table.
A unique menu in 5 or 7 stages
Reading the map, we immediately understand that the level is there. All in on the 5-step menu and carte blanche to the sommelier who took care of the white and red pairings throughout the meal with amazing accuracy.
Dinner opens with a trio of ultra-stylish little foods: baby truffle croque , blinis and salmon roe, arancini mayo. Before the main courses, we are placed on the table with a crazy warm bread and homemade butter flavored with fir: madness!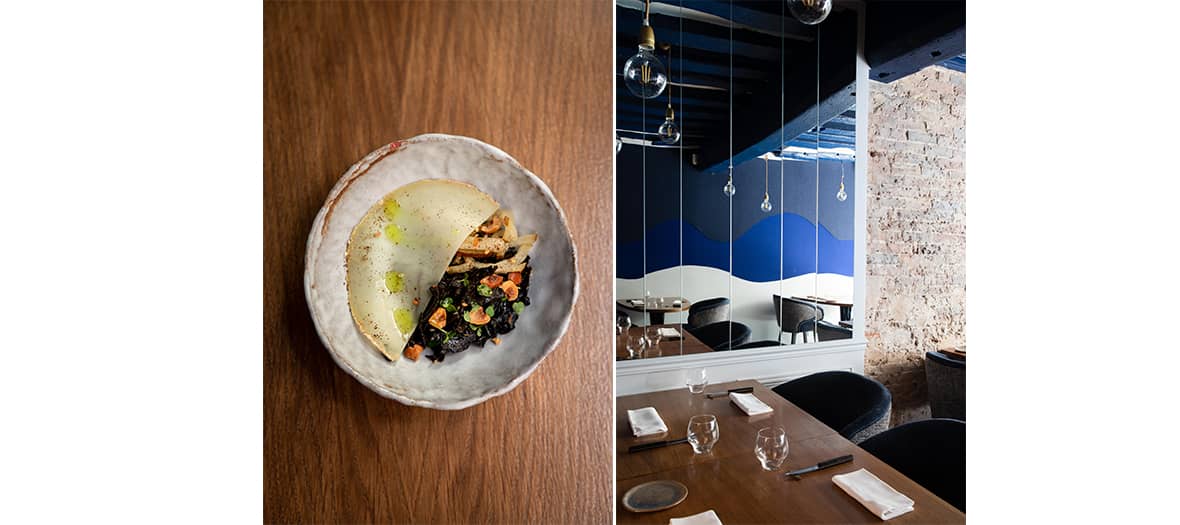 A pretty ravioli captures a carrot, hazelnut and smoked ricotta meat, drizzled with a carrot-orange juice whipped with butter: refreshing and delicious. Then the risotto of celery, foie gras, haddock and the Gillardeau oyster , confit pork, lemongrass cream and smoked honey mustard or the breaded veal, braised lettuce and tarragon cream of absolute delicacy. As a sweet touch that brings the chef out of his kitchen: a small dish of whipped cream to coat a fine tartlet with kiwis marinated in mint: wow! Intuition: the star hovers…
Good to know : Source offers a 3-course business menu for €55 on Thursday lunchtimes.
Open from Tuesday to Saturday evening, at lunch on Thursday from 12 p.m. to 2 p.m. Reservations recommended. 5-course menu €75, food and wine pairings €35.

Also discover Habile: the new feelgood HQ and The most anticipated new tables of chefs of the year