What are the most anticipated restaurant (re)openings of 2023 to absolutely remember? Hélène Darroze , Paul Pairet , Pascal Barbot , Thierry Marx , Dominique Crenn … All these great chefs will soon be opening their new restaurants in Paris. We take stock.
Nonos et Comestibles at the Crillon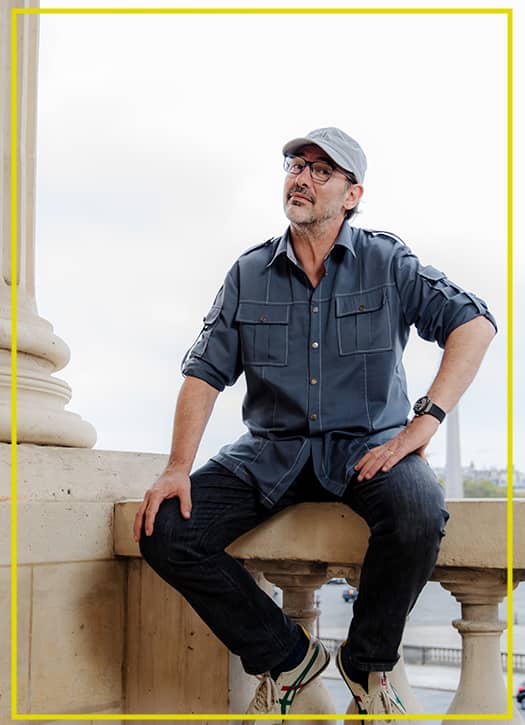 The chef: three-starred for his restaurant with the immersive Ultraviolet concept in Shanghai and after having won the favor of the French by joining the jury team of Top Chef , Paul Pairet takes over the kitchens of the Crillon , the glamorous palace of the Concord .
Its new tables that everyone is talking about: it's the most anticipated buzz of the new school year! The avant-garde chef inaugurates in January not one but two restaurants on the ground floor. The first, Nonos , focuses all its attention on grilling and frankly relaxes the idea of a palace table around roast chicken , onion soup , pepper fillet, grilled lobster and mashed sausage. In place of the old barber shop, Comestibles is the chic snacking counterpart of Nonos , where you can order seafood , cold meats , cheeses and pastries throughout the day.
Scheduled opening: January 18, 2023.
Nonos and Edible , 10 place de la Concorde, Paris 1er
© Virginie Garnier

Jòia Bun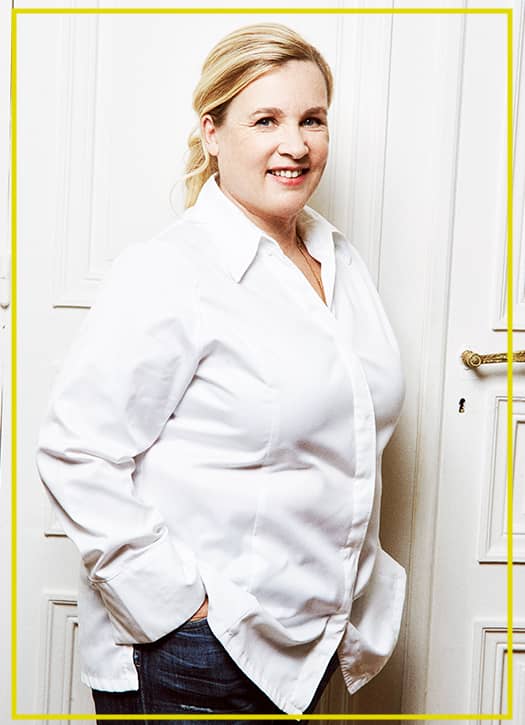 The chef: elected " best female chef in the world " in 2015, Hélène Darroze lays claim to a " very personal signature cuisine " using fine local produce. Jury star of the Top Chef show at the head of Jòia , Marsan (her double-starred rue d'Assas ) and the Connaught table in London , this native of Gers continues to amaze with her brand new tempting concept of burgers .
His new table that everyone is talking about: an American diner mood with an open kitchen and bar, which gives the burger its letters of nobility. Chef 's street food that reveals all the gastronomic potential of this future completely foodporn address where the meat of the burgers is none other than Wagyu beef seasoned with " Jòia " spices, the ketchup is homemade and the bun incredibly soft. We salivate in advance.
Planned opening: February 2023.
Jòia Bun , 16 rue de la Michodière, Paris 9th
© Matias Indjic
Astrance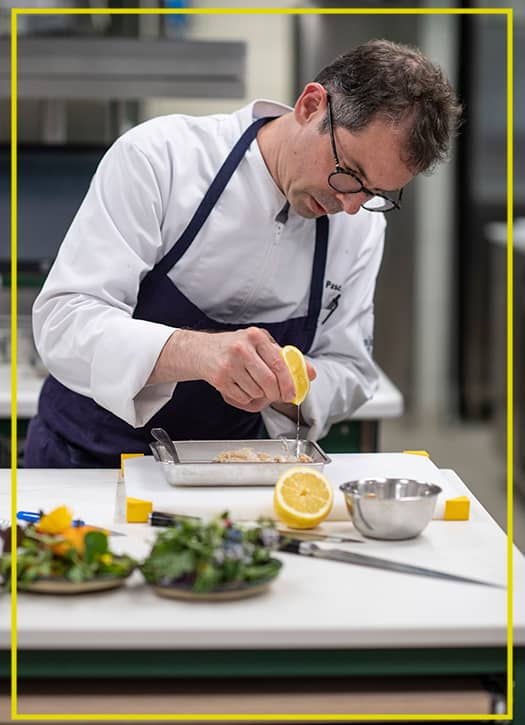 The chefs: Pascal Barbot and Christophe Rohat , two great cooking companions united for more than 20 years around Astrance , their gourmet micro table without menu with a blind menu guided by the Auvergne origins of one and the creative instincts of the two united… for life! Their first address is giving way to a new one, twice as large, keeping this proximity with the producers who inspire them with ever more refined recipes.
Its new table that everyone is talking about: in a new soft and bright decor, all dressed in beige and gray, Astrance is revealed in the delicacy of its dishes, which you can now choose from. Vegetable ravioli, rice with sea urchin coulis, mallard pie, corn semolina with truffles or red mullet fillets are in the game.
Planned opening: open since the beginning of January.
Astrance , 32 rue de Longchamp, Paris 16th, open Monday to Friday from 12 p.m. to 2 p.m. and from 7:30 p.m. to 9:30 p.m. Lunch menu €125, dinner €285.
© Anne-Emmanuelle Thion
Golden Poppy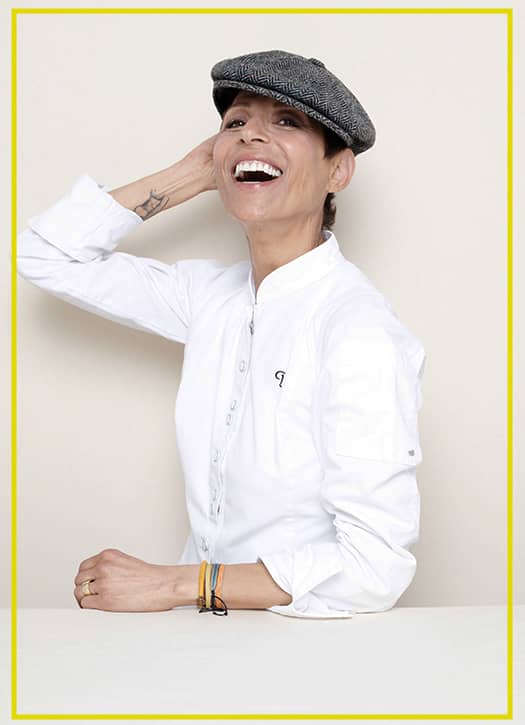 The chef: her restaurant in San Francisco , Atelier Crenn , won her third Michelin star in 2018. Dominique Crenn , the most Frenchie of Californian chefs, has fun pushing the vegetable slider to unprecedented levels of gastronomy. A real creative chef in her trainers, ready to reconquer Paris.
Her new table that everyone is talking about: at Golden Poppy , the committed chef who masters zero waste like no other intends to convey her values of sharing and respect for nature. An ode to plants nestled in the colorful and bucolic setting of the La Fantaisie hotel , inspired by his years spent in France. At the helm of the hotel's three spots (the rooftop , the bar and the restaurant ), Dominique Crenn promises a place that lives up to its commitments: super ethical, super good.
Planned opening: April 2023.
Golden Poppy, 24 rue Cadet, Paris 9e
© Amanda Demme
onor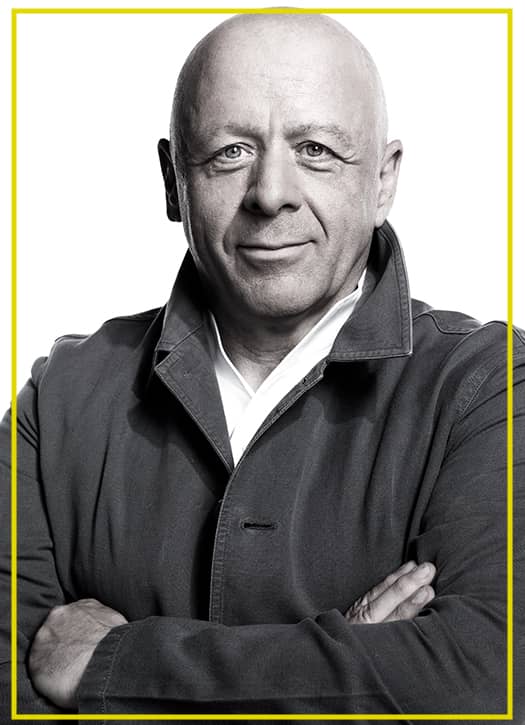 The chef: in addition to his two stars at the Mandarin Oriental and after recovering the kitchens of Madame Brasserie at the Eiffel Tower , the jack-of-all-trades chef Thierry Marx is opening a new and more than mysterious place in the extension of his ecological commitments and solidarity.
Its new table that everyone is talking about: Onor , is first and foremost the promise of a necessarily committed gastronomic table that invites the know-how of its schools Cuisine Mode d'Emploi(s) . His new project is a real return to his roots for the pioneer of molecular cuisine in France , which is bringing out for the occasion, not without mischief, his kit of the perfect chemist, just to personalize sublime seafood products with Asian influences.
Planned opening: first quarter of 2023.
Onor , 258 rue du Faubourg Saint-Honoré Paris 8th
© Mathilde de l'Ecotais
Boubalé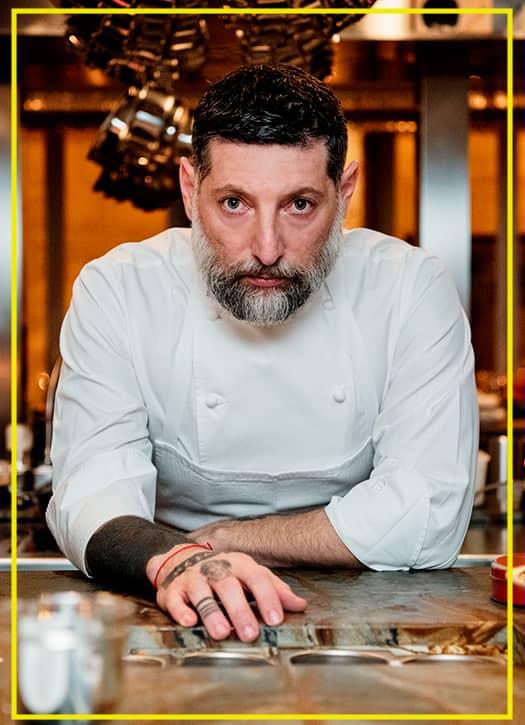 The chief: we don't stop Assaf Granit anymore. After the full boxes of his tables with various concepts (the festive Balagan – currently undergoing renovation – the star-studded counter Shabour , the vegetarian Tekés and the grocery store / caterer Shosh ), 2023 will be the year of the Israeli chef! On the program: the reopening of Balagan in version 2.0, a beach restaurant in Cap d'Antibes and, therefore, this new Parisian table, particularly awaited.
His new table that everyone is talking about: installed at the Grand Mazarin , the new too beautiful hotel of Maison Pariente which will open soon in the Marais , Boubalé will focus on Ashkenazi cuisine . We are expecting an ever so creative reinterpretation of the great classics of Israeli gastronomy in the company of his madly energetic band.
Planned opening: first quarter of 2023.

Boubalé at the Grand Mazarin , 17 rue de la Verrerie, Paris 4th
Ambos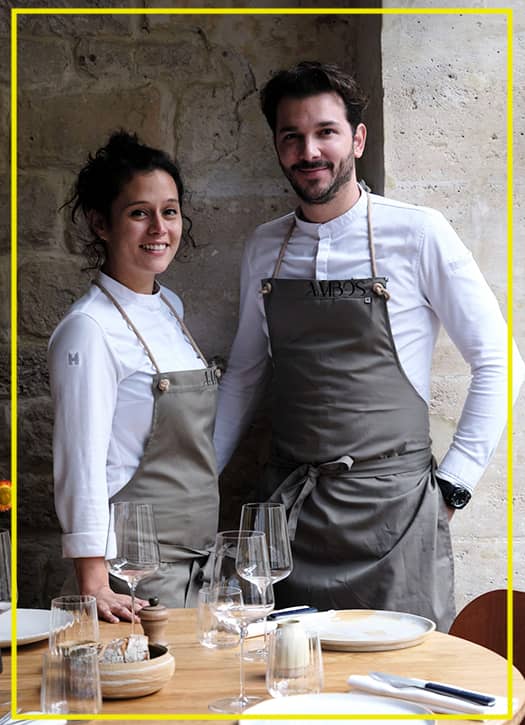 The chefs: inseparable at home and behind the stove, Top Chef Pierre Chomet and his half Cristina have just opened their very first restaurant in the Luxembourg Gardens (north side), the promise of a pleasant gourmet moment in joy and a good mood.
His new table that everyone is talking about: in a deliberately raw decor (stones, wood, bricks), Ambos gives pride of place to the duo's lovely travel memories. We find on the menu a prawn tartare pad-thai style , beetroot with binchotan and a yellow Landes chicken , without forgetting the arepas as a starter for the reminder of the Venezuelan origins of Madame.
Planned opening: already open since December 19!
Ambos , 38 rue de Vaugirard, Paris 6th, open Monday to Friday from 12 p.m. to 2 p.m. and from 7 p.m. to 10:30 p.m.
géosmine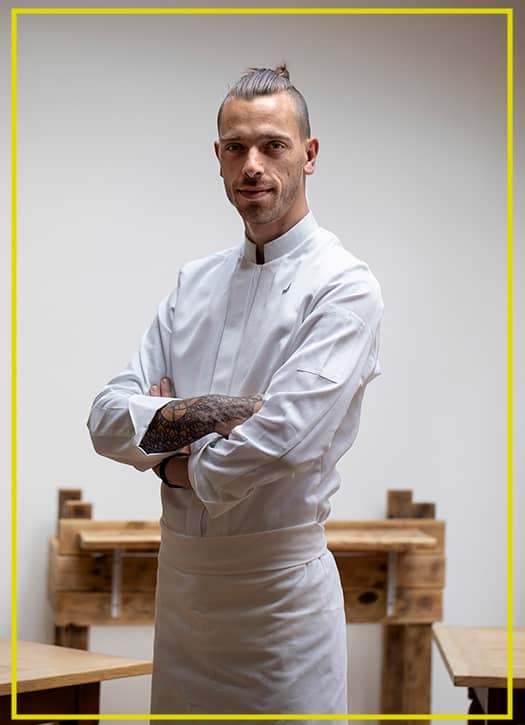 The chef: when he was little, Maxime Bouttier spent his holidays with his butcher-charcutier-caterer uncle and even spent a few nights at Rungis . An inspiration ! He cut his teeth at the Taillevent in London , before settling down in Paris at the Mensae as chef for Thibault Sombardier . His first Geosmine restaurant will be an opportunity for him to bring together all his achievements and offer his customers a culinary experience where cuisine , service , sommellerie and pastry combine in a single vision.
His new table everyone is talking about: in a gallery-like town house, the menu is faithful to the chef's career: the cromesquis of hot rillettes , prepared on thistles , are to be dipped in lard , accompanied puff pastry with Mayenne butter, black shallot and refined bottarga. To follow, oyster mushrooms from the Loire Valley roasted whole or in bouquets with XO sauce , embellished with marrow and sardines, combining sapidity and delicacy. Short circuits are favoured, with meat sourced from Nivernaise Butchers and fish from the Viviers de Noirmoutier .
Planned opening: March 2023.
Geosmine , 71 rue de la Folie-Méricourt, Paris 11th, open from Thursday to Monday
à la source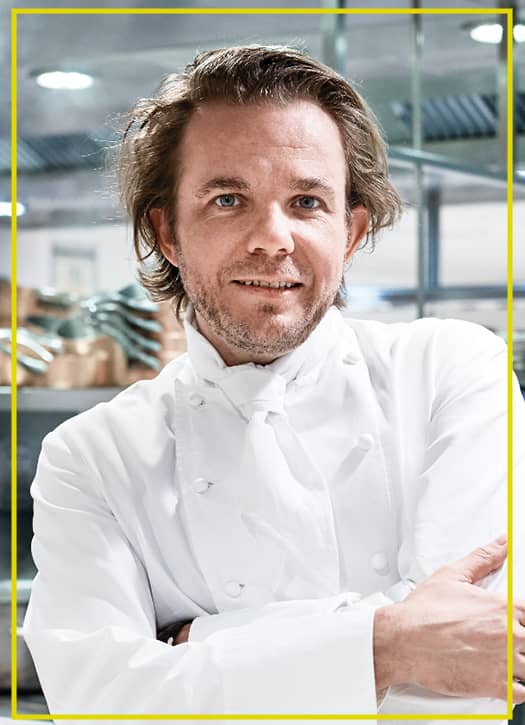 The chef: a disciple of Escoffier extending this philosophy of French cuisine obsessed with fine produce, the former chef of the Ritz Nicolas Sale found no more logical place than the Rungis market to open his solo project.
Its new table that everyone is talking about: in the heart of the MIN (Rungis Market of National Interest), À la source will be open to the general public, already interesting both professionals who frequent the market every day and curious gourmets to hit the bell in the company of the forts of the halls. Nicolas Sale will only have to stretch out his arm to grab the Rolls of the land products , from new suppliers but also some who have remained faithful to him since the Ritz . A real experience to try once in a lifetime!
Planned opening: first quarter of 2023.
®Luc Frey

And also… la tour d'argent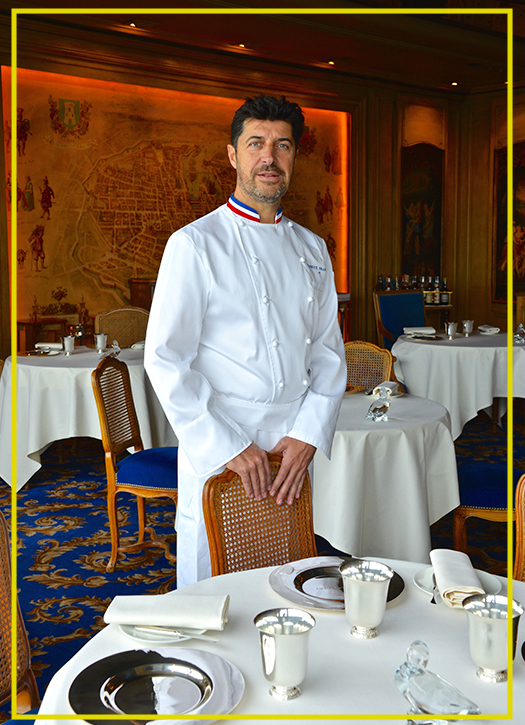 A real stronghold of Parisian gastronomy , La Tour d'Argent needs no introduction , a mythical restaurant facing Notre-Dame which inspired the film Ratatouille and made Daudet's poultry its ultimate specialty. Since last April, this starred restaurant has been getting a makeover and will reopen fresh and beautiful (with a new bar and a cocktail and finger food menu) under the leadership of chef and Meilleur Ouvrier de France Yannick Franques , trained by the greatest ( Eric Frechon , Alain Ducasse and Christian Constant ). Absolutely chic!

La Tour d'Argent , 19 quai de la Tournelle, Paris 5th.

Also discover the best festive restaurants in Paris and the highly anticipated first restaurant of Omar Dhiab