© Jean-Louis Fernandez

La Dame de chez Maxim is the joyous comedy everyone is talking about to be discovered at the Théâtre de la Porte Saint-Martin .
When Zabou Breitman and his tongue-in-cheek humor revisit a mythical Feydeau , the result is a rather poignant piece with Léa Drucker immersed in the Paris of the Belle-Époque. Delicious !
Infidelity, Parisian socialites and excess of champagne
It is the total blackout for Doctor Petypon ( Micha Lescot , in grand dadet!) After a too drunken evening at Maxim's where he provoked a duel before bringing a dancer from the Moulin Rouge to spend the night at his place in good company.
When he wakes up, the bourgeois dandy discovers the Môme Crevette in his bed … while his wife (a mystical turkey…) is also in the same apartments! Petypon manages to create a diversion with the help of his best friend by hiding the dancer in his bedroom. Are you still following us?
But now the wealthy uncle arrives. On a misunderstanding, the General takes the Môme Crevette for… the real wife of his nephew! Seduced by the charms of the coquette, he General invites her to spend a few days in his castle in Touraine . She pricks herself in the game and causes a cascade of drama.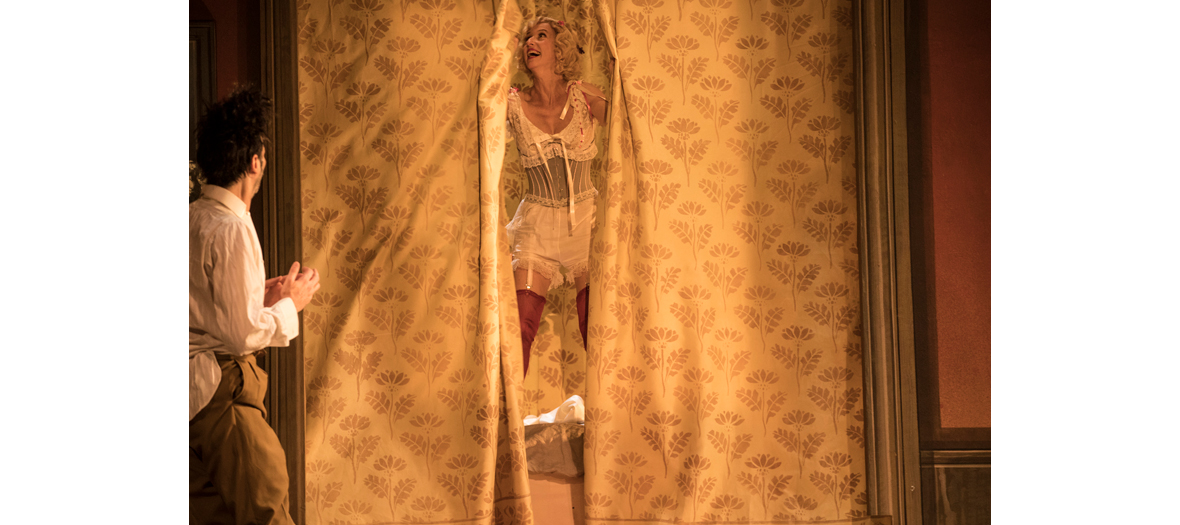 The Zabou and Léa Drucker touch where you don't expect it
Decor of immense sophistication, stunning costumes: Zabou's scenography works wonderfully for lovers of French Cancan and the cozy little lounges of Lapérouse . Zabou Breitman does not hesitate to over-play the absurd and a touch of excess and madness, as evidenced by the resounding hairstyle of the inconsistent party animal, Doctor Petypon or the mannered ladies of the provinces, encamped by men in transvestites.
Zabou is having fun. Especially with Léa Drucker , where it is not expected. Gouailleuse, packed with frills, dancing and cheering up the atmosphere of a bourgeoisie stiffened in customs it ridicules. In short: a joyful and consensual spectacle, to see - especially with the family - to embellish an autumn evening.
And after ? We go have a good meal at the Hotel Providence , a stone's throw away.

La Dame de chez Maxim , from Tuesday to Saturday at 8 p.m. or 9 p.m. Sunday at 4.30 p.m. Info and reservations on www.portestmartin.com .
Also discover Les Justes at the Théâtre du Châtelet .