Halfway between a very very chic snack and a German tearoom, parisian girls can now satisfy their Heidi passion thanks to the Stube, the Austrian place to go to this winter.
There you can enjoy hotdogs prepared right under your eyes! Imagine a plump bun just like in Vienna in which is slipped a divine and authentic bockwurst, a pure beef sausage, upscaled with cooked onions and sweet mustard.
Another absolutely marvelous junk-food special: a sandwich with Black Forest ham and Molossol pickle, butter and mustard in whole wheat rye bread.
Kudos for: the pretzels, the real sauerkraut and the divine potato salad.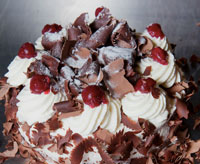 Dessert time : The Black Forest, the famous cake made out of chocolate, whipped cream, and cherry liquor. A piece of heaven for 4€.
We love it: We can purchase the real Koulibiac, the «Heringstip» with herring and Bismarck potatoes in sour cream, the "Kraüterquark", the sour cheese with herbs.
Hotdog menu with drink and dessert à 12,50€
Tues / Sat : 11.30am - 10.30pm
Picture Credit: Facebook Page Le Stube