A real Parisian UFO, Frame plays the Californian  coolitude not far from the Eiffel Tower. A super glamour culinary enclave in an area that sorely lacked sexy addresses sexy…
To stand out from the crowd, the restaurant called upon a young talented American chef, Andrew Wigger, a street-food specialist. And he whips up all the culinary musts we adore !
All the herbs come from the small vegetable garden right in front o the restaurant: avocado toast (€15), garden salad (€13). Plates to share: houmous of red beans (v11), the nacho (€12) and the house guacamole (€11)…
Delicious and zippy: the cobb salad with a lettuce enhanced with avocado, apple, poached egg and a choice of meat/ fish (€16). As well as the amazing cheesecake with passion fruit (€8) or a pizza with mussels, spinach, white wine cream (€18)… Also at lunch and dinner, a really exiting burger excitant (€19).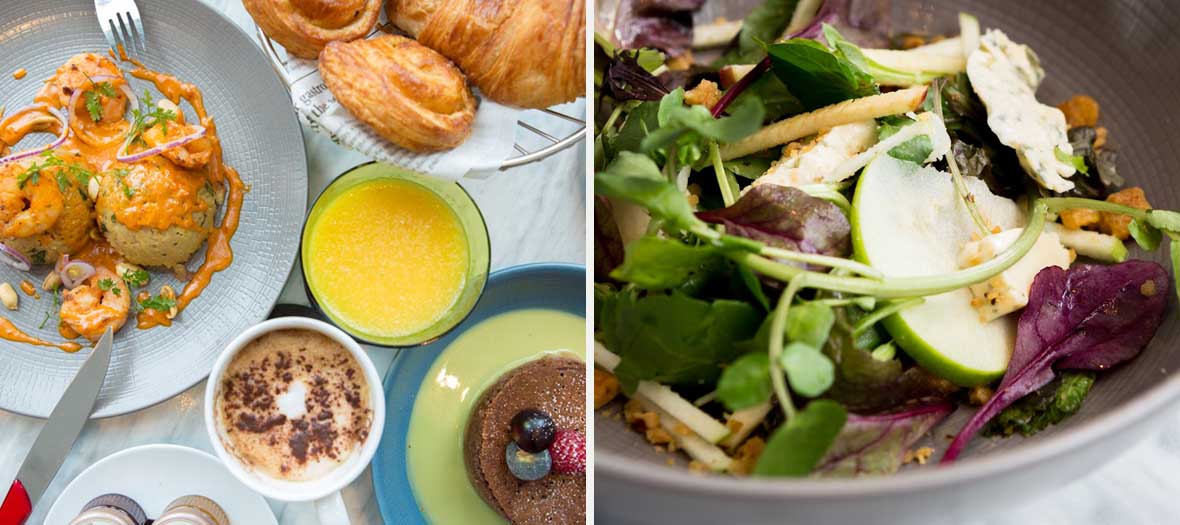 For evening tastings while admiring the Eiffel Tower, novelties include: duck leg glazed with whisky (€22), the delicious matured steak from the Limousin (€28) ; braised cheek of pig (€20) with original and savoury sides created by the chef.
Fun beverages : really great cocktails with or without alcohol concocted with the in-house garden herbs.
We adore: the fab decor ! Large bay windows, an XXL bar, marble tables, vitamin colours and pop tableware. In short, avery trendy dining room where you feel divinely well. A greta place to come long lunches and chill happy hours!
Also discover La Lorraine, the most popular brasserie in west Paris.