No need to ruin yourself for a good lunch! With only 10 € in their pocket, small budgets can also treat themselves to a tasty lunch around a plate well stocked with quality products, on site or to take away. Yes, yes, it exists! Do It In Paris gives you its 5 favorite canteens.
mûre: the homemade break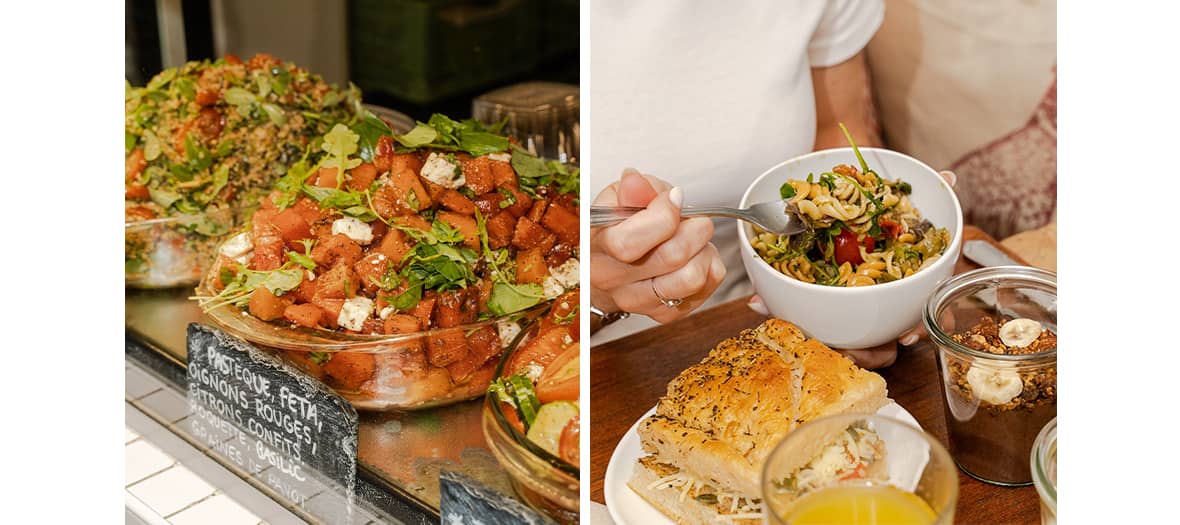 La cantine: an organic restaurant committed to a New York style where home-made is glorified by organic, local and seasonal products. Definitely too good.
For less than €10: choose what you want in large portions (€9.20) or in half-portions (€4.70). Five first choice salads compete for the star (watermelon feta, nori seaweed cucumber and rice vermicelli, multicolored aubergine pesto spirals and roasted peppers with Provencal herbs, and a final one with chickpeas, candied tomatoes, ginger and fennel seeds and a final one with Chinese cabbage, green lentils, coriander, arugula and hazelnuts) while exquisite focaccias , pizzas (miso cream, eggplant, tomatoes, grana padano and Espelette pepper) and oven-baked veggie quiches quietly wait to be chosen.
Blackberry , 6 rue Saint Marc, Paris 2nd. Open Monday to Friday from 8:30 a.m. to 3:30 p.m., Saturday from 11 a.m. to 5 p.m.
Banoi: the roll that has it all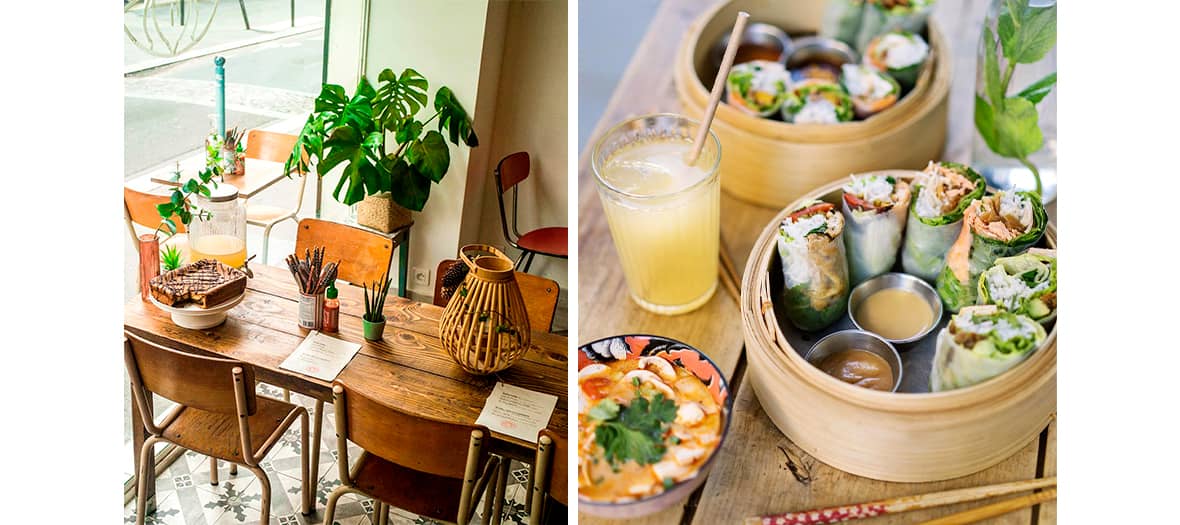 The canteen: an Asian eatery like an open window to a whole culture where Vietnamese know-how is revealed in its typical setting.
For less than €10: the best spring rolls in Paris (€3.70 each) in shrimp, veggie, smoked salmon, lemongrass pork or teriyaki salmon flavours. Toss with a coconut tom yum soup , a cucumber salad with 3 sesame seeds or tofu mushroom fried rice (€3.50). As for dessert, prices fluctuate between €3 and €4 for a pannacotta , two matcha green tea madeleines or the famous banoi roll, a black sesame and coconut cream roll cake.
BANOI , 129 rue Amelot, Paris 11th. Open Sunday and Monday from 12 p.m. to 2:30 p.m. and Tuesday to Saturday from 12 p.m. to 2:30 p.m. and from 7 p.m. to 10 p.m.
La Guinguette d'Angèle: well-being and delicacies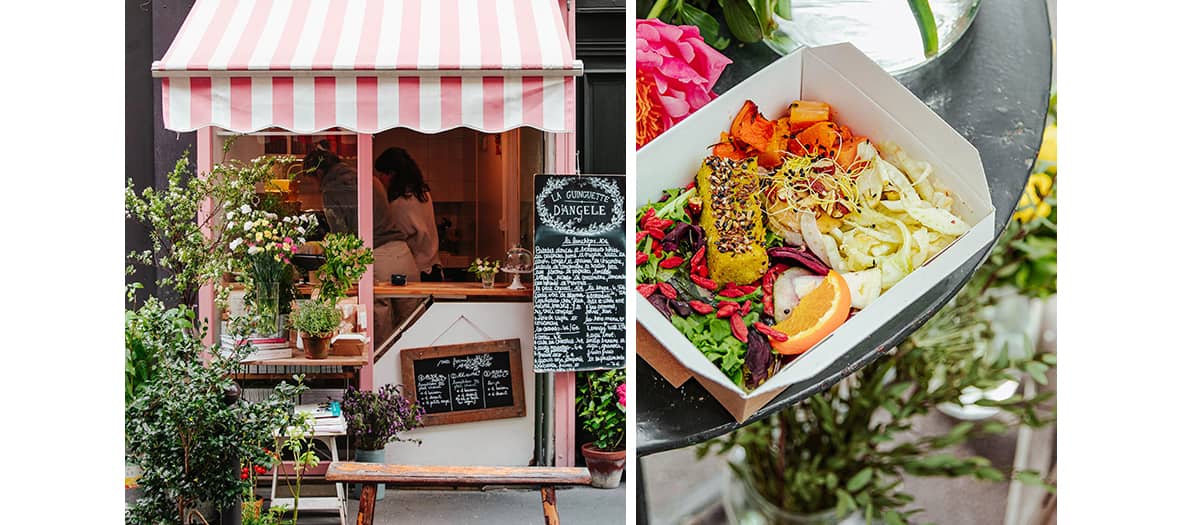 The canteen: everything here breathes the vision of a healthier, more responsible and more joyful cuisine, like its chef and star founder Angèle Ferreux-Maeght , passionate about naturopathy and food prevention . In other words: the gourmet vegan friendly and gluten free address of reference in a warm and friendly place. Perfect for an office lunch break, to be savored from the Palais-Royal garden just a stone's throw away.
For less than €10: the off-formula lunchbox is €10, all stacks! The menus change daily and are published daily on the site . To give an idea, the day we came, it was black rice , roasted carrots and cumin seeds, mint raita, cucumber vinaigrette with wasabi and chives, seaweed tartare, beetroot pickles, gomasio and sunflower seeds. Mmmm…
La Guinguette d'Angèle , 34 rue Coquillière, Paris 1st. Open Monday to Friday from 11:30 a.m. to 3 p.m.
SO NAT: the temple of the green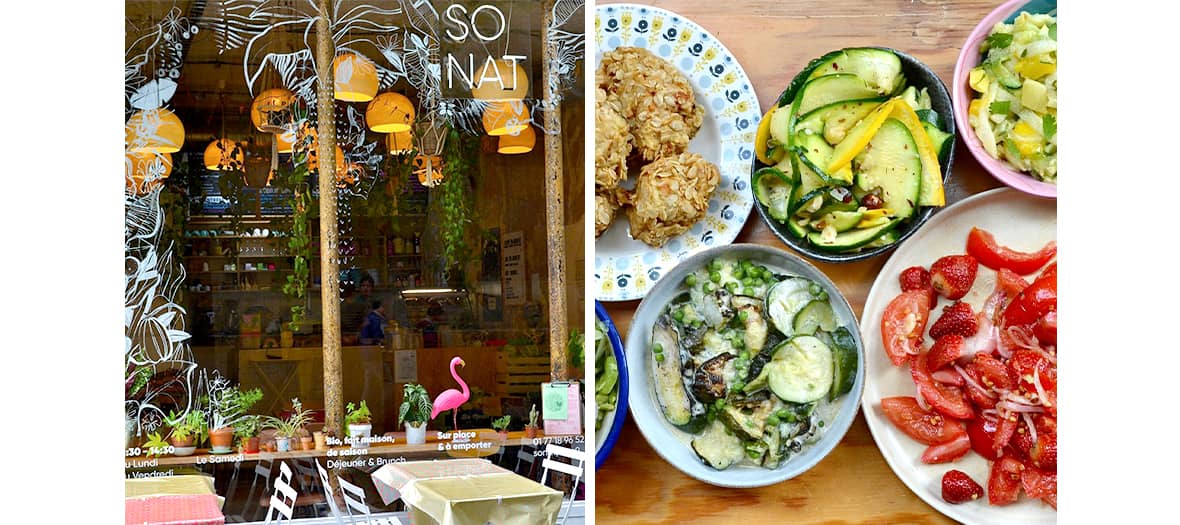 The canteen: a neighborhood canteen entirely dedicated to the green where seasonal cuisine is in the spotlight in a resolutely cozy green decor.
For less than €10: delicious beignets of lentils, aubergines, tomato pesto and tahini (€5 each), a gazpacho (€4), a small bowl menu (your choice of aubergine tonic with crispy eggplant, tagliatelle of yellow lemon and hazelnut zucchini, Mograbieh and arugula pesto, the super smashed bowl with rice vermicelli, zucchini fries, mango salad and daikon radish, or the frida carrots zucchini and peas cream of almond and kaloupilé and ginger carrot jelly) with a dessert including a chia pudding with seasonal fruits, a cookie of the moment or an orange blossom yogurt . The bowls can also be ordered outside the formula in small (€9) or large (€10).
SONATA
SO NAT Sentier 18 rue Saint-Fiacre, open Monday to Friday from 11:30 a.m. to 2:40 p.m.
SO NAT Notre Dame de Lorette, 5 rue Bourdaloue, Paris 9th, open Monday to Friday from 11:30 a.m. to 3 p.m.
SO NAT Saint-Lazare 9 rue de Laborde, Paris 8th open Monday to Friday from 11:30 a.m. to 2:30 p.m.
Cantinetta Ventura: Italian style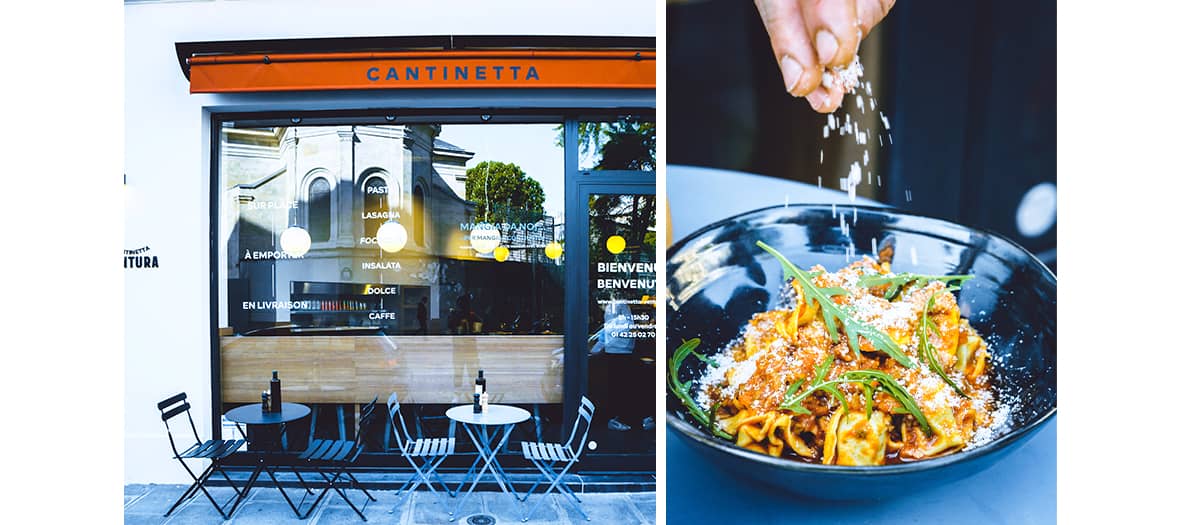 The canteen: a typical trattoria transcended by Italian generosity, which attracts staff from luxury houses , palaces and art galleries in the Golden Triangle .
For less than €10: a range of pasta and gnocchi at €8.90 ( pesto , bolognese and truffle ), beef or veggie lasagna with eggplant (€9.90) and succulent Italian salads (burrata €9.90, veggie casarecce €8.90), tonno or vegetarian focaccias (€7.50) and for those with a sweet tooth, a satisfying tiramisu for dessert (€4.20).
Cantinetta Ventura , 5 avenue Myron Herrick, Paris 8th. Open Monday to Friday from 9 a.m. to 3:30 p.m.
© Cedric Canezza

Also find out where to enjoy a sando, these ultra-fluffy Japanese sandwiches and the most unusual bouibouis in Paris