Her claim to fame / her ADN: known for her literary sweat shirts in homage to famous writer couples, the brand has just recently developed its wardrobe around iconic pieces, starting with the must-have grey teddy, fab ruffle shirts, the perfect skirt in navy velvet and the slim jeans you were desperately looking for in order to have a great looking fanny. They are all there.
Her iconic piece: after the literary sweatshirt, a fetish pullover that you take everywhere, to be slipped over a white shirt and let the collar show col.
Why Parisiennes adore her: because Balzac concentrates the most timeless looks of the contemporary Parisienne. Very successful since their arrival in the collections, the accessories (boots, bags, jewellery…) with a twist bring fun and chic to all the basic looks.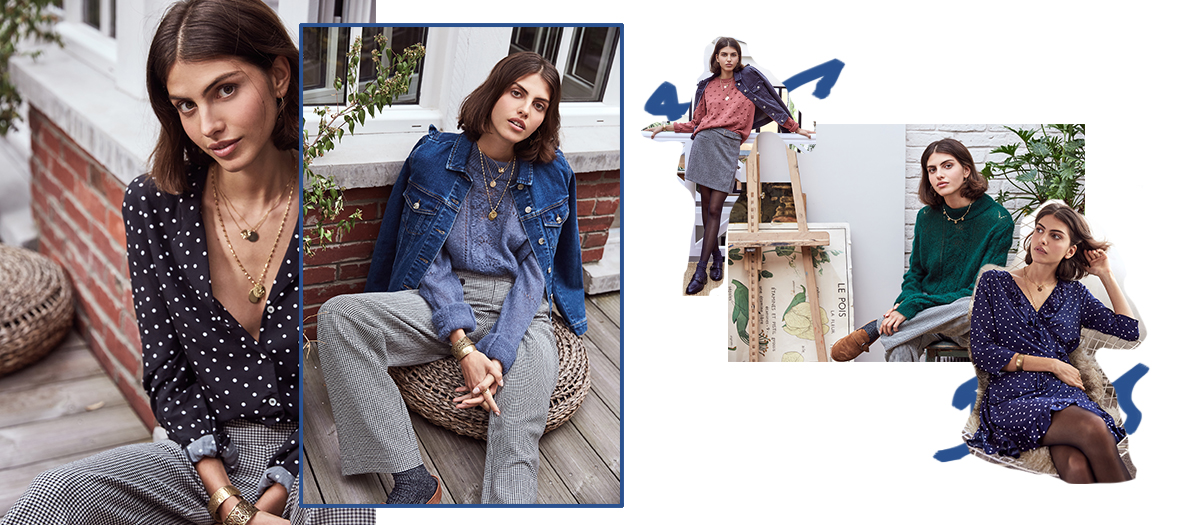 3 questions to Chrysoline de Gastides…
The 3 adjectives that define your brand? Responsible, romantid and litterary.
The Parisienne who inspires you? It's always been difficult for me to answer this question, I don't have one Parisian in mind who inspires me but more women, styles ! I like just as much a chic woman who looks dressy no matter what, who wears a navy pullover with an impeccable cut as well as her fetish jeans and a pair of Converse, as a very daring women in terms of style who wears clothes I would never wear.
Your uniform? I like the masculine-feminine ! Wearing my dresses with a big sweater on top and a pair of moccasins! I am a fan of under pullover that I mix to the infinite under my dresses, shirts, blouses... They have style and I think also of my personal  style since they keep me nice and warm ! I like being in keeping with the trends and not looking to dolled. I like not having to think in front of my closet and slipping on the piece of clothing with the right cut that sets the tone and will dress us from morning until evening.