If Claude Monet and Auguste Renoir are mentioned, there is immediate recognition! Berthe Morisot,Mary Cassatt,on the other hand is less obvious? Their common denominator? Impressionism.
The Musée d'Orsay is (finally) celebrating one of the leading artists of the 19th century, who marked her time with a daring paint brush stroke, and has been given an outstanding retrospective. Spotlight.
Berthe Morisot, a painting of passions
Born in 1841, her family was very involved in the art world(her mother is the great-niece of the painter Fragonard), Berthe and her sister Edna take drawing classes with Chocarne and Guichard. Then, no more academic teaching, Berthe reaches out to Camille Corot.
Just her luck, he accepts to initiate her to outdoors painting, in Ville d'Avray.
And it was a true revelation!
A muse under the influence of Manet
Berthe is just a young copyist at the Louvre when, in 1868, her friend Fantin-Latour introduces her to Edouard Manet. With her ardent beauty, she seduces him on the spot. Right away, he proclaims her as his muse. To such an extent, that he painted 12 portraits of her, including the famous Berthe Morisot au bouquet de violettes(1872).
A rebel artiste, feminine figure of this artistic movement
Pioneer of abstraction, Berthe Morisot refuses to present her paintings in official  salons. Along with Monet, Renoir,Sisley,Degasand Pissarro, she co-founds the Société anonyme des artistes peintres, sculpteurs et graveurs and the famous Salon des impressionnistes(1874).Between scandal and critical success, suddenly she is rivalling with leading names, such as Paul Cézanne—imagine that!
The feminine side of Impressionism
Here we are privy to the low-key, almost intimate, universe of Berthe Morisot.
Her claim to fame:woman in every form, whether she is a worker, a bourgeoise or a country peasant! As opposed to Manet, the painter of absolute black, she considers herself as the painter of light. The Morisot touch is as light as it is powerful...
A series of masterpieces
Amongst the masterpieces selected, one of the most famous paintings Le Berceau(1872), behind the appearance of a very soft portrait, the painter is actually questioning the future of this child, with a certain gravity as well as her Chasse aux papillons (1874), a painting of poetic figure, outdoors, the subtle art of sketching the visual  sensations of a landscape.
Also discover a exhibition of Barbie in Paris for her 60th birthday and Beaubourg celebrates Dora Maar.
Full rate entrance: €14. Berthe Morisot, until the 22nd of September 2019. Open Tuesday to Sunday from 9:30am to 6pm. Late night on Thursdays until 9:45pm. Closed on Sunday.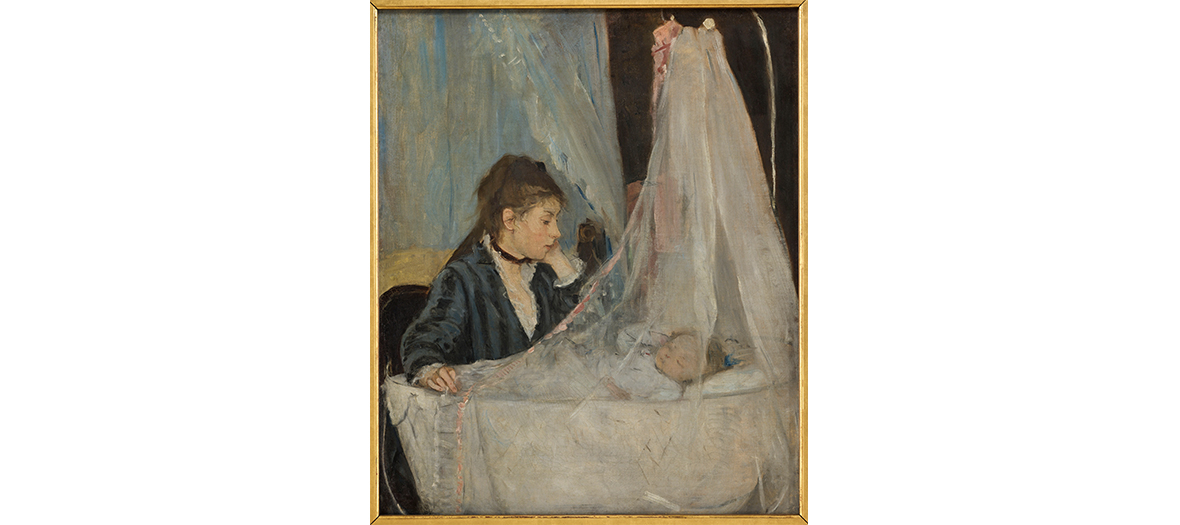 Le berceau,1872
Oil on canvas, 56 x 46.5 cm
Paris, musée d'Orsay, acquired in 1930,
RF 2849 CMR 25
Photo © RMN Grand Palais. (Musée d'Orsay)/ Michel Urtado
La Chasse aux papillons,1874,
Oil on canvas, 46x56 cm
Paris, musée d'Orsay, donation Etienne Moreau-Nélaton, 1906,
RF 1681.CMR 36
Photo © Musée d'Orsay, Dist. RMN Grand Palais / Patrice Schmid