She is the Ambassador of "Poursuis Ton Rêve Quoi Qu'il Arrive", nominated by Bridgestone. A campaign that is her claim to fame: "I immediately felt at ease because it's my story". Here is the story of an amazing woman, who juggled studying at Science Po and a boxing career of world champion in 2008. But everything fell apart at the O.G. of 2012 ! Her own company and a baby later, Sarah decided to slip on the gloves and jump back in the ring which led her to win a gold medal in Rio in 2016.
Through this campaign, it's of daring that Sarah wishes to talk about: "I pursued my dream, I make wonderful encounters, I really fulfilled myself. My course was wonderful, even if I failed. It's important to believe in one's dreams in order not to have regrets— it's amazing".
Boxing, is that your vocation ?
I began when I was 14-years-old, women were not even allowed to have a boxing licence nor to compete. At the beginning, I took Taekwondo courses, but the venue where we practiced burnt down... It's by looking for another place nearby to continue that I happened to discover by happenstance a boxing club and the teacher offered me a trial run. I adored it. I found it really appealing and fun, with boxing and combat strategies. The entire body was involved.
The first official women's combat was authorized in 1999. I became champion of France the first year, and I went abroad for competitions. Little by little, I became more confident. But at the time, there were no women role models, no potential Olympic Games, no sponsors. Projection was impossible.
How did you begin considering boxing as a job?
It happened little by little as I won titles. I even thought of winning the world championships in 2008, but my studies were starting to suffer from all my training. I was hoping for a medal, but I did not expect to win the world championship. We were told at that time we had the right to participate as women to the Olympic Games. Suddenly everything became concrete. A touchable dream. I had 4 years to prepare myself. 4 years with very good results on the world level.
How did you begin considering boxing as a job?
I lost the last combat that would have enabled me to go to the Olympic Games of London in 2012. I had a mental breakdown. In 8 minutes, I lost against a girl that I had overcome many times. This is when I decided to stop my career. I was 29 years old. It was over. In 2014, 2 years after launching my company and giving birth to my daughter, I decided to go back. I had too many regrets. Goal: Rio 2016. I have it may all to try.
Boxer and mother, is that compatible ?
In order to prepare for the games, I performed my cardio training in the morning before the baby woke up. After work, I picked up my daughter at the daycare center, and would wheel over in her pram to the boxing studio that she transformed into a playground. I only had one hour. It was a little like an anti-Rocky training ! The first 3 months, it was very tough. Physically, you lose a lot when you stop... Muscles melt down, and the cardio training is not easy ! My flaw was mental. So I decided to mentally hang on and train less, but better. I was accompanied by a sophrologist mental coach, I liberated myself and felt a lot stronger!
You are the godmother of"Poursuis Ton Rêve Quoi Qu'il Arrive"... What was YOUR dream… and did it come true?
Well actually, it was participating and winning the Olympic Games of Rio ! Heavy duty organisation. People don't understand why you don't let go after having a child and not succeeding in 2012. At work, with my family, everyone puts on the pressure and tries to dissuade you : "What are you doing ? You are going to fail, there are younger people right behind you….". But I was lucky: my husband stood behind me all the time. "Sarah, you have a dream, and even if you only have a 1 % chance for it to come true—go for it !".
At the time, I continued my job as an employee. But it's for my company that it was a little complicated. I told myself it would be a double success.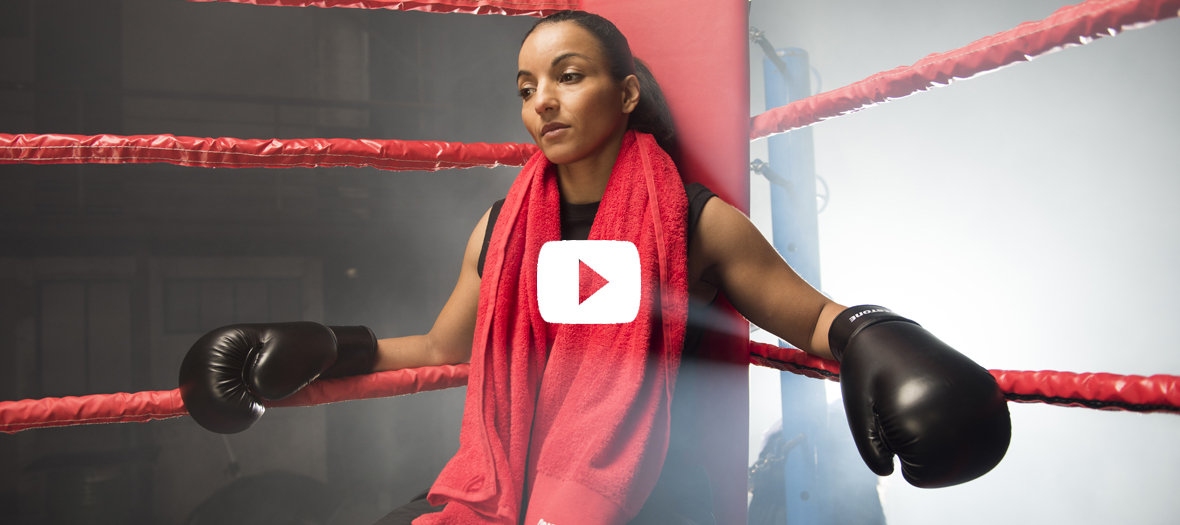 You are a figurehead of a new feminism…
My boxing career is an enlarging mirror of society and all the combats women have to take on in order to impose themselves. My Olympic medal gives me a role model. If it inspires young girls to go all out and do what they want to do, without worrying what people think—well, that's amazing!
Your motto?
"Sky is the limit" ! Because I want to bypass all the barriers. What I want to pass on to my daughter? Never autocensure yourself, do not impose any intellectual limits.
What are your professional activities since your title of Olympic Champion?
I have several feathers to my cap. I am the spokesperson for the "Poursuis Ton Rêve Quoi Qu'il Arrive" campaign and in parallel, a government delegate in the 93 department for sports, and Vice-President of the Olympic comity. I have a company for boxing and connected gloves—also, since 8 years, I have an association that gives boxing courses to women with a childcare facility. This gives them some time for themselves, especially when there is very little time. And… I am opening my first boxing space in January at Porte d'Ivry !