Lauren Koumetz was always fond of jewelry and pastries. And this is the tell-tale signature of Popelini, the label for her super chic pastry shop that only serves … sweet cream puffs as delicious as they are pretty to look at.
Spotlight on the success of this lovely "yummista", who is about to open a third boutique right near place des Vosges.
how I got into cream puffs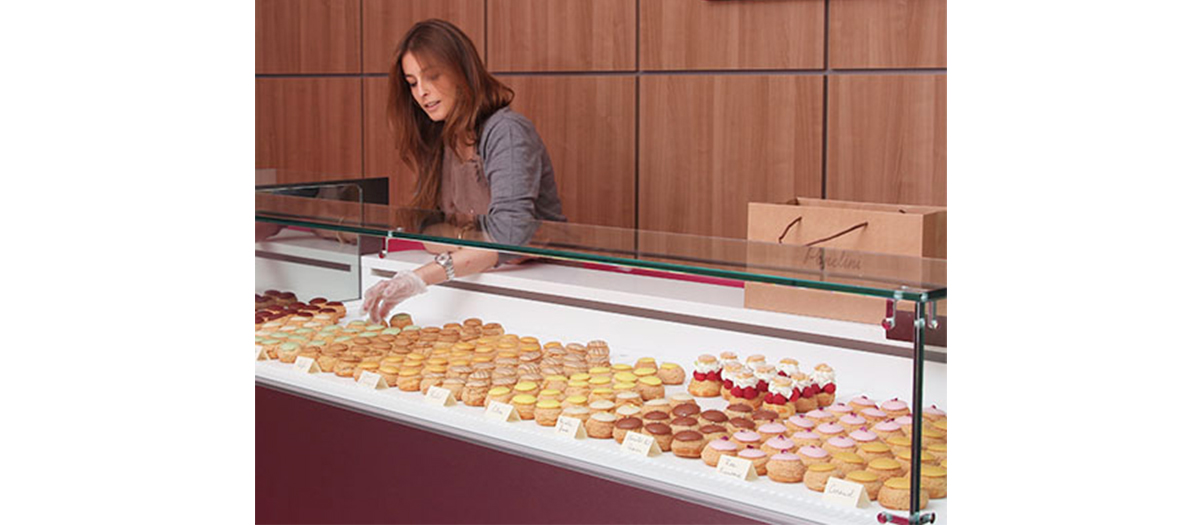 Picture credit : © Facebook Popelini
First things first: I have always loved sweet pastry puffs, especially coffee religieuses!
More seriously, while I was studying at EDHEC, I worked as an intern for the famous jeweler Van Cleef that made a great impression on me.
After graduation, I went off to work for the family pastry shop, "Lette Macarons", that my father launched in Los Angeles. The idea began to germinate...
Back in France, I felt like mingling my two great passions in life: gastronomy and jewelry. The idea of launching Popelini, a single product pastry shop, entirely dedicated to cream puff pastries, happened quite naturally.
The result is gourmet and comforting mouthfuls that come in 15 flavors such as praline or cherry pistachio...
my favourite recipe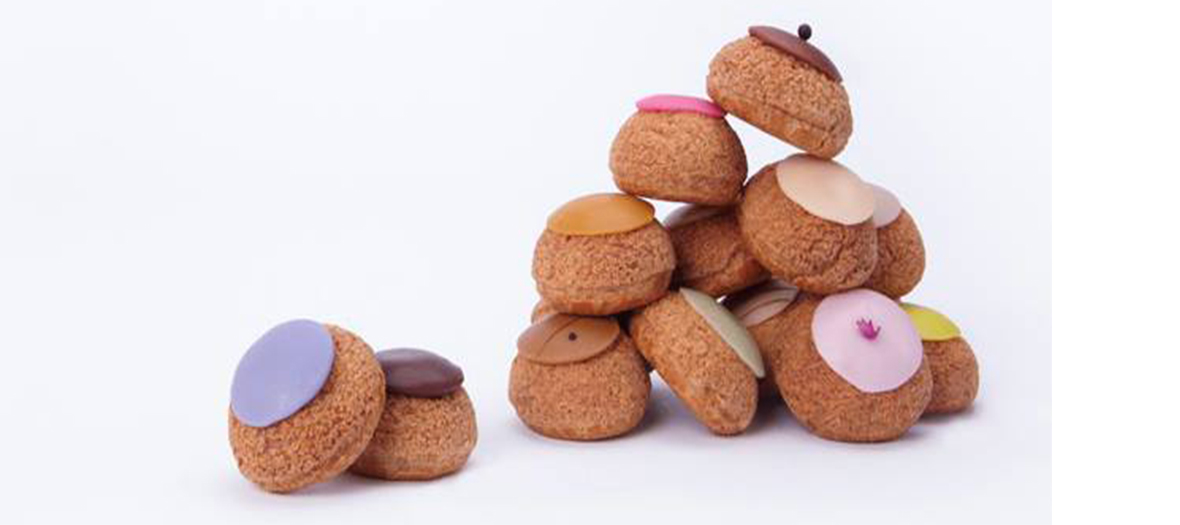 Picture credit : © Facebook Popelini
My small favorite? Tagada strawberry, a sweet pastry puff with mascarpone cream and brunoise of fresh strawberries sprinkled with sparkling sugar. Totally regressive!
Recipe for the strawberry cream mascarpone:
400 gr of mascarpone
100 gr of liquid cream
100 gr of semolina sugar
1 vanilla pod
4 gelatin leaves
70 gr of strawberries
In a salad bowl filled with cold water, place the gelatin leaves one by one and allow to soak. In a bowl, pour the mascarpone cream and mix with a spatula until the cream is nice and smooth. Add the vanilla pod, cut in half and scrubbed, the sugar and a third of liquid cream.
In a pan, heat on an average flame the rest of the liquid cream. When warm, add the previously drained gelatin leaves and mix well.
Remove the cream from the flame and pour your mascarpone cream. Mix with a spatula. Remove the vanilla pod.
Cool down in the icebox for 30 min so the cream can solidify.
Meanwhile, dice up the strawberries.
Once the cream has cooled down, incorporate the diced strawberries. Your cream is ready!
My customized aprons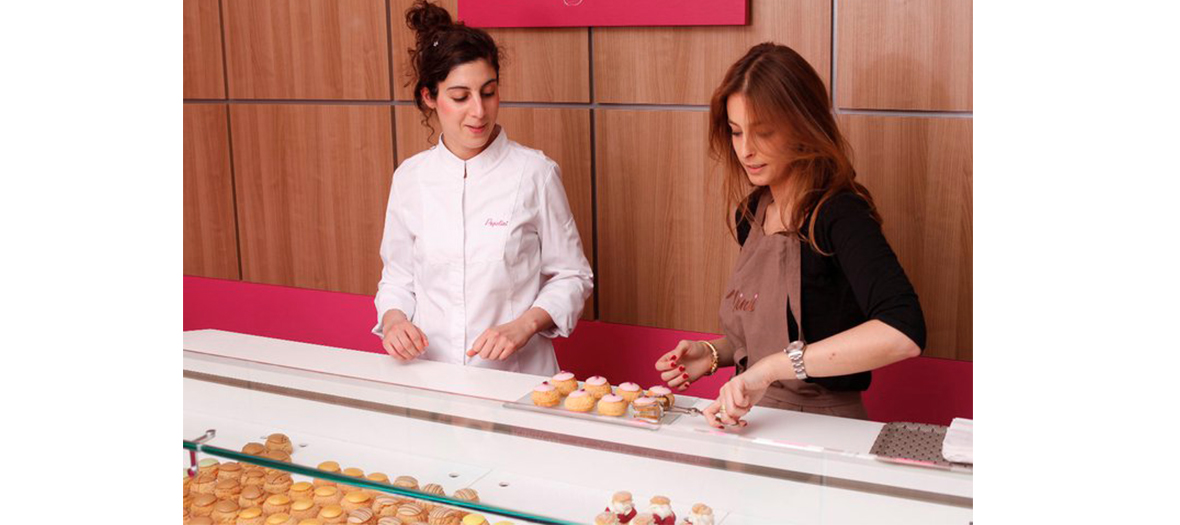 Picture credit : © Facebook Popelini
In our boutiques, I give particular attention to every detail, especially what my teams wear. And I create pretty Popelini embroideries on all our aprons and our T-Shirts…
In general, I love customizing my accessories and I can spend hours choosing a button or a fabric at the temple of DIY, La Droguerie, an amazing notions shop, 9 rue du Jour in the 1st arrondissement.
Hervé Gambs, my obsession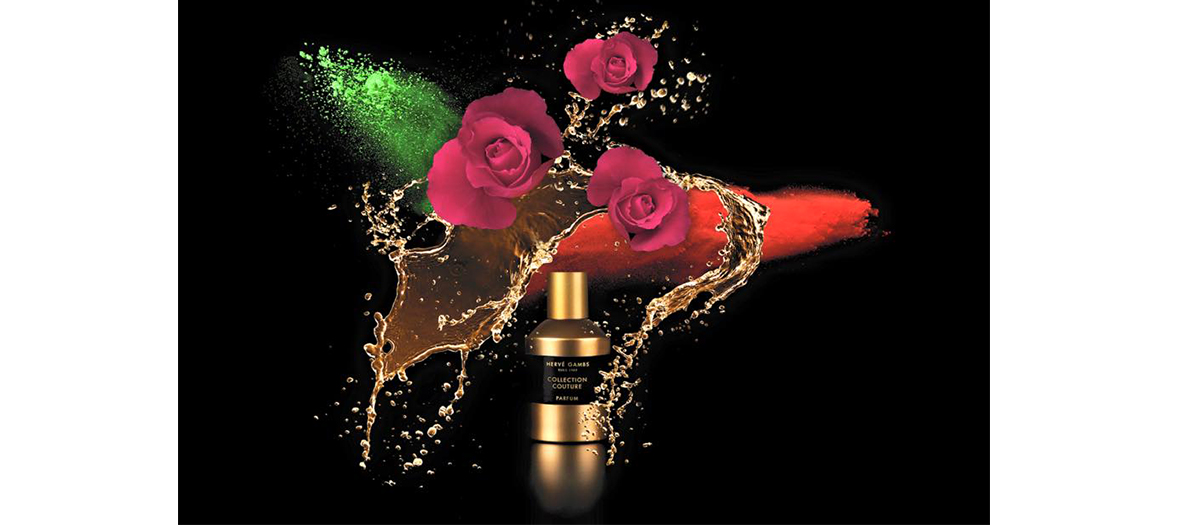 Picture credit : © Hervé Gambs
I adore flowers, especially hydrangea and peonies. I was so frustrated not being able to put any in my boutiques (for food safety reasons of course) that I started looking around artificial flowers more real than nature. And I spotted just what I wanted in the shop of this specialist of flowers to perfume. Exactly what I was looking for!
the best burger in Paris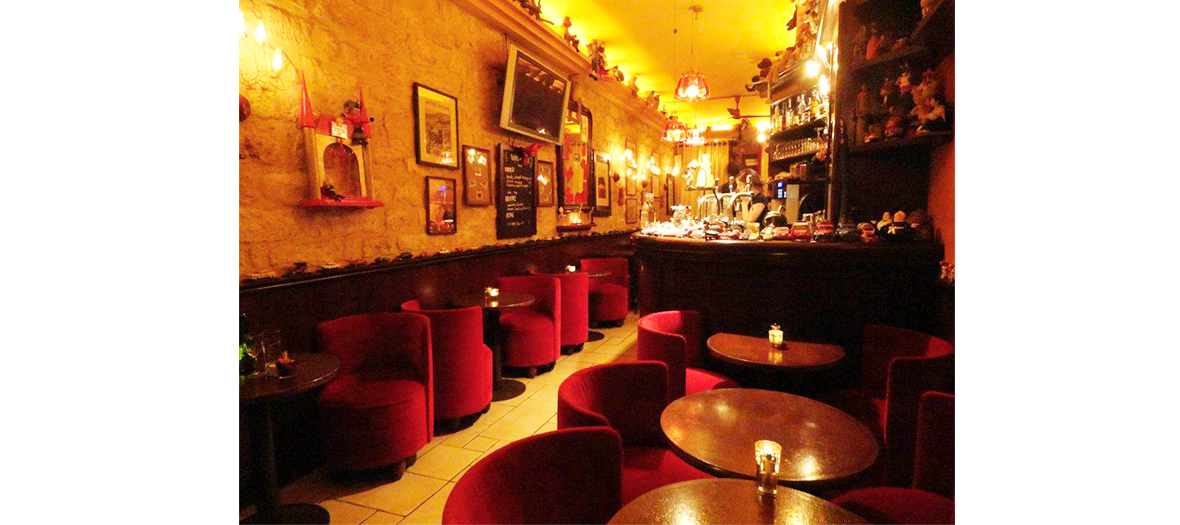 Picture credit : © Facebook Ferdi
Chez Ferdi, my fave for dinner with my boyfriend is where one finds the best burger in town! They serve cocktails made with passion fruit and their guarapitas are tops also.
my beauty lair
In addition to my nails which I get done every week, I go at least once a month to the Bains du Marais for a black soap scrub with a loofa glove. A ritual with the gals!
What I read these days
One written by an incredible woman, Beate Klarsfeld! I am currently reading her book: Mémoires, co-written with her husband. What this amazing couple did to track down war criminals is simply extraordinary.