Unconventional Bubbles: After conceiving several artistic reinterpretations since 2008 (Hubert Le Gall, Vik Muniz, Jaume Plensa…), Ruinart, the oldest Champagne House, reached out to British artist David Shrigley around a very unexpected project and exhibition.
An artistic reinterpretation by david shrigley
To highlight this artistic reinterpretation, Do It In Paris invites its Parisiennes to book places (for free) and attend the inaugural evening of this unusual experience, on Friday the 6th of March from 4pm to 9pm.
Location of the event? An original space in a never before explored room at the Opéra Bastille…
During a complicated intellectual interpretation, artist David Shrigley explored the vineyard, the cellars and the House from top to bottom in order to have a special vision of Ruinart, taking the opposite view of the obvious.
His art studies with curiosity the rituals of the vineyard workers, oenologists as well as other House collaborators, like an "itching powder", seeking to bring an enlightened vision without ever taking himself seriously and signing a didactic way of perceiving champagne.
A very unusual exposition
Known for his irony and his strong sense of fantasy, the illustrator, who lived in total immersion inside the Ruinart domain, signs for the House a series of drawings showcasing his vision of the different steps leading to the production process of the House wines, but also the climactic issues linked to its manufacturing.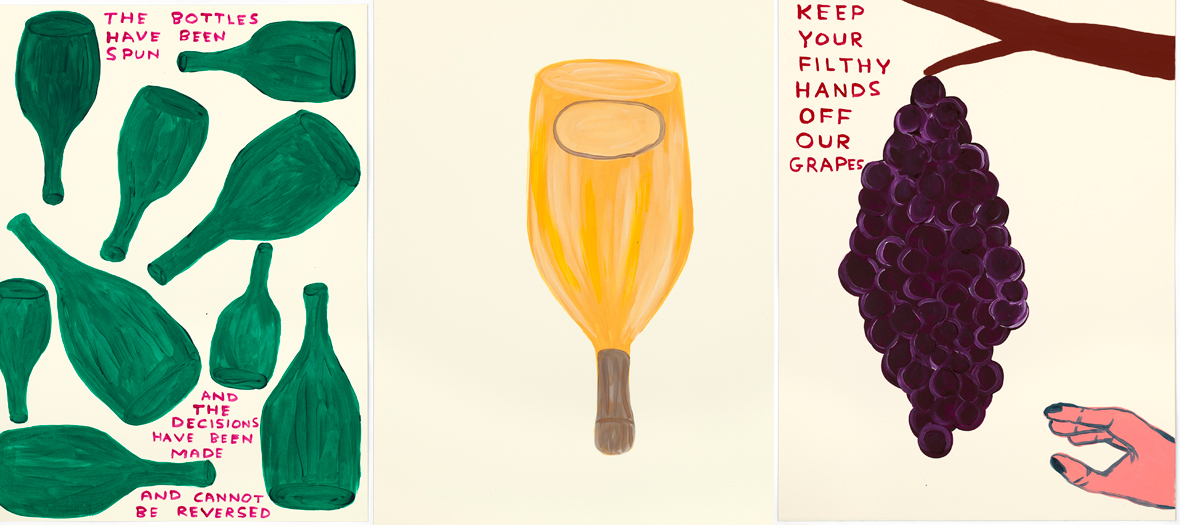 These three works reflect the artist's vision on the elaboration of Ruinart Champagne
The interactive exhibition will take its guests on a stroll through the different spaces, with a surprising secret passage.

Naturally, there is a Ruinart bar for a tasting inside the Ruinart space…

Unconventional Bubbles David Shrigley for Ruinart, Friday the 6th of March, reserved for adults on free reservation .
Alcohol abuse is dangerous for your health, consume and enjoy with moderation.