Here is a well-hidden terrace  that only real insiders know about. This small very « Vendôme style » Eden, right next to the historical Chanel boutique on rue Cambon.
So go for a dolce-vita adventure is this charming very romantic courtyard, sheltered from the looks of others regards, rocked by the soft noise of the water fountain. The air of Rome floats on this lovely setting where you enjoy the best of Italy.
L'Assagio, remains 100% Italiano-chic, playing the card of real gastronomy from the Boot. Try their real mozzarella di buffala (18 €) and antipasti.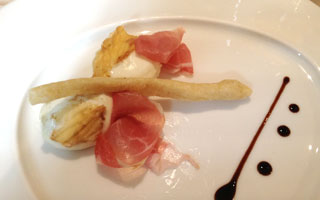 In the purest transalpine tradition, we taste their ravioli with crab and grapefruit (24 €) or  a Sicilian deep dish macaroni with sardines (18 €) to whet your appetite before digging into a second dish such as their monkfish with  little shellfish (28 €), the beef filet with gorgonzola sauce (34 €) or lamb shank with  a crust of rosemary and lemon (28 €).
For a beauty finishing touch: tiramisu revisited with raspberry or the surprising tart with green tomatoes and basil sherbet (12 €).
We like: a high-flying Med cuisine in an idyllic setting that makes us forget that we are still in Paris !