With spring , it goes without saying that the arrival of red fruits on the market stalls appears as an inexhaustible source of creativity for the great pastry chefs .
The raspberry, the new strawberry?
Obsession with Parisian classics obliges: the strawberry is making a noticeable return on the counters and Insta feeds of the great sweet chefs who sublimate this cake based on mousseline or diplomat cream with vanilla, sponge cake , generally covered with a layer of marzipan .
But there is a but… Because some cake stars prefer to snub gariguettes , maras or plougastels… to prefer raspberries . Is raspberry the new strawberry?
One thing is certain: when executed well, this star cake ticks all the boxes. Which team would you choose? Head for the sweet battle of spring !
The best raspberries in Paris
A thousand times crowned best strawberry plant, Carl Marletti infidelates his signature classic to sign the high level of raspberry on an almond joconde cookie , decorated with marzipan and a highly instagrammable powder pink look. In short, it's exquisite.
€ 21.50 for 2/3 people available at carl marletti.com , 51 rue Censier, Paris 5th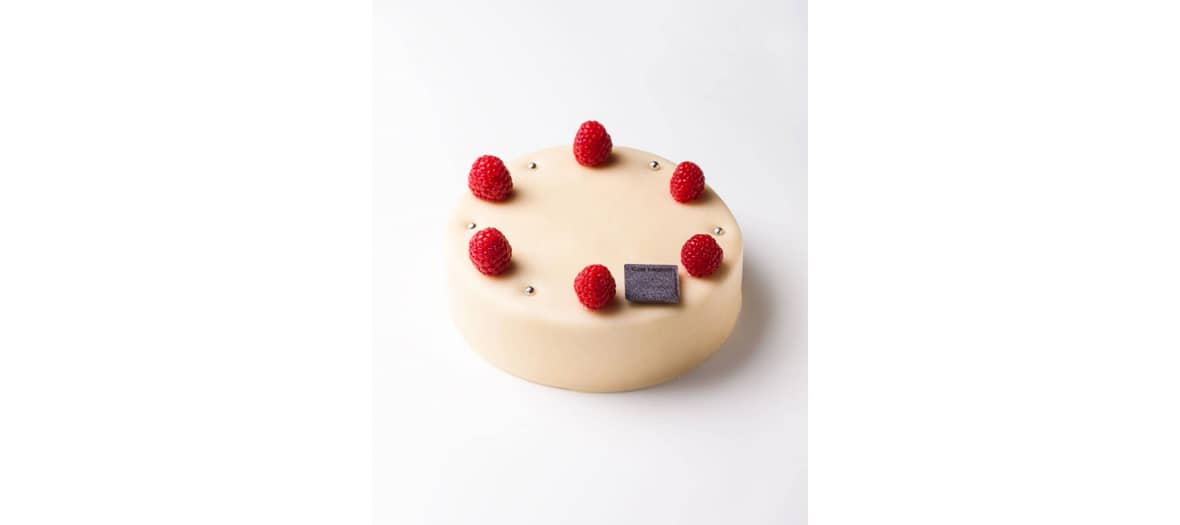 © Carl Marletti 

Cedric Grolet, aka the best pastry chef in the world, not missing for the season with its raspberry composed of a cookie dough soft cabbage, Bavarian vanilla, candied raspberries, fresh raspberries Tulameen, candied raspberries, whipped cream vanilla. More than a dessert, a culinary masterpiece that will make foodies from all over the world salivate.
75 € for 4/6 people, available at cedric-grolet.com 35 avenue de l'Opéra, Paris 2e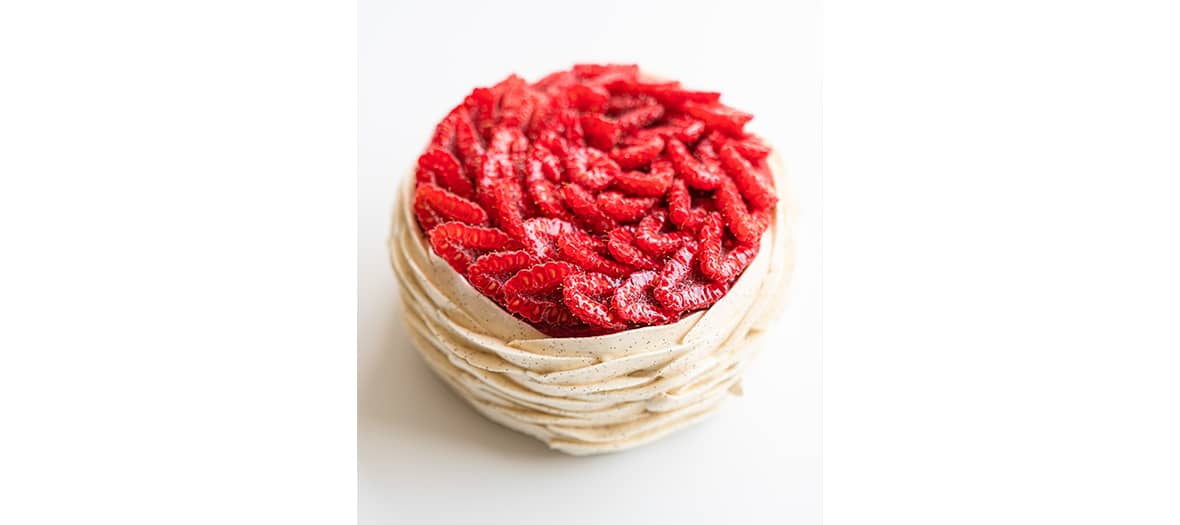 © Calvin Courjon

At Lenôtre, we celebrate Schuus . A pure delight composed of a light white cheese mousse embellished with French raspberries from Brittany and whipped cream . It's the perfect balance between the tangy flavor of the fruit and the smoothness of the cream. Did you say foodporn ?
38 € for 5 people, available at lenotre.com 10 rue Saint-Antoine, Paris 4th - 15 boulevard de Courcelles, Paris 8th - 61 rue Lecourbe, Paris 15th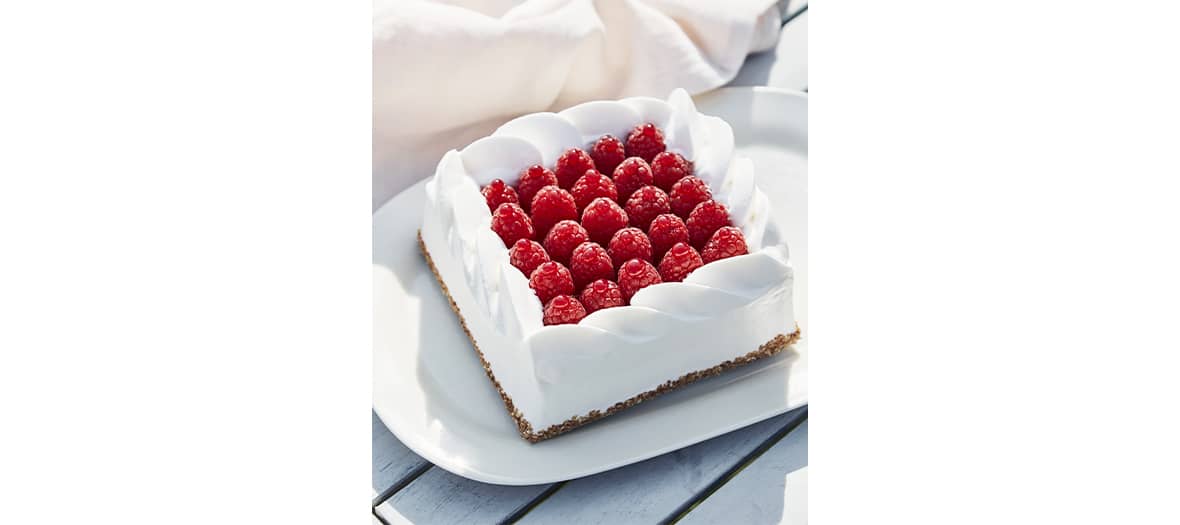 The best strawberries in Paris
Definitely, the young MOF with 122k followers is more than ever on the rise. In addition to his digital aura, Nicolas Paciello , also chef of Fouquet's , has something to delight pastry lovers with his wonders that can be found in Pantin and in the 15th district in his gourmet temple Cinq Sens . Last Insta buzz: " Like a strawberry ", decorated with fresh strawberries, small cubes of vanilla marshmallow and a subtle note of shiso . It is irresistible.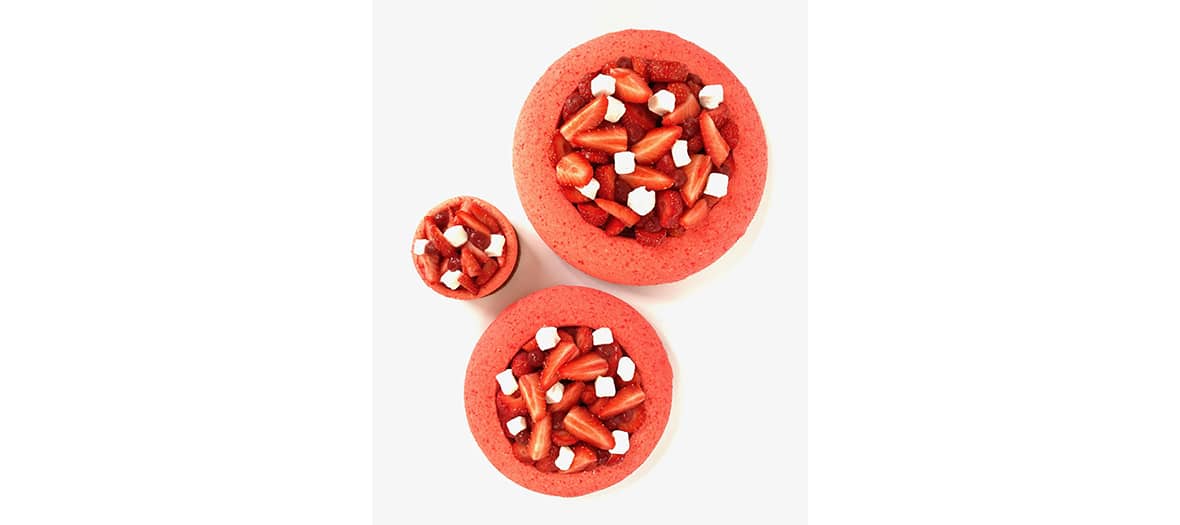 23 € for 4 people available at Cinqsensparis.com , 114 rue St Charles, Paris 15th - 16, rue Méhul Pantin 93500


Gluten and lactose free: Johanna le Pape once again provides proof that pastry and healthy delusions can go hand in hand with a strawberry rose composed of an almond cookie with wholegrain rice flour and oatmeal, d 'a light pastry cream with almond milk and Madagascan vanilla and fresh organic strawberries ciflorette and mara des bois , paired with rose.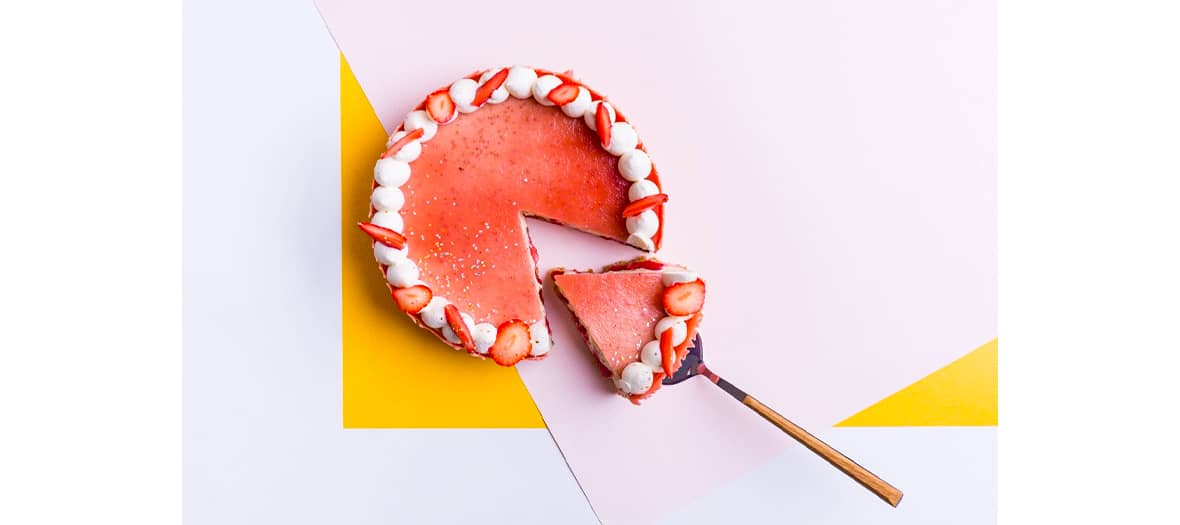 39 € for 6 to 8 people, available on click & collect on johannalepape.shop , collection at Atelier Auraé 17 rue de Sablonville, Neuilly-Sur-Seine 92200

The rising star of pastry, Pierre Chirac , continues to impress us. After his cult Paris-Brest , head for his strawberry plant to taste at MAM . Its high added value? A very soft choux pastry cookie, a touch of kirsch and a strawberry confit worthy of a candy.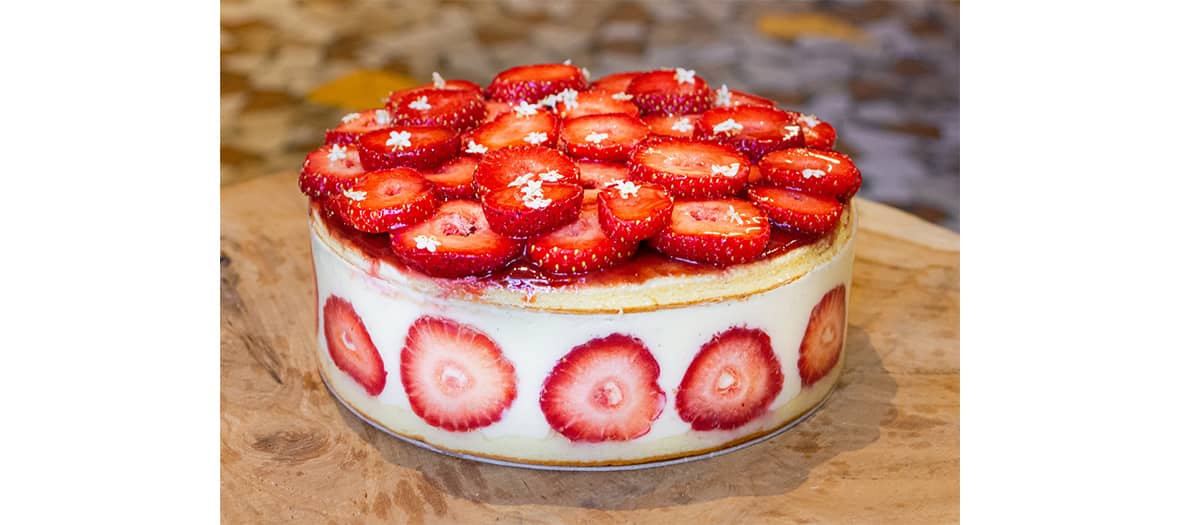 48 € the large strawberry plant available at mamparis.com , 22 rue Fourcroy, Paris 17th

Also to try absolutely: the ultimate kiffy frozen strawberry by David Wesmaël , a mix and match of vanilla cream with kirsch and gariguette strawberry sorbet from Plougastel , strawberry confit and pieces of candied strawberries, served on a soft almond biscuit.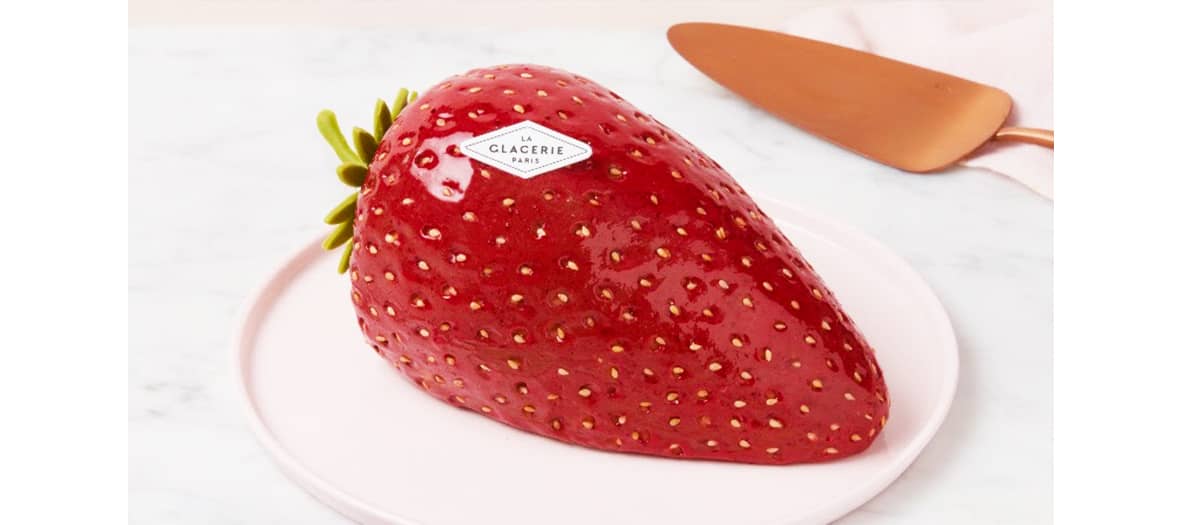 49 € for 6 people - available on laglacerie.fr , 13 rue du Temple, Paris 4th - 35 boulevard Haussmann, Paris 9th


And a #GourmandCroquant dessert, of course! Impossible to resist Cyril Lignac's strawberry vanilla creation, composed of an almond dacquoise, strawberry compote, light vanilla cream, soft almond biscuit and fresh strawberries. We won't tell you more. He tastes himself more than he tells himself.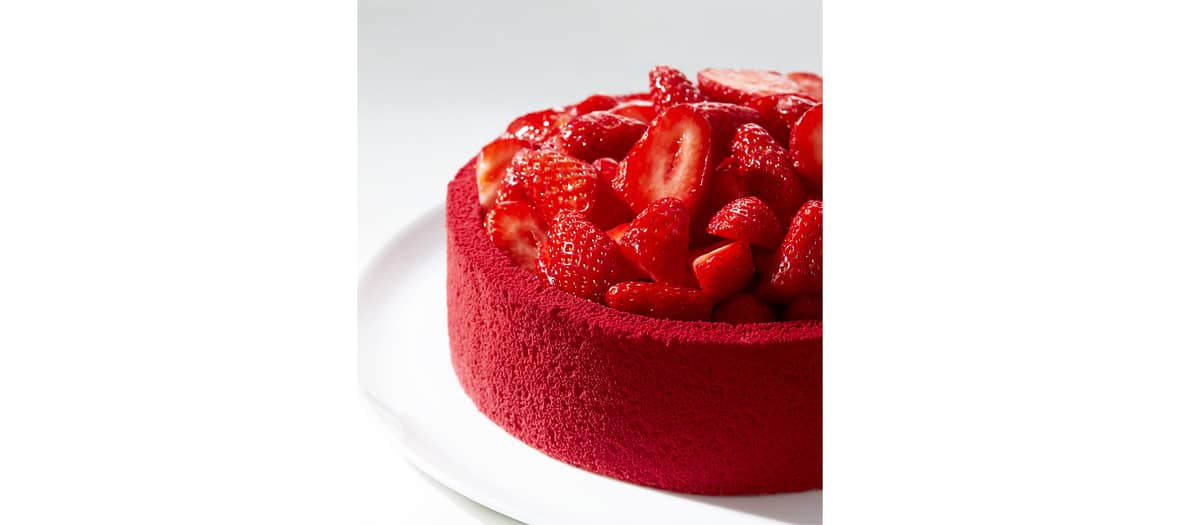 45 € for 6 people, available at Cyril Lignac until June 27 133 rue de Sèvres, Paris 6th - 24 rue Paul Bert, Paris 11th - 55 boulevard Pasteur, Paris 15th


More than a pastry shop, Kubo Pâtisserie is an olfactory-culinary experience created by Hélène Deguen , with creations under bells associated with a scent. For us, it will be without hesitation the strawberry plant with a lemony scent , composed of a Joconde cookie , gariguette strawberry mousse, lemon jelly and lemon thyme. Your nostrils are already saying yum.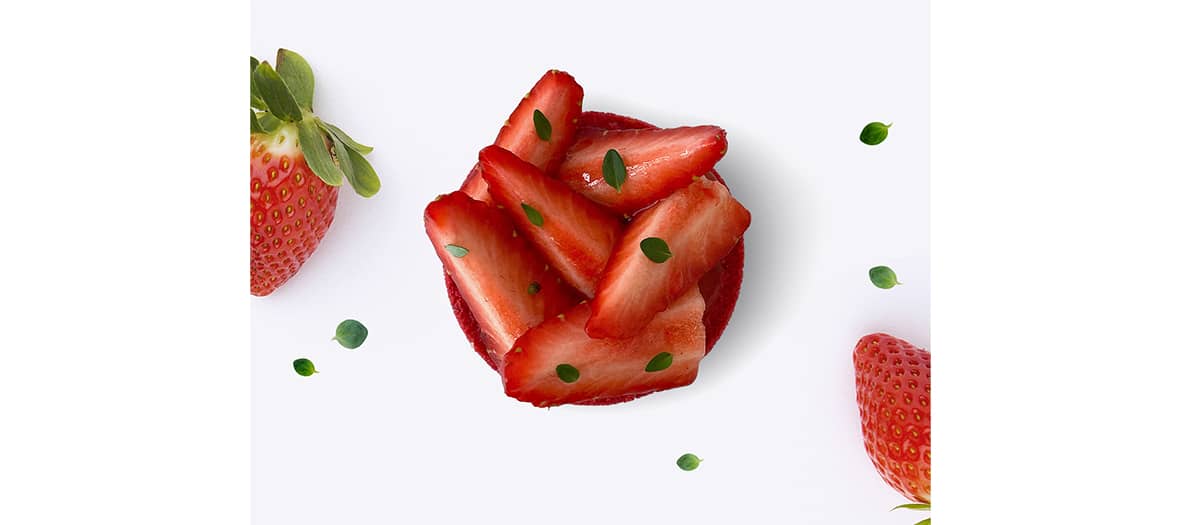 Individual strawberry plant at € 5.90 available at kubo-patisserie.com , 25 rue Jacques Louvel-Tessier, Paris 10th

Also discover where to go for a crazy strawberry pie and make a homemade pavlova ?