New address, new hit. After the huge success of Tomy and co, his personalized bistrot in the Gros Caillou district of the upscale 7th, Tomy Gousset does it again in a slightly off-the-beaten track area of the du 5th arrondissement. Locals are thrilled, while other will find solid arguments to venture other there. Clever!
With his claim to fame passion and energy, this chef adored by all the Parisians in the know has created a rendezvous that is as relaxed as it is stylish, around an open kitchen resolutely creative and with various inspirations—all to be shared...
The dishes start off strong with the already cult bao tail of beef served in pairs (€12), the incredible salty pancake with guanciale (beef cheek), pecorino and cébette (€12) and the marinated organic salmon with beet, directly sources from the vegetable garden of the château de Courances (€12). One cocktail later, you might go all out for the Japanese-style breaded farm pig breaded with a curry sauce curry served with a bowl of black rice and red cabbage (€19). Also a must, their fish & chips, sauce tartare (€19).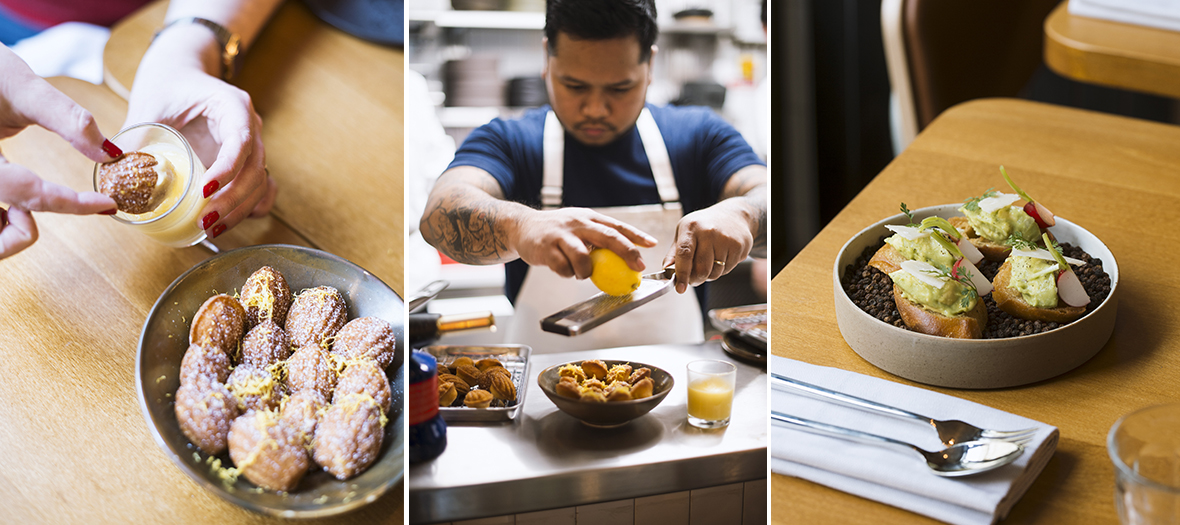 And of course, the not-to-be-missed rice pudding, signature dessert  of the chef since the heyday of Pirouette, with granola and dulche de leche (€9) nor the black chocolate tart and amazing frosty buckwheat soufflé cappuccino (€9).
We like: the décor, halfway between a chic Parisian bistro and the New York bar, signed Richard Lafond (wood crates on the wall, "life is food" neon, white tiling) and very professional service.
Open Monday to Friday from noon to 2pm and 7pm to 10:30am.
Also discover Petit Bao, the best baos of Paris.