Ex-Top Chef, Michelin star at chez Antoine, owner of the restaurant Mensae, ambassador of Frédérique Constant watches… Thibault Sombardier is the name to follow.
Alex Bril and Benjamin Artis (Le Baron, Yeeels) were already in the know: the duo of entertainers just asked him to put together the menu of his new Champs Elysées bistro, near Raspoutine and the Louis Vuitton flagship.
The collaboration was an immediate hit. Jacopo has already become the HQ of local gourmets. Perfectly understandable:  a super contemporary decor by NB Studio (XXL room, design banquette, arty walls), naught dishes plats, an ambiance as trendy as it is relaxed, le all at very reasonable rates for the area.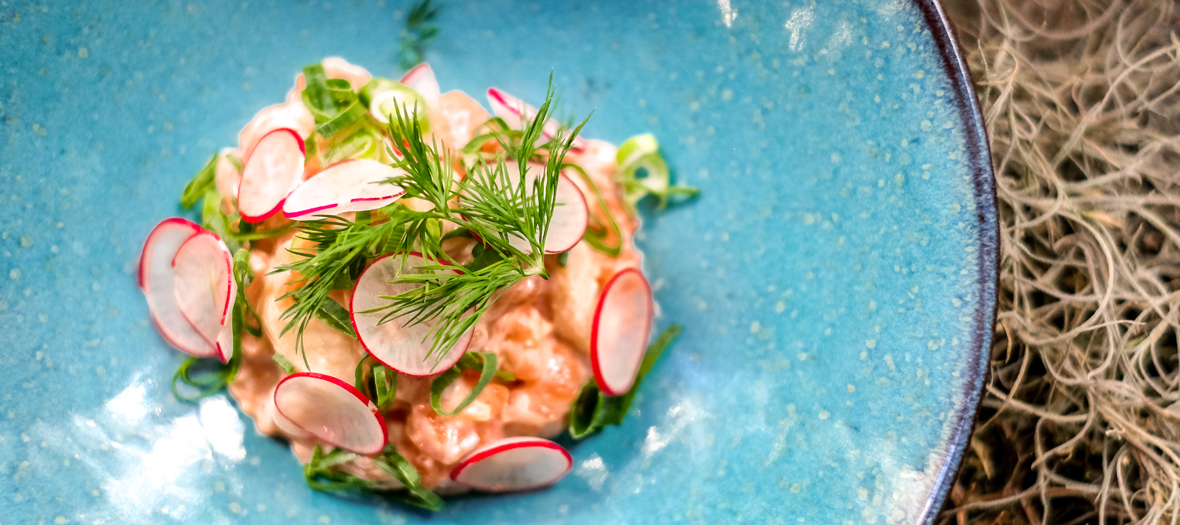 On the plates: eggs mayo soft as a cold (€5), salmon tartare, potato, cream of citrus fruit (€9), blanquette de veau (€16.50€), quasi of veal marengo, cooked in a charcoal oven (€16), suprême de volaille sauce grand-mère (16,50€), an impeccable gratin dauphinois (€3.50), baba au rhum (€6), lemon tart (€6). Sure values to pair with a nice glass of wine(€5- per glass).
The plus? A secret cocktail bar on the lower level, with a billard table­, the ideal place to finish up the evening until 2am.
Open every day from noon until 2am.
Also check out the Bouillon Pigalle.