It's the big food event of the new Fall season. The great Hélène Darroze took advantage of the major renovation work in her restaurant on rue d'Assas and her star cuisine at the Connaught in London to open a two-level dining room in the Sentier… All the major players during fashion-week and all the foodies in-the-know are already rushing over. The result is quite simply amazing. Here is a sneak preview.
A buddy-buddy restaurant
Jòia as joy, in Occitan. You immediately feel the spot was conceived to have fun: big tables, an open kitchen looking on to 60 seats on the ground level to welcome groups of good humoured friends, for sure.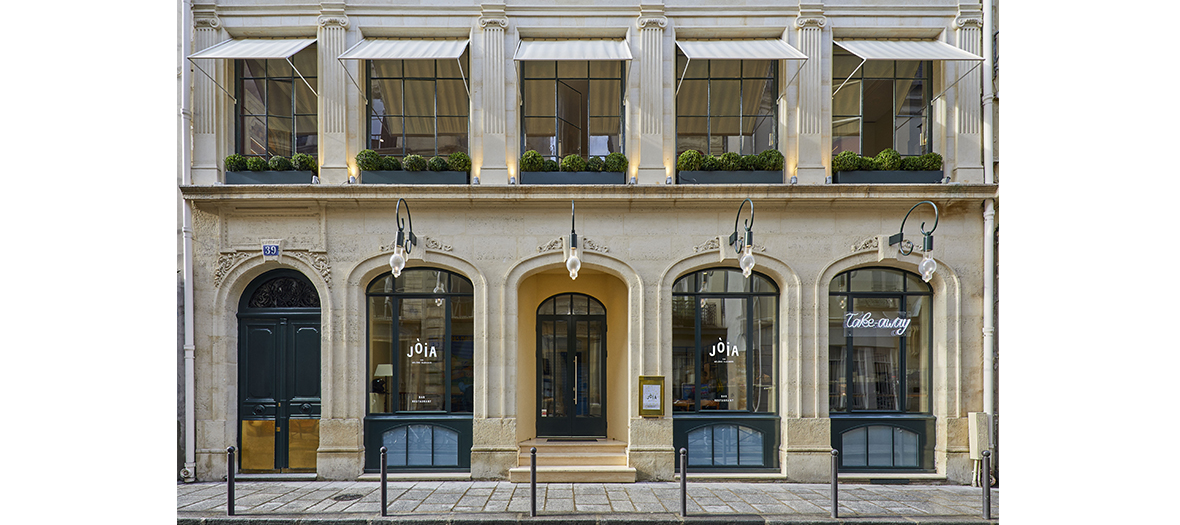 In light of this, Hélène Darroze imagined a very gregarious menu mixing her favourite products, the dishes her grandmother concocted and the best souvenirs of her travels, all at accessible prices. Great stuff!
Buddy-buddy eats
The chef showcases a very personal cuisine for friends in a tapas spirit to start off with… Nibbles and tidbits to be picked like the black truffle popcorn (€6), the fried chicken to be dipped in a mousseline of cumin (€11) cold Bouchot mussels with herbs (€12)...
Already cult and an Instragram star: the guacamole to be prepared yourself in a mortar (€12).
In terms of dishes to share, served at the table: prime ribs of Angus beef glazed all night long in the oven (€32), a whole chicken roasted en crapaudine (€25) or the whiting with chimichurri sauce (€22), served with potatoes and Basque ewe cheese, herb salad with creamy polenta.
To be tested absolutely: her famous mille-crêpes with matcha and yuzu (€12) or the terrific profiteroles (€10). To be noted: a 100% feminine wine list, stemming from women wine producers vigneronnes.
An upper level area
An ther strong point: the cocktails bar and the upstairs space, filled with comfy sofas, all chill and velvety, ideal to play the flirtatious card, confidences or relaxation.
Hélène Darroze has imagined the small boudoir of her dream where you can sip cocktails at the worthy of leading hotels, unless your prefer having breakfast, or enjoying an English-style tea time.
Open every day from noon until 2:30pm and from 5pm to 11pm.
Also discover Froufrou, the new festive restaurant that is creating the buzz amongst Parisian trendies