If you have a sudden urge to be elsewhere and spend a trendy evening as though you were  "on holiday, open up your ears ! Because just a skip and a hop from the Perchoir, a real nugget has opened its doors.
The happiness recipe? Just the kind of atmosphere we like, featuring amazing products, tables of good looking thirty year olds, a pristine decoration (small lanterns, an olive tree in the room …) and an ultra-calm and protected terrace, all at truly reasonable prices.
In the entrance, the charming pizzaïolo is the MC with his  son made in Napoli oven and his delightful pizzas, from the Cometta, a deluxe 4 cheese delight with truffles (22€), a simple Regina (15€) or the divine Giulia, ultra fresh with cherry tomatoes, San Daniele and buffala (20€)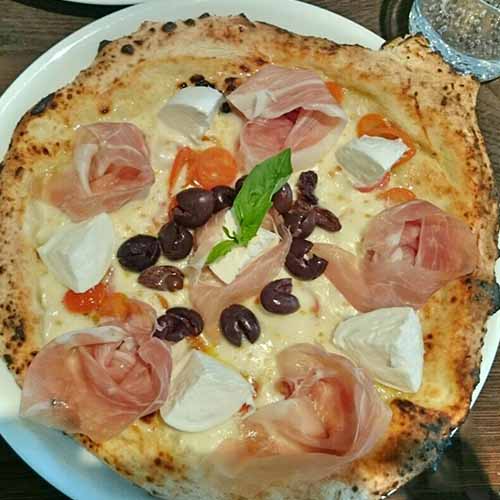 We adore : the 100% Italian cocktails at really cool prices in order to order as many as we want. So go for Spritz (6€) Americano (7€), unless you prefer to sip a nice little rosé or Lambruscho wine (5€)
Our crush? A black rice salad twisted with a pesto of almonds, mint and asparagus (9€). To taste ABSOLUTELY: "a sea side souvenir", squid ink black pasta and lemon cream (16€) or a nifty burrata  that was classified 7th the mozzarella world contest (15€)...
Open every day lunch and dinner