When you go see a play at the Comédie-Française, you expect to be watching classic theatre, and you are always pleasurably surprised. The troop of what is referred to as the "Français" is now tackling the cult La Locandiera, a study of juicy and resolutely modern habits by Goldoni, the Italian Molière. "Nowhere else have I depicted a more seductive, more dangerous woman than this one", was his warning in the introduction… !
Beautiful and independent, Mirandolina (Florence Viala) runs her own tavern - a locanda - with an iron hand in a velvet glove. All her clients are bewitched by her charm, except one...
A die hard misogyne, the Chevalier de Ripafratta (Stéphane Varupenne) treats her like a maid. Wounded in her pride, she goes all out to seduce him and uses all her feminine tricks to obtain his favours.
Only one doubt as to the final morale: is this a feminine manifesto, or on the contrary might she be the "fall woman"? You are the judge.
The hilarious rivalry between the Marquis de Forlipopoli (played by the talented Michel Vuillermoz), bankrupt and stingy, who only offers his "protection", and the Comte d'Albafiorita (Hervé Pierre), a grotesque bourgeois, who purchased his titles, and covers Mirandolina with the purest diamonds. In short, a duel or losers as we like them.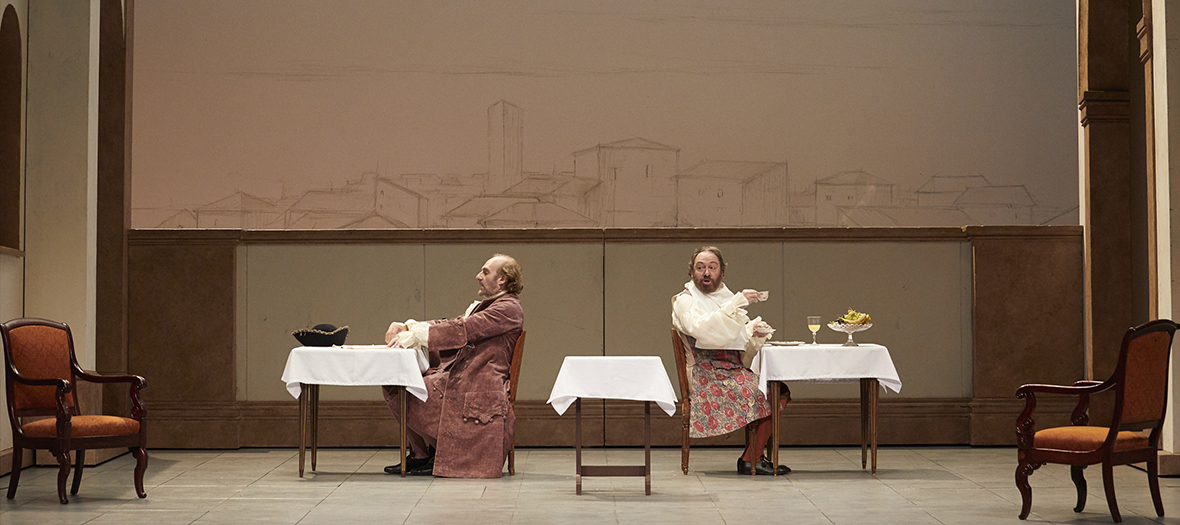 Without forgetting of course Fabrizio, the faithful servant, also totally in love,  played by a sheepish Laurent Stocker—always a pleasure to watch on stage
Now is the ideal time to go for a drink and dig into a croque-madame on the heated terrace of the Nemours (€12). A must-go.
Until the 10th of February 2019. Starting at €5.

© Christophe Raynaud de Lage, coll. Comédie-Française

Also discover the musical comedy Chicago and the three spectacles to reserve on the spot.