A real icon when it comes to « modern-style» Orient, Liza Asseily navigates behind her very trendy establishments in Paris, and her native country Lebanon. Her last baby? A highly sexy and gourmet mezzé café that has just opened at Galeries Lafayette Haussmann.
An occasion for this gal we adore to share with us her fave Parisian addresses.
my massage institute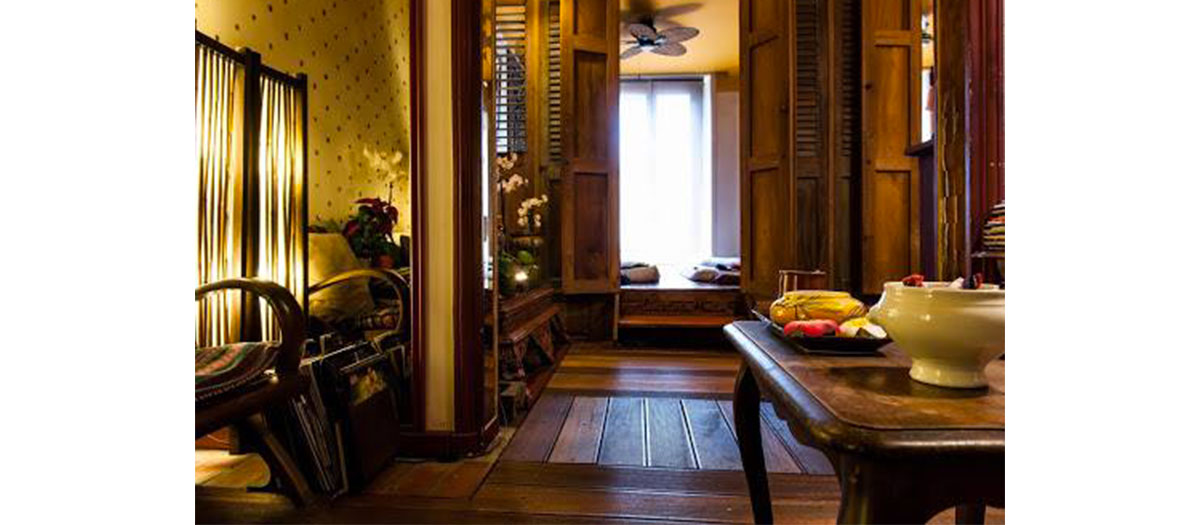 © Facebook France Asie
I go all the time to get massages at France Asie… Since I am very allergic and don't like lotions, I always ask for the Thai massage. Then I follow the tea ritual at Toraya. It fills my head. Another great moment: the Japanese lifting. In fact, it's called the Kobido, it's a face massage that follows several steps: palpating, rolling, stretching.
It's delicious, all the more so when Jo comes to my house. It lasts 1h30. At the end of the session, I feel really fresh and have the impression that I've slept for two days. Kobido&Jo/ face massage visage at home : 06 19 80 54 57.
My chic cantina & my hole-in-the-wall restaurant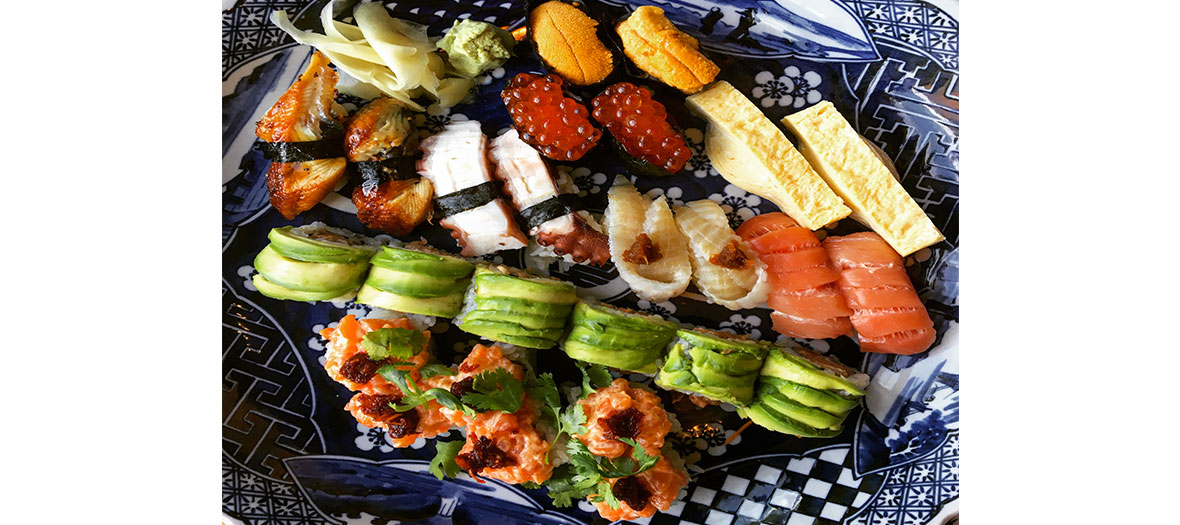 © Unsplash, CC
My chic cantina is Kunitoraya. I live right above this marvelous Japanese restaurant. I adore the fact they serve small portions as well as their udons, it's ideal to taste everything… Since with my husband we are used to mezzés, we adore putting everything in the middle of the table and sharing the dishes.
My darling really delicious Japanese hole-in-the-wall is Comme des Poissons in Passy. A terrific address for sushi and sashimi just like in TOKYO.
rooftops and luxury hotels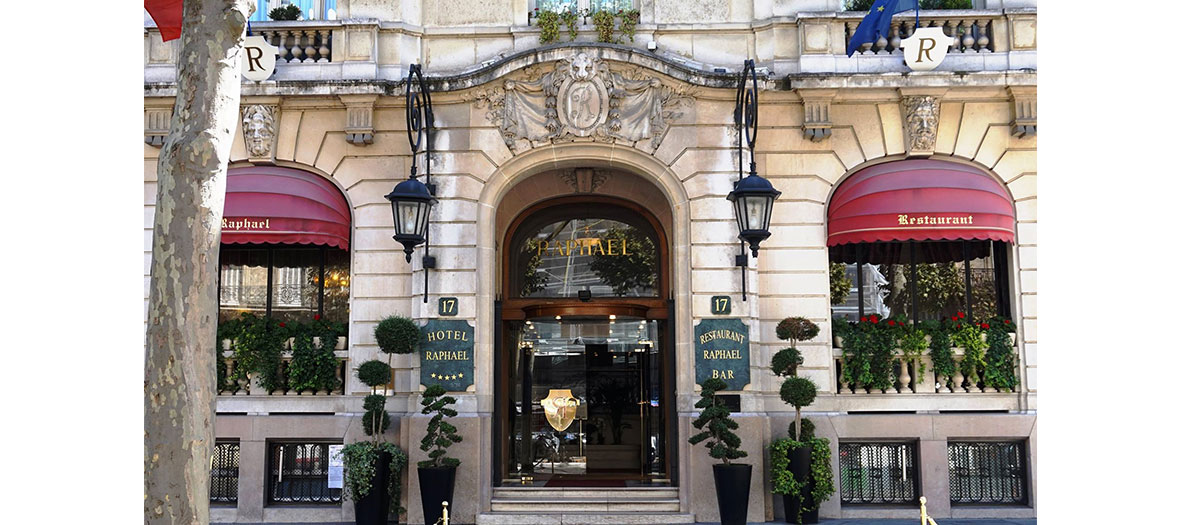 © Hôtel Raphael
I am a big fan of hotel and palace bars, from the Georges V to Hôtel Costes, it's my real luxury ! My favourite one these days? The ultra confidential terrace of Hotel Raphaël, with a fabulous view of overlooking Paris.
the street food I crave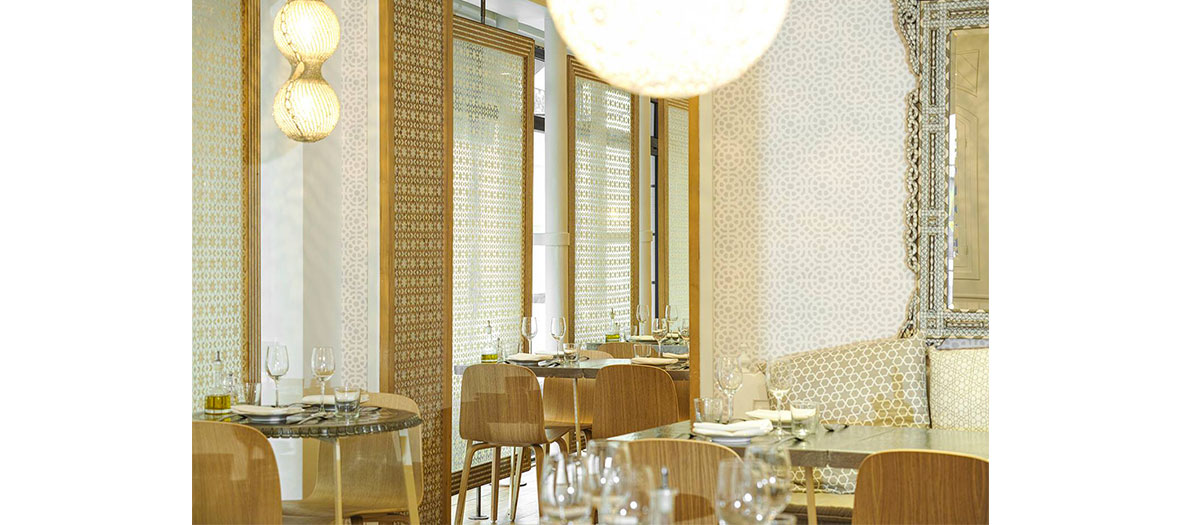 © Facebook Liza restaurant
My husband has always loved sandwiches. But this is not a reason to botch them!
So we opened L de Lisa, our own snack bakery in a Lebanese version that we thought out with « pleasure» using good fresh bread, baked on the same day and easy recipes with a healthy final product … We offer 2 portions sizes with a light notion, as our claim to fame, as well no gluten options.
findin a piece of Lebanon at the heart of Paris
When I miss Beirut, I go to LIWAN. I adore this concept-store, for me it's really the modern version of Lebanon. Furthermore, they are really nice, serving you coffee as soon as you arrive….It's friendly!
I adore picking out vintage scarves, key chains, pitchers in blowne"glass, long shirts to stay at home in a "chic cocooning mode" or pretty slippers… It's this ultra contemporary Made in Lebanon style that inspired the restaurant Liza on la Rue de la Banque.
I wanted to export the insolence of Beirut designers in a food version, far from the Parisian places that serve a nostalgic cuisine, in an ambiance that is not in keeping with the Lebanon of today …
My brand-new cafe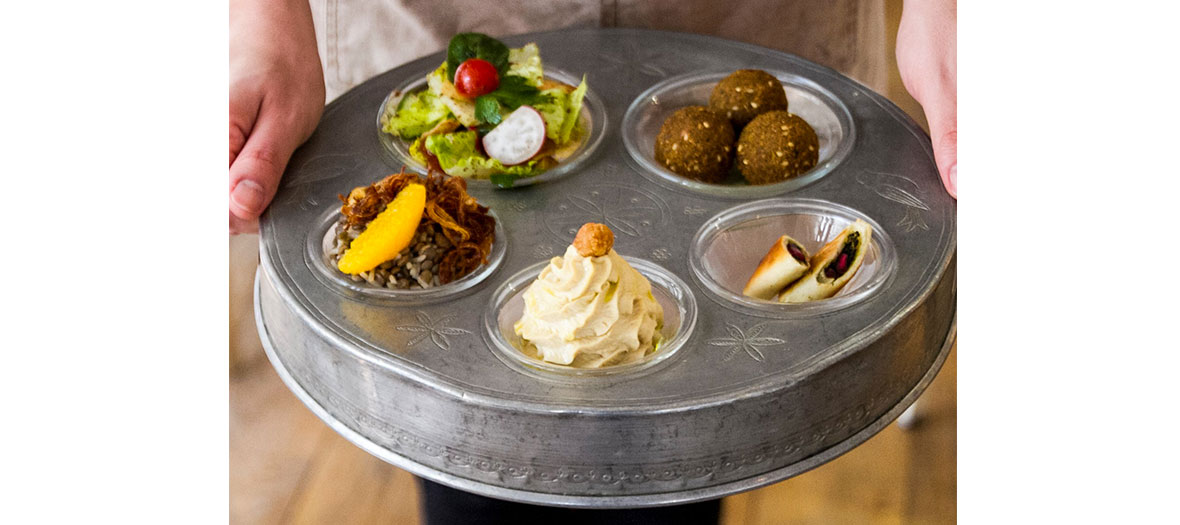 © Liza restaurant
Under the flagship Café Libanais, we opened Liza on the 3rd floor of Galeries Lafayette amidst all the fashion boutiques, with a wonderful space. 200 m2 just for us. It's a dream come true having as much space in such an outstanding venue.
I adore this shop: it combines modernity and old fashion traditions: everything we love. At Café Libanais, there is no set lunchtime, the kitchen is open all day long from 11h30am to 6pm… The menu oscillates between lunch time and tea time, we serve our favorite cuisine: fresh and joyful (and often without gluten).
Maria Ouseimi, the designer who invented the style of this new venue, we drew our inspiration from the spirit and cuisine of an old café in Beirut where we go to read our papers, chat while sharing mezzés, nibbling on a house sandwich, sip a lemonade, before indulging in a soft chocolate, baklavas or a rose cake. On the walls, Maria has applied a wallpaper featuring the drawing on the floors of the palace where we opened Liza in Beirut.
Also discover the interview of Laury Thilleman.