This should definitely brighten up your lunch hour and pimp your TV dinner eventingst télé… Maison Aleph, our favourite levantine pastry shop, is launching its mezzés presented as bentos, to eat where you wish. Lalala.
After having relifted the cakes of her childhood, Myriam Sabet tackles the savoury side with mezzés with a best-of great Orient recipes gathered on a platter, to be found everyday in her wonderful boutique at the heart of the Marais.
On the platter: a delicious taboulé with peppers, a very nice cucumber tzatzik, smoked eggplant caviar, house pickles, crunchy pita chips with sumac to dip, beef and veal meat balls replaced by falafels in the veggie option, and one of the famous house deserts. Example ? A stunning biscuit in filo dough and Piedmont nuts or a crunchy nest made with angel hair and orange blossom.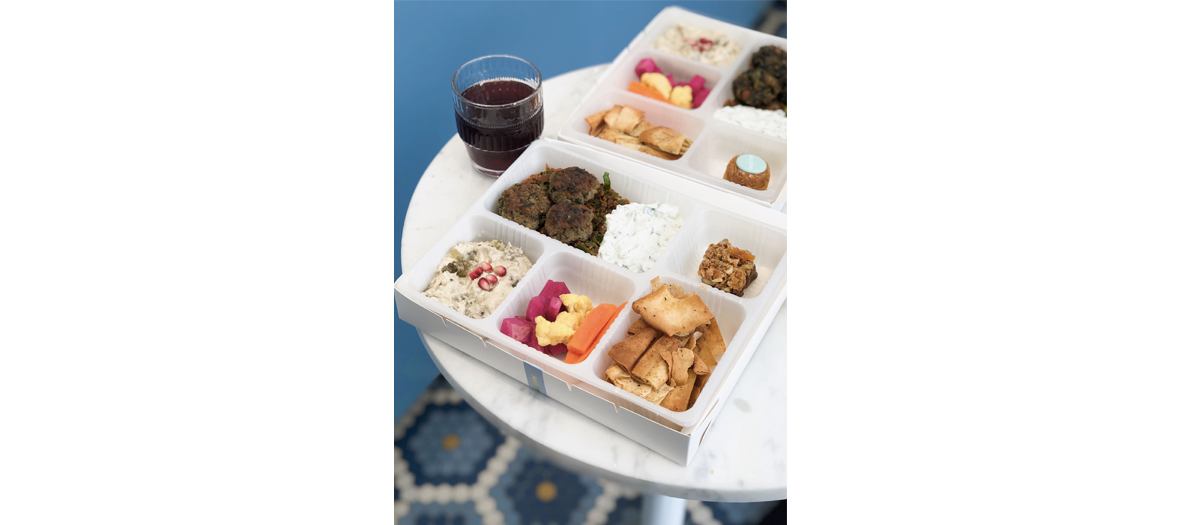 The good idea? No stress, bentos are served cold, no rush.
On the way, try their water infused with Damas rose, blackberry from Lebanon or mandarin from Sicily (+ €2). And how about a little ice cream before you hit the road?
Bento du Levant, Monday to Friday, €12.50.
Also check out Fumé, the new restaurant of Ruben Sarfati and Balagan.