When trendy and hype Jerusalem encounters couture Paris, the result is the hottest dining room of Paris, both chic and slightly off the wall, answering to the pretty name Balagan — literal translation of "joyful mess" in Hebrew…
And the promise is kept, with such a winning association! On the one side the inimitable founders of Experimental Group— on the other, Assaf Granit and Uri Navon, the two trendiest chefs of Israel, that are also creating the buzz in London.
Needless to say that the interior decor by the talented Dorothée Meilichzon is sure to give you a far flung sensation. In this high voltage atmosphere, one finds the prettiest girls in Paris – the Parisian Jewish community and all the socialites who enjoy Med vibes.
A la carte: great mezzes with charcoal grilled eggplants (€13), a destructured kebbab (€17), orgasmic brioches to share and dip in a sesame cream (€8). And in case you are still hungry: go for the BALAGAN dessert (an assortment of all the available desserts, €9), a real show that is brought to your table as though you had ordered a magnum of champagne in Saint Trop'. It does not get much more festive than that.
We adore: the cocktail bar with a very "cocotte-pop" look hidden in the entrance to sip a drink and mezzes without reservations. The ideal spot for a first date.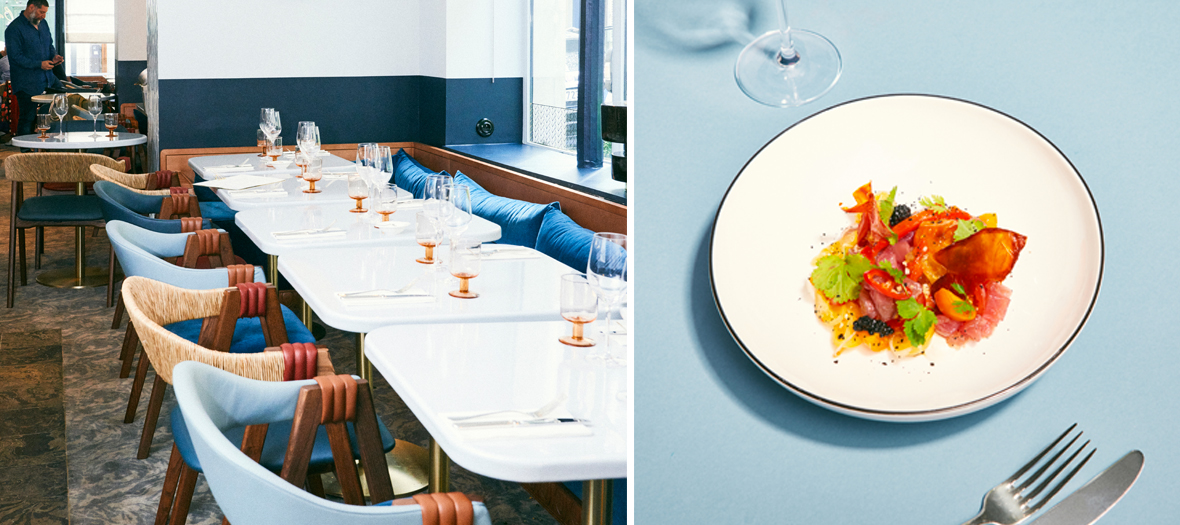 © Studio l'Etiquette
Open everyday lunch and dinner, reservations highly recommended.
Also chek out Citron, the café of Jacquemus and Kaspia everyone is talking about.