Marilyn Feltz has always enjoyed doing things her own way. After a first job in the art world in Los Angeles, she flew off to Berlin, where she met her husband and now business partner. She came back to Paris to launch an incredible cocoon-boutique, where she showcases the power of femininity.
A label that is so far from established diktats that even Hollywood IT Girls and fashionistas fell under her spell.
a glamourous collection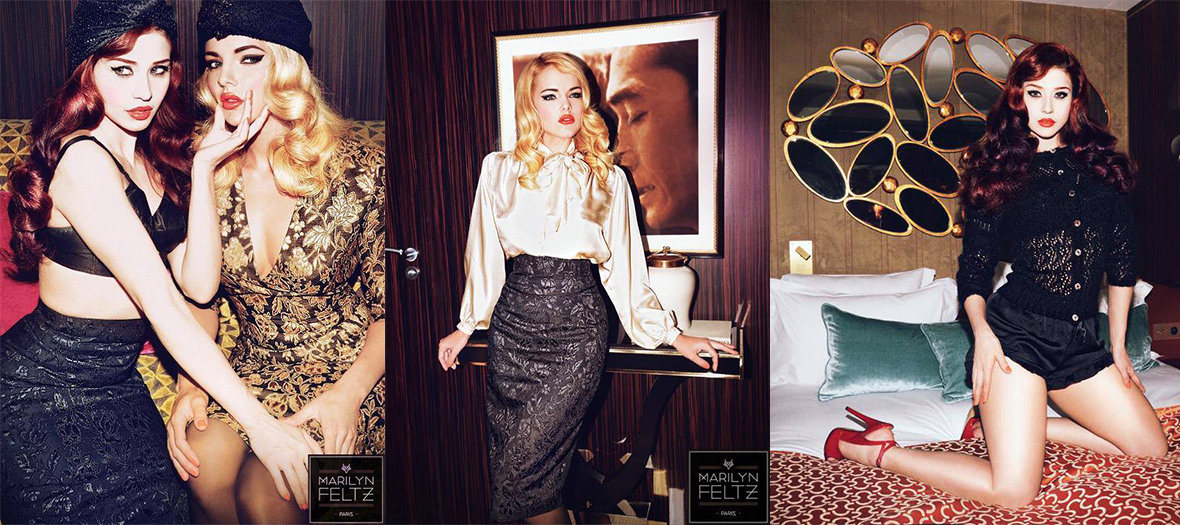 Picture credit : © Marilyn Feltz
I was quite certain that it was possible to develop a timeless fashion that was a far cry from diktats... Being modern while keeping in touch with things from the past, which according to me always work, such as certain women such as Lana Del Rey, Blake Lively or Julianne Moore prove it …! Then, since I never seemed to be able to find the clothing I dreamt of, aside from what I saw in Haute Couture and by top of the mark designers, I began drawing them and making my own pieces.
Since a few months, I have set up my own boutique Passage du Bourg l'Abbé, in the 2nd arrondissement where one finds my entire universe and my clothing... I am obsessed with every shape of skirt, high waist to show off the silhouette: crayon like my "Belleville" model or my balloon "parisienne". My other heart-throb of the moment: a super sexy top that can show a lot of cleavage or be more demure (I like the duality of certain pieces…) or a superb Winter cape.
Discover all the collection of Marylin on her e-shop.
Made in Paris, France
All my pieces are strictly Made In Paris, put together by exceptional seamstresses in a small workshop near the Bourse distrcit, that also produces costumes for the Opéra of Paris… The advantage? No need to follow the rhythm of imposed collections. You come out with what you want, when you want! And they have an eagle eye for details.
Whenever I travel, I am on the lookout for special places and imagine the perfect clothing to wear! In general, I am quite inspired by jazz clubs, the speakeasy concept, hotel bars (I really love small boutique hotels!!), guinguettes, old ballrooms, or dance floors that never close…
The Marlène dress is a very good example.... There was an old Berlin candlelit popular ballroom, where old folk came to dance very dressed up. I said to myself: this is the kind of place where Marlène Dietrich used to come with her cigarette holder. This is how that particular dress was born.
my favourite lair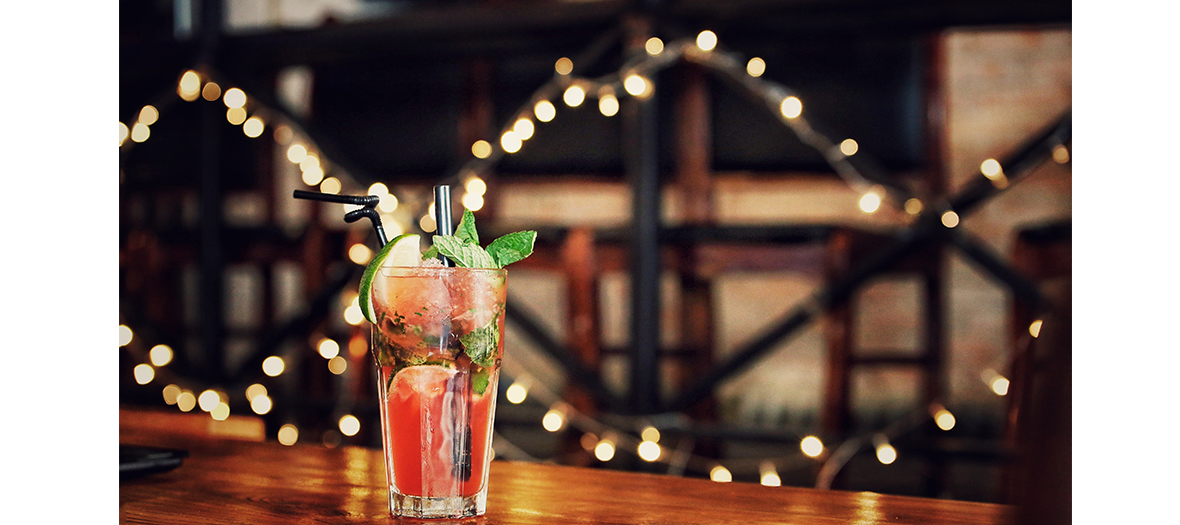 Picture credit : © Unsplash, CC
For cocktails, the lowkey ambiance and the welcome, I never tire of the Hemingway Bar (the bar of the Ritz, currently being renovated) It's due to open in a few weeks and I cannot wait!
You really make incredible encounters there! Political, artists or the butcher who just won the Euromillion—anything can happen... I remember for example a cult discussion and lots of laughs one evening sitting on the marble of the rue Cambon entrance with Kate Moss and Alison Mosshart ! The cocktails they serve there are really magical potions.
My favourite swear
"ZONE!" The meaning changes according to the intensity … (Laughs)
Since we have been teenagers, it's our way of saying… that something is a drag...
My favourite lipstick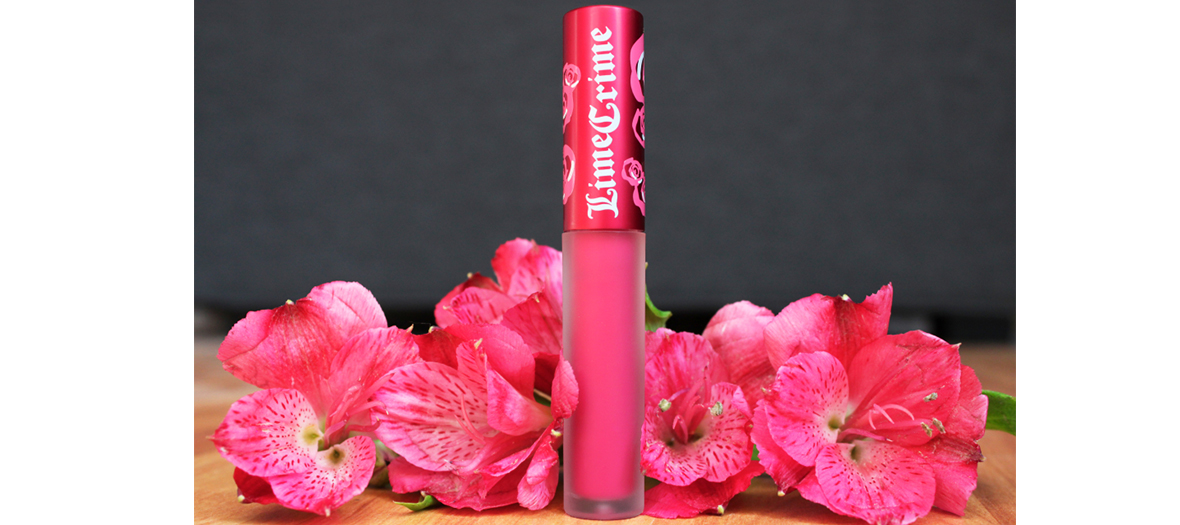 Picture credit : © Lime Crime
Les Velvetines by Lime Crime, I have almost all of them! It's a liquid lipstick with a velvet effect that is infallible and holds all day long, or night! The colors I never party with are Suede Berry, Red Velvet and Riot! Otherwise, I never go out of my house without a black eye-liner and my almond flower perfume that comes from Ibiza ("Flor de Almendra" by Campos de Ibiza).
my dirty secret
When it's hard for me to fall sleep, which happens almost every night, I put on headphones, watch Youtube and listen to murder stories narrated by Pierre Bellemare. Amazingly, I go to seep in 5 minutes!
how do I tame my mane?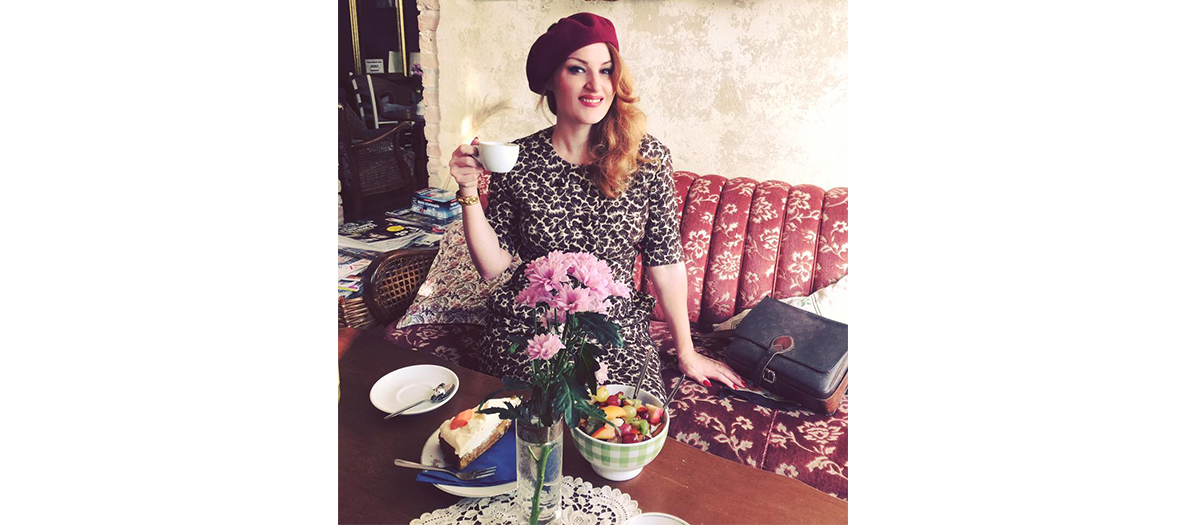 Picture credit : © Facebook Marilyn Feltz
My hair is just like me, it does what it wants! I have tried all sorts of super sophisticated or expensive products, but the only thing that seems to have an effect is an oil of pure avocado that comes from Marrakech as well as regular olive oil! Otherwise, I'm always buying hair curlers as soon as I'm out and about, even though I never have the time to use them!
people I look up to
Dalida and Theda Bara. Mysterious and different, they knew how to play with shadows and lights, they fascinate me and are my tell-tale references in terms of feminity!
my glamourous philosophy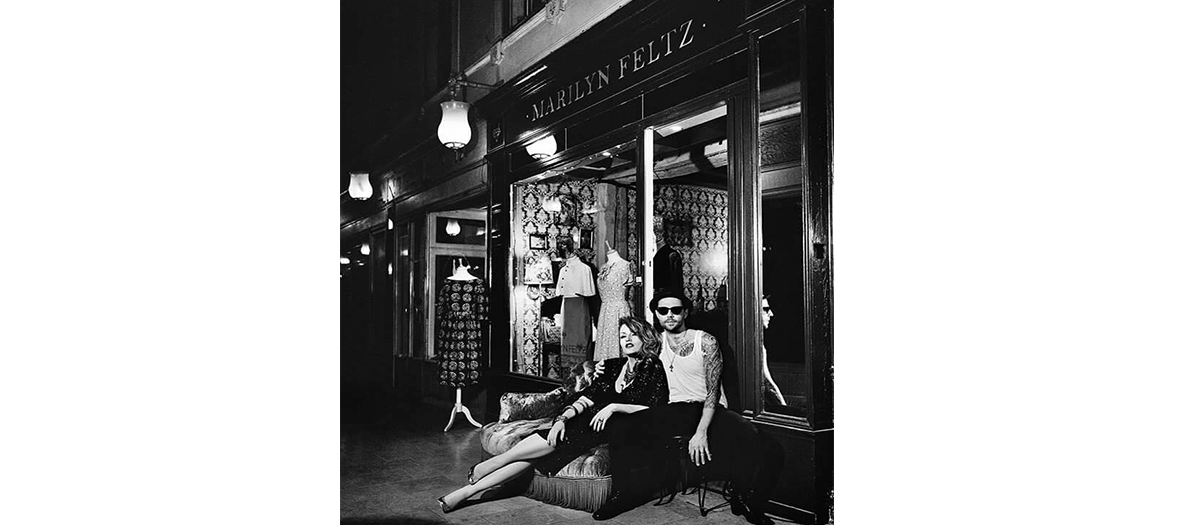 Picture credit : © Facebook Marilyn Feltz
Playing cat and mouse with the eyes of a man, encouraging his gaze on the special centimeters you have decided to unveil... A peek at a shoulder, a slightly bare back or a skirt that stops just above a pretty ankle. The " laser show " and unveiling everything too quickly often has a fry in the pan effect. I like playing with mystery. I believe that's what a real Parisienne is all about...
Discover all the collection of Marylin on her e-shop.