This is the new table that already delights politicians from the Senate and neighbors of the Luxembourg Gardens , who were sorely lacking in a great creative address to trust at lunch and dinner alike. Inseparable at home and behind the stove, Top Chef Pierre Chomet and his half Cristina have just opened Ambos (= both in Spanish), their very first restaurant with four hands, the promise of a pleasant moment around amazing dishes. . We take you.
The new table everyone is talking about
In a deliberately raw decor (stones, wood, bricks), Ambos gives pride of place to the lovely gourmet memories of the duo. It must be said that we are talking to you about a Parisian raised in Brittany, having sharpened his knives with Eric Frechon and Arnaud Donckele , who fell in love with a Venezuelan... having cooked in Buckingham for Queen Elizabeth II , the following even in his official travels. Phew! After having (in addition) traveled long, wide and across Asia, the result of their influences is a real call to travel.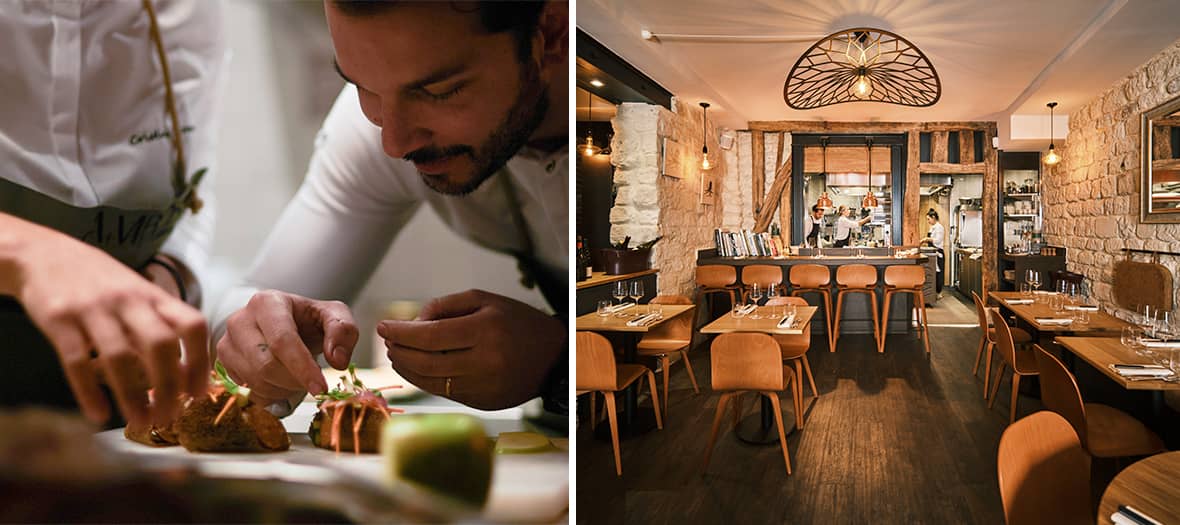 As an amuse-bouche, we find a super crunchy 2.0 sausage galette (€7) and arepas as a reminder of Madame's origins (€7). To follow à la carte, a prawn tartare pad-thai style (the dish that gave Pierre Chomet his ticket to Top Chef, €17) or a silky beetroot with binchotan , smoked eel , sorrel and horseradish (€16 €). We continue with a yellow Landes chicken , vegetable curry and Jerusalem artichoke (€31), without forgetting the ultra-melting braised Castile beef, endive and burnt orange condiment (€35). Refreshing dessert with citrus fruits, basil sorbet and Timut pepper (€13). If all these proposals may seem to lack unity, the result turns out to be as original as it is satisfactory.

pretty bottles
Ultimate joy: the fine selection of wines to accompany it all, with great references from Alsace, Italy or Spain and an exquisite glass of organic Maison des Ardoisières White Silica , fresh and mineral to perfection (€10) .

Open Monday to Friday from 12 p.m. to 2 p.m. and from 7 p.m. to 10:30 p.m.
© Pierre Lucet-Penato
Open Monday to Friday from 12 p.m. to 2 p.m. and from 7 p.m. to 10:30 p.m.

Also discover our favorite addresses in Saint-Germain-des-Prés and The new Parisian hotels that will make you want to sleep