© Montijo
Until now, wine bars were mostly the monopoly of the trendy "bobos" (bohemian bourgeoisie) from the eastern part of Paris who swear by biodynamic wines and local products. Now blossoming all over Paris, even in upscale neighborhoods, these friendly and accessible wine bars, where you can share creative dishes and uncork bottles from small producers until late at night, are gaining popularity. Let's take a closer look at the new Parisian wine bars where you can gather with friends for long wine-filled apéros.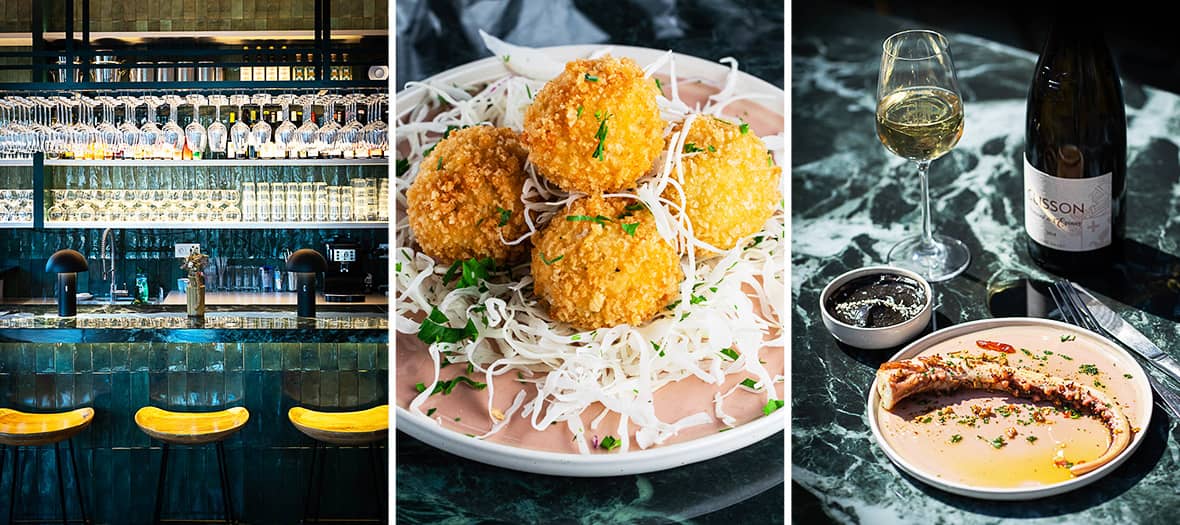 The place : located on a trendy street in the 18th, this new spot for epicureans features a star-studded bar dressed in green, posing in a cute wooden room. At the helm are two friends, Alexis Petit and Gautier Bouchart, former residents of La Défense, who brought to life this haven for friends and wine lovers. The atmosphere is vibrant with good music, ranging from jazz to electro, and all the tables are dancing on weekends!
The dishes : Euphorie offers a menu to suit all tastes, with traditional nibbles delicately prepared, such as the cheese plate in size S or L (€12 and €19) or the charcuterie with duck terrine with lemon, rosette and truffle-flavored white ham (€13). But above all, it offers delicious and creative sharing plates, including a creamy parsnip cream with roasted pears and hazelnuts (€7.50), salmon balls with pickles, lemon, and dill cream (€12), and an amazing marinated octopus with garlic and lemon, chili and cuttlefish ink mayo (€14). Psst: make sure to save some room to dive your spoon into the brioche-style caramelized salted butter French toast (€9).
To drink : A wine list with 100% French cast covering all corners of the Hexagon, offering about sixty references of fine wines. Among the must-try bottles are the "Pourquoi faire sans blanc," a very fresh Loire wine with good acidity (€6.50 per glass), the Brouilly from Château de la Chaize, a light red wine with a hint of crushed strawberries (€6.50 per glass), and the Gaillac, a natural sparkling wine with aromas of apples and pears, a great alternative to champagne (€7.50 per glass).
The plus : Need some inspiration? The menu provides guidance! Under each dish, two wine suggestions that pair perfectly.
Euphorie - Wine bar, 61 Rue Ramey, Paris 18th arrondissement. Open on Tuesday and Wednesday from 6:30 pm to midnight, and from Thursday to Saturday from 6:30 pm to 2 am. Tel: 06 14 29 44 12.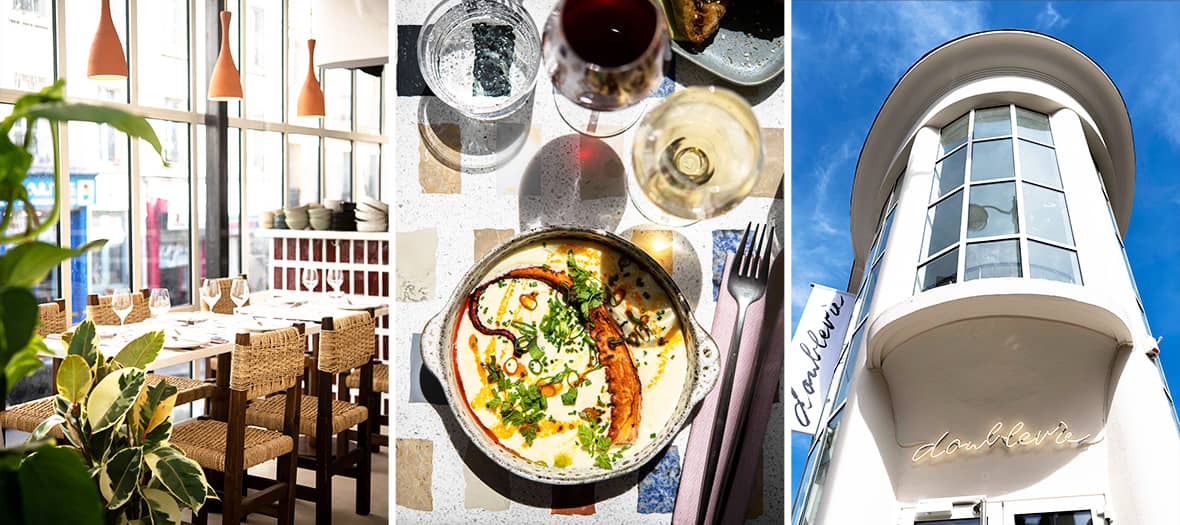 The place : All the cool people from Paris North gather at Doublevie, which has become the HQ for groups of friends who come to feast, toast, and dance in just a few months. Yes, dance, because on the ground floor, just below, the vinyl records make the crowds dance to thrilling sounds. But upstairs, and even on the floor above, near the huge communal table, it's the delicious Mediterranean dishes and wine bottles that take center stage in this incredible building from the 1940s covered in glass, whose soul has been dusted off by the D.A. and chill emperor Laurent Laporte, founder of the magazine Whereisthecool.
The Plates : We share in complete disorder small and large, thoughtfully designed plates, from sourced beautiful products to well-matched condiments: arancini with Comté cheese, burrata, and spinach (€14), creamy pumpkin gnocchi with Parmesan served in an XXL dish (€32), a whole roasted chicken with smoked paprika and black garlic (€29), and for dessert, a green apple and vanilla shortbread that you'll rave about (€9).
To drink : A friendly selection of natural, organic, or biodynamic wines from the terroirs of southern France, Italy, and Greece, with 50 references to choose from. Wines by the glass start at €7 (Vinoceros, La Grange Saint-André, pét' nat' Amos Baneres...), or you can indulge in a bottle starting at €29, with a special passion for Tetramythos, a mineral and saline white wine from Greece (€38).
Doublevie, 2 rue Poulet, Paris 18th. Open every day. Kitchen service every evening from 7:00 pm to 12:30 am. Lunch on Saturdays and Sundays from 12:00 pm to 4:00 pm.
© Géraldine Martens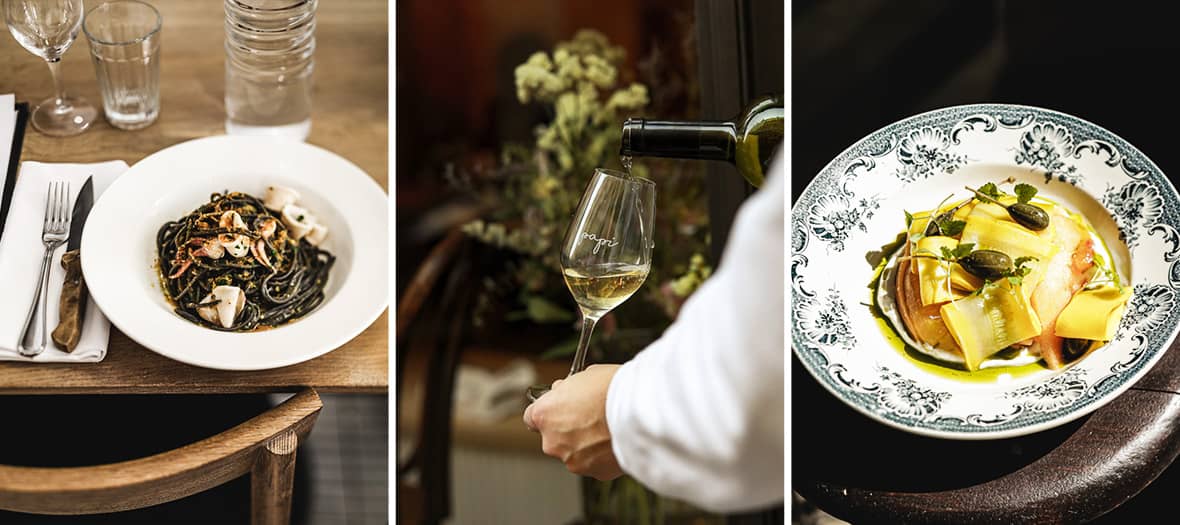 The place : It's impossible not to fall in love with this little gem of a neighborhood restaurant boasting a raw and minimalist decor designed by the renowned Neri&Hu studio. Papi declares its love for design, the second passion of the restaurateur and owner Etienne Ryckeboer, right after his love for cooking. The best table? Next to the large bay window. And in the evening, delightfully romantic vibes under the flickering candlelights...
The plates : awarded Ecotable 2 stars, Papi is first and foremost about short supply chain sourcing. It's also about an Italian chef, Anuar Laghlimi, who makes fresh pasta in-house every morning. The stars of the menu, the spaghettini with royal bream, lemon, and bottarga, were perfect (€28). With a r Parma ham ange of appetizers and cheeses that evoke the flavors of Italy: plate of(€12), burratina with watercress and mushrooms (€9), truffle mortadella (€15), raw milk taleggio (€8)... And charming desserts, including the surprising homemade tiramisu with a Japanese twist, made with tea-soaked biscuits, black sugar from Okinawa, and soy sauce: a killer (€9).
To drink : natural wines, sometimes organic, mostly French but sometimes from elsewhere. Among them, Cos, a light but deeply flavorful red from Sicily (€86 per bottle). A rosé from Puglia, Valentina Passalacqua, with floral notes and a slight saline touch (€43 per bottle). And an aromatic white from Auvergne, Patrick Bouju, with apricot and orange peel notes (€63 per bottle). Wines by the glass starting from €8.
Papi, 46 rue Richer, Paris 9th. Open Monday to Saturday from 12:00 pm to 2:30 pm and from 7:00 pm to 11:30 pm. 01 71 27 77 65.
© @papi_restaurant - Instagram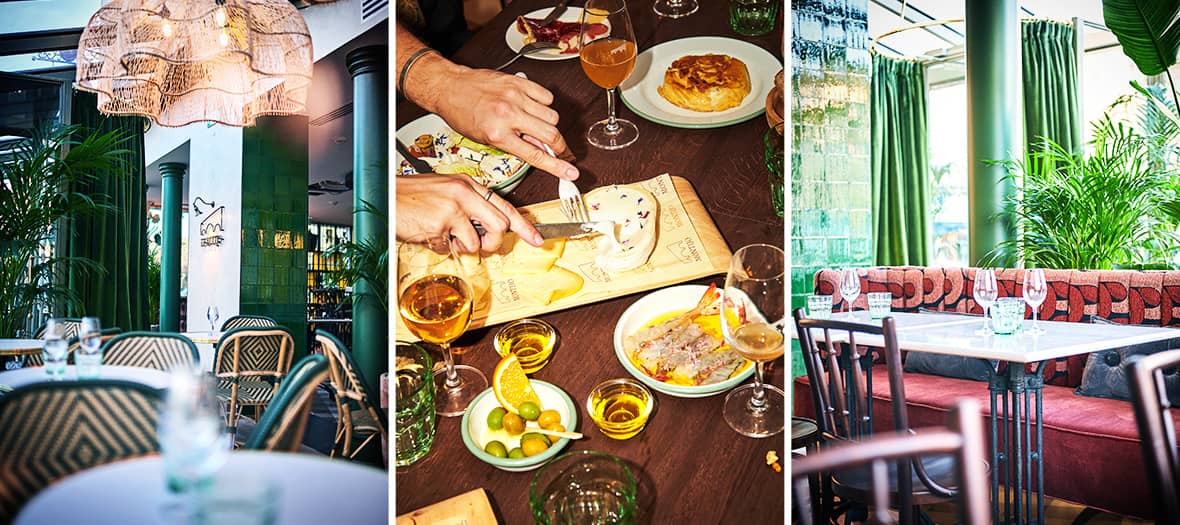 The place : Heading towards Spain in a setting reminiscent of a bodega located in the Batignolles area. We love the retro XL stained glass window behind the counter filled with ready-to-eat tapas, not to mention the bright veranda filled with beautiful plants: a cozy corner to lounge on the large, plush velvet sofas... ¡Olé!
The plates : Ultra-generous tapas including classic pan con tomato (€4.50) or the creamy tortilla with mayo (€12). For an after-work aperitif, the mixed platter is a must, with slices of Iberian ham and sheep cheese (€35). To continue, small shared or solo dishes are presented on the menu, such as the ensalada rusa (€12) or New Caledonia prawns (€12).
To drink : A lovely cocktail menu including a pimped-up sangria with apricot syrup and tonic (€12) or a tangy daiquiri with fine salt, a delight (€12). Naturally, you'll also find natural wines from the Mediterranean region, such as the fruity orange wine (€9 per glass) or the Indigeno, an Italian red wine with hints of red fruits that pairs perfectly with the platter (€9).
Montijo, 167 Rue de Rome, Paris 17th. Open every day from noon to midnight. 01 44 29 06 07.
© Montijo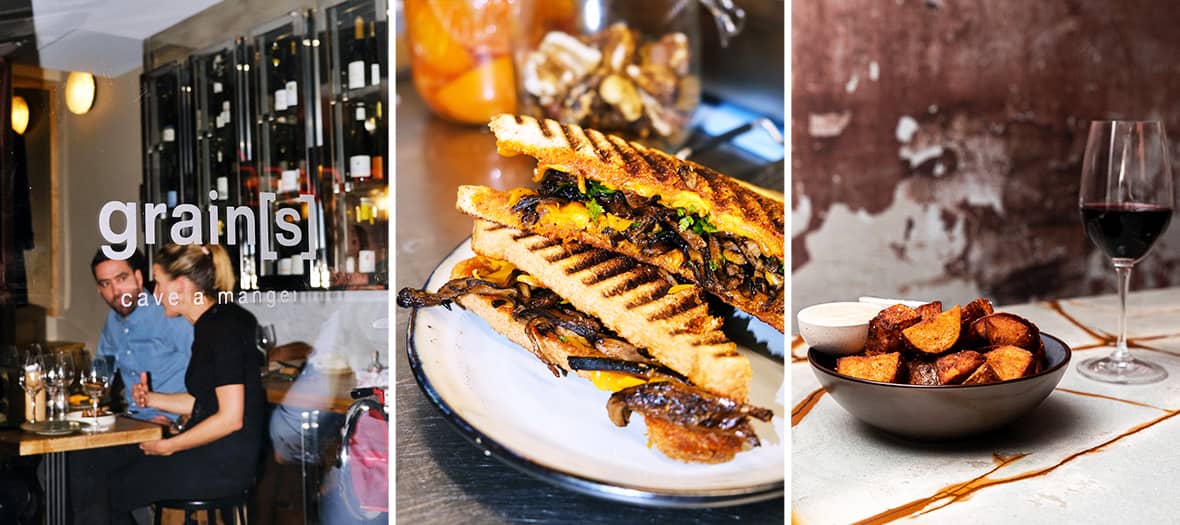 The place : This is the new intimate and trendy spot cooked up by Les Becs Parisiens (Chocho, Les fous de l'Ile, Colvert, Le Christine) in the heart of Saint-Germain. Spread over two narrow levels, this small address facing the Marché Saint-Germain can only accommodate up to fifteen guests: reservations are highly recommended! It's in the basement, invisible from the street but overlooking a courtyard, that the real magic happens: a small bar, exposed stones, 70s-style light fixtures, dim lighting, terracotta floor tiles, and electro music in the speakers, it's time for a seriously good evening ! Sorry for the pun, but this wine cellar also deals... in sake.
The plates : In the kitchen, it's Julien Avila, ex-Chocho, who prepares wonderful dishes to share - or not - that are simple and effective: lacquered quail skewers with fermented quince BBQ sauce that's totally indulgent (€16), a grilled oyster mushroom and mimolette cheese sando-croque with soubressade (€14), homemade sage-smoked butter linguine (€15), or a soft-boiled egg with chorizo and onion cream (€7). Also available for nibbling are a top-notch selection of Iberian charcuterie from Dehesa and cheeses from Cow.
To drink : Grapes and rice grains take the spotlight here! Behind the bar counter, Mathieu Guérin, ex- Mosuke, tinkers with bottles, wine in one hand, sake in the other, and offers expert advice. Who would have thought that a Japanese beverage would elevate Serrano ham? You can enjoy a sparkling Junmai Karakuchi (€10 per glass), Kaze no Mori (€9 per glass), tramontane Côte Catalanes (€6 per glass), or Mauzac Vert from Plageoles (€7 per glass) without hesitation!
Grain(s), 6 Rue Mabillon, Paris 6th. Open from Tuesday to Saturday from 6pm. 07 64 44 30 75.
© @dajasp - Instagram / © @grains.par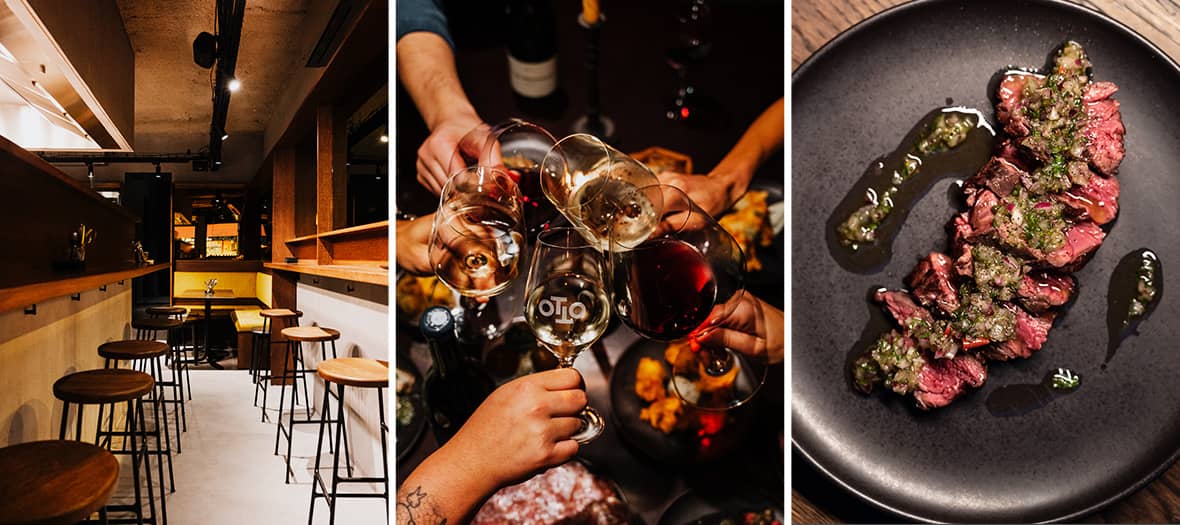 The Place : Part tapas bar, part izakaya (the Japanese equivalent of a bistro), Otto brings a burst of energy to the long-neglected Mouffetard district, which has been dominated by touristy addresses for too long. Whether at the bar or around the central kitchen counter, patrons come to test their elbow lifting skills as well as their fork skills. Behind this minimalist and festive establishment hides a trio: friends Stéphane Offner and Tony Alvarez-Parage, who have teamed up with Eric Trochon, a MOF (Meilleur Ouvrier de France) and Michelin-starred chef from Solstice located nearby. Good to know: for groups of friends, there is a large table available in the downstairs area.
The Plates : Creative dishes are announced on bits of paper displayed all over the place and prepared on the spot in front of diners. The highlight? Raw cooking on Japanese binchotan charcoal and masterfully crafted condiments. A feast is guaranteed with meats, fish, and vegetables that burst with flavor according to the seasons: garlic butter razor clams (€10), chimichurri flank steak (€14), sweet potato and hazelnut fritters (€9), teriyaki chicken skewers (€13), grilled sea bream (€14), roasted butternut squash with creamy cauliflower (€9)... It's so delicious that you won't really want to share these little wonders that arrive in no particular order!
Drinks : While Otto is open for lunch with a great €19 set menu, the evening is still the best time to gather at Otto for a selection of French wines that are natural, organic, or biodynamic, carefully curated. When it comes to wine, you can eye a Larzac terrace from Domaine du Pas de l'Escalette (€10 per glass), or a white wine from Southwest France, Domaine de la Pierre Levée (€9 per glass). Feeling adventurous? Why not try a sake (€14 to €16 per glass) for a new taste sensation?
Otto, 5 rue Mouffetard, Paris 5th. Open every day from 12pm to 2am. No reservations.
© Sadiksansvoltaire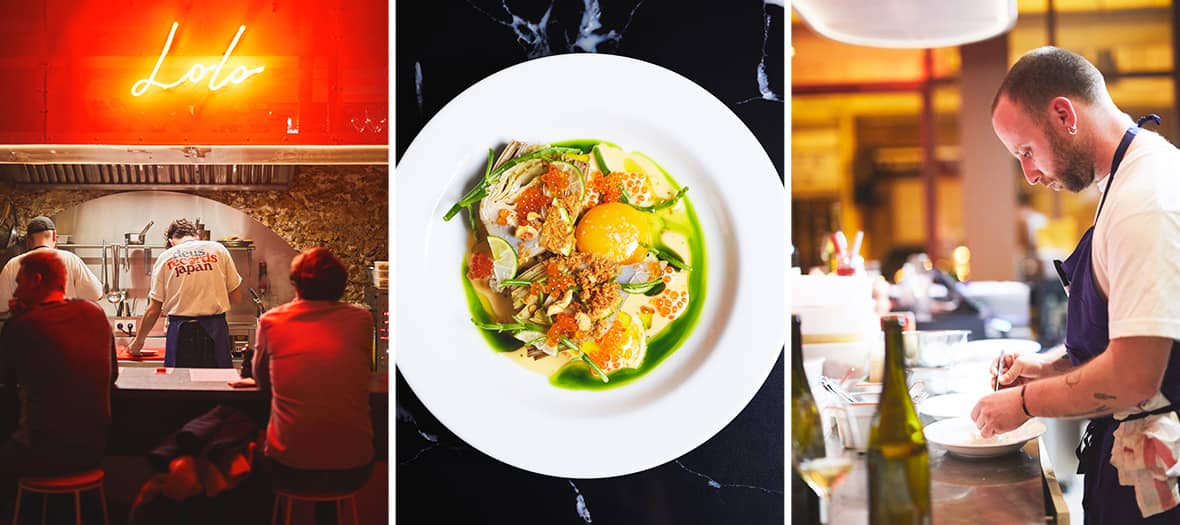 The Place : After their bustling wine bar, Loic Minel - aka Lolo - and Christophe Juville, the mastermind behind popular chef canteens Spok, have opened their bistro in the vibrant 9th arrondissement. Our hearts are torn between the two addresses, so why not start with an aperitif in one and continue the culinary festivities with a 10-minute walk? In the evening, the place comes alive, the speakers pump out music, and the shareable plates are paired with natural wines. In these two cozy spots designed by Atelier Calcaire, the interior design studio of Jeremy Chaillou and Christophe Juville - once again! - you feel as comfortable as at home, with a view of the kitchen as an added bonus.
The Plates : Remember this name: Zac Gannat. This former member of Grégory Marchand's team (Frenchie Covent Garden & Pigalle) first made a name for himself at the wine bar, which just celebrated its third anniversary, before handing over the reins to talented chef Maud Saddok. Aware of their chef's talent, the two owners entrusted him with the kitchen at Lolo Bistrot, where he expresses his unbridled creativity with land and sea ingredients. Here, pork is paired with mussels, chicken wings are served with trout eggs, flatbread combines clams and burrata (€14) and the Scotch egg is accompanied by a spicy 'nduja sausage (€11). The chef also creates astonishing culinary masterpieces with omelettes and pasta.
Drinks : Freedom is key when it comes to the wine list and bistro menu! No strict food and wine pairings, so you'll need to let go and trust the expert advice. French natural winemakers dominate the list to reduce the carbon footprint. And the prices remain reasonable: a Chenin from the Vaillant family at €36 a bottle, or a La Sorga at €46, it's almost a steal! Not to mention the little gems always handpicked by Lolo, of course!
Lolo Bistrot, 53 Rue du Faubourg Poissonnière, Paris 9th. Open for lunch and dinner from Tuesday to Saturday by reservation.
Lolo Cave à Manger, 12 Rue Châteaudun, Paris 9th. Open from Monday to Saturday, 7pm to midnight, no reservation required.
© Valentin Le Cron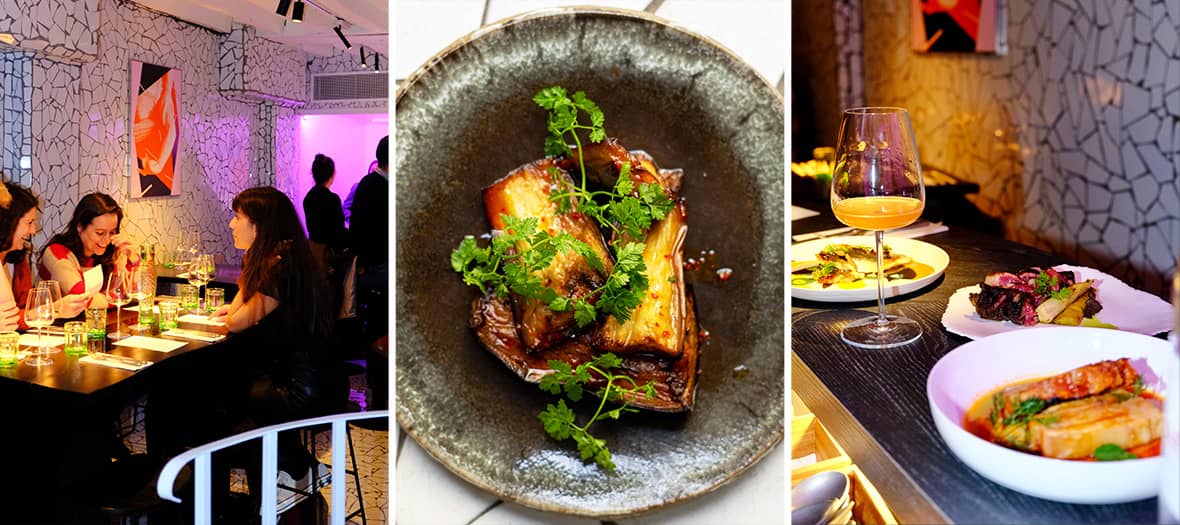 The place : The latest addition to Vertbois in the trendy 3rd arrondissement. A "new wave" bistro bar opened by two young chefs, Giuseppe Craparotta and Alessandro Allegri, who brilliantly reinterpret classic dishes from Northern to Southern Italy on the plate and in the glass. Special mention for the two-tone decor worthy of a movie set, with black and white tiles, designed by Italian star designer Paola Pavone, making you feel like you're in a retro club...
The dishes : In summary: the perfect fusion of Italian haute cuisine with a French twist. Start with the melting ANNA apples with white butter (12 €) or the original celery root and smoked eel pain perdu cooked to perfection (17 €). The à la carte dishes are outstanding, with options like rabbit tagliatelle (24 €) or octopus maccheroni (25 €). Ultimate favorite: the whahou osso buco, tender and crispy, an incredibly delicate Milanese classic (24 €). For dessert, sweet toothed diners will find happiness with the old-fashioned panna cotta - apple-pear CRUfiture or tiramisu (10 €).
To drink : Start with a good cocktail, like the iconic Negroni Sbagliatissimo (11 €) or the non-alcoholic Crodino (6 €). The extensive wine list features rare gems that only connoisseurs would recognize, such as Pietra Nera by Marco de Bartoli from Pantelleria (55 € per bottle) or an orange wine by Krasna Hora from Moravia, Czech Republic (45 € per bottle). Note: the opening of the shop next door for stocking up on European origin bottles, followed by the arrival of Enzo, still in Vertbois, a sandwich shop with street food style, offering caponata-filled bread (11 €) or panelle-filled bread (5 €). We won't say more...
Anna wine bar, 13 rue du Vertbois, Paris 3rd arrondissement. Open from Monday to Saturday, 7pm to 11pm.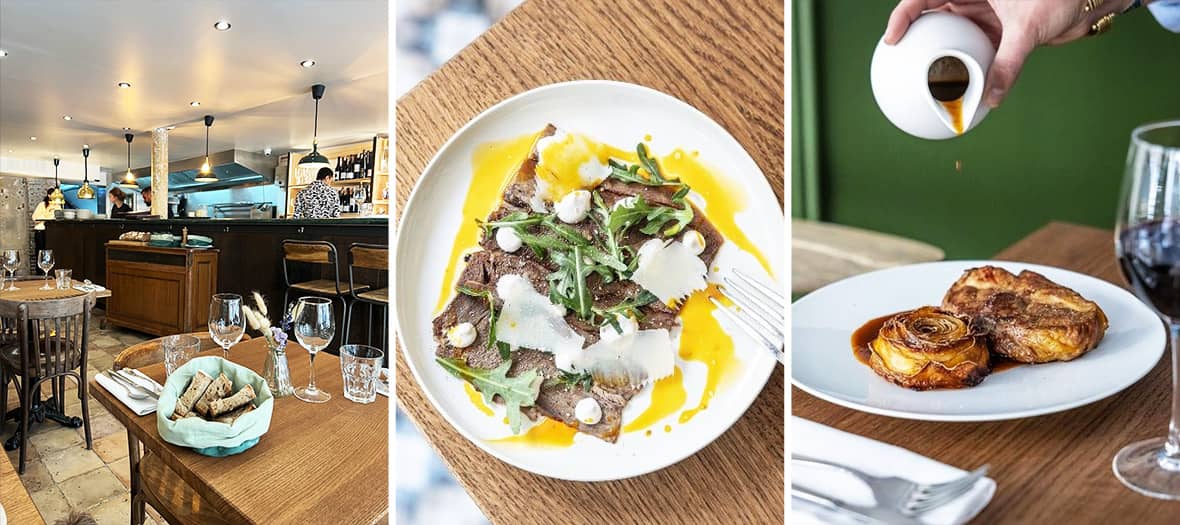 The place : "Bistro - Friends - Grapes." It's all said. Perched at the top of Le Marais near Cirque d'Hiver, Arlette first catches the eye with its polished decor reminiscent of a chic country house (old red tiles, woodwork, vintage furniture...) and, a rare find in a wine bar: space! We admire the Brazilian chef Ricardo (also behind the Boteco cocktail bars) behind the bar, live from the dining room, and already dream of being able to sit on the terrace as soon as the first rays of sun appear.
The plates : As a first discovery for aperitif, the playful bites of pork rillons without pork (€9), sweet and savory vegetable-based variants made with tapioca and coconut. For starters, we opt for the soft-boiled egg with Jerusalem artichokes and Parmesan emulsion, and continue with the tender pork loin and confit potatoes. Ultimate joy: the chocolate mousse with fleur de sel and olive oil. Expect €36 for the three-course combo.
To drink : Around 40 wine references, including 10 by the glass or pitcher, chosen by Ricardo's associates who are also independent wine merchants, with the main goal of representing all French regions with an original selection. Special mention for the Pouilly-Fumé Tronsec (€55) or the Château de Passavant (€38 per bottle, €7 per glass) for whites, or the Pinot Noir from Alsace Les Sens (€42 per bottle, €8 per glass).
Arlette, 143 rue Amelot, Paris 11th. Open for lunch and dinner from Monday to Friday. 09 84 02 65 95.
© @arlette_bistro - Instagram