New resolution obliges… Where to have a lunch break or a dinette between girls without gaining 3 kilos? We give you the 10 favorite canteens and restaurants of twigs.
The easternmost: Yoummah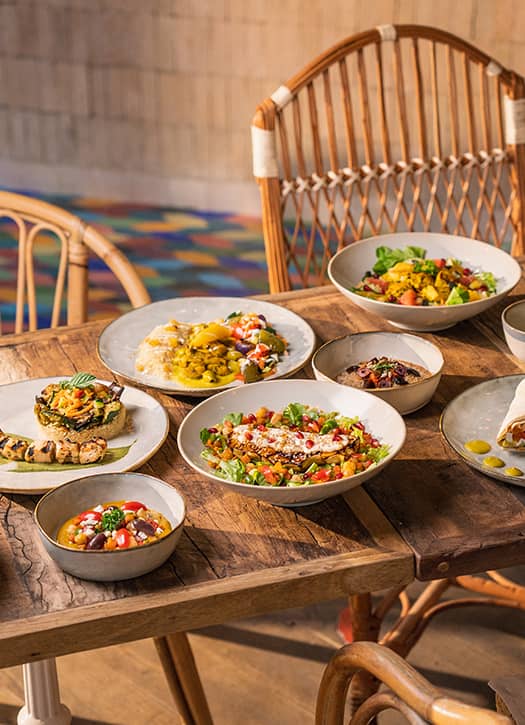 A change of scenery guaranteed at this lively table of colors which poses zelliges , terracotta bejmats , cob walls, antique doors and XL pottery. Yoummah is the Mediterranean spirit that takes you by the hand, installs you like at home on its soft benches and transports you far from its neighboring Place de la Bourse . At the helm, the self-taught Hamdi Brahmia , driven by a taste for good and healthy, who revisits the classics of oriental cuisine by reducing fat and sugar.
Plaisirs light: vitamin -packed salads bursting with fresh ingredients, like the one with lentils and perfect egg (€17.90); crazy roasted cauliflower with harissa and Isfahan rose (€16.90), comforting soups including the unmissable tomato and green barley chorba (€8.90), meatballs with vegetables (€19.90) and even a vegetarian couscous (€16.90). For dessert, go for the vanilla vegetable cream and roasted apples (€7.90) or the orange mouhalabia flavored with orange blossom (€7.90). Small gap required to catch one of the delicious Matlouh , a traditional Algerian bread made on site and served warm: great love!
Yoummah , 33 rue de Vivienne, Paris 2nd. 01 72 60 89 79.
The most vegetal: Mesa au Hoy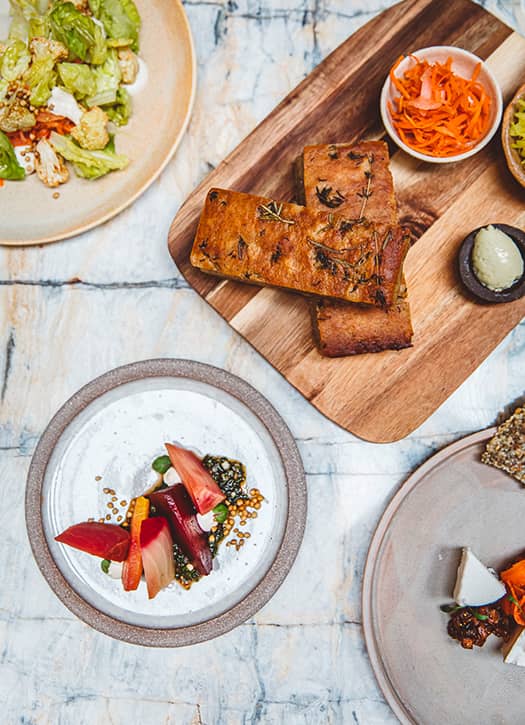 Total disconnection between the walls of the Hoy hotel planted rue des Martyrs , which advocates well-being in each of its spaces. At his table, called Mesa , the same mood, the same vibes around a holistic cuisine 100% vegetable and ultra-healthy. And when we tell you vegan , it's without compromise here: no eggs, meat, fish, cream or milk. Far from being boring, the dishes are colored at Mesa with Latin American notes that make the taste and the spiciness.
Light pleasures: among our favorite dishes, charcoal- grilled focaccia , smoked carrots, vegetable crème fraîche, onion, caramelized pecan nuts and tarragon oil (€14); minestrone , gomasio, nasturtium leaves and olive oil (€15), tahini sweet potatoes with candied lemon, harissa and micro sprouts (€8), massaged kale and pistachio vinaigrette (€8). For the sweet note, we love the pancakes topped with jam, vanilla yoghurt, roasted almond butter, banana, roasted coconut chips & yacon syrup (€19) and hibiscus-infused oat pudding with hemp and chia, vanilla yogurt, jam, fresh seasonal fruit (€8).
Mesa restaurant at the HOY hotel , 68 rue des Martyrs, Paris 9th. 01 77 37 87 21.
The most popular: Rosy chez Carita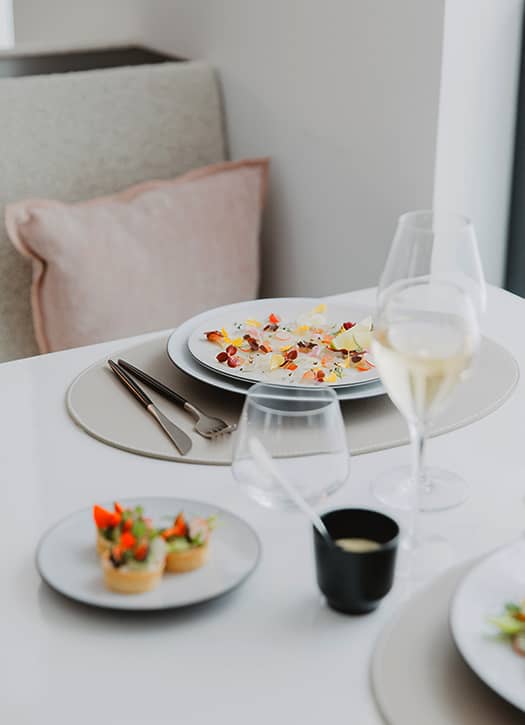 Far from the frenzy of the city, nestled on the second floor of the iconic Faubourg Saint-Honoré private mansion of the Carita house , this ultra-relaxing little white paradise allows you to catch your breath for a real moment of relaxation. Calm and refinement are on the menu of this confidential address run by chef Amandine Chaignot ( Poly filly , Café de Luce ) who enlivens it with fresh and delicate cuisine to savor from breakfast to the aperitif at the end of the day.
Plaisirs light: a temple of beauty obliges, Rosy 's menu delivers beautiful and stylish dishes that do you good. Among our favourites, the Rosy salad , a happy mix of quinoa, salmon, avocado, cucumber, cauliflower, beetroot, cashew nuts, green apple and coriander, also available in a vegan version (€32); the dashing avocado toast with its runny egg and sunflower seeds (€22) or the velouté of pumpkin , hazelnuts and goat cheese focaccia toast, as sweet as a caress (€16). For the finale, the fresh fruit and aloe vera salad can be savored like caviar (€16). A little difference? Go for the coffee and madeleine duo haloed with a hint of praline chocolate, small fresh hazelnut and flower petals (€14).
Rosy, Maison de Beauté Carita , 11, rue du Faubourg Saint-Honoré, Paris 8th. 01 44 94 11 11.
The most colorful: Acai & You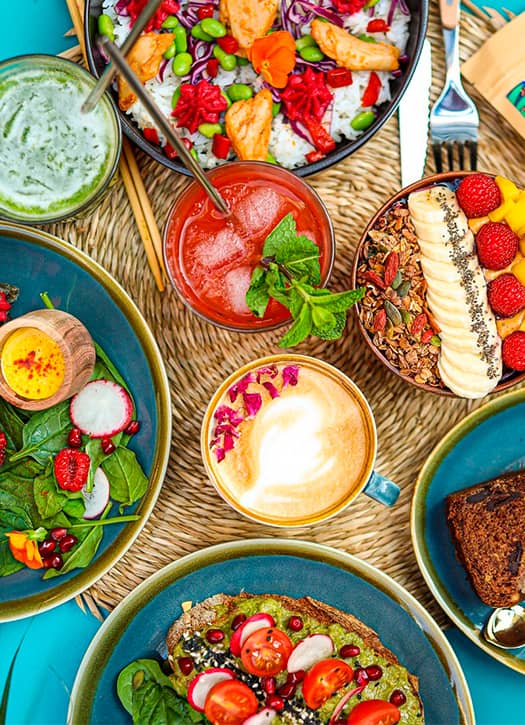 After the success of its food truck specializing in fruity bowls made from acai berries - this superfood loaded with antioxidants - Açaï&You is opening its healthy canteen on rue de Maubeuge with a pleasant little terrace and a Balinese atmosphere. With, as a discreet co-founder, comedian Willy Rovelli , humorist and columnist on France Bleu.
Plaisirs light: the star of the menu? An acai bowl made with acai cream , banana, crunchy homemade granola, homemade peanut butter & mix of seeds (chia, squash, goji berries), all topped with a fruit of your choice with strawberry, blueberry, mango or coconut pineapple (from €10.50). And to play it as a brunch all the time, add a really well-seasoned toast with eggplant caviar, burrata or guacamole, to accompany a smoothie or a matcha latte (€25.50 for the colorful brunch menu) .
Acai & You , 78 rue de Maubeuge, Paris 9th. 09 81 97 49 57.
The most socialite: Blueberry
Imagine a very poetic setting like In the Mood for Love in Saint-Germain-des-Prés where Mr. Luu , who officiated in the greatest Japanese restaurants , created a Japanese-rock menu with crazy chirashi and maki.
Light pleasures: "Toro" tuna temaki (€8), green tuna maki - avocado - arugula - mint (€16), maki shiso bomb salmon - avocado - shisos - nori and yellow radish (€15), and for the more gourmet: a grilled sobacha tart (€14).
Blueberry , 6 rue du Sabot, Paris 6th. 01 42 22 21 56.
The most hardcore: Maisie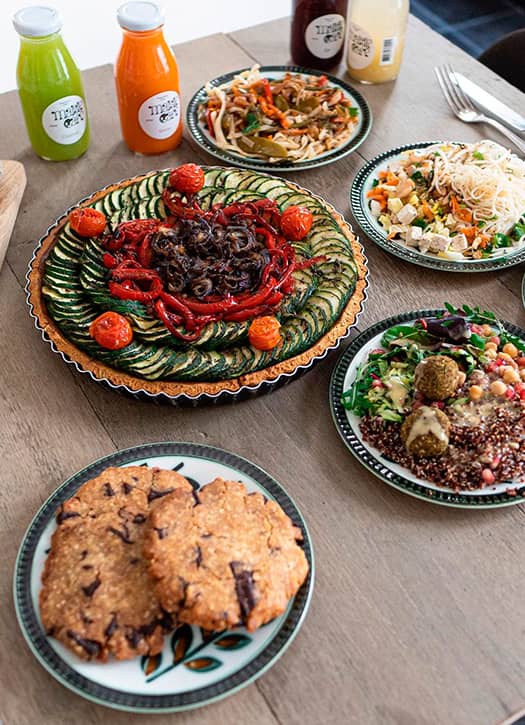 Located a stone's throw from Place Vendôme, this small veggie and dapper canteen brings together all the most powerful women in Paris. Largely inspired by the LA style, Isabella Capace , the Italian also passionate about macrobiotics, superfoods and yoga, has succeeded in the not always easy gamble of making meals without lactose or gluten sexy .
Light pleasures: cold-pressed juice - cucumber combined with ginger and lemon (€6.80), 100% vegan bowl, made up of lentils, squash and salad , and for those with a sweet tooth , salty granola (€7).
Maisie Café , 32 rue du Mont Thabor, Paris 1st. 01 40 39 99 16 .
The most chic: le Bar des Prés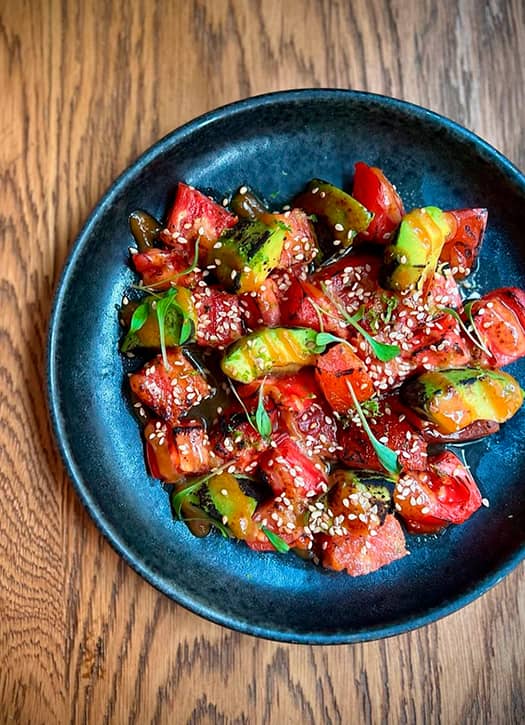 A very strong concept opened by Cyril Lignac where you always come across beautiful people ( Lily-Rose Depp , Sandrine Kiberlain ...). This small ultra bar concentrates a maximum of glamour, cocktails and raw fish.
Light pleasures: the delicious salmon sashimi (€22), spring roll , obsiblue shrimp with vegetables, mango, mint (€28), Otoro sushi (€10) and Japanese pearls with coconut milk, mango, lime ( €16).
The Bar des Prés , 25 rue du Dragon, Paris 6th. 01 43 25 87 67 .
The rawest: the Cevicheria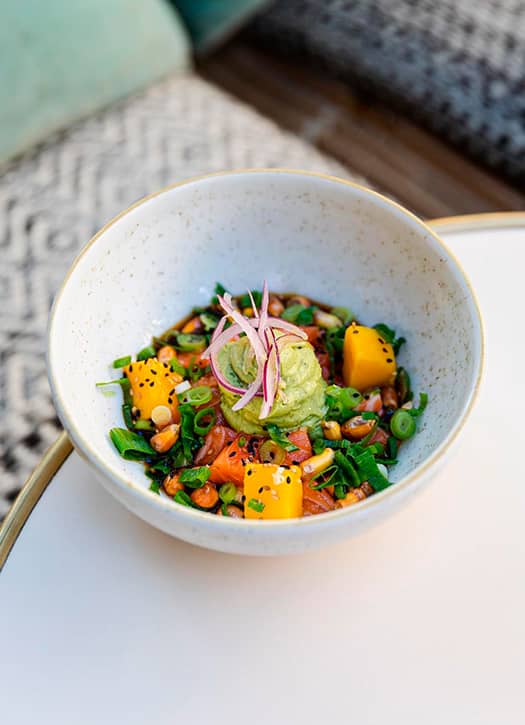 Yum, Peruvian tapas in a dream setting! Revisited in all its forms, the ceviche comes in skilfully marinated and flavored raw fish tapas, finely cut with fruits and vegetables, to accompany very good pisco cocktails in a deliciously tropicool setting. A paradise to feast on when leaving with a flat stomach.
Light pleasures: the Nikkei salmon ceviche with avocado cream and mango (€16), gilthead sea bream tiraditos with herbs (€16), and for vegans the veggie ceviche with avocado , mango and Nikkei sauce (€13).
La Cevicheria , 14 Rue Bachaumont, Paris 2nd. 09 80 88 58 05.
The sharpest: Wild and the Moon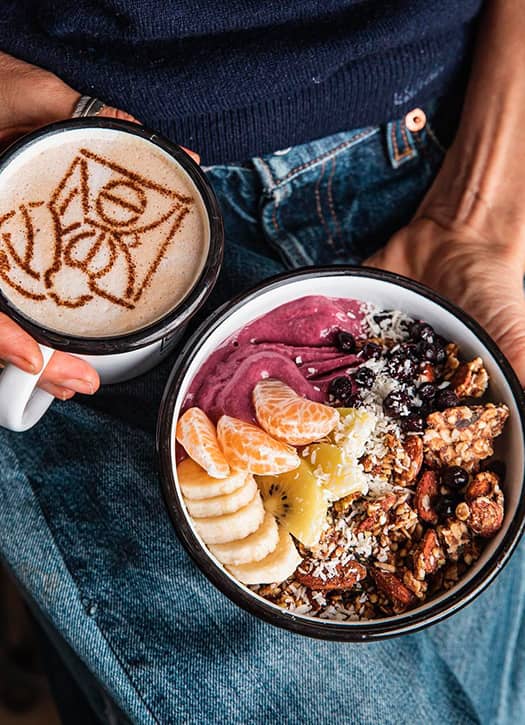 Emma Sawko reconciles French indulgence with naturopathy and veganism from LA with cold- pressed juices , generous salads and panini noglu.
Light pleasures: banana-almond matcha bowl (€11.50), truffle with cashew sauce (€9), super banh mi vegan meat - Chinese cabbage and cucumber (€11.90) or coffee tiramisu - cashew cream (5, €90) not to mention a series of cold-pressed juices and therapeutic drinks such as Keep it clean (from €5.90).
Wild and the Moon , 19 place du Marché Saint-Honoré, Paris 1st. 09 72 66 22 96 .
The most cathodic: Vida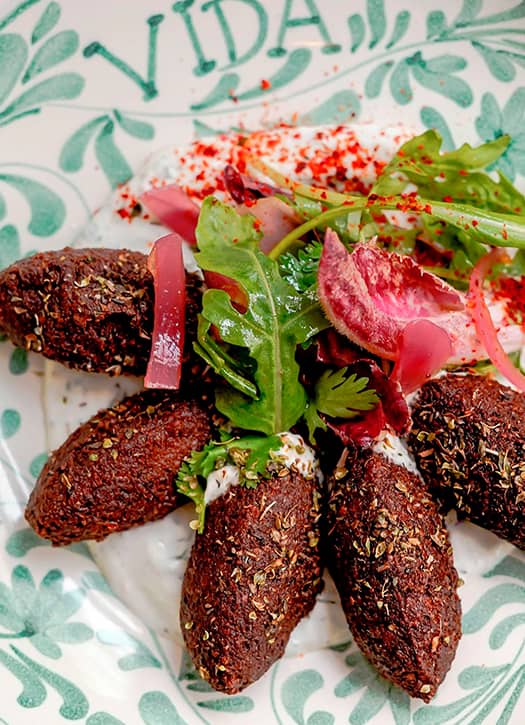 No red meat, no lactose, no gluten. The trendy canteen opened by Laury Thilleman and her fiancé, the Colombian chef Juan Arbelaez , advocates naturalness with panache.
Light pleasures: guacamole toast (€8), trout with a sour sauce of sorrel and rice (€18), Ceviche Bowl with a mixture of cereals and rice (€19) and cold infusion of the day (€5).
Vida , 49 rue de l'Échiquier, Paris 10th. 01 48 00 08 28 .
The most Instagrammable: the Guinguette d'Angèle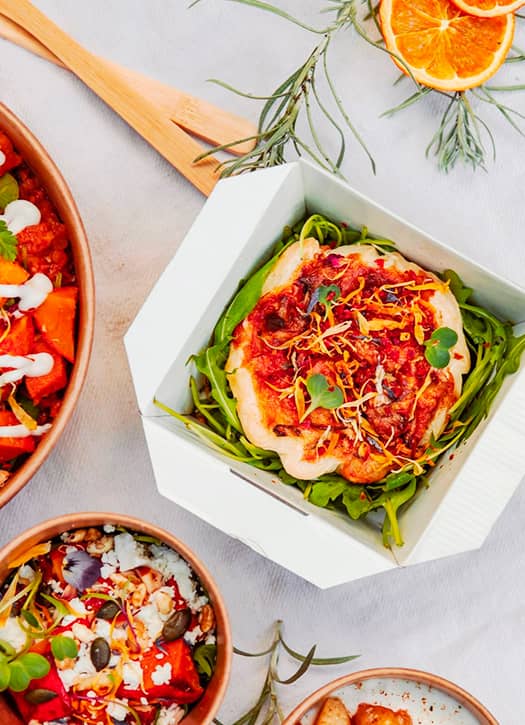 She delivers Chanel, Dior and Louis Vuitton for their private lunches. The healthy high priestess Angèle Ferreux-Maeght feeds all fashionistas with highly photogenic snacks.
Light pleasures: lunchbox of champagne lentils and wholegrain Thai rice (€9), hot dish with creamy vegetables and herbs (€9), cold cucumber soup with the acai bowl (€7), Apricot Pistachio tartlet and vegan dessert (€5).
La Guinguette d'Angèle , 34 Rue Coquillière , Paris 1st. 09 82 41 03 63.
The most vegan: abattoir végétal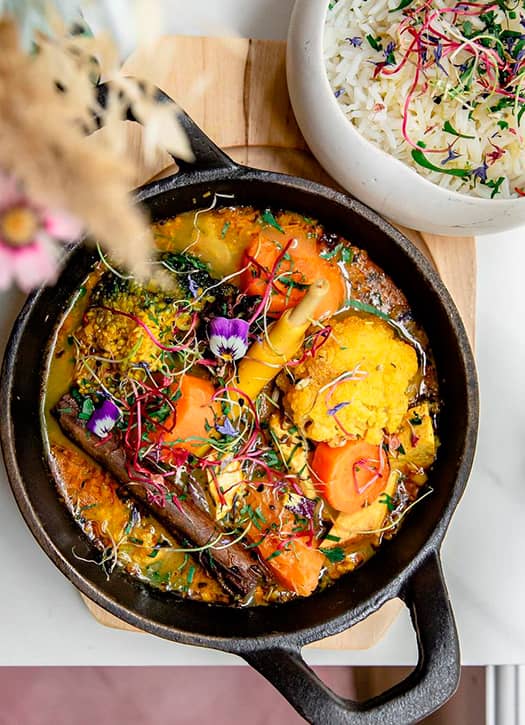 With its insta-glam' vegan bistro decor, its plant -based meals and its cold-pressed juices, it fits right in with the mood of the moment: a good and healthy restaurant , without being left hungry. What give a hard time to bidochards.
Light pleasures: the summer salad (€8), Avocado pancakes (€15) and for those with a sweet tooth, the coconut-sesame cheesecake (€8).
Vegetal slaughterhouse , 9 rue Guisarde, Paris 6th. 09 83 54 56 76 .
The most "coffee-shop": Marcelle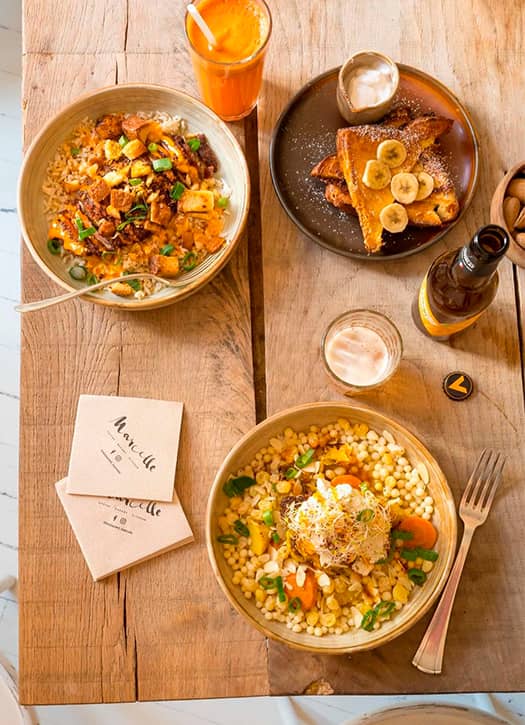 A coffee - shop on 3 floors in a country and spring house in Étienne Marcel, where you can enjoy avocado toast, almond milk boosted with superfood and beautiful veggie salads.
Light pleasures: ultra-couture salads with marinated prawns and avocado (€19), French toast (€12) and cake (€5.50).
Marcelle , 22 rue Montmartre, Paris 1st. 01 40 13 04 04 .
The most midinette: The Cool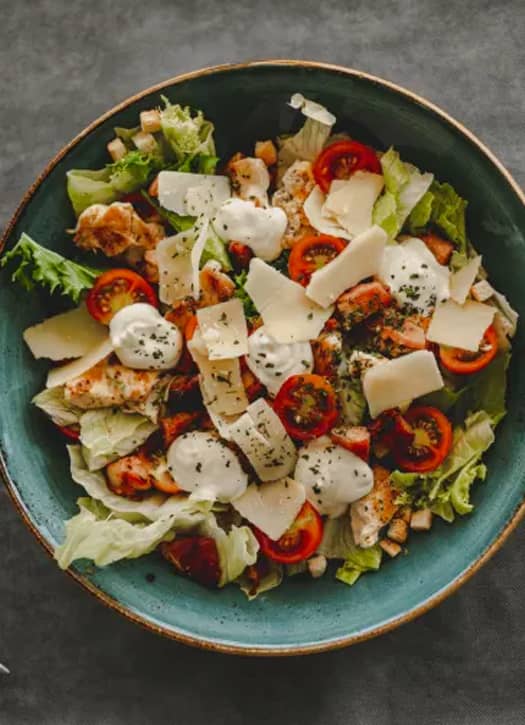 The legendary light tea room in Passy has been revamped by Sarah Lavoine and continues to nurture the line of sylphides with its 5-vegetable cake and its mythical Starlette, the famous 0% sugar-free, egg-free and flour-free cheesecake. Bingo!
Light pleasures: slimming smoked salmon-avocado-grapefruit salad (€17), veggie salad (€17) or their cult vegetable cake with tomato coulis (€17.50) accompanied by a ginger-apple-carrot detox cocktail (€10). For dessert: obligatory starlet (€9).
© Camille and the boys
The Cool , 10 rue Jean Bologne, Paris 16th. 01 42 24 69 13 .

Also discover Chimère: an ultra-chic neo-brasserie a stone's throw from the Opera and the best street food addresses like in New York