Where to have lunch or dinner with the gals without putting on 3 kilos? Here are the 10 favourite cantinas and restaurants of twigs.
The most socialite: Blueberry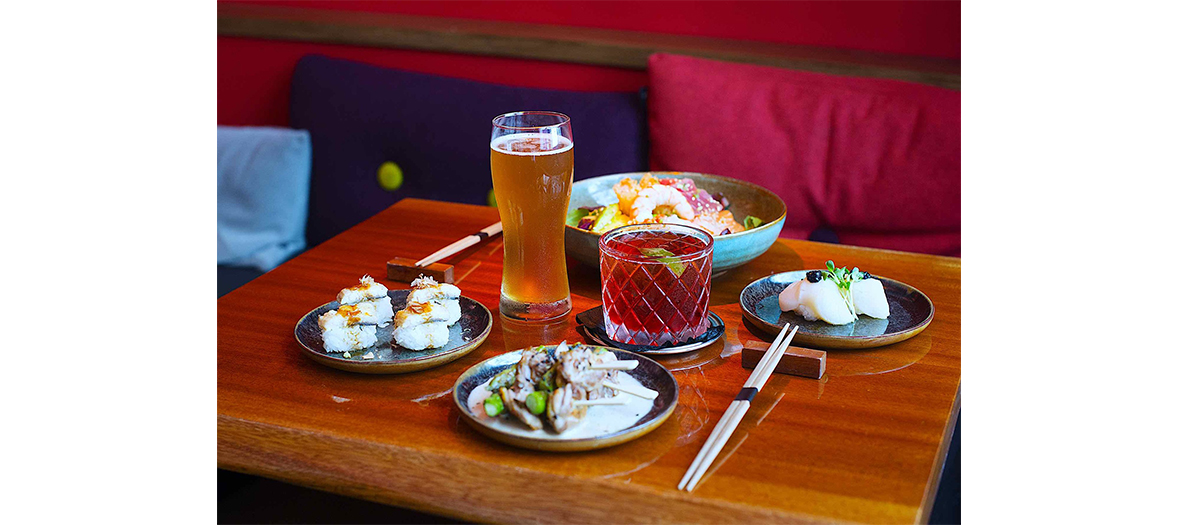 Imagine a very poetic décor, reminder of In the Mood for Love in Saint Germain des Prés, where Monsieur Luu, who worked in leading Japanese restaurants, presents Japanese-rock eats with incredible chirashi and maki.
Light pleasures: Phô soup with veggies and sesame (€7), maki green tuna - avocado - arugula - mint (16€), maki Rackham le Rouge gambas - tunas - truffle (€19), and the most gourmet: an ultra light dessert with agar-agar jelly fruit and coconut milk (€12).
Blueberry, 6 rue du Sabot, Paris 6th
The most hardcore: Maisie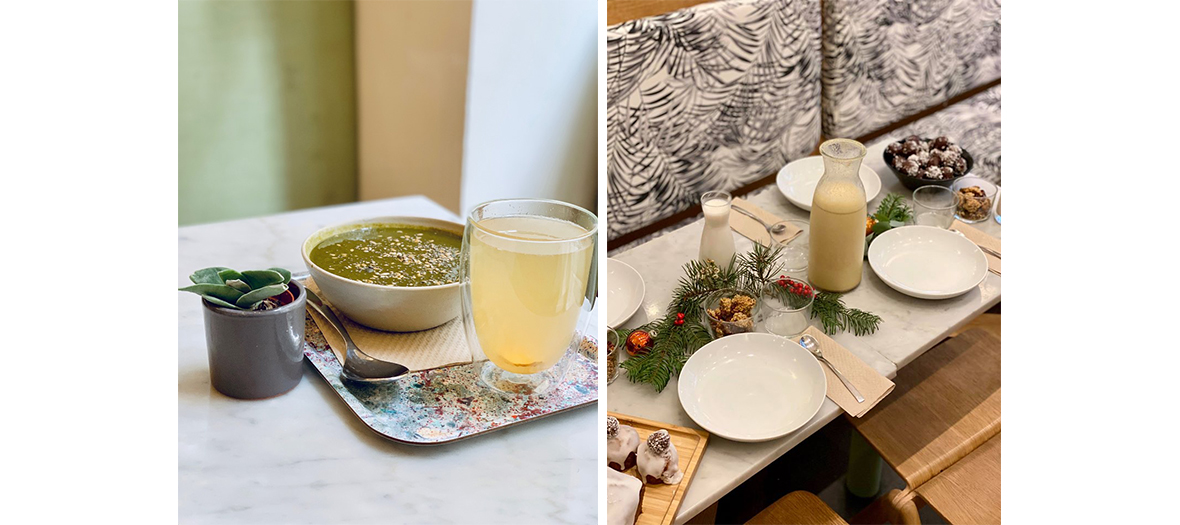 Nestled a skip and a hop from Place Vendôme: this small and bright veggie cantina gathers the most powerful women in Paris. Largely inspired by an L.A. style, Italian native Isabella Capace, passionate about macrobiotics, super-foods and yoga, has succeeded in the not so obvious wager of making no lactose and no gluten eats a little more sexy.
Light pleasures: freshly squeezed veggies, soup of the day (chestnuts-sweet potato-old fashioned vegetables …) (€7), avo' toast with gluten free bread from the Chambelland bakery (€7), Thai salad, wild rice, tofu marinated with sesame and Chinese cabbage (€10), and for gourmets, the lemon cake (€4).
Maisie Café, 32 Rue du Mont Thabor, Paris 1st
The most chic: le Bar des Prés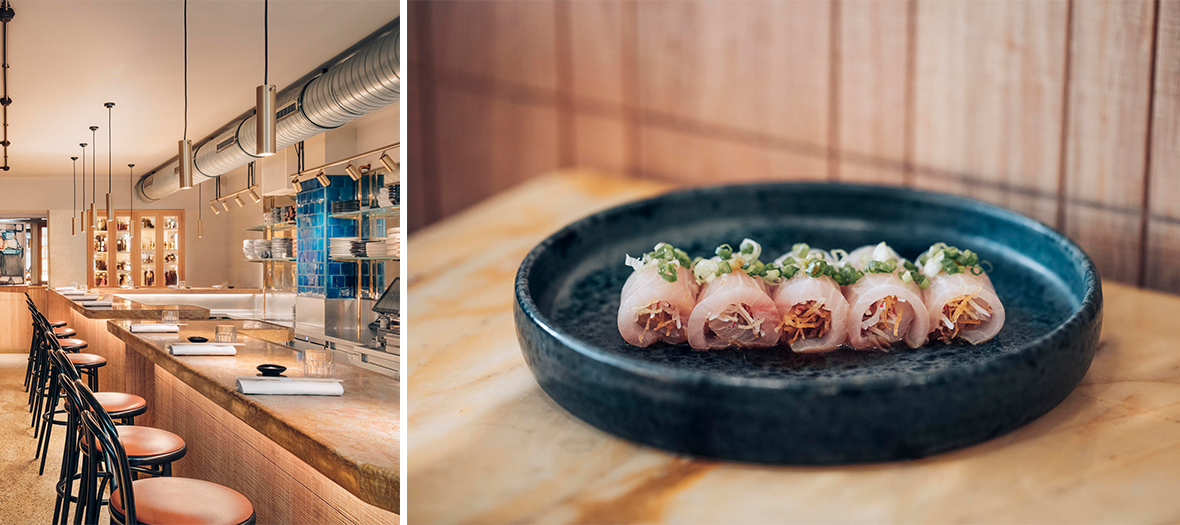 A very strong concept open by Cyril Lignac where one always runs into an interesting and famed clientele (Lilly-Rose Deep, Sandrine Kiberlain etc.). This small bar concentrates a maximum of glamour, cocktails and raw fish...
Light pleasures: its splendid crackling galette, crab with Madras curry, avocado (€25), sashimi of salmon or yellow tail (€20), king crab spring roll with veggies, mango, mint (€28), California of shrimp, avocado, chives, mayo soya sesame sauce (€27) and fresh pineapple, pomegranates, frosty orange and orange blossom (€12)
Le Bar des Prés,25 Rue du Dragon, Paris 6th
The most raw: La Cevicheria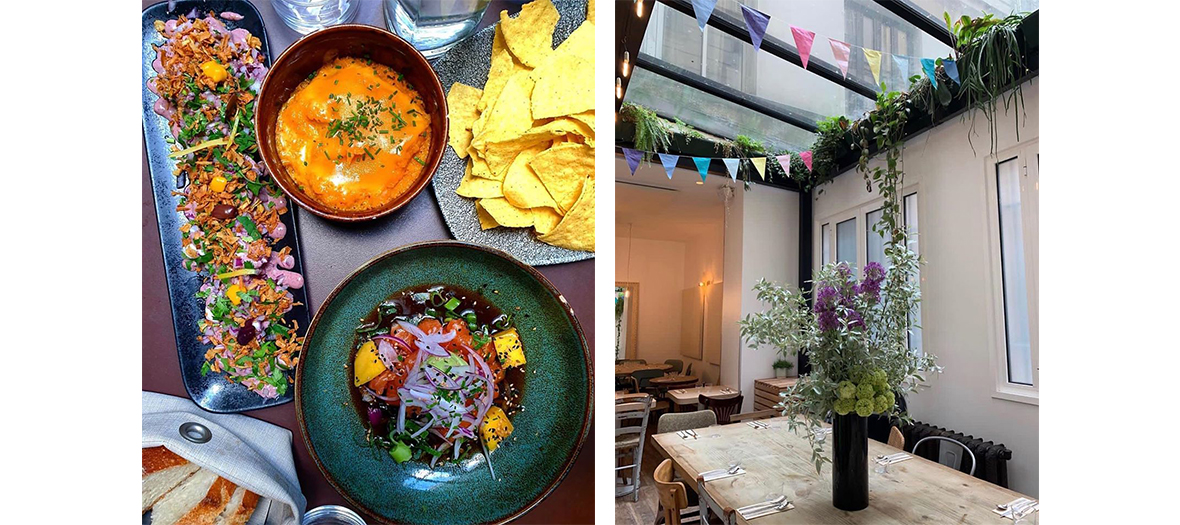 Yum, Peruvian-style tapas in a dream-like decor! Revisited in all its shapes, ceviche is presented as raw fish tapas, cleverly marinated and perfumed, finely cut with fruit and vegetables, to be enjoyed with nice pisco cocktails in a deliciously tropicool decor. A gourmets' paradise that leaves you with a flat tummy.
Light pleasures: ceviche of nikkei salmon, cream of avocado and mango (16€), tiraditos of gambas and mint (19€), and for vegans, ceviche of yellow courgettes and Espelette pimento or ceviche of mushrooms and pomegranates (7€).
La Cevicheria, 12 Rue Martel, Paris 10th
The most trendy: Wild and the Moon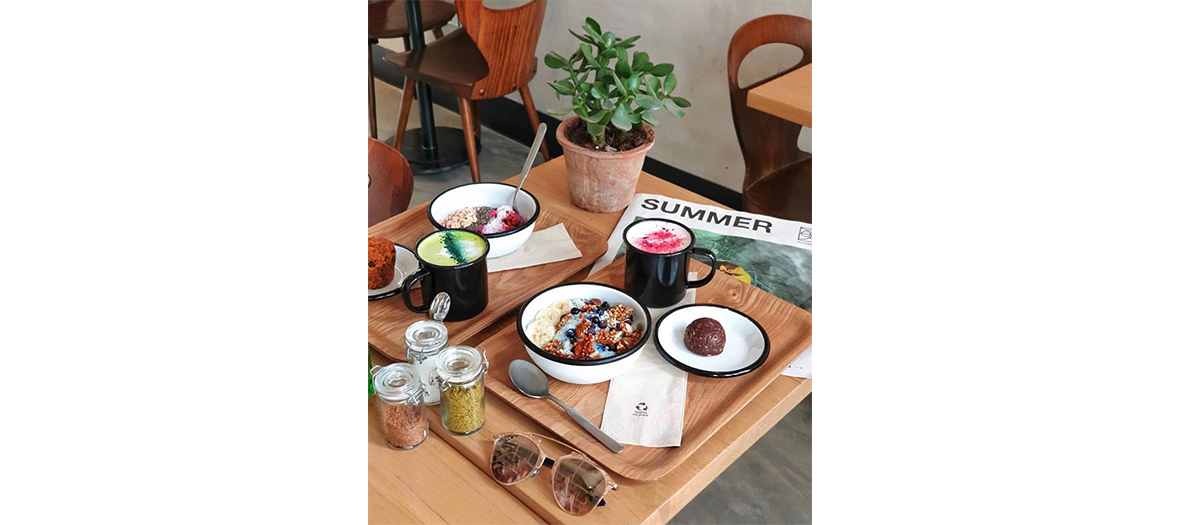 Emma Sawko reconciles French gourmandise with naturopathy and veganism from L.A. with a wide array of freshly pressed fruit juices, generous salads and noglu panini.
Light pleasures: banana-vanilla matcha bowl (€11), konjac noodles with Cajun sauce (€8), super bowl of rawliflower apple-pomegranate-mint (€12) or lemon tart and almond paste, dates and lemon (€5.5) without forgetting a series of freshly squeezed juices and therapeutic drinks such as the Liquid Vitality (€7).
Wild and the Moon, 19 place du Marché Saint-Honoré, Paris 1st
The most cathodic: Vida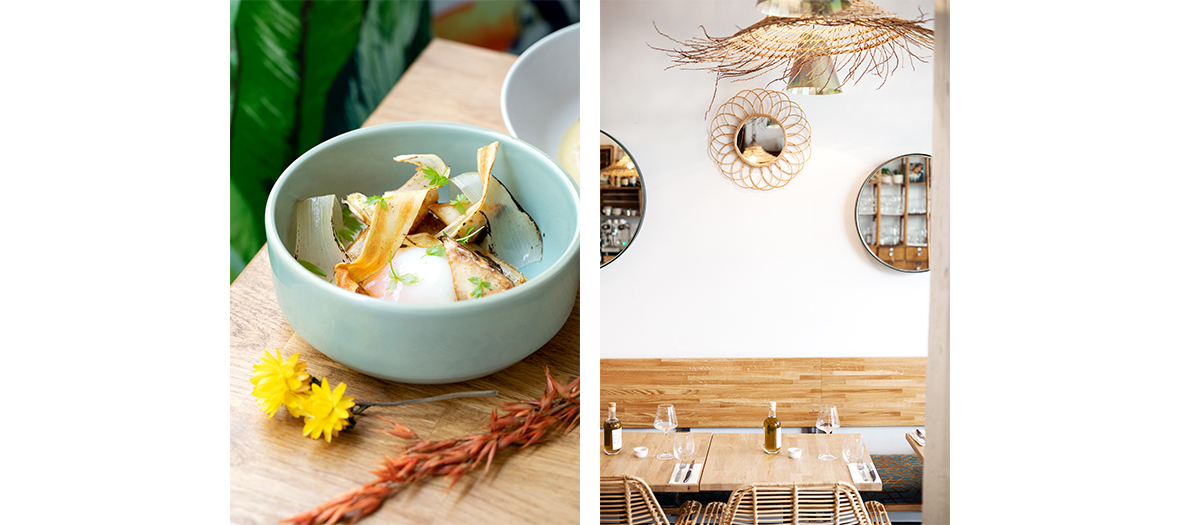 No red meat, no lactose, no gluten. The trendy cantina opened by Laury Thilleman and her fiancé, Colombian chef Juan Arbelaez, prones naturality with panache.
Light pleasures: vegetal broth minestrone-style (€9), risotto of splet and calamar (€21), corn and falafels sandwich (€13) and infusions of seasonal fruit (€5).
Vida, 49 Rue de l'Échiquier, Paris 10th
The most instagrammable: La Guinguette d'Angèle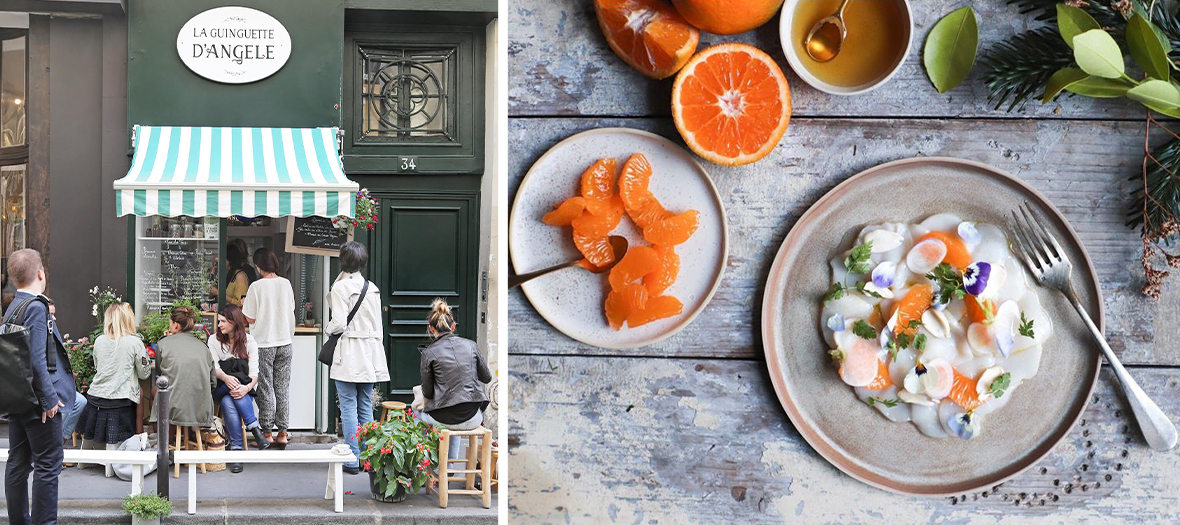 She delivers Chanel, Dior and Louis Vuitton for their private luncheons. The great healthy priestess Angèle Ferreux-Maeght feeds all the fashionistas with her highly photogenic snacks.
Light pleasures: lunchbox cereals-houmous-cooked vegetables and fruits (€9), hot vegetarian curry dish of dhal-risotto (€9), soup of the day (€6), spring rolls and vegan desserts (€5) … Bonus: the menu changes every day!
La Guinguette d'Angèle, 2 Rue du Général Renault, Paris 11th
The most vegan: Abattoir végétal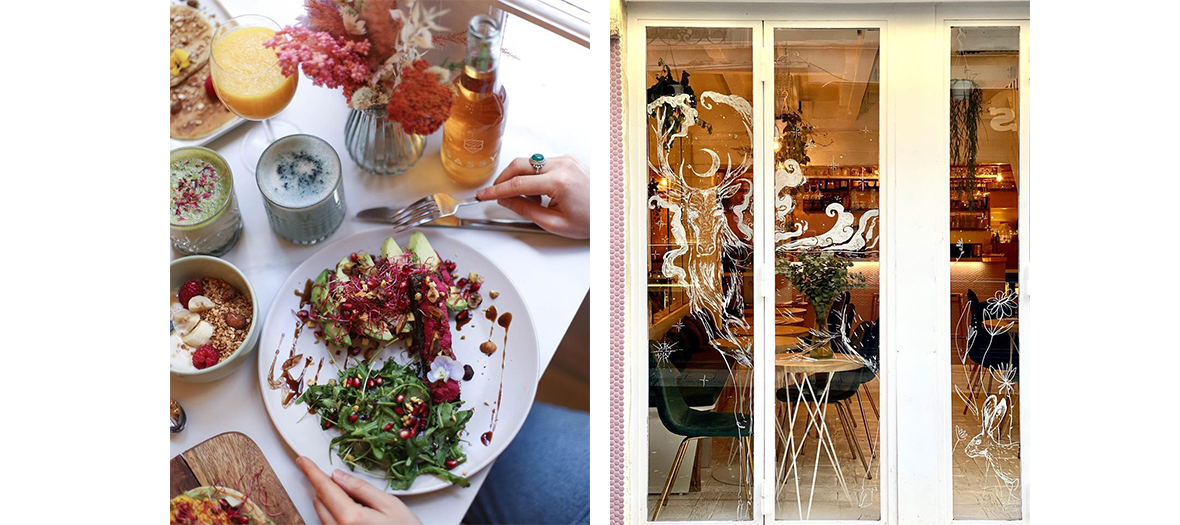 With its insta-glam' vegan bistro decor, its vegetal eats and freshly squeezed juices, it fits right in with the mood of the moment: a good and healthy restaurant, that does not leave you hungry. And is a a big revenge for non-carnivores.
Light pleasure: the velvety vegetal soup and seasonal fruit (€8), green augustine cereals-veggies-spices (€16) and for those with a sweet tooth the cheesecake coconut-black sesame noir-mango (€8).
Abattoir Végétal, 61 Rue Ramey, Paris 18th - 9 rue Guisarde, Paris 6th
The most "coffee-shop": Marcelle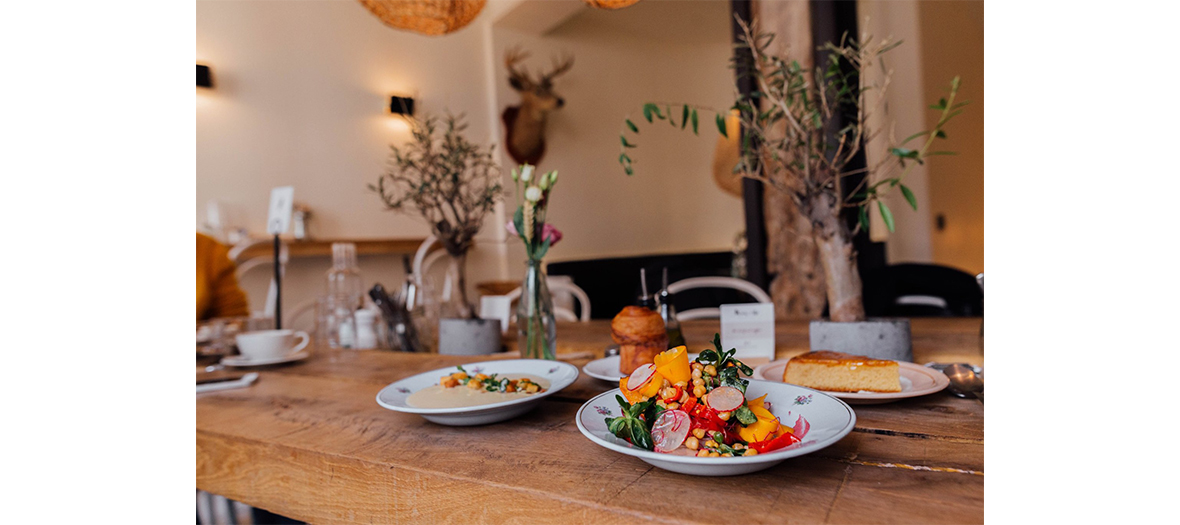 A coffee-shop on 3 levels in a bucolic and spring-like house at Étienne Marcel, where you can dig into avocado toasts, almond milk and nice veggie veggies salads.
Light pleasures: ultra couture salads with raw cabbage-pomegranate-radish-chicken & parmesan or lentils-beet-avocado-orange & feta (€15), sandwich of the day (€17) and no gluten cake (€6).
Marcelle, 22 rue Montmartre, Paris 1st
Also see Komo Kitchen, the healthy cantina everyone agrees on and Picky spring, the delivery of the best spring rolls in Paris.