Hallelujah! Hopefully the weather is turning for the better … And who says Spring, says first terraces! Now is the ideal moment to give you a list of all the new hot spots to avoid the eternal question: "where are we going?". Brunch in the sun or happy hour drinking rosé with your pals : here is our top 10 for sun-filled terraces to check out on the week-end.
MOB
Where? At the heart of the Puces de Saint Ouen flea market, on the corner of rue des Rosiers, aka "the new Brooklyn", Cyril Aouizerate, founder of Mama Shelter has opened MOB, the most awaited hotel of the year: a red brick building resemble a former renovated factory, hiding an amazing garden and a rooftop.
The promise: the new hipster phenomenon designed by Starck, should be discovered at least once, just for the eyeful. This rendezvous, largely inspired by urban farms, has its own vegetable gardens and only serves seasonal organic products.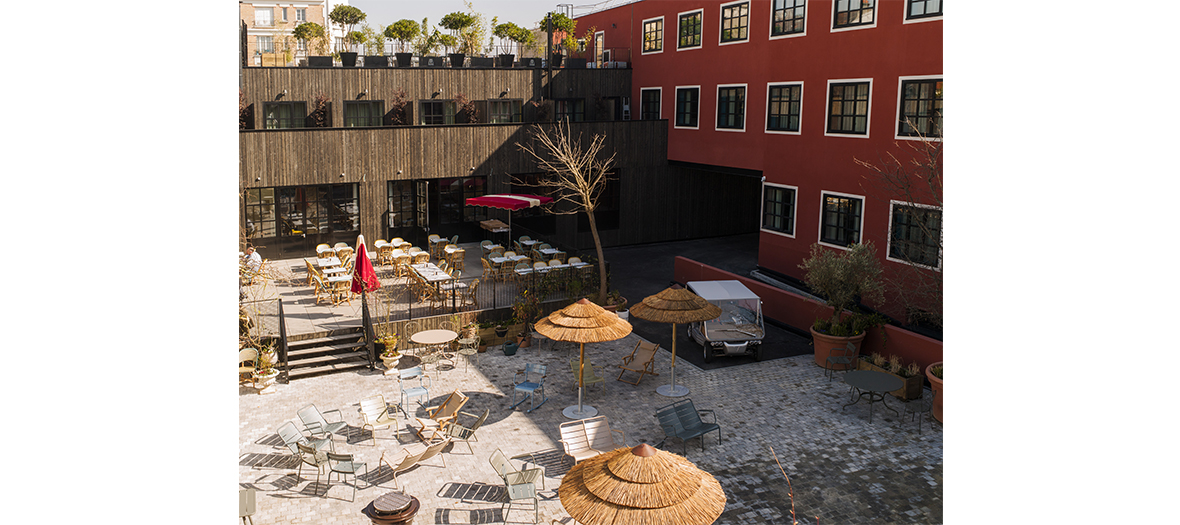 Open every day from 11h to 2h.
Mob - 4,6 rue gambetta, à l'angle du 50 rue des rosiers 93400 St Ouen - 01 47 00 70 70
Marcello
Where ? Right near Odéon, on the place du marché Saint-Germain, hides a lovely paved courtyard accessible from the porch of a secret door, replacing the former Petite Cour. It's the new secret of Left Bank twigs. Now you know.
The promise: just the kind of super trendy place we love for a quiet drink or a brunch, including during the week. Dig into a couture avocado tartine (6€), fab small sandwiches, plump pancakes (9€), antipasti, Spritz and shaker cocktails. The perfect combo for dinner with the gang. But keep your eyes peeled, you might run into your next flirt.
Plus d'infos sur Marcello.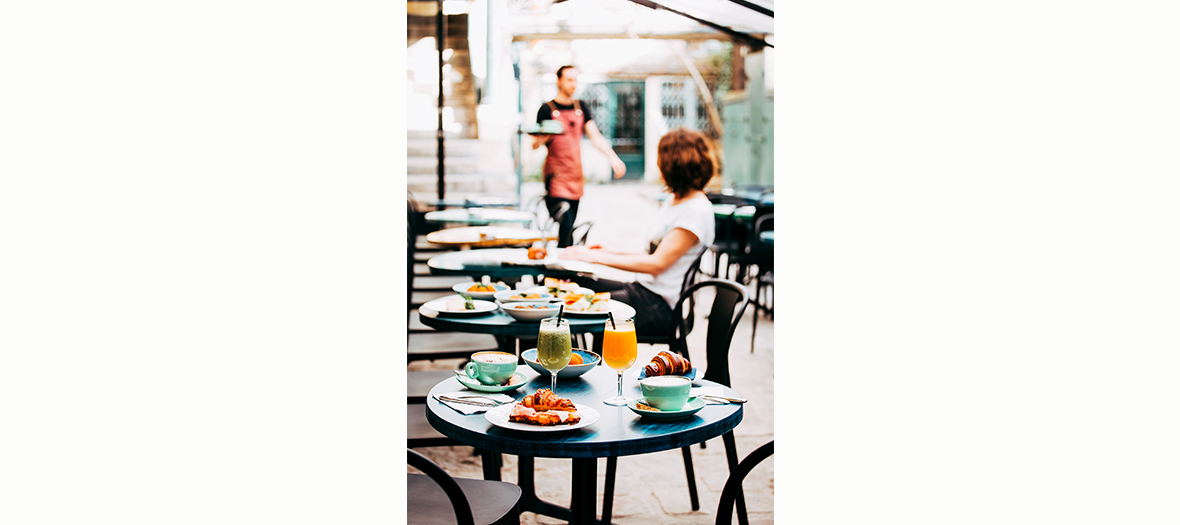 Open every day from 8h to 00h.
Marcello - 8, rue Mabillon 75006 Paris - 01 43 26 52 26
Marcella
Where ? Right off the rue de Lévis, metro Villiers, a huge very Parisian heated immense terrace where they serve all the best-sellers from Italian trattorias, orchestrated by the chef Massimo Curti from the Lombaridan region.
The promise: a chic trattoria chic where you can show up with a big group for a sunny aperitivo around a Spritz (9€) and a buonissima truffle burrata (16€), to nibble along with a plate of grilled veggies (7,5€) and a Sicilian caponata of eggplant (9,5€). Pronto ! And we have been told that the chef whips up an amazing osso buco (23€) Viva Italia.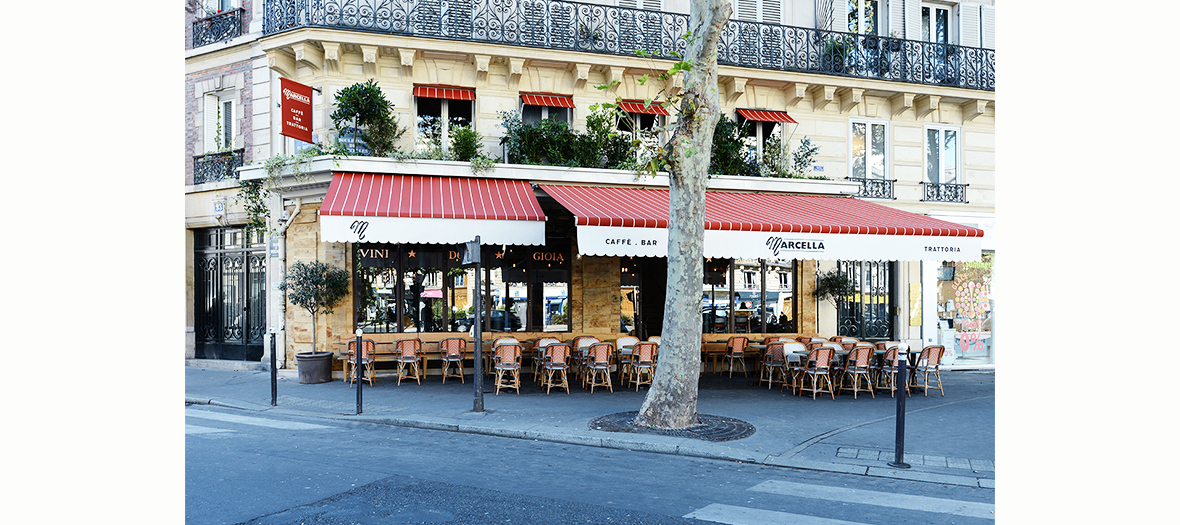 Open every day from 7h30 to 1h30.
Marcella - 1 Boulevard de Courcelles, 75008 Paris. - 01 40 08 08 25
Bambou
Where ? At the heart of the Sentier, this former sewing workshop reconverted into a trendy Thai venue hides a heated terrace for lunch or dinner.
The promise : a holiday evening in an ultra stylish courtyard and the possibility of reserving your table on the terrace, rather in Paris so we mention it. On the far-flung program: rosé (7€), tempuras (14€), dim sum and coconut milk curry (14€) . To be noted : the upcoming opening of a cocktails bar on the garden pebbles.
Plus d'infos sur Bambou.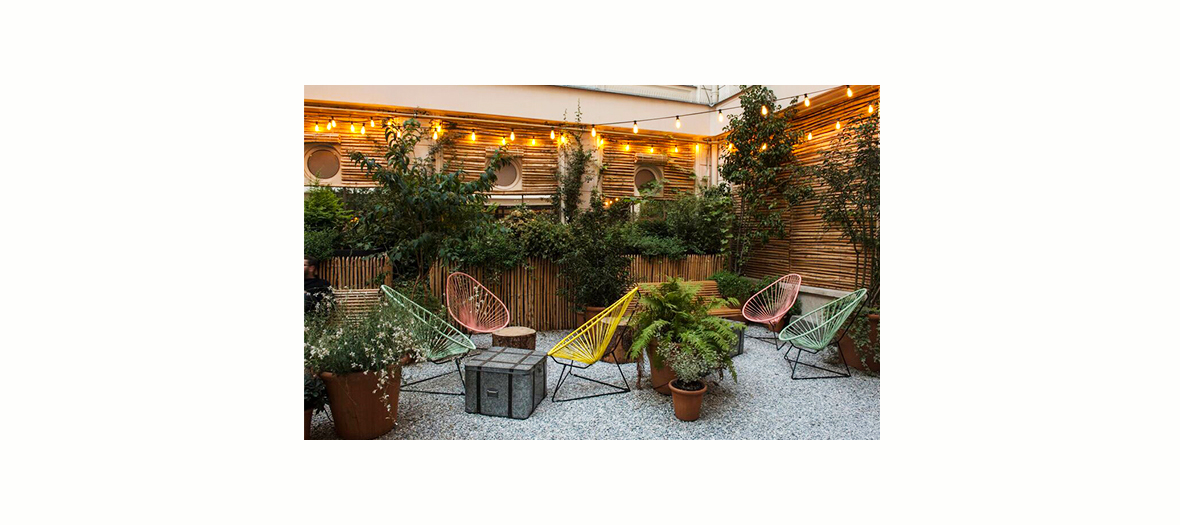 Open every day from 12h to 2h.
Bambou - 23 rue des Jeûneurs, 75002 Paris - 01 40 28 98 30
Polpo
Where? Along the Seine at Levallois, this trendy outdoors barge halfway between a tropical paradise and a sea-food brasserie in a Hamptons ambiance— signed Laura Gonzalez.
The promise: it's the ideal place to have lunch in the sun or dip drinks with friends, making you feel as though you were on a Saint Tropez beach or in a Cap Ferret shack with Gin To' (11€) and a decadent plancha (squid nuggets, sea snails and co, 27€) or a Happy Oyster cocktail hour with 6 oysters + 2 glasses of white wine for 19€.
On Sunday, the sun-filled brunch has a holiday feel . (39,5€). A must.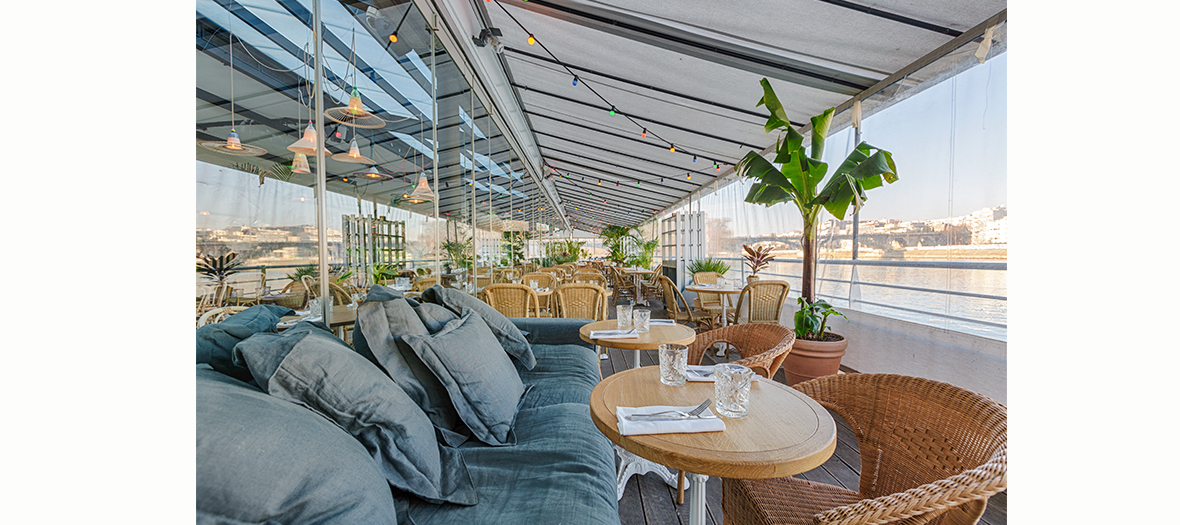 Open monday to sunday 12h00 - 15h00 / 17h00 - 23h30.
Polpo - 47 Quai Charles Pasqua, 92300 Levallois-Perret - 01 41 34 32 86
Le comptoir du Trésor
Where? Hidden in a pedestrian dead-end at the heart of the mundane Marais, the must-go Trésor has just opened a kid brother, Comptoir du Trésor. While waiting for its "lobster and burger" concept directly inspired by London, since last month this new place is offering a rather amazing brunch.
The promise : a super sexy all you can eat brunch for Sunday gourmets with viennoiseries, vitamin-filled juices and warm drinks, charcuteries, cheese, oysters and seafood. They also have some divine warm dishes (meat, fish andt veggie), cakes and tarts for those with a sweet tooth (37€).
Découvrez aussi son grand frère Le Trésor.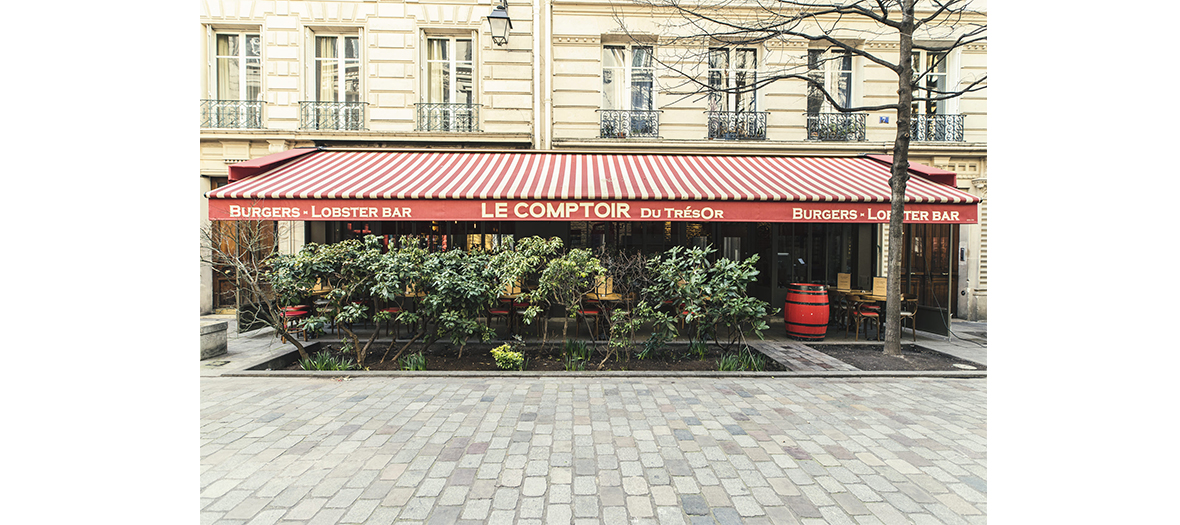 Brunch servi en continu de 11h à 16h tous les samedis et dimanches.
Comptoir du Trésor - 7, rue du Trésor - 75004 Paris - 01 42 71 35 17
La Guinguette d'Angèle
Where? New to the trendy coffee shops and restaurants of Saint-Ambroise, next to Niçois and facing The Beans of Fire, Angèle, the muse of healthy food in Paris, has just set down her charming garden chairs and her bucolic flower pots to set up her second guinguette. Twigs are all delighted !
The promise : a lunchbox filled with great eats (tuna spread, houmous with curcuma, snap peas with pesto…11 €), a small light salad (millet with mint and cranberries, beet, 7€), vegan cakes, all organic and gluten-free of course. Detox juice (3,50€) and infused water to enjoy on a "country in Paris" terrace.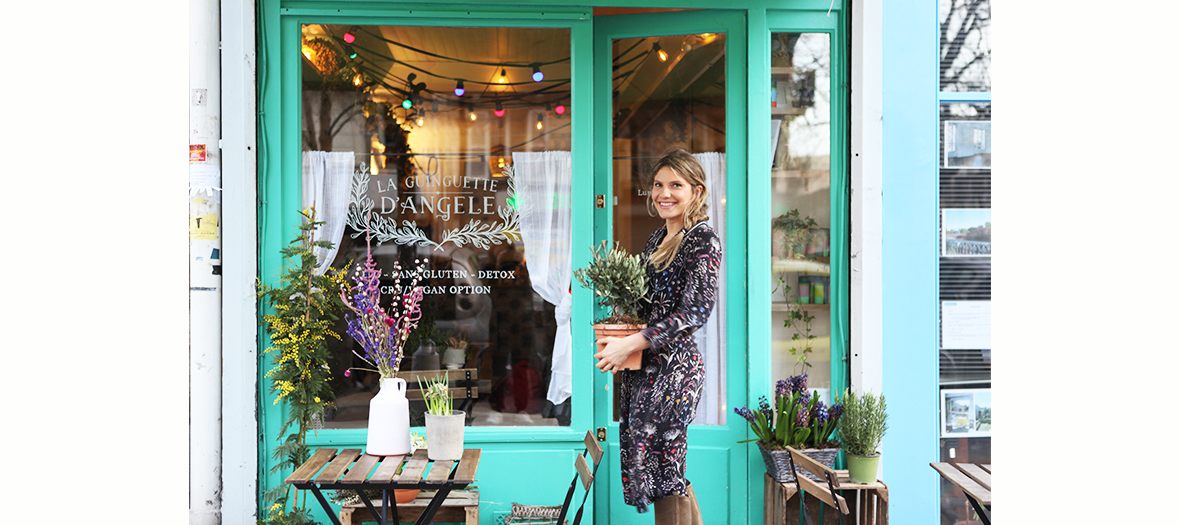 La Guinguette d'Angèle, 2 rue du Général Renault 75011 - 09 81 81 05 65
Otto
Where? A skip and a hop from Place de Clichy, in a small dead-end street both urban and bucolic hides Bal, a place for arty encounters with a wild terrace sheltered from the urban jungle. There you will find a brand new trendy café: Otto, where the Austrian foodie girl Lisa Machian is creating the buzz.
The promise: a twist between a coffee shop and a Viennese café where you come to dig into their früstuck, a great Austrian breakfast (soft boiled eggs, ham, Abondance, fresh farmer cheese with herbs, rye bread and butter at 15€) or a Birchermüsli (7€). And let's not forget their famous Wiener schnitzel, et as well as sweet treats in the afternoon: marbled cake, cheesecake with bergamot, sachertorte. Wunderbar!.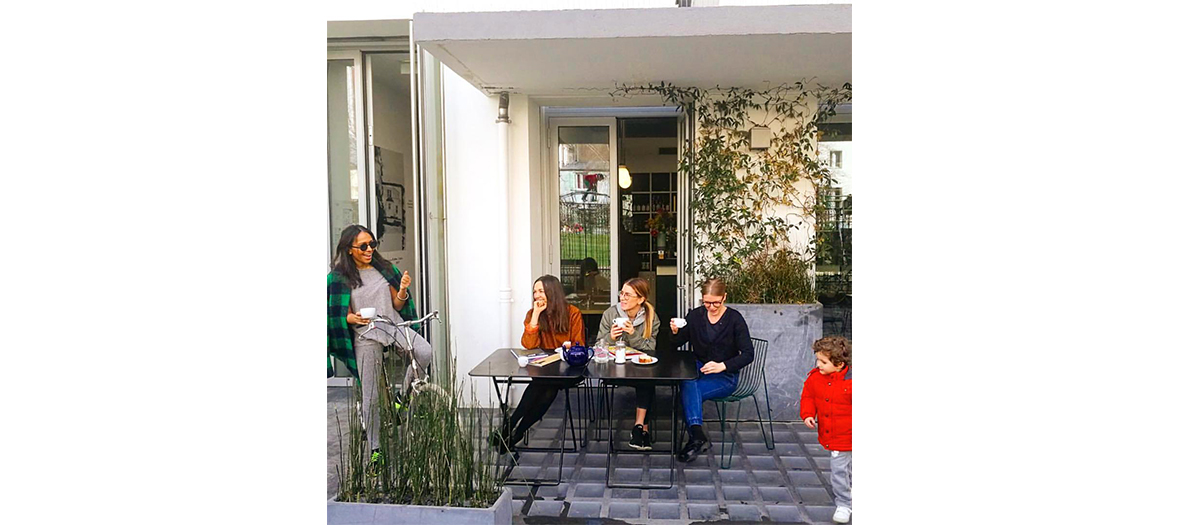 Open every day from 11h to 20h. Close monday and tuesday.
Otto, 6 Impasse de la Défense, 75018 Paris - 01 44 70 75 50
Nodana
Where? In the popular hood of Charonne, this corner terrace has just opened with vintage café tables, a market driven menu and a trendy staff. In short, the new hot spot to whip out your sunglasses for a healthy lunch with the gals or a fun happy hour with your gang of buddies.
The promise : a very joyful pit stop in this Eastern part of Paris that has retained its local soul. You come for the great eats of bistro classics (raw beef tartare, an authentic confit de canard) and veggie style options: quinoa salad, avocado, feta (10,80€), veggie burger (13,80€). And for the super chill ambiance after work, sipping amazing house cocktails (starting at 9€) and feel-good nibbles to share: burratina from the Puglia region, meatballs, fried chicken, sweet potato fries (6,50€). Uber cool.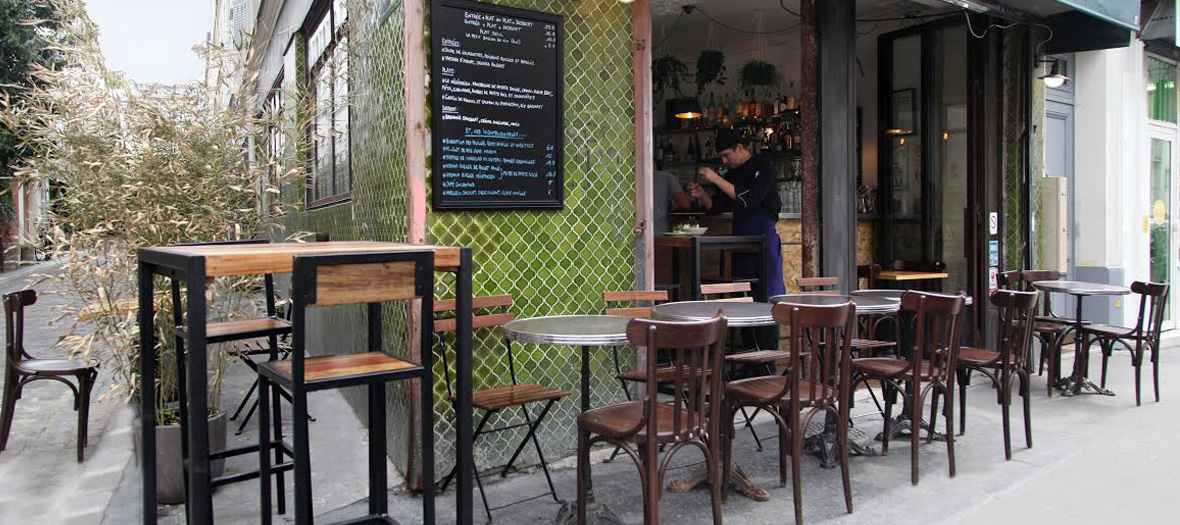 Open every day from 11h to 2h.
Nodana, 48 Rue Léon Frot, 75011 Paris 01 43 79 20 80
Also discover the new trendy bars.