For a birthday , a drink with friends or even a reception for no particular reason, for 2 or 20 people, organizing an aperitif at home can be a real headache. Unless… To avoid (for pity) the endless cherry tomatoes and hummus , the editorial staff gives you its 5 favorite references that provide you with all the paraphernalia for a stylish cocktail.
The most elegant: Lenôtre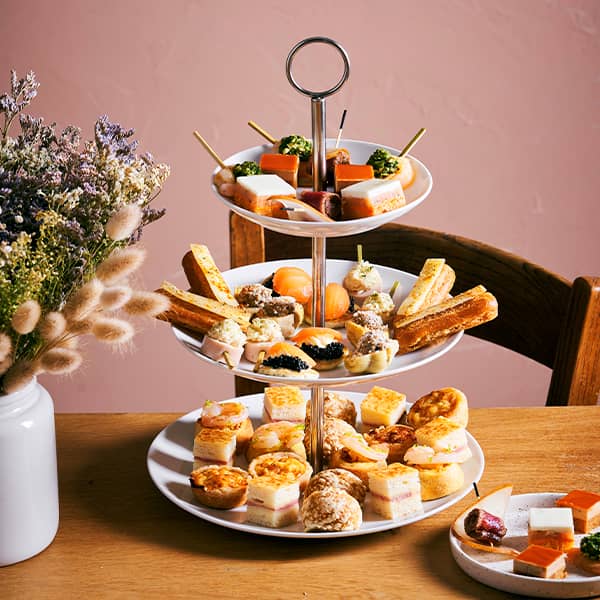 No risk with Lenôtre : it's always a good idea that never disappoints. The venerable house offers a top-notch catering service and extremely chic petits fours to impress its guests.
In my basket: we simply opt for a tray filled with pretty canapés like the Rayonnant made up of 22 pieces (chicken, Comté cheese and creamy feta; potatoes in a bouillabaisse juice and crispy; gourmet cabbage in the mimosa & chive spirit, broccoli in semolina - Vegan finger of white Greek & button mushroom; small potato and carrot roll, €54) or the Tentation (gougère with cheese; mini croque-monsieur with ham and cheese; small quiche from Lorraine, Lenôtre style; mini turkey hot-dog, €38 ).
Delivery: Monday to Saturday, free from €150. Free withdrawal in store from 10 a.m. the same day.
Orders on lenotre.com
The most wow: Tables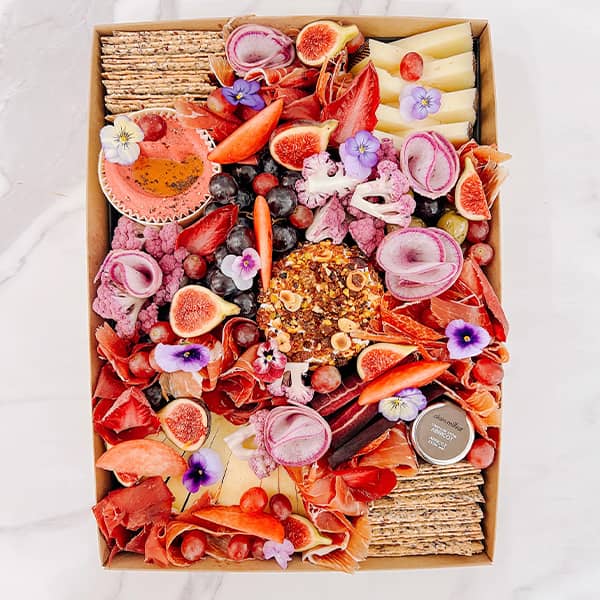 The creations of Tableaux resemble works by Arcimboldo : in a rectangular tray, a tangle of cheeses , charcuterie , nuts and raw vegetables that it is difficult to begin with as the visuals are superb.
In my basket: you choose your tray according to your preferences. All purple and orange, the Grand Pollock overflows with beet hummus, Cantal AOP, fresh goat cheese with apricots and roasted hazelnuts, Spanish manchego (pasteurized milk), bresaola , crackers, olives, figs, grapes, Alain Milliat jams ( €94.90) or the Grand Signature with Autumn Truffle and its truffled delicacies. We add a bottle of Ruinart (€49) for the total turnkey.
Delivery: we order no later than the day before at 5 p.m. and as far in advance as possible.
Orders on tableauxparis.com
The easiest: Frichti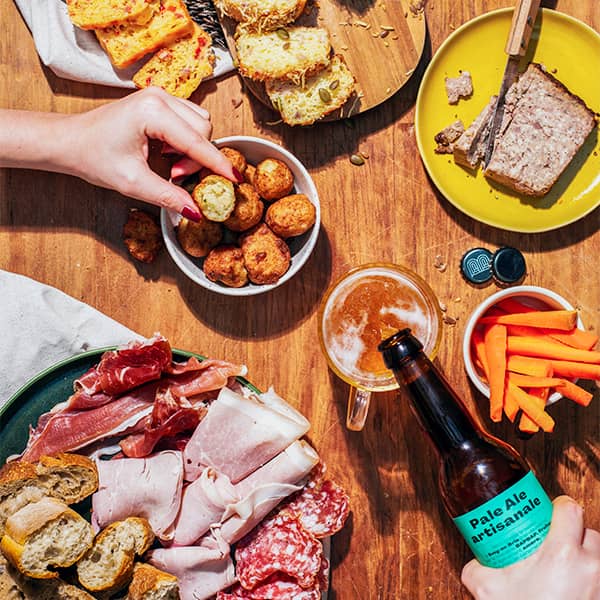 In addition to its lunches that are too good to have delivered to the office, Frichti has become the perfect aperitif dealer, a veritable online delicatessen that promises a selection of handpicked products.
In my basket: with Maison Montalet sausage (€5.90), burrata with truffles (€3.20), coppa (€3.90), cod accras (€2.90), pâté en croute (2, €79), falafels (€2.90), grilled aubergines (€3.99), Prosecco (€9.90), grilled cashew nuts (€3.19), tzatziki Mavrommatis (€4.29), as well only good bottles of wine.
Delivery: your purchases are delivered in 15 to 20 minutes. Free delivery from 50 €.
Orders on frichti.co
The most iodized: Our Aperitif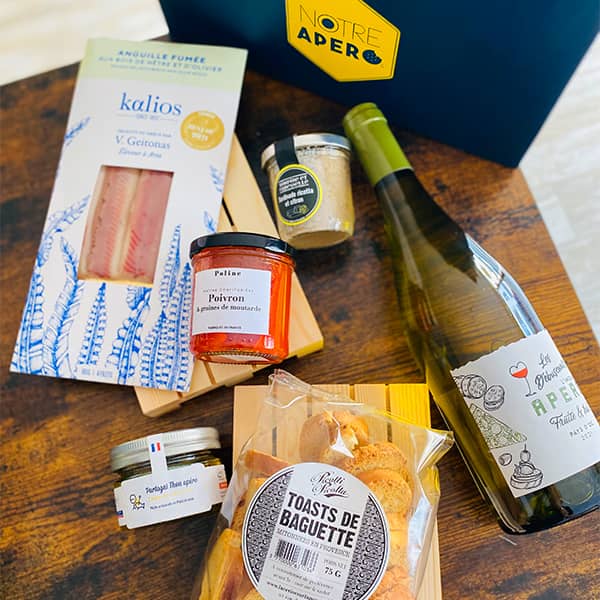 They have downright made the aperitif their religion, and even a business model . Our Apéro takes hold of this cocorico tradition by offering turnkey boxes filled with fresh and seasonal products carefully selected from local artisans and producers . The little novelty? We don't care, for the charcuterie jaded .
In my basket: an iodized selection with cubes of tuna in olive oil, smoked eel in beech and olive wood from Maison Kalios , lemon ricotta sardine , pepper and mustard seed jam from Maison Poline as well as baguette toasts to spread it all and a bottle of white wine that goes down well (€54 for the set).
Delivery: Our Apéro delivers to intramural Paris, on a delivery window. Last order possible at 5 p.m. for delivery between 6 p.m. and 8 p.m. Delivery is estimated at €9 per courier.
Orders on notreapero.fr
The sharpest: Kaviari Delikatessen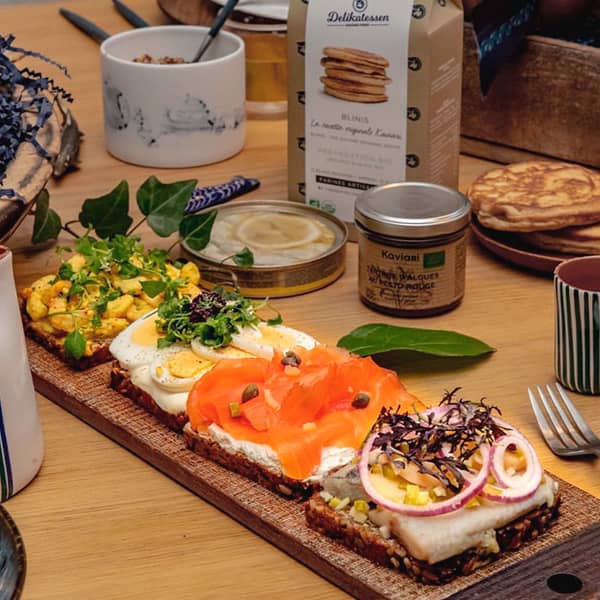 Or when the delicacy of tastes and flavors is available until aperitif time. The Kaviari caviar house has a delikatessen counter in the heart of the Marais in the style of a delicatessen and canteen for lunch, where you can grab sexy baby seafood products for an iodized and elegant aperitif.
In my basket: a truffle tarama ( € 17) accompanied by homemade blinis made with organic wheat flour and salted butter, tuna rillettes which are always popular (€11.50), some herring marinated in dill to put on a nice slice of bread (€11.50) and a portion of prestige osciètre caviar just to enhance your coffee table.
Delivery: for orders placed on the site , possibility to choose the desired date of receipt. For orders placed before 12 noon, delivery will be made within 24 hours (48 hours after this time).

Also discover Monbleu, a dining cellar in the Marais and 7 dinners to take away to impress your friends