Lovers of all kinds of grilled meats and chill outs are thrilled. Where to have a good barbecue in Paris ? Because more than a gourmet love, the BBQ is a lifestyle… And for those who would like to extend their holidays, here are the restaurants that will transport you there in terrace and rosé mode for an Indian summer made in Paris.
The most bucolic chic: Waldorf Astoria Trianon Palace
The place. A small neoclassical paradise nestled just opposite Versailles , the dream. This summer, the Trianon Palace welcomes its ephemeral terrace in the gardens for a top-of-the-range barbuc' with Frédéric Larquemin at the helm, the chef of the palace, who worked for Alain Ducasse and the Plaza Athénée.
On the grill. Pieces of meat, fish, seafood and vegetables in plancha mode grilled on a brazier 2.0, the OFYR to be enjoyed to the sound of a DJ-set. All washed down with the Grand Brut cuvée, Blason Rosé or Blanc de Blancs from Perrier-Jouët, selected by the palace sommelier.
Trianon champêtre , 1 boulevard de la Reine, 78000 Versailles. Grills from 7 p.m. to 10:30 p.m. on Thursday and Friday, from noon to 2:30 p.m. on Saturday. Formula 55 € per person. 01 30 84 50 00.
The most barge: Quai Ouest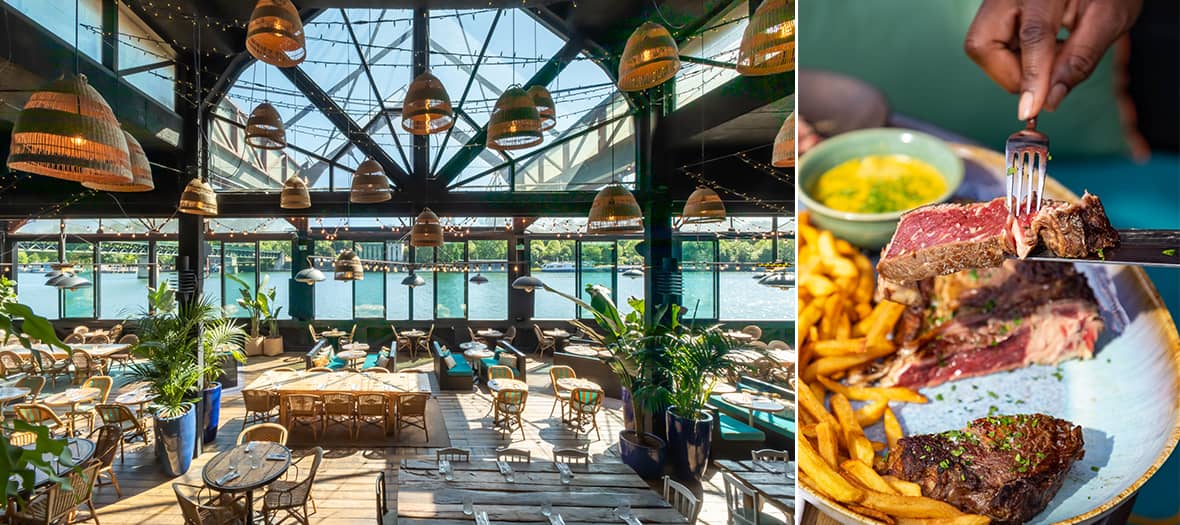 The place. A pretty restaurant designed like a chic guinguette with a cozy decor: large tables, lanterns and soft cushions in this brasserie on the water. A terrace with a view of the grill for sunny days, and a huge covered room for those who are still chilly. Cool: the foosball corner to occupy your raging teenagers while the adults finish eating.
On the grill. The meat and fish are the real strong point of the establishment. That's good, the cook surpasses himself every Wednesday evening to prepare a quality barbecue with a choice of: grilled lobster and its Breton curry mayo (€39) or Chuck short rib of beef (400 g. anyway) confit and smoked 3 p.m., accompanied by its homemade barbecue sauce (€31), all served with grilled vegetables or new potatoes with parsley, mmhh!
West Quay , 1200 Quai Marcel Dassault, 92210 Saint-Cloud. Every Wednesday evening. 01 46 02 35 54.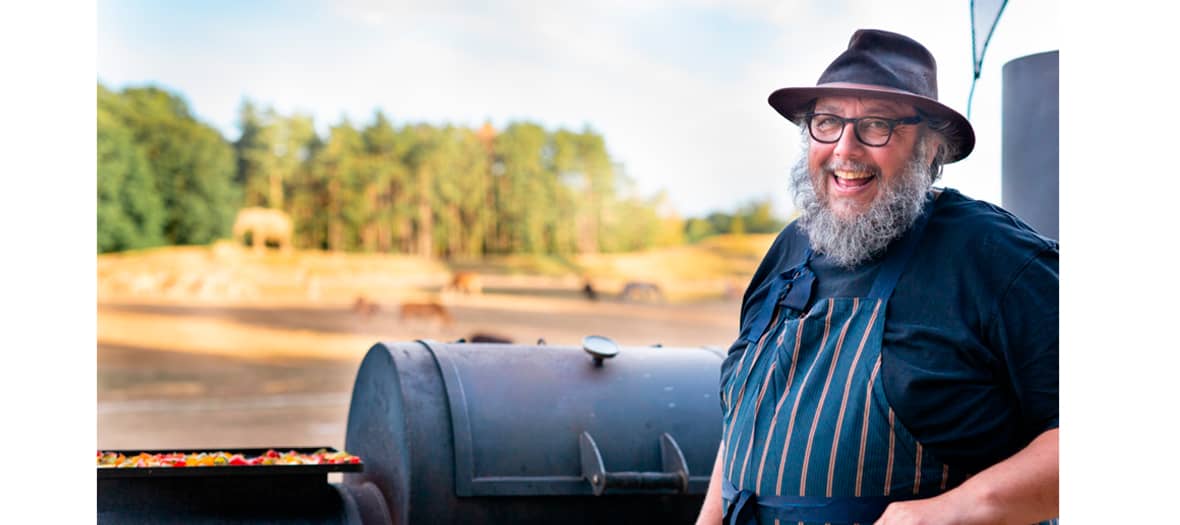 Breaking news of the summer! Ultra-coveted, the king of barbecue Kobus Botha , has set up his "Kobus Braai" - a huge traditional South African bbq at Thoiry Zoo, to (re)discover the King Master of the barbecue every Friday for a highly unusual evening. The opportunity to take a guided excursion in this safari, included in the formula.
On the grill. Cooking over an extraordinary wood fire, like in South Africa, is Kobus' signature. The must ? An aperitif at the top between appetizers of biltong, halloumis cheese, grilled vegetables galore. For dinner: shredded beef or whole salmon, to accompany braided mozzarella, chakalaka, sambal, plate of vegetables and legumes with curry and grilled butternut salad.

Safari dinner , every Friday from 6:45 p.m. Formula €125, €95 for children. Online reservations .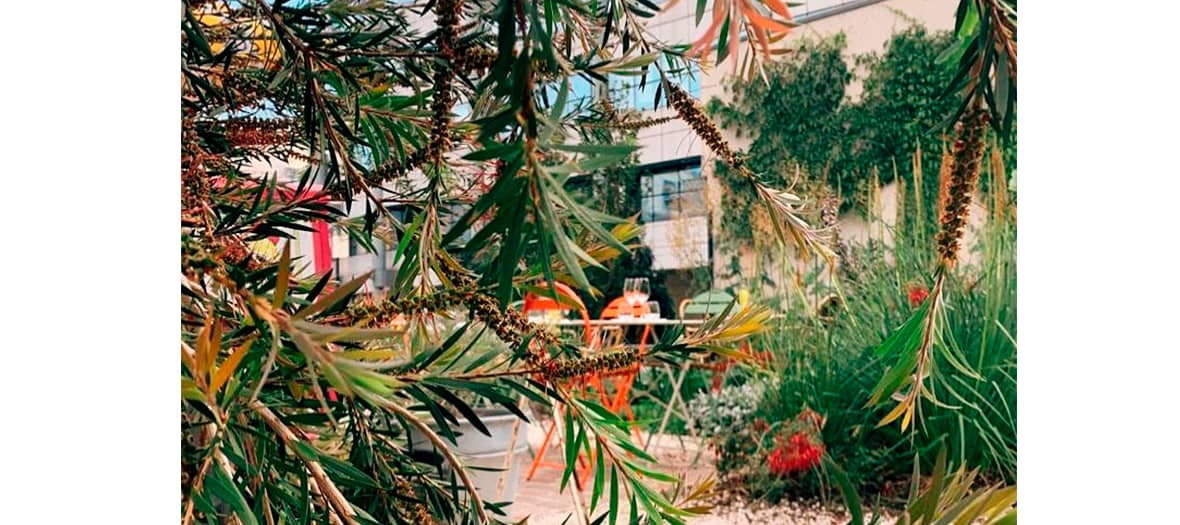 The place. Laia , baby of Pierre Doublet and Quentin Garreau de Labarre , has moved to the far end of the courtyard of the stylish Deskopolitan coworking space, in place of an old Parisian distillery.
On the grill. In the kitchen, Marco Bernardo , passed by the George V and at Alain Ducasse , works wonders. The chef has made robata cooking, a Japanese-Iberian barbecue, his specialty. Charcoal cooking gives an insane flavor. The result is a grilled octopus (€26), an extraordinary beef tartare (€11) and grilled sirloin and asparagus (€24). Without forgetting to wash down the feast with a bottle of Tarragona bubbles (€44).
Open Tuesday to Saturday, 10 a.m. to midnight. Online reservations . Laia Restaurant 226 boulevard Voltaire, Paris 11th .
The most guinguette: Rosa Bonheur in Vincennes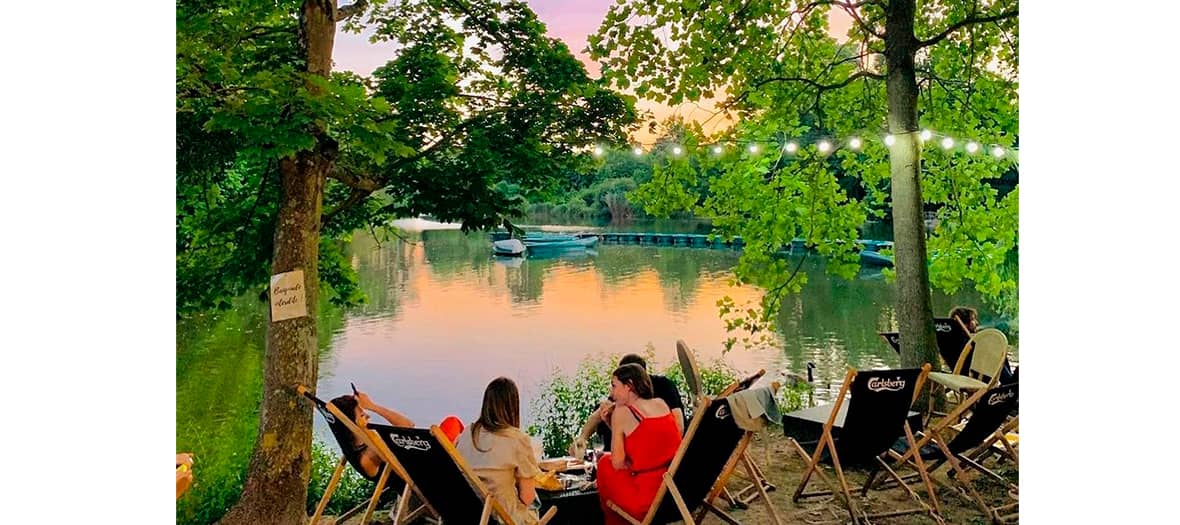 © Instagram / @marielaetitia_paris
The place. Do you visualize the Chalet de la Porte Jaune, in the Bois de Vincennes? Cool ! The iconic Rosa Bonheur guinguette has settled there to make it the unmissable spot in eastern Paris: music, barbecue and pétanque court by the water. Country, green and trendy as we like.
On the grill. Mimi, the boss, wanted to pay tribute to her Camargue sources. It gives a BBQ stand over a wood fire with 3 mini skewers of bull merguez, bull sausage and rump steak, chicken skewers marinated in lemon (€18), served with new potatoes and an aioli sauce to accompany pints , cocktails or lemonade...
Rosa Bonheur , Yellow Door, Avenue de Nogent, Paris 12th.
The most rural: The Island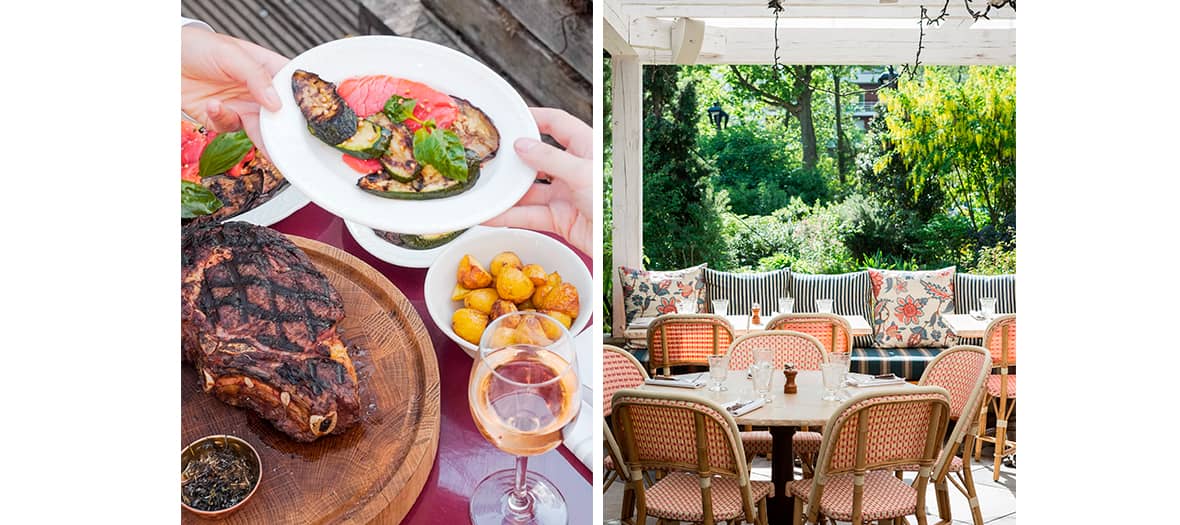 The place. Designed as a farmhouse with the Soho House touch directed by Laura Gonzalez , L'Île promises a country house 10 minutes by Uber from the Etoile... All summer long, Operation Brasero & Rosé arrives on the garden of the ultra-trendy terrace. What to make delicious grilled meats, a glass of rosé in hand. Isn't life beautiful?
On the grill. The unmissable Irish Cut rib of beef and its homemade Béarnaise sauce (€69 for 2 people). Or even the spicy-marinated free-range churrasco half-chicken to accompany with baby potatoes and grilled vegetables (€28 for 2 people).
The Island , 170 Quai de Stalingrad Parc de l'Ile Saint-Germain, 92130 Issy-les-Moulineaux.
The most urban: La Démesure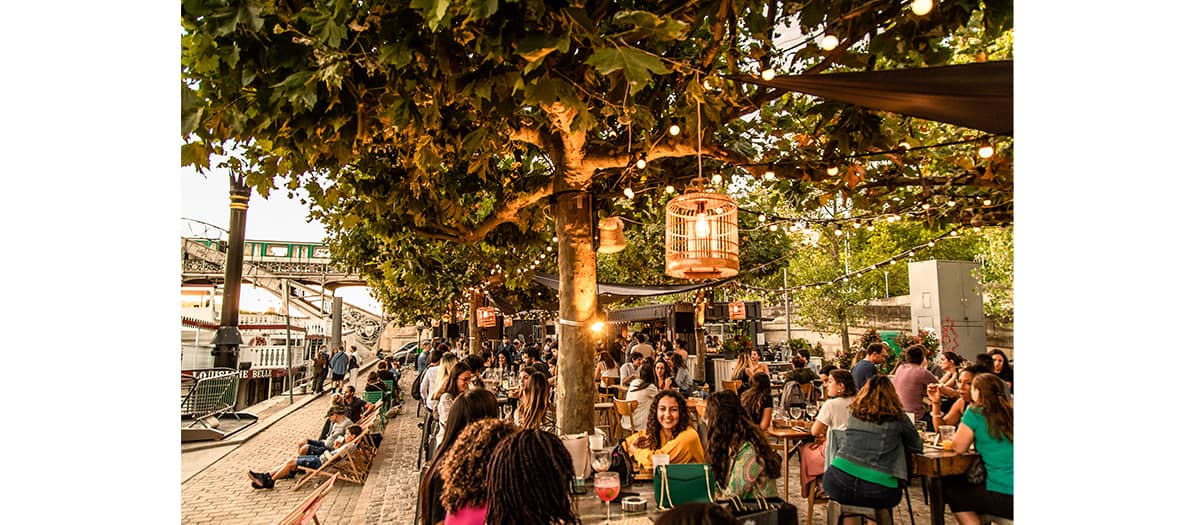 The place. Not one but two terraces taken over by La Démesure , the baby of Filipe Alves . On the program: stand-up , concerts , cabaret for crazy evenings. The director Nicolas Ullmann offers live musical performances and concerts while the headliners of humor Jeremy Lorca and Nordine Ganso or Laurie Peret put on the show all evening. Happiness.
On the grill. What gives? The " earth bbq " with beef skewers , chicken wings , lamb kofta and merguez sausages (€26). Craving fish? Instead, it will be skewers of salmon, prawns or squid (€24), all cooked on an incredible grill from Sweden. To accompany with potatoes with chive cream , sweet potatoes with thyme butter and old-fashioned mustard, aubergines with Tahini cream and parmesan or grilled corn with semi-salted butter... a bottle of organic Chardonnay Ecoterra (€33) or a delicious cocktail (€12).
Reservations recommended Monday to Saturday from 12 p.m. to 2 a.m. La Démesure en Scène - Est 69 port de la Rapée Paris 12th.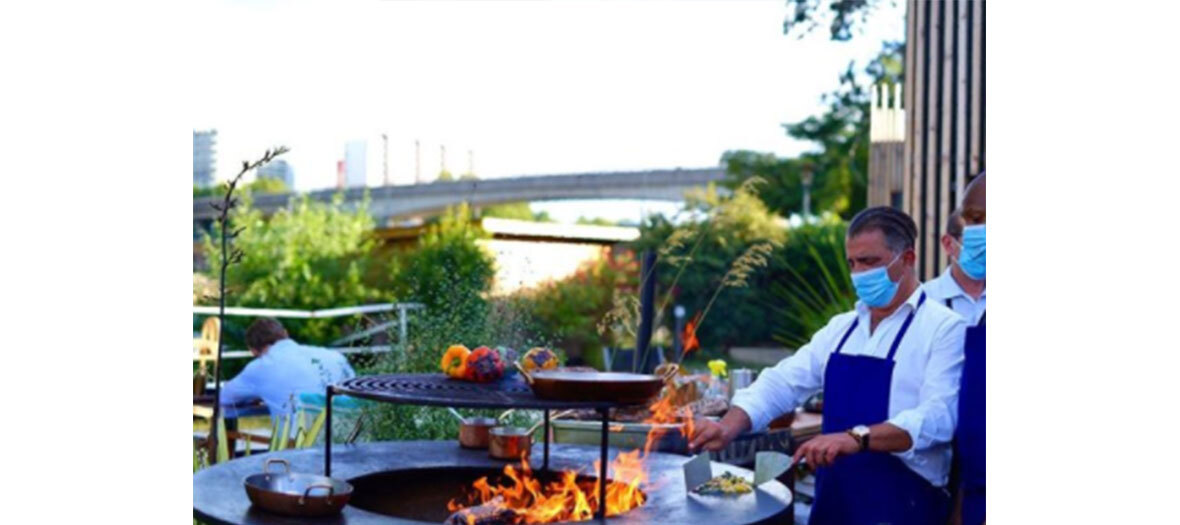 The place. Splash is the new address signed Hakim Gaouaoui and Topchef Norbert Tarayre which is a hit in the west of Paris with the local jet-set at the rendezvous. The mood? Asnières is the new Saint-Trop'. The idea: rediscover the spirit of the private beaches of Pampelonne with a swimming pool and good sound.
On the grill. A brazier placed by the pool where the chef is grilling exceptional cuts sold every day this summer: crazy beef fillet (€49.50), secreto, a piece of soy-lacquered pork and grilled vegetables (€39 €50) or downright prime rib served with béarnaise fries (€54.50). Wash it all down with a pool of Château La Mascaronne rosé (€10) or a cocktail (€15). It is paradise.
Reservations recommended on 01 47 98 30 45 or online . Splash Port Van Gogh, Asnières-sur-Seine 92600 Asnières Sur Seine – Access via the Pont de Clichy.
The most bistronomic: Marcore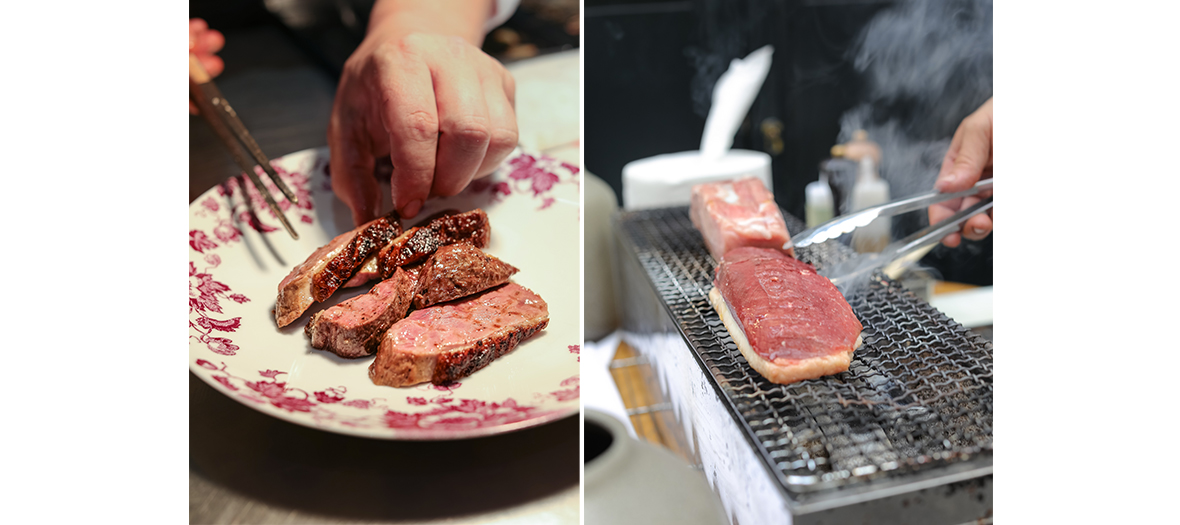 The place. Marc Favier , starred hat of his brilliant Marcore, has installed an incredible pedestrian terrace directly from the extremely cute rue des Panoramas. Its uniqueness? Work an author BBQ for the whole summer. It's like being in Provence a few steps from the Bourse. Great !
On the grill. Faithful to his work of excellence, the chef plays it cool but with exceptional products and ultra-sharp cooking over a wood fire provided by a Binchotan barbecue (the hobbyhorse of great chefs). The result: a pomegranate-sumac red tuna (€32), tomato-olive-basil prawns (€36), a black Baltic beef sirloin with its beainaise (€36). And to feel like your feet are in the sand: saddle of lamb rolled in a black olive crust to share (€70). All served with an insane mashed potatoes, super fries, spinach au gratin with Comté cheese and candied lemon or a salad.
Marcore , 1 rue Panoramas, Paris 2nd. Reservations recommended on 01 45 08 00 08.
Also discover: The new rooftops to squat this summer and the most beautiful outdoor evenings of the summer .