Grill enthusiasts and chill-out lovers are eagerly waiting. Where to have a good barbecue in Paris? Because more than just a delicious treat, BBQ is a lifestyle... And for those who want to extend their vacation, here are the restaurants that will transport you there with their terrace vibes and rosé, offering an Indian summer made in Paris.
The most bucolic chic: Waldorf Astoria Trianon Palace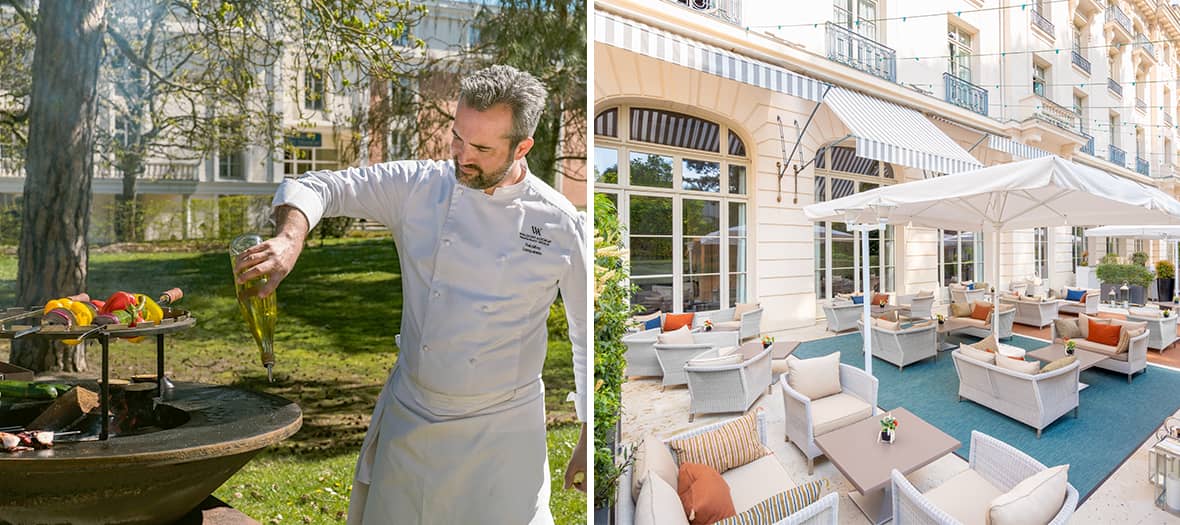 ©Cyril Monty
The place: A small neoclassical paradise nestled just across from Versailles, a dreamy location. This summer, Trianon Palace welcomes its ephemeral terrace in the gardens for a high-end barbecue, with Chef Frédéric Larquemin in charge, who previously worked at Alain Ducasse and Plaza Athénée.

On the grill: Forget about meat, as the menu is focused on fish, seafood, and vegetables grilled on a 2.0 brasero called OFYR. Enjoy your meal with the background sounds of a soft DJ-set or bohemian music. Pair your dishes with selected champagne by the palace's sommelier or try a Spritz with bergamot liqueur (€24). End your meal with a refreshing ice cream (€6) or a summer dessert by Chef Eddie Benghanem. Simply fantastic!

Garden Barbecue, 1 Boulevard de la Reine, 78000 Versailles. No reservations on Thursdays, Fridays, and Saturdays from 7 pm to 9:30 pm (arriving at 6:30 pm is highly recommended). €55 per person for a menu including 3 skewers and sides.
The most barge: Quai Ouest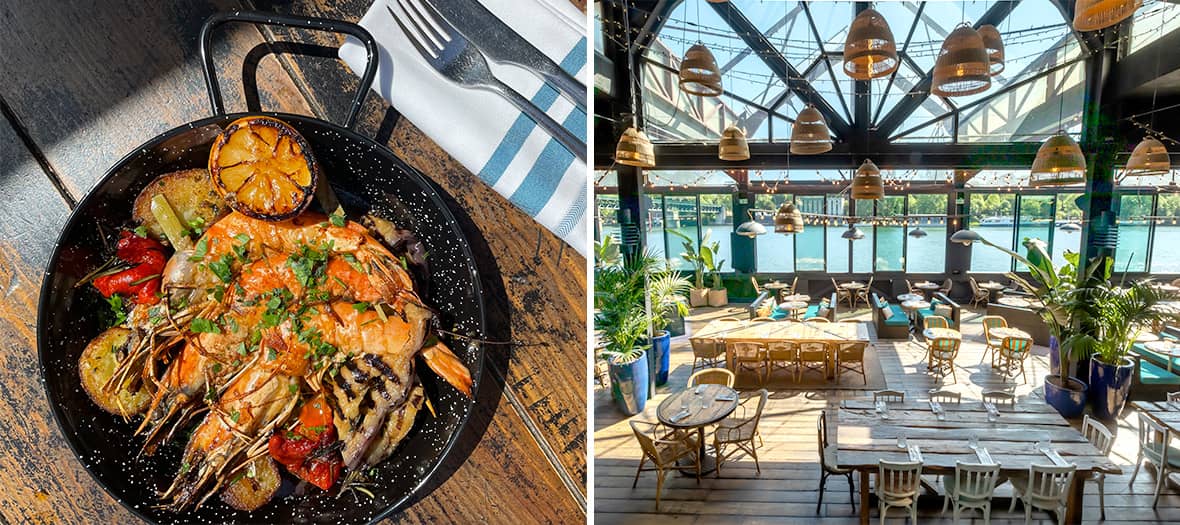 The place: A charming restaurant designed like a chic guinguette with cozy decor: large tables, lanterns, and comfortable cushions in this waterside brasserie. A terrace with a view of the grill for sunny days, and a vast indoor area for those who still feel a bit chilly. Plus, a babyfoot corner to keep your lively teens entertained while adults finish their meal.

On the grill: Meats and fish are the real highlights of this establishment. Every Tuesday evening, the chef outdoes himself preparing a quality barbecue with a choice of: Beef Onglet with Thai marinade (€28) and Rum-flamed Gambas (€28.5), both served with grilled vegetables or parsley potatoes, cooked on-demand. A real holiday atmosphere!
Quai Ouest, 1200 Quai Marcel Dassault, 92210 Saint-Cloud. Every Wednesday evening. 01 46 02 35 54.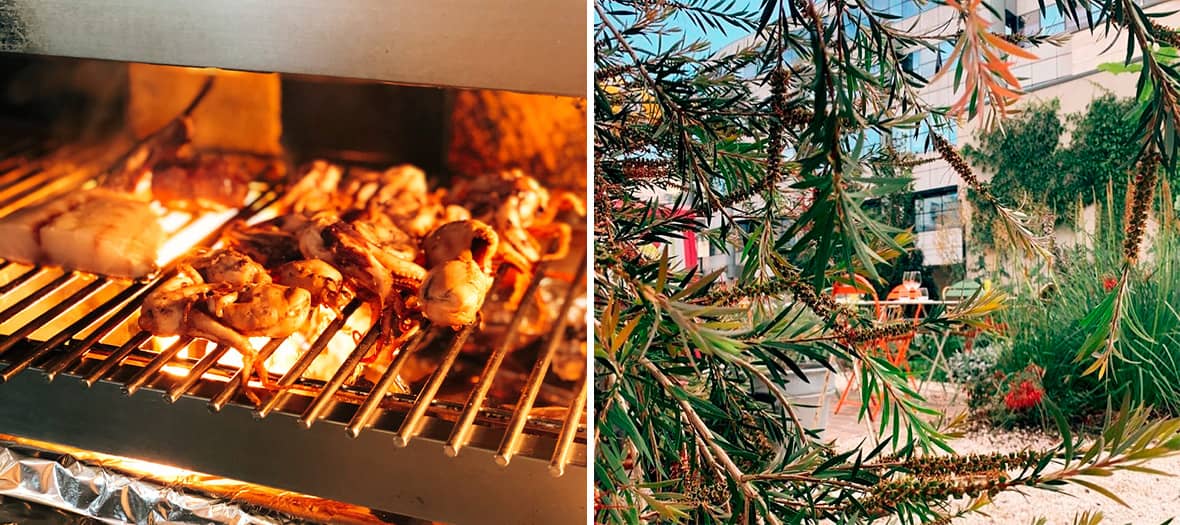 The place: Laia, the brainchild of Pierre Doublet and Quentin Garreau de Labarre, settled at the back of the stylish coworking space Deskopolitan, taking the place of a former Parisian distillery.

On the grill: The talented chef Tania Cadeddu has been in charge since January 2023 and is creating wonders. She reinterpreted the cuisine with the robata, a Nippo-Iberian barbecue, Laia's specialty, with Sardinian influences. The result is a Robata Octopus with artichoke cream and smoked herring condiment (€26), an extraordinary farmer's pork belly with tatemada sauce and baby peas (€21), and a rib-eye steak for two with piquillo pepper aligot, artichoke, and mushrooms... All paired with a bottle of Monteverdi bubbles (€43).

Laia Restaurant, 226 Boulevard Voltaire, Paris 11th. Open from Tuesday to Saturday, from 10 am to midnight. Online reservations.
The most guinguette: Rosa Bonheur in Vincennes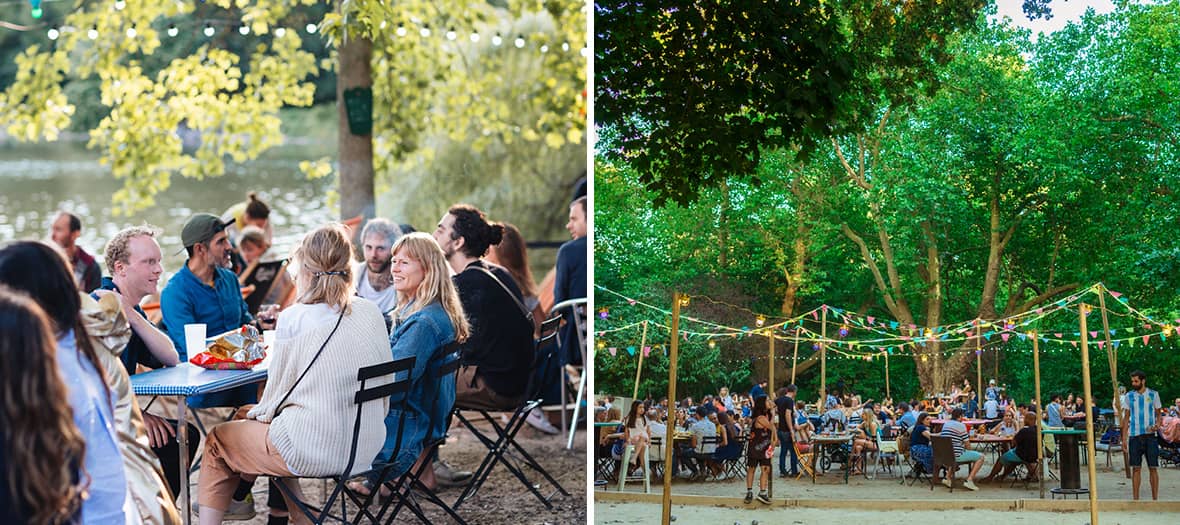 The place: Can you picture Chalet de la Porte Jaune, in Bois de Vincennes? Great! The iconic guinguette Rosa Bonheur has settled there, making it the essential spot in East Paris: music, barbecue, and pétanque pitch by the water. Rustic, green, and trendy, just the way we like it.

On the grill: Mimi, the boss, wanted to pay tribute to her Camargue roots. This led to a wood-fired BBQ stand with chicken skewers, peppers, onions, and cherry tomatoes (€16), a Camargue platter with bullfight pork sausages and marinated bull meat (€16), and gratinéed mussels (€10). All to be accompanied by cocktails or lemonades...

Rosa Bonheur, Porte Jaune, Avenue de Nogent, Paris 12th. Open from Wednesday to Thursday from 5 pm to midnight, Friday from 5 pm to 2 am, Saturday from 12 pm to 2 am, and Sunday from 12 pm to 10 pm.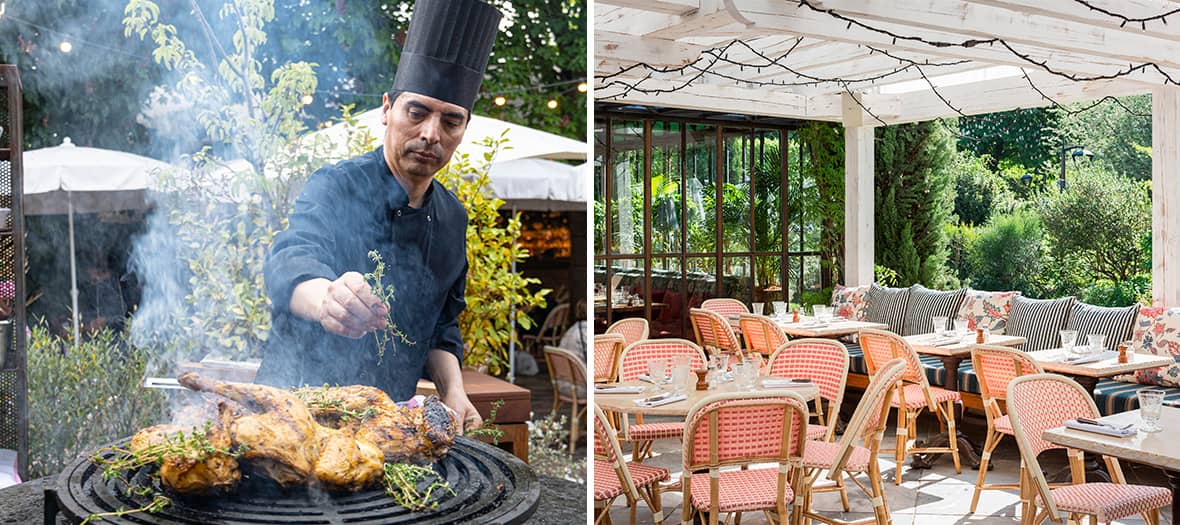 The place: Designed as a farmhouse with the Soho House touch staged by Laura Gonzalez, L'Île promises a countryside house just 10 minutes away from the Étoile via Uber... All summer, the Brasero & Rosé event takes over the ultra-trendy terrace garden. Treat yourself to delicious grilled dishes with a glass of rosé in hand. Isn't life beautiful?

On the grill: The unmissable Irish Cut rib-eye steak with homemade béarnaise sauce (€72 to share). Or the grilled duck breast with rosemary and baby potatoes (€59 for two people).

L'Île, 170 Quai de Stalingrad, Parc de l'Ile Saint-Germain, 92130 Issy-les-Moulineaux. Open from Monday to Thursday from 11:30 am to 3 pm and from 6:30 pm to 11 pm, Friday to Saturday from 11:30 am to 3 pm and from 6:30 pm to 11:30 pm, and Sunday from 11:30 am to 4 pm and from 6:30 pm to 11 pm. 01 41 09 99 99.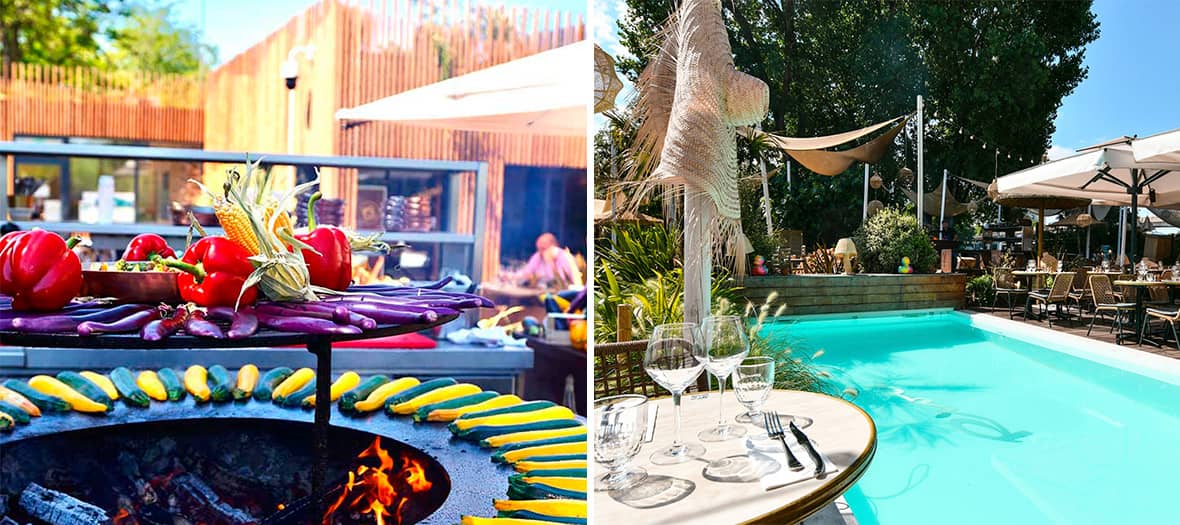 The place: Splash is the address by Hakim Gaouaoui that is making waves in Western Paris, with the local jet-set flocking to the venue. The vibe? Asnières is the new Saint-Tropez. The idea: recreate the spirit of the private beaches of Pampelonne with a swimming pool and good music.

On the grill: A brasero placed by the pool where the chef grills exceptional pieces every day this summer: an amazing beef fillet (€49.50), the secreto, a soy-lacquered pork piece with grilled vegetables (€39.50), or even a real rib-eye steak served with béarnaise sauce and fries (€54.50). Wash it all down with a glass of Racine rosé from Ile de Beauté (€8) or a cocktail (€15-18). It's paradise.

Splash Port Van Gogh, Asnières-sur-Seine 92600 Asnières Sur Seine - Access via Pont de Clichy. Open every day from Monday to Sunday, from 12 pm to 3 pm and from 7 pm to 11 pm. Reservations recommended at 01 47 98 30 45 or online.
Also discover: The new rooftops to squat this summer and the most beautiful outdoor evenings of the summer .