All those who enjoy a wide array of grilled foods and chill are literally chomping at the bit. Here is where to go for a great barbecue in Paris…
Because more than a gourmet treat, the BBQ is a real lifestyle. And for those who are not lucky enough to already be on holiday: here are the restaurants that will transport you in terrace and rosé wine mode.
The most "guinguette" avec Jardin Bohème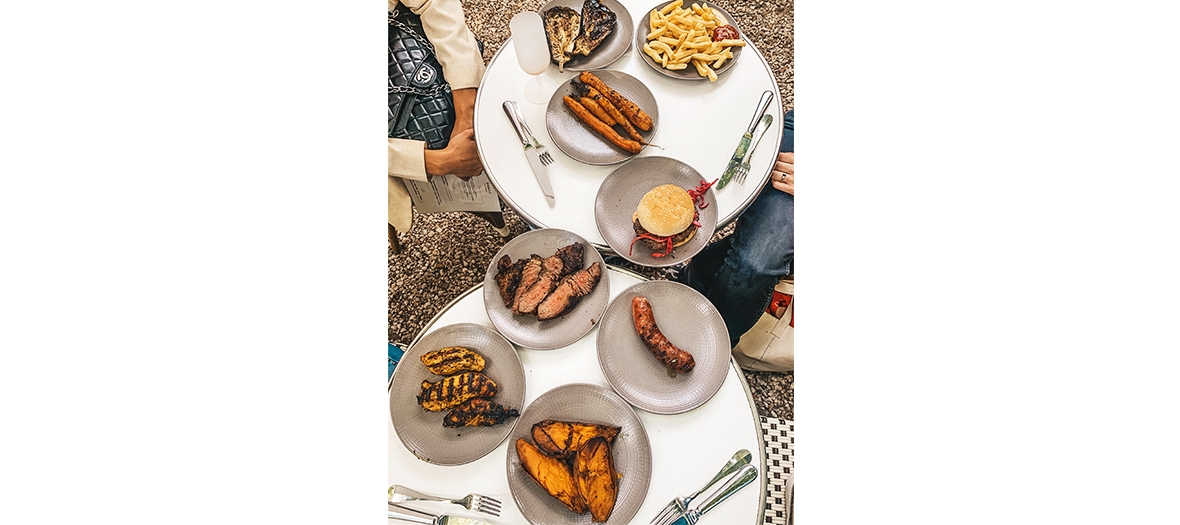 The place. Le Chalet du Lac, a stunning Napoléon III hunting pavilion at the entrance of the Bois de Vincennes, morphs into an outdoor summer guinguette with its Jardin Bohème. A bucolic venue with musicians, cocktails and BBQ where gangs of friends clink glasses, play table-soccer or dance under the shade of trees.
On the grill. All the meats and veggies are to be fetched in the back, where there is an appealing scent of grilling: tagliata of beef (€15), sausage from Toulouse (€10), melt-in-the-mouth sweet potato (5 €) as well as grilled carrots or eggplants (€5). Count €10 for a good Spritz and €35 for a bottle of white or rosé wine.
Every Thursday from 6pm to 2am, without reservations, open to all, more info on www.chaletdulac.fr
The most Pool Party au Splash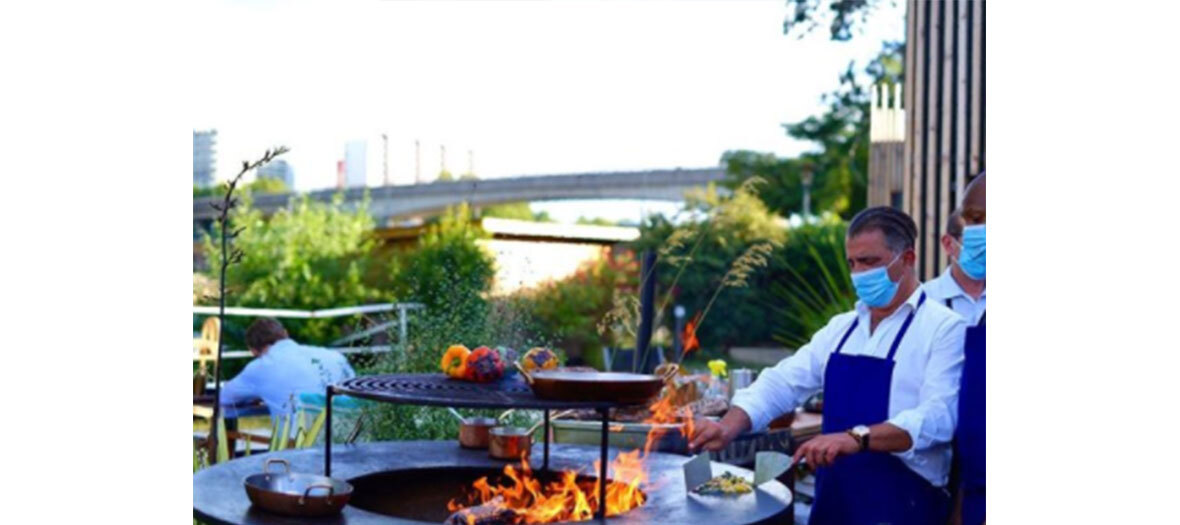 The place. Splash, it's the hot new address signed Hakim Gaouaoui and Topchef Norbert Tarayre that has created a buzz in the Western side of Paris, bringing in the local jet set. The mood? Asnières is the new Saint Trop'. The idea: inspired by the spirit of private beaches in Pampelonne with a pool and good sounds.
On the grill. A brasero placed by the pool where the chef fires up exceptional pieces every single day during the summer: top notch filet of beef (€37.90), small lamb chops served with a chermoula sauce and tiny sun-filled pan grilled veggies or then a real prime rib of beef served with a béarnaise sauce and fries (€45). Wash it all down with a pool of château Saint Maur rosé (€8). Heaven can wait.
Splash Port Van Gogh, Asnières-sur-Seine. Reservations suggested: 01 47 98 30 45
The most bistronomic at Marcore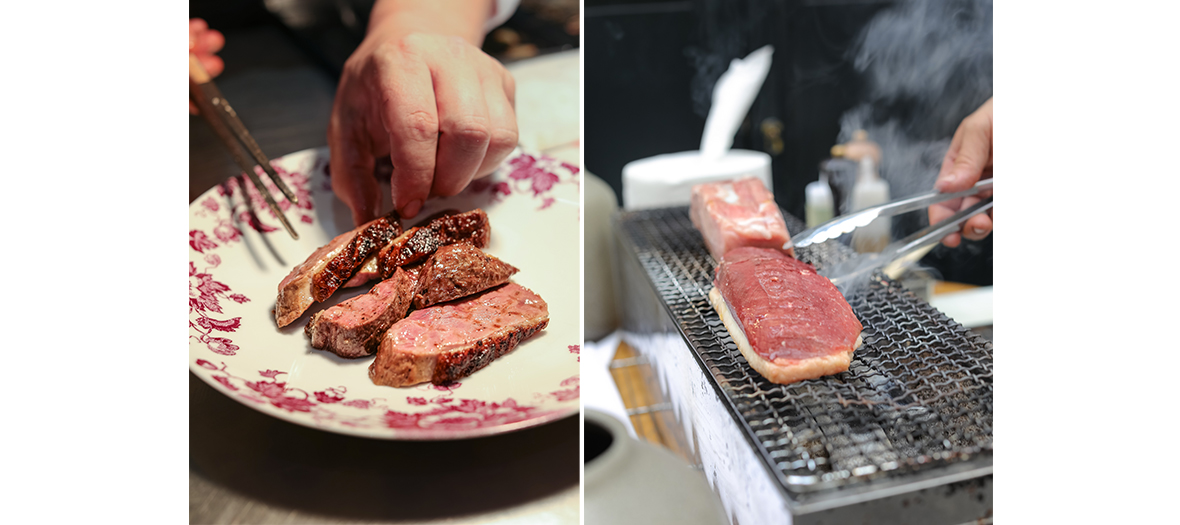 The place. Marc Favier, star chef of the one and only Marcore, has installed an incredible pedestrian bistro terrace directly on the adorable Rue des Panoramas. Its originality? Working with a real BBQ all summer long. Only a few steps from the Bourse, it feels like Provence. Incredible!
On the grill. Faithful to his outstanding work, the chef plays it cool but uses exceptional products and a very special way of cooking on a wood burning fire ensure by a Binchotan barbecue (the be-all-end-all of chefs). The result: a veal chop with juice (€30), jumbo shrimp with a chimichurri sauce (€25), a sirloin tip from Uruguay with a béarnaise sauce (€32). And for an impression of toes in the sand: a whole grilled bass to be shared (€28). All served with a choice of home-made mashed potatoes, super fries, baked spinach with comet and glazed lemon or a super salad.
Marcore 1 rue Panoramas, Paris 2e. Reservations suggested: 01 45 08 00 08.
The most cotton candy with Grill Academy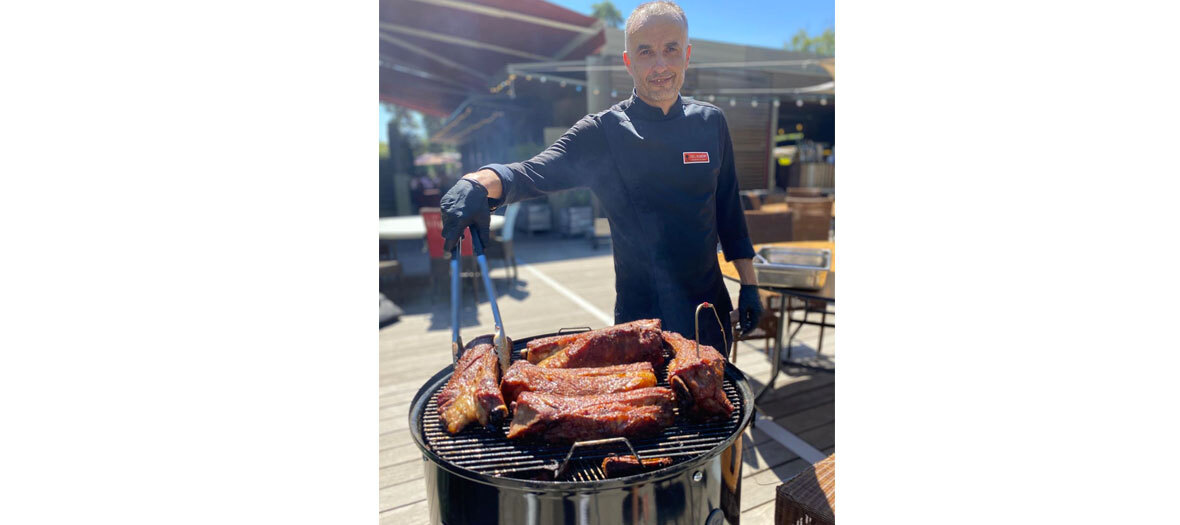 The place. Le Chalet des Îles. Like a Sunday in the countryside where the padre imposes himself as the King of Fire. Except this time, the professor is… Weber, the real star of the BBQ, which is launching its Grill Academy—BBQ courses around wild themes.
On the grill: the 1st of August, world-wide savours will be presented for a spicy luncheon, the 18th of August apprentice cooks will concoct a surf and turf presentation, while the 29th of August will be the must-go rendezvous of meat lovers with a carnivore special.
Course from 2 to 3h, €79, reservations sur www.weber.com
The most brunch at the Grand Quartier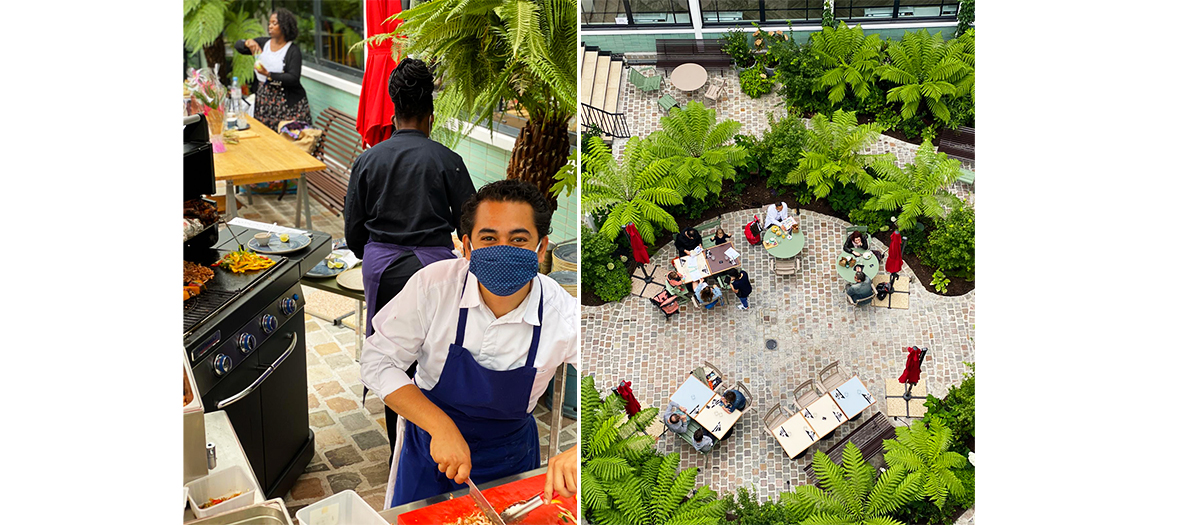 The place. Installed in a garden- courtyard of the 10th, the splendid terrace of the Grand Quartier hotel is considered a haven or peace, a skip and a hop from the Canal Saint-Martin despite the closing of the hotel all summer.
On the grill. Every Saturday and Sunday: a BBQ brunch is offered with a warm beverage, organic orange juices, baker's bread basket, plain yogurt and a granola, along with a choice of grilled beef skewers or chicken thighs with potatoes and bib lettuce. A total high.
Brunch BBQ at €28 Saturday and Sunday at Grand Quartier 5 Rue de Nancy, 10th. Reservations suggested at 01 76 21 61 61
The most rooftop at MOB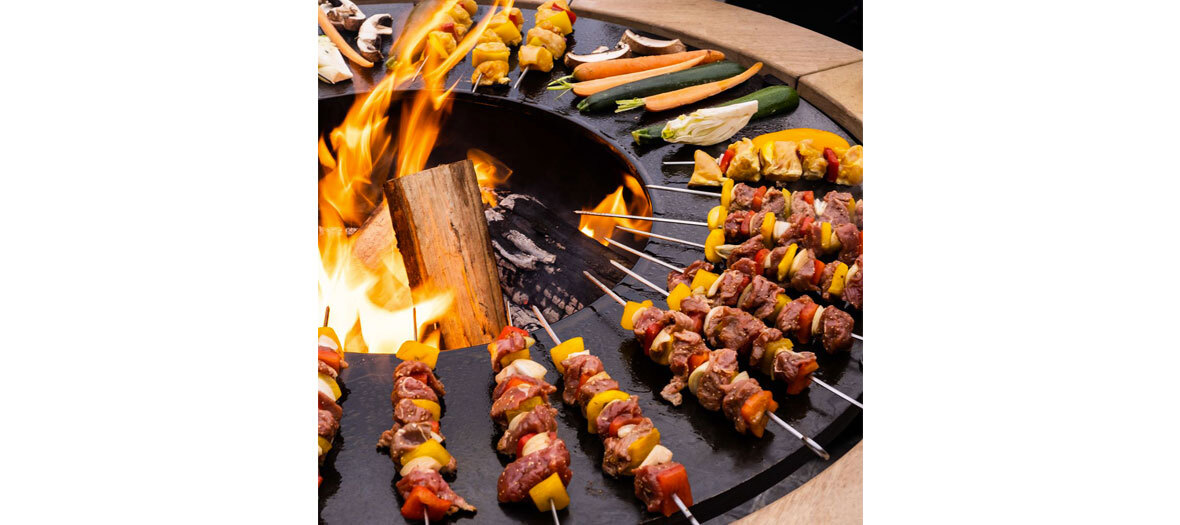 The place. No need to introduce the Puces flea market incubated by Cyril Aouizerate. What is less well known, it that the place offers to privatize its incredible rooftop in BBQ mode. No need to spend anything: just come as a group: 10 persons minimum and take the €35 formula.

On the grill. Begin the festivities with starters to be shared: pizza, poutargue fish eggs and burrata, focaccia, houmous, grilled peppers and sardines. In BBQ mode: chicken skewers, honey and curry, crab cakes with coriander and Saint-Marcellin. To finish on a high note: watermelons, tartes with red fruits tiramisu. And don't hesitate to order from their terrific organic cocktails.
A €35 formula by privatisation, possible www.mob-hotel.com
The most street food at La brigade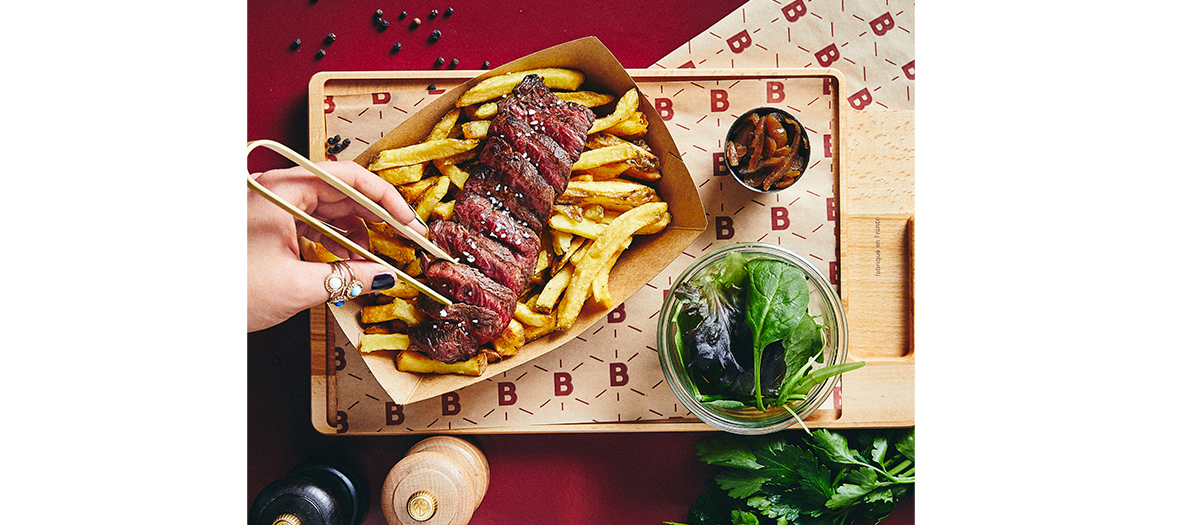 The place. In addition to their incredible food-truck equipped with a very efficient plancha which established their reputation,
Brigade also set up cool Parisian counters always in meat lover mode in Oberkampf (103 Rue Oberkampf, Paris 11th ) and Sentier (108 Rue Réaumur, Paris 2nd ).
On the grill. Always the same recipe of happiness. Beef tab, breast of duck, breaded chicken, Angus rib eye steak from Argentina or Montbéliard sausage (sourced from a top notch butcher) are cooked then and there on the blazing plancha, then served in a small box with salad, fries and yummy sauces: peppers, honey, green curry and peanuts. Meat foodporn has a lot going for it.
€12 per box. All the addresses and info on www.la-brigade.fr
Also discover 3 new Parisian rooftops and Laia, the secret garden that whips up a stylish barbecue in the 11th.