It's the baby boom ! All the girlfriends are almost pregnant, and birth gifts , apart from the eternal pink or blue hats, slippers and bunny comforters, we dry a little. Stop at the gnangnan.
So that this baby starts in life with the best references, we dig ourselves a little bit with this selection sometimes shocking, sometimes chic, sometimes a genius idea, but above all never cucul. Parents will thank you.
In the shoes category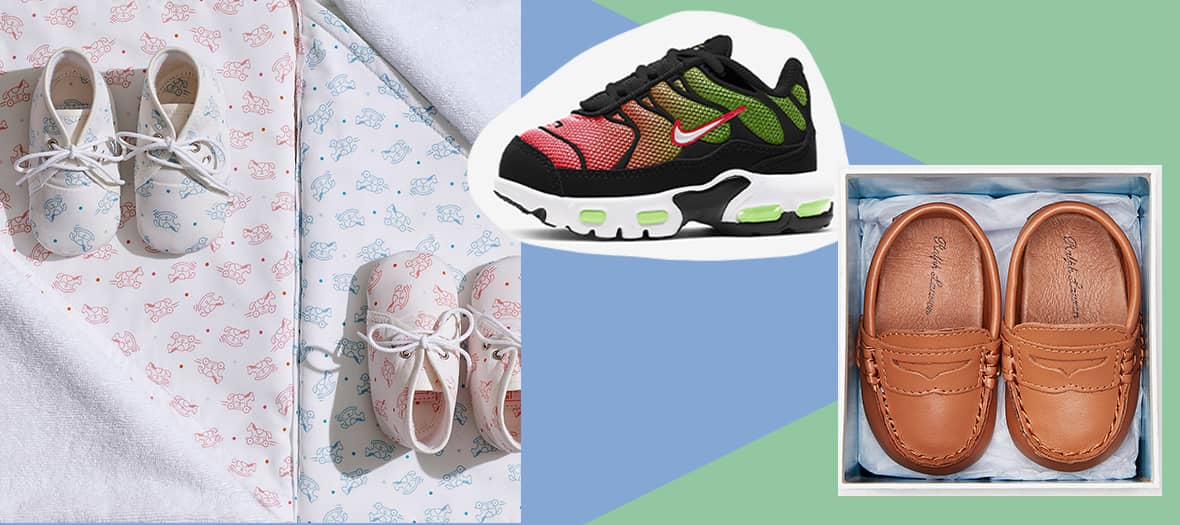 For chic babies, the Paf Adada Dots Hermès slippers (€ 125) in printed cotton are the dream gift, nestled in its orange box which always has its effect, at a rather reasonable price for the home.
For badass babies, we choose to put on their first Sharks with the Nike Air Max Plus (€ 79.99 on sale at € 52.47). He won't work with it, but they throw it anyway and no one will bother him with that symbol of street cred '.
For preppy babies, his first Penny moccasins from Ralph Lauren (€ 85 on sale at € 42.50) represents a real Auteuil-Neuilly-Passy mood for having a good family, like dad. Keep in a corner to show him later!
In the utility category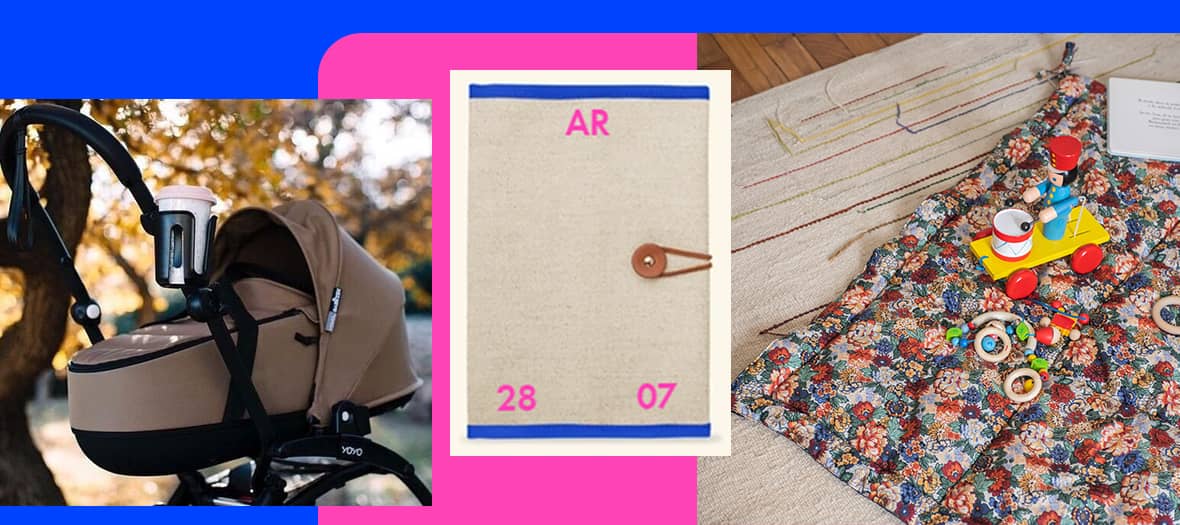 A health record cover of L / Uniform (90 €) made of canvas and leather, where you choose the colors of the border and the signs to personalize your initials and date of birth.
What is the nido ? Praised by the Montessori team, the Nido play mat (nest in Italian), of which this adorable model The Socialite Family with Liberty flowers (110 €) creates a reassuring cocoon so that baby can learn to flourish and gain self-confidence. to go on an adventure. An entire program !
Don't speak before my coffee. Addicted to her morning latte, mum will be able to get on her stroller in a good mood and arrive at the nursery like a model of serenity thanks to this Babyzen cup holder suitable for Yoyo strollers (€ 24.95 at Petit Bailly ), to secure it. his thermos.
In the feminist readings category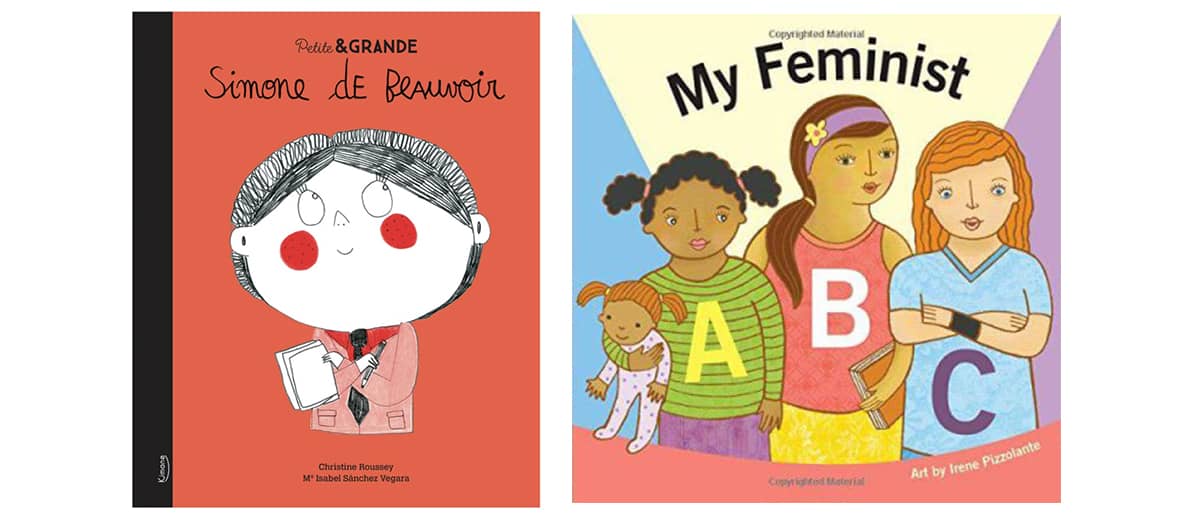 Feeding the young class to the basics of girl power is the cool gift and 2.0 especially for boys. With this in mind: My feminist ABC (€ 7.22), an adorable little hardback book for toddlers, works through an alphabet book in English that sums up the fundamental notions of gender equality from A to Z.
Even more chic, slip into the first library of Parisian babies a biography of Simone de Beauvoir (€ 9.95), Louise Bourgeois or Coco Chanel taken from the Petite & Grande collection which educates the young generation in feminism through the fate of the greats women of this world.
Emancipated Moms will appreciate the awesome and pointy book Mommy is Weird (15 €) signed Camille Victorine with the illustrator Anna Wanda Gogusey , who offers kids an alternative to the Petit Ours Brun family vision of the contemporary world.
In the " À table! "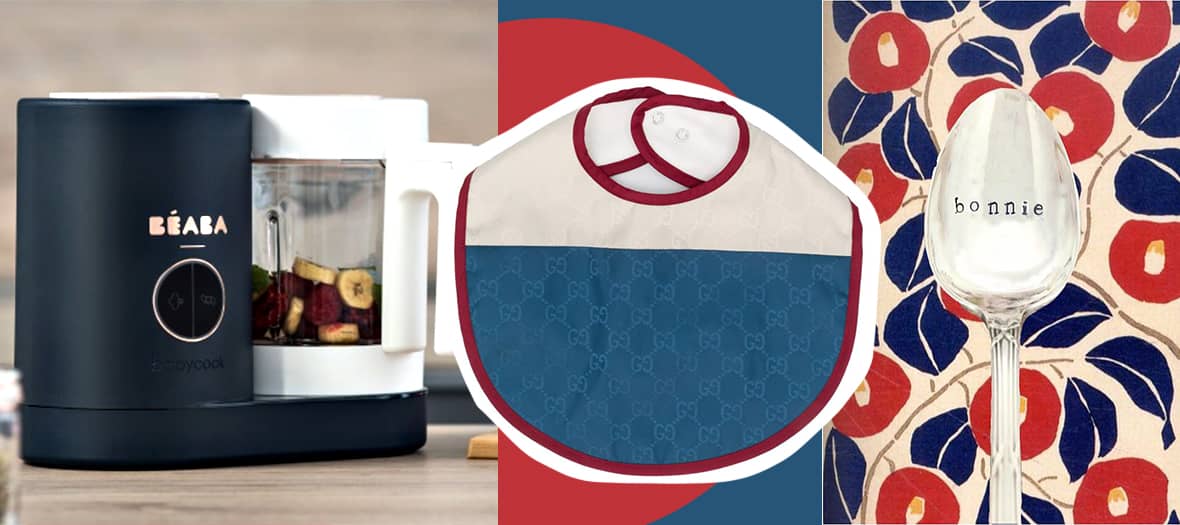 Baby bottles made in France and very couture? Le Biberon Français is teaming up with Stella McCartney Kids (€ 55) with a three-piece set with wide-neck silicone teats, but above all decorated with clouds and bunnies and delivered in their organic cotton pouch.
Although fundamentally perfect, baby will necessarily wear it everywhere at mealtime. It's part of the game. Suddenly, ugly object for ugly object, we bet on a Gucci branded bib (152 € on Farfetch ) of the most beautiful effect.
It's the robot that saves! Code name ? BabyCook Neo by Béaba (€ 199.90). 4 in 1, it allows you to cook with gentle steam to preserve all the vitamins, mix / grind / chop, thaw and reheat with steam. Joy in the homes.
Very Marquise de Pompadour, the Monnette personalized silver dessert spoon (€ 29) is engraved with a sweet word or the child's first name. Better, we take several to make a nice mismatched assortment: each spoon is different because it is mottled.
Foodie at heart, we offer something to simmer infants with compotes, purees and mousselines worthy of the greatest starred chefs. Starting with the baskets of seasonal vegetables for babies from Alain Passard himself 's vegetable garden (40 € for 4 to 5 kilos of vegetables depending on the season, taken back at the end of February), to be ordered on www.lespaniersdalain.com and delivered with recipes and inspirations from the chef. To be completed with Ma cuisine pour les tout-petits by Eric Frechon (€ 16.90), a collection of delicious dishes his son Franklin loved when he was a baby.
In the fashion beast category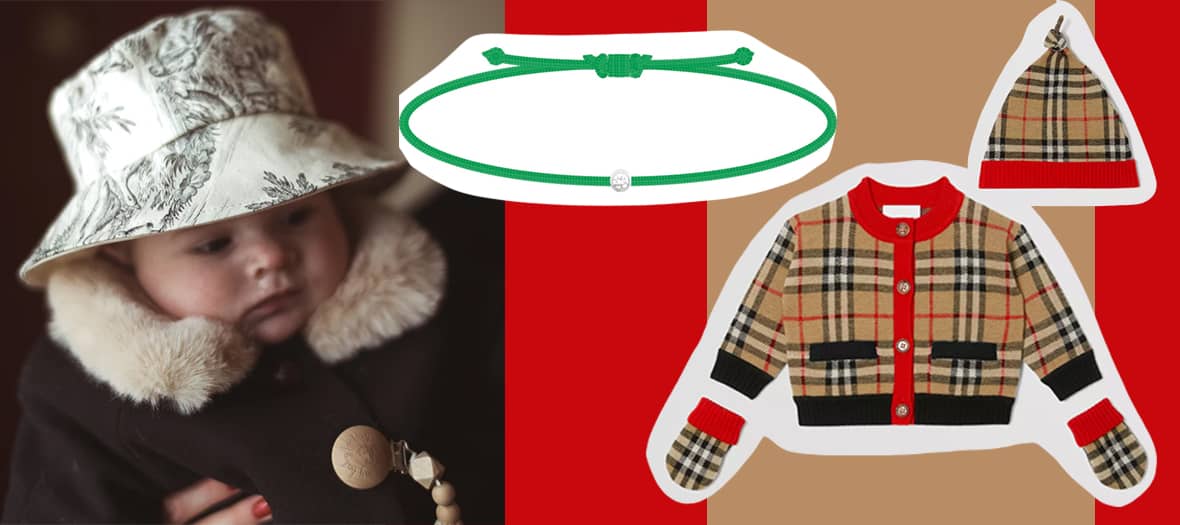 Trendy in natural colors and materials, the brand new Maison Yaya offers a reversible bobble in toile de Jouy (€ 49) that reminds us of the poetry of Dior Croisière 2019 . Also available in adult size, understandably ...
© Mathieu Alemany
In addition to its very powerful protective properties, the diamond is truly the symbol of true luxury. While waiting for the big 24-carat cushion, we offer him his very first diam's to bring him light and happiness on My First Diamond , on a colored cord coli (from € 69).
Hell, could this be the Beckhams' last baby? Wrapped up in his tartan cardigan with matching mittens and Burberry hat (350 €), baby will inevitably rub shoulders with Royal Babies and smart children of the English elite. Posh!
In the means of transport category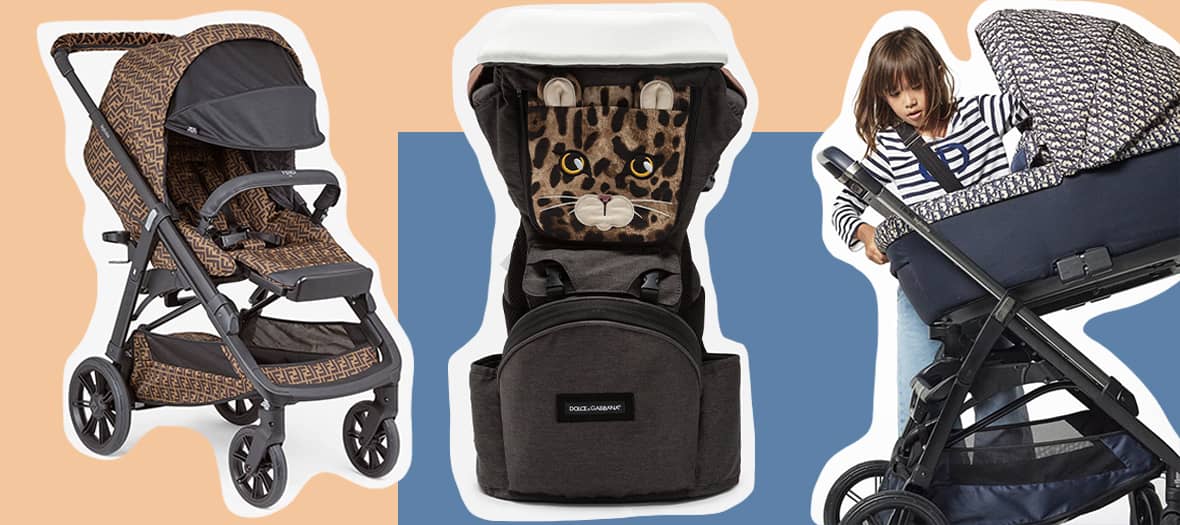 Dolce & Gabbana imagines an ultra-secure leopard baby carrier (€ 450) with kangaroo pocket and backpack, whose wild decorations are interchangeable with tiger, zebra, panda or even koala friends (€ 150).
The height of bling, the Fendi stroller (€ 2,200) with shearling handle and monogram logo is really well thought out. Washable cover, full hood, reversible, 7 positions until lying down and above all too hot: what was Foresti saying, already, about the incompatibility of beauty and practicality?
It's the Rolls Royce of its kind. More "rich and famous" than the yoyo, more all-terrain than a simple cane model, Dior presents its pram and stroller combo in water-repellent canvas with blue and beige Dior print (€ 5,400). Madness from every point of view.
In the beauty category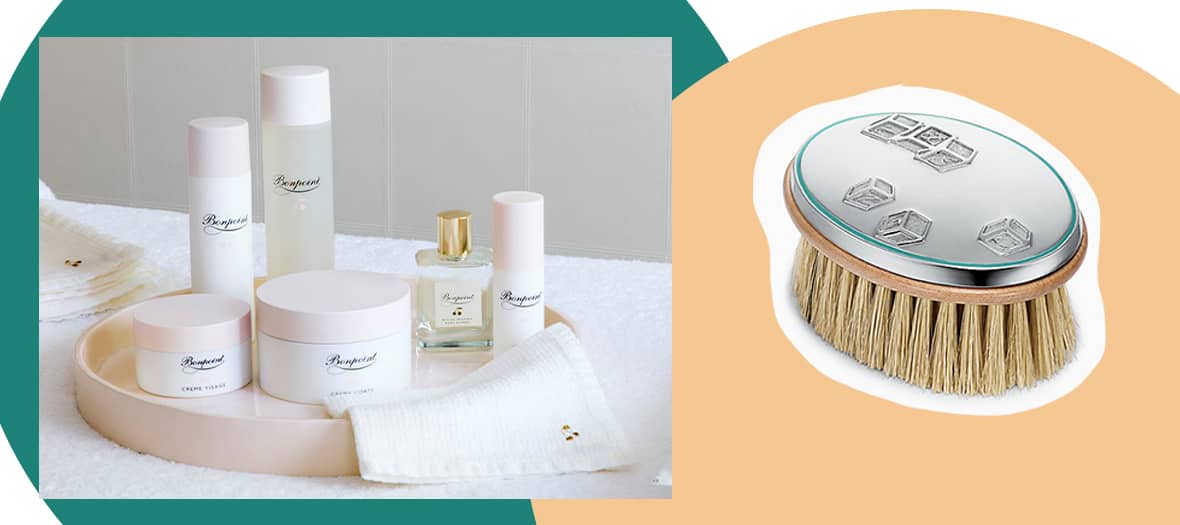 Connoisseur moms know that Bonpoint beauty products (oils, face and body creams, lotions, foams, from € 22) are great in being able to lend themselves to children and adults, so that adults too can enjoy smelling baby all over the place. clean.
Founded by two young nurses in shifts , Gynécée , the new house dedicated to women, offers a bubble of advice and news around femininity. Among the list of treatments , we offer the workshop to learn how to massage your infant (1h, 75 €). What then to share at home unique moments of relaxation and gently develop the bond of attachment.
To detangle her beautiful, supple hair, nothing more elegant than the Beau and Block brush from Tiffany & Co in wood and silver (€ 370, available in the boutique at 6 rue de la Paix, 75002). A gift worthy of Charlotte York.
And also…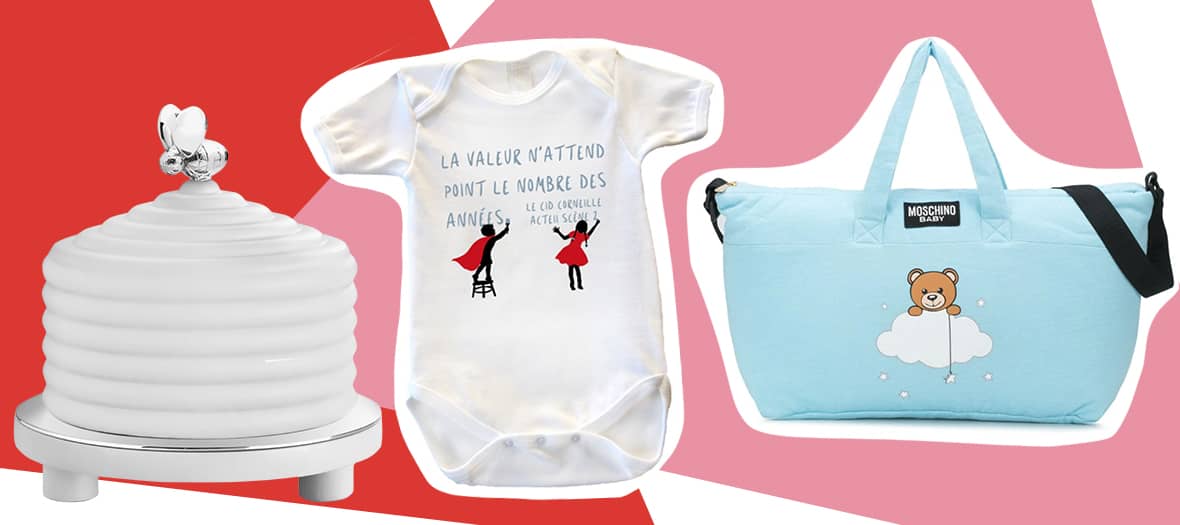 The Brai box with pajamas, personalized toiletry bag with the child's name and blue tiger print blanket (€ 159).
The Christofle music box (195 €) in wood and silver metal.
The Comédie-Française bodysuit with Cid quote for grown mothers (€ 19.50).
Moschino print teddy bear changing bag (€ 500 on Farfetch )
Also discover the most beautiful addresses for dried flowers and the Insta accounts to follow to go to zero waste .