Even if it means staying stuck at home, you might as well take care of your table! Young ceramic designer, inveterate bargain hunters who offer their vintage nuggets for sale, a great house to know or even plates to personalize, welcome to Instagram's decorative boudoir to prepare the most beautiful tables from breakfast to dinner through a Buckingham Palace afternoon tea. A tour of the accounts spotted on Insta that made us want to entertain.
La Dinette Paris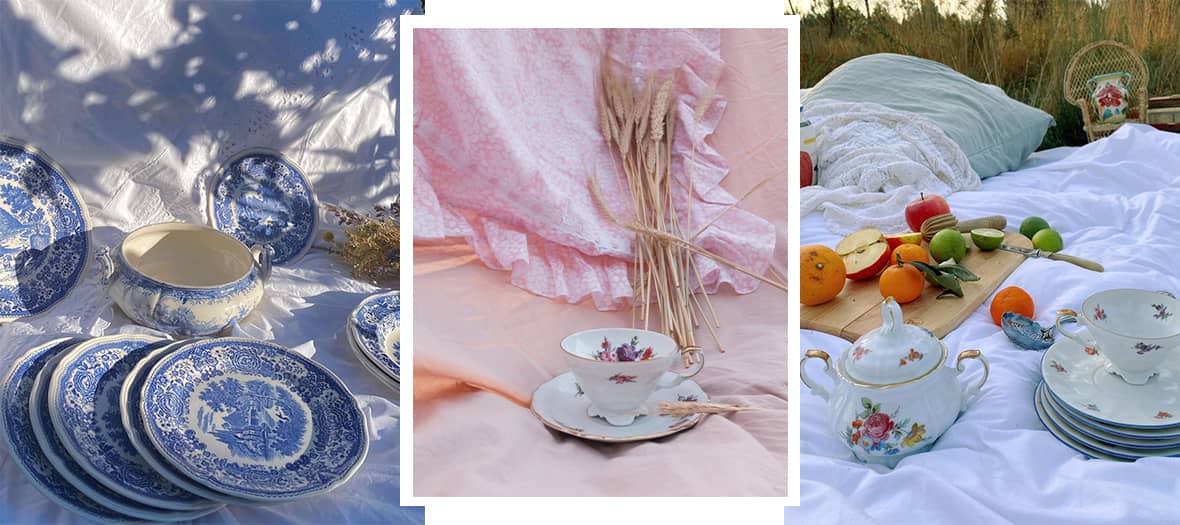 DNA: Lil Dinety was planning to open a restaurant in Paris that she would have called La Dinette . Covid obliges, the project has been canceled. Suddenly, she had to free herself from the heaps of crockery that she had picked up on purpose and then accumulated at her mother's in Arcachon. Lil got caught up in the game and continues to rummage through second-hand shops to redistribute his romantic and country treasures (" It's my Southwestern side and nature! ") In porcelain in a circular economy dynamic which is dear to him. To be continued: the deco AND fashion e-shop with vintage and upcycled pieces.
The prices ? Between € 12 and € 25 for a vase, € 5 or € 6 per plate, around € 18 for two cups + 2 saucers. " Operation Broken Heart ": Lil also sells chipped parts for less to give them a second life.
To be ordered directly in DM on your Instagram account @ladinetteparis
Yael Germain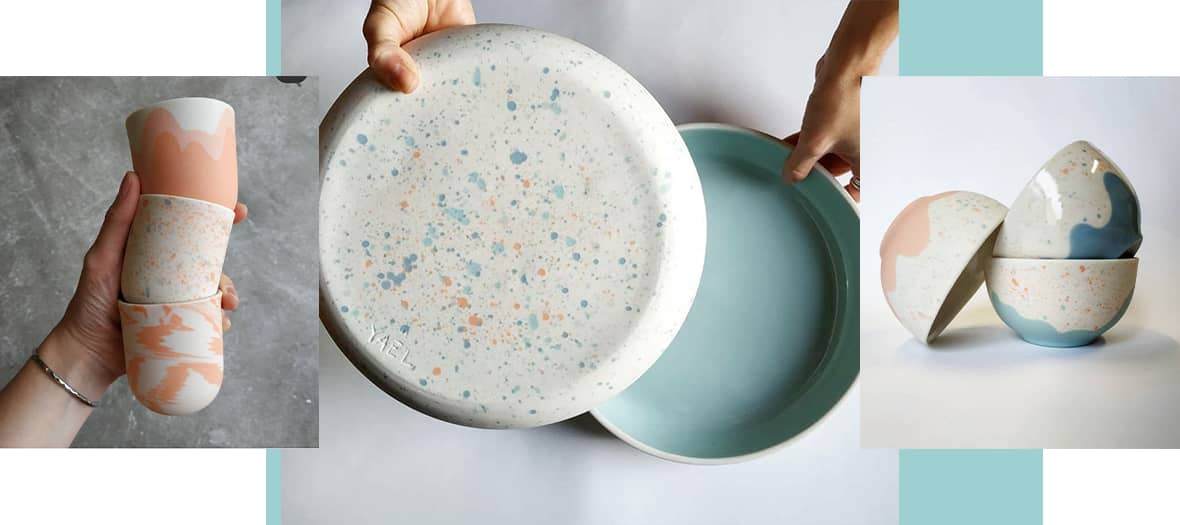 DNA: A Jurassian by birth, Yael Germain learned ceramics at the Duperré school. Her thing? Casting: a technique that consists of pouring liquid porcelain into homemade plaster molds, then tinting the colors in the mass before applying a transparent enamel. " I like to play with the contrast of the matt of the porcelain and the shine of the enamel ", she confides to us.
The prices ? Count € 15 for a coffee cup, € 30 for a large bowl, € 65 for a dish.
To be found on yaelgermain-ceramique.com and etsy.com
Club Barbara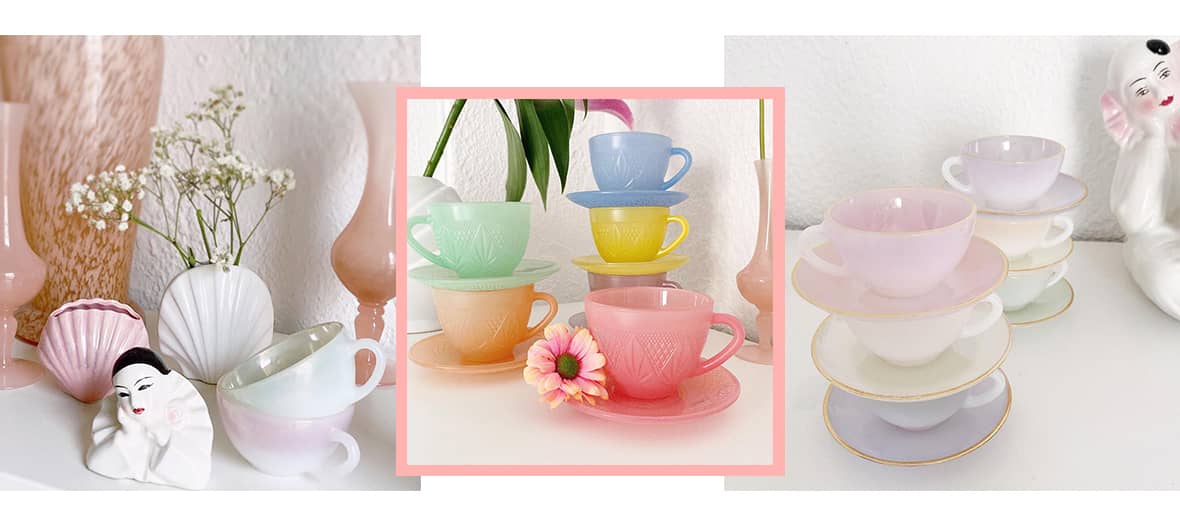 DNA: If Barbie was having a party, she would surely come to Barbara's house to buy her dishes. Passionate about the 80's style, the southerner wiggles at the sight of pastel, pink, iridescent, shiny and transparent pieces. His Club Barbara offers the possibility of owning a dining room worthy of a dollhouse.
The prices ? Count between € 10 and € 60 " depending on the pieces, their rarity, their quality and the time spent hunting, transporting, cleaning, taking pictures ... ".
To order directly in DM on his Instagram account @ club_barbara_85
Anataga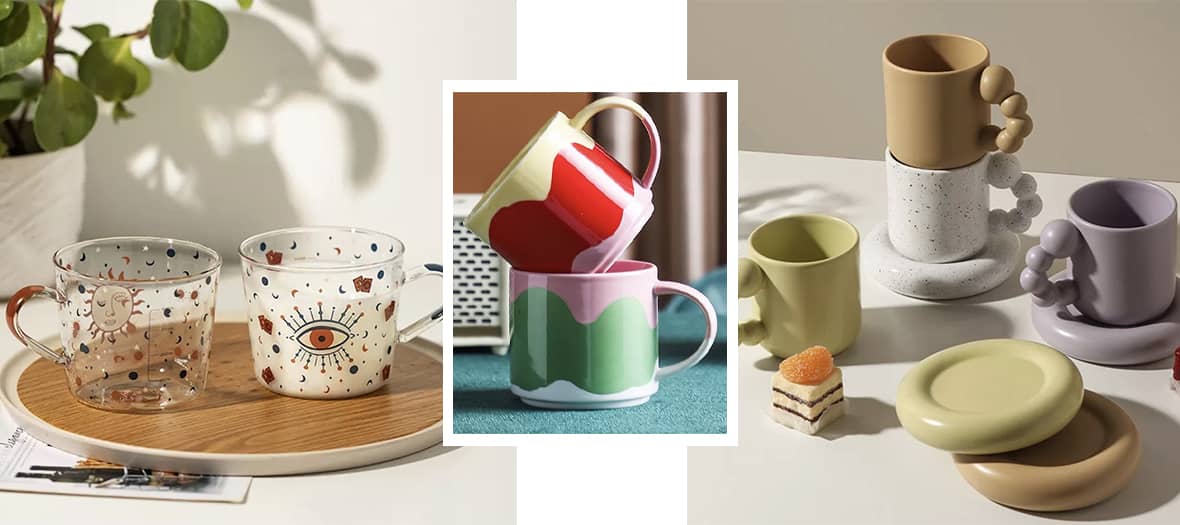 DNA: Livia has a knack for spotting extraordinary artisans. On his Insta @ anataga.paris several universes come together (ceramics, glasses, speckled cups, pop colors like among Scandi influencers ...) since its ultimate goal is to become a live resale site for all the craftsmen that she decided to distribute.
The prices ? € 30 for mugs with ball handles, € 50 for wavy decanters, € 17 for rainbow mugs.
To be found on anataga.com.co
The Michelles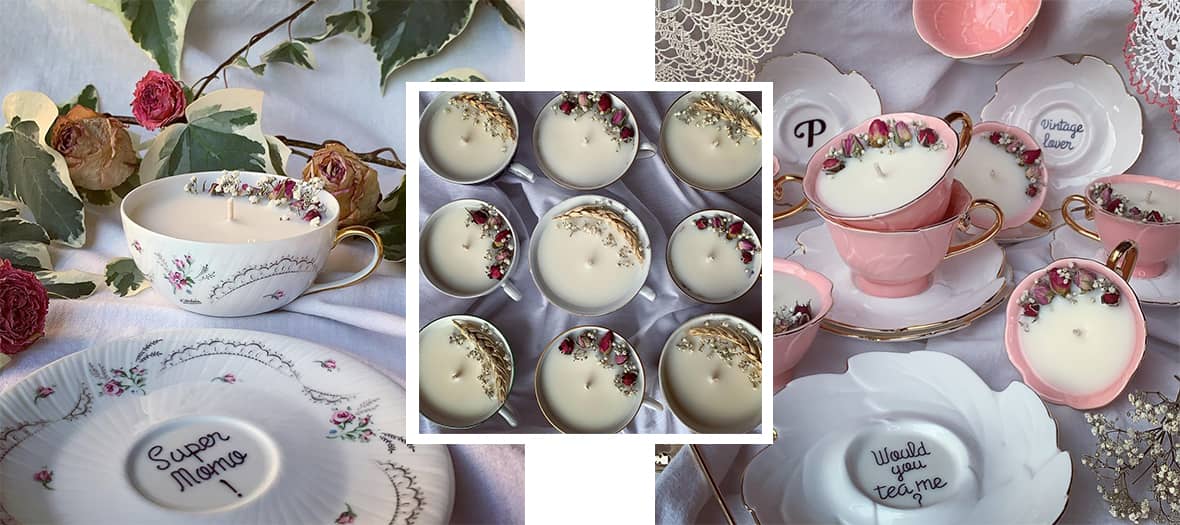 DNA: it's the dishes you deserve! Before drinking your tea from a pretty cup, the candle that has been poured into it (100% vegetable soy wax) must have burnt out, without toxic fumes, please. This is the statement of the Michelles , who sell their vintage and personalized pieces from La Rochelle with a sweet word and pretty dried flowers.
The prices ? Count € 39 for a too beautiful candle that will become a cup: the vegetable wax is very easy to clean with hot water and soap.
To find on lesmichelles.fr
Afternoon Queens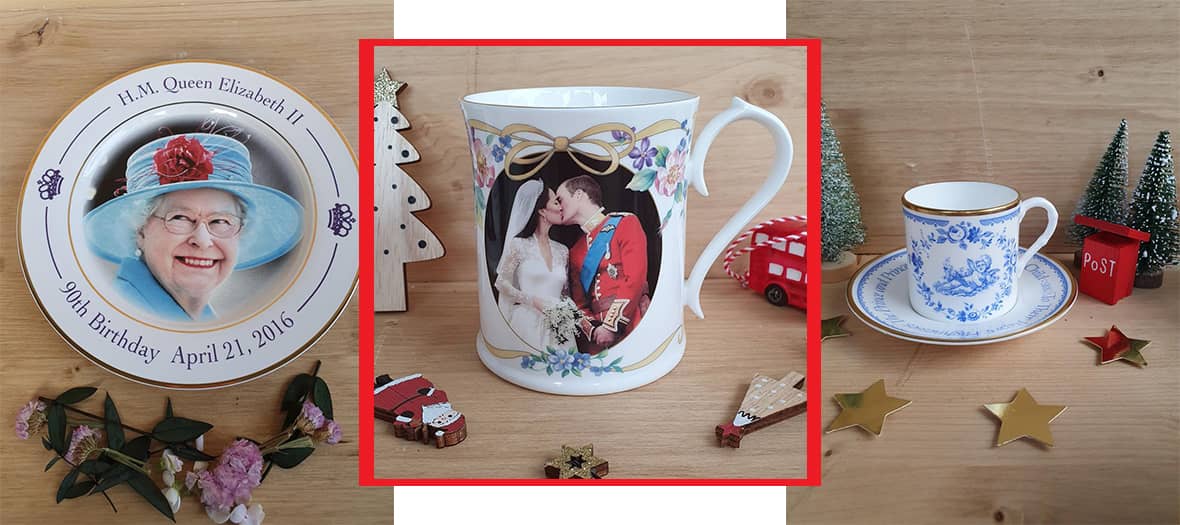 DNA: when the English have something to celebrate in honor of the Royal Family (marriage, jubilee, birth of a Royal Baby, birthday, etc.), they make cups, teapots and plates of it. This collector's tableware, Afternoon Queens collects preciously and makes it the centerpieces of our next tea time. And we dare the full service!
The prices ? From € 10 the saucer, € 25 the Lady Di mug, € 80 the Queen Elizabeth teapot.
To be found on etsy.com
White Patina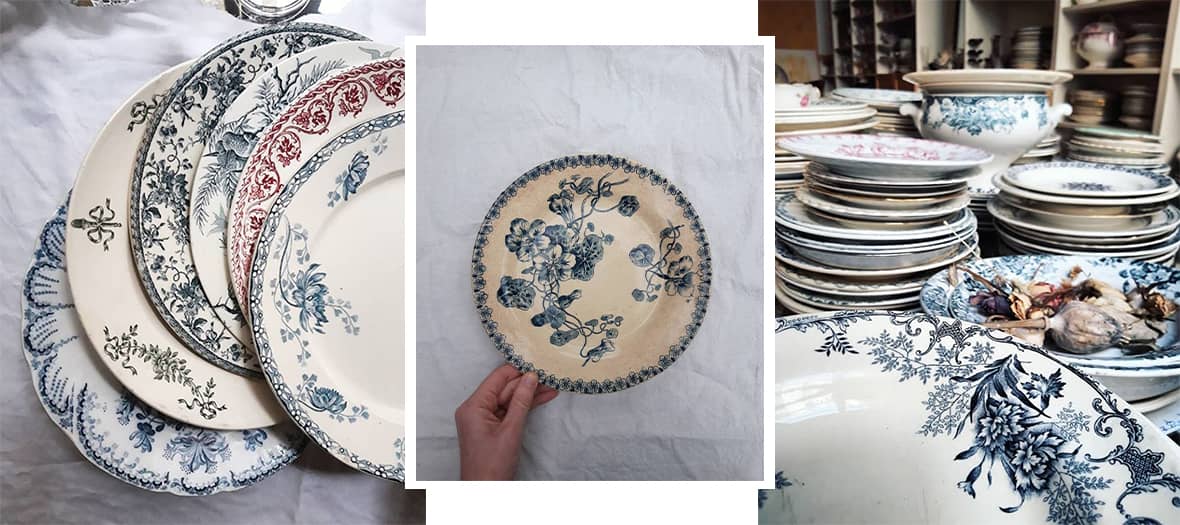 DNA: the Dada White Patina , it is the land of iron, the more resistant earthenware as porcelain, recognizable by its red or floral designs or forestry blue. Rather than fantasizing every Sunday about his granny's dishes, we invest in his, even we rent it! Head to the showroom by appointment at 29 rue des Vinaigriers, Paris 10. Sales are regularly organized there.
The prices ? € 80 for the set of 4 soup plates, € 90 for the oval dish, € 200 for the set of 6 Manufacture Sarreguemines plates. Estimate on request for rentals.
To be found on blanchepatine.com
Hello house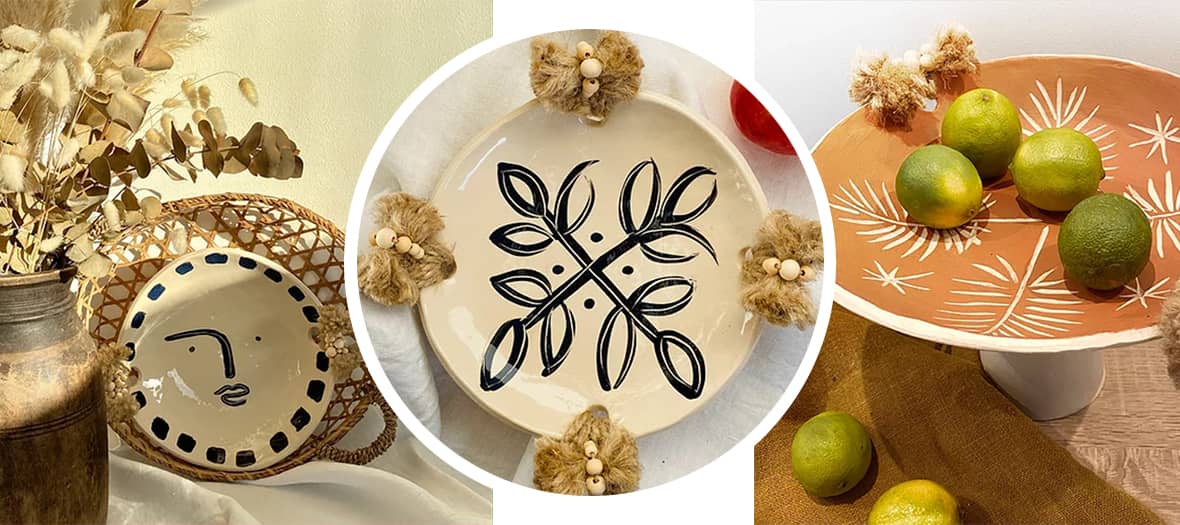 The DNA: a bohemian wind blows on the creations of Maison Bonjour which match perfectly with the southern universe of Jacquemus . Obviously, the ceramic cups with wooden beads and hemp braiding are all handcrafted between Marseille and Aix-en-Provence . Giving a Riviera vibe to your interior is easy as pie.
The prices ? 25 € the cup, 150 € the palm tree cut, cut on feet 55 €.
To find on maison-bonjour.com
Popolo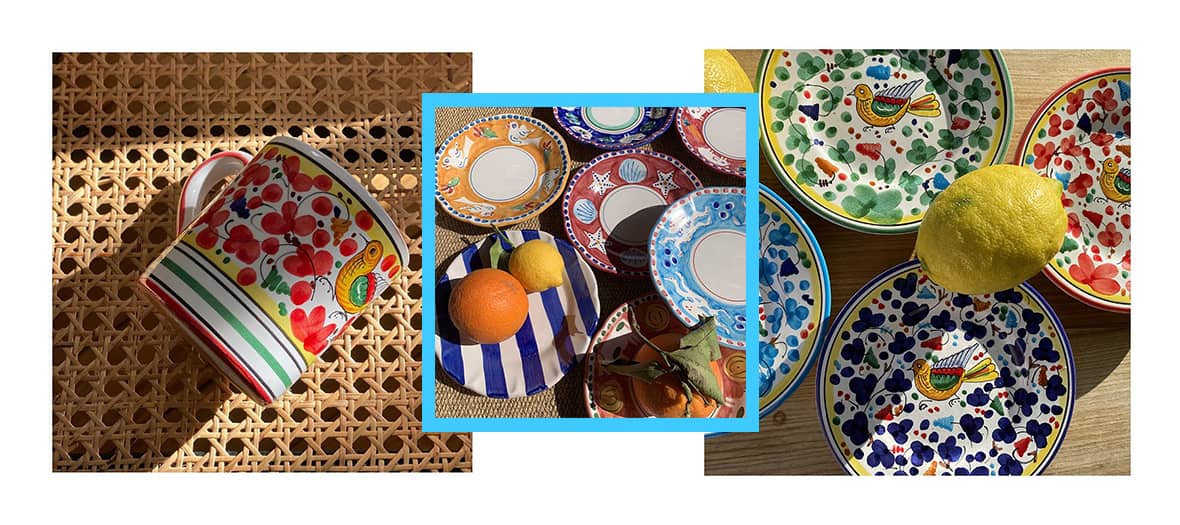 DNA: We could n't find a better way to bring the dolce vita spirit home. Popolo deale the best of Italian decor: Tuscan or Amalfi plates and cups, with fish and shellfish designs, trays, decanters… Everything to reproduce the most beautiful tables della mamma .
The prices ? Amalfi or striped plates € 18, bird mug € 30, colored ceramic tray € 135.
To find on popolo.fr
HK Living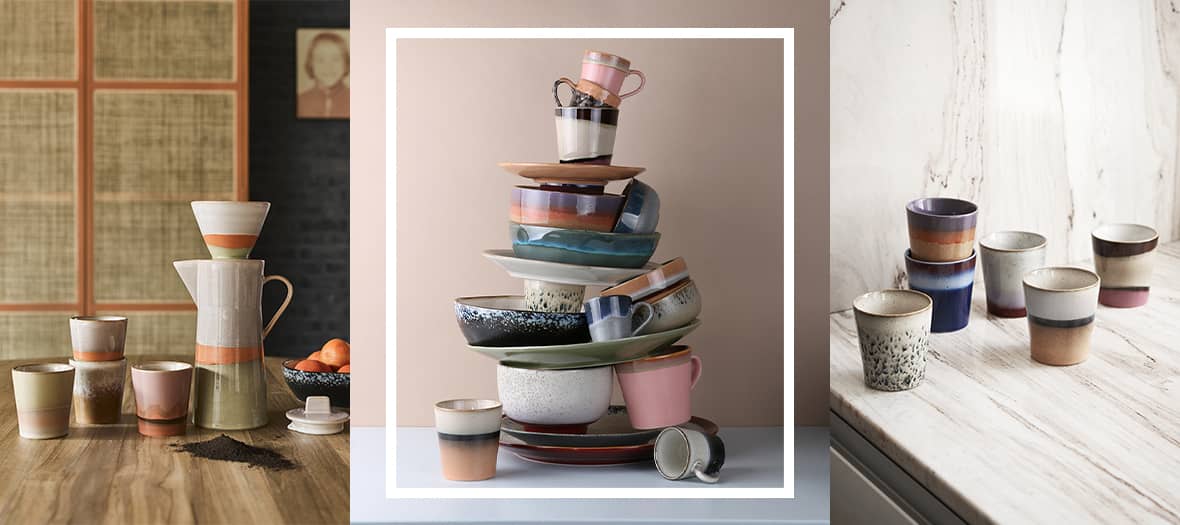 DNA: you have undoubtedly seen HKLiving's fused-color ceramics pass through the online stores of La Redoute , Fleux or The Cool Republic . The German brand, extremely followed on Instagram, is however little known in France as a decoration entity, but embodies with chic the great trend of raw and mismatched crockery of uneven shapes.
The prices ? Plates from € 9.95, 6 multicolored 70's cups € 35, 4 coffee bowls € 39.
To find on thecoolrepublic.com
And also…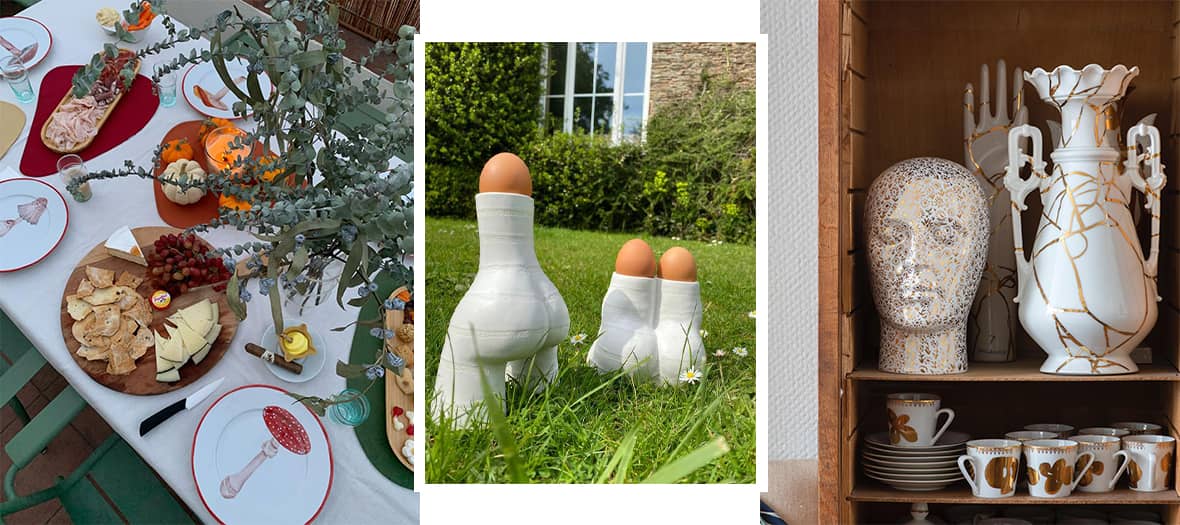 The creator Arnold d'Alger searches all over France for pretty porcelain plates and objects to customize them with gold, in the name of his house Bazar d'Alger . Better still, he offers to personalize yours as well as 3-hour introductory sessions in porcelain decor to leave with his unique piece. Too handsome.
Courses to book on bazardalger.com
It's a fact: Blanca Miró has plenty of clothes. What we know less is his passion for decoration and more particularly his obsession with beautiful tables! On her Insta Blanca A Table account , the Catalan fashionista takes pictures of her prettiest table decorations by tagging the brands so that they can be copied at home.
To find on @blanca_a_table
We already loved the sculptural jewelry and vases of female busts and buttocks by Anissa Kermiche . The stylist deploys her signature art on chewable egg cups with pretty buttocks (€ 138). A thrilling gift for all Sunday boiled egg addicts.
To find on anissakermiche.com
Also discover the perfect coach to pimp your little apartment and the most secret decoration shop in the 11th arrondissement .